Think about all the clothes you have to pack for a ski trip to Colorado. And the eight bathing suits you line up for a cruise to the Bahamas. Too much planning and packing.
If you're thinking about exposing yourself to new things for your next vacation, look to Pasco County, Florida.
The county, just north of Tampa and St. Petersburg, boasts the largest nudist and clothing-optional community in North America. That means everything from posh resorts and low-key RV parks to year-round activities that cater to visitors wanting to bare all.
You don't have to be a nudist per se to experience what it's all about. You'll find college students, empty-nesters, and bucket-listers all looking for some liberating adventures of their own—as well as nudists (also known as naturists).
Hanging out
As one might imagine, nudists are an extroverted bunch. While leaving your clothes back in your hotel room sounds titillating, hanging out topless and/or bottomless at a pool or bar is mostly about meeting and socializing with like-minded people.
"I love the camaraderie," said Steve Schmitt, who has lived at clothing-optional Caliente Resort since it opened in 2004. From its palm tree-lined grounds to its jaw-dropping multimillion-dollar homes, Caliente is a popular destination for day-trippers as well as out-of-state guests. The clubhouse, with its five tropical pools, high-class restaurant and bar, live music, and relaxing salon, is a big draw.
Bob and Carla Schmidt have been to 30 or 40 other clothing-optional resorts around the U.S.
"This is the nicest nudist resort in the country," Bob Schmidt said of Caliente. "Others are very rustic. This is the Hilton of nudist resorts."
Myra Mesher, the owner of a Pennsylvania nudist resort, spends her winters at Caliente.
Mesher has been leaving her Sunny Rest Lodge in Palmerton, PA for several years to come to Land O' Lakes for six months at a time. Land O' Lakes is known first for their many lakes, and second as a hub of many distinguished clothing-optional resorts.
"You're in your own world here. You feel like you're on an island. I love the grounds, the yoga classes. People here are very friendly. It's a very upscale environment."
Leave your worries behind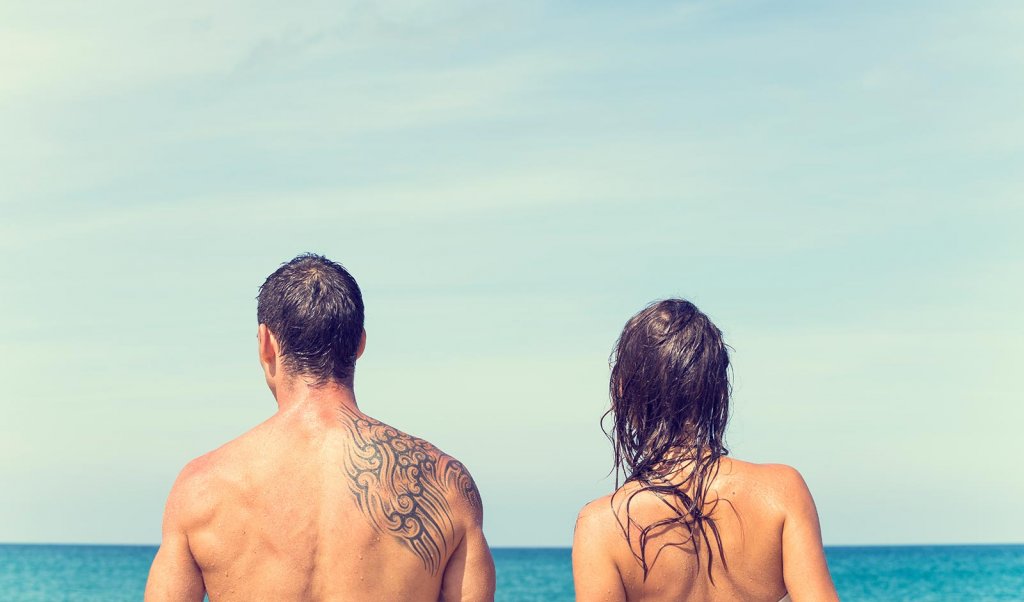 If you've been thinking about visiting a nudist resort but are hesitant or waiting to lose those last 10 pounds, toss off your insecurities.
"Women are fearful they don't look good enough," said Caliente spokeswoman Deb Bowen. "Once you get here, you find nobody cares. There are all shapes and sizes. Nobody judges you based on your appearance."
Clothing-optional resorts and activities are sometimes great for those experiencing nudist life for the first time.
"You're not required to go nude at any time," Bowen said. "We aren't trying to make you a card-carrying nudist."
Safety, security, and privacy are priorities at most resorts. You won't find a strip club-type atmosphere. All of the resorts have age restrictions.
The crowd on a Saturday afternoon at Caliente is a nice mix of couples and singles. Friday nights and Saturday afternoons, Bowen said, tend to draw 30- and 40-somethings. The weekdays are generally filled with retirees looking to relax, party, and mingle.
Running wild
People of all ages also can find a social atmosphere at the clothing-optional Bare Dare 5K, which has been taking place in Land O' Lakes each May since 2010. The race has grown to nearly 350 participants.
"We attract people from all over the country," said Bare Dare organizer and founder, Pete Williams. "Participants came from 25 states last year."
The majority of runners in the USA Track & Field-sanctioned run come on a whim.
"There's no doubt there's a bucket-list element," Williams said, noting about 85 percent of the runners opt to run nude.
While there are nearly 25 other clothing-optional races to choose from throughout the U.S., the Bare Dare 5K boasts great weather and sincere camaraderie—and access to Caliente Resort's facilities.
Williams also maintains that shedding your clothes can help with your running times. "We have a lot of folks set personal records out here," he said.
Those looking for similar clothing-optional challenges can turn to Florida's waters. The Nautical Nudists Dive and Boat Club, formed about 15 years ago by residents at area nudist resorts, arranges trips to the Keys, Homosassa Springs to swim with the manatees, and a few trips to Playalinda on the east coast of Florida.
The boat trips are clothing optional when a private boat is rented. Nude diving and swimming are allowed at a minimum of 10 miles offshore. Diving naked, said Nautical Nudist member Karen Engle, is freeing.
"There's no other place like Pasco County," Engle said. "It is the only county in Florida, and the only county in the country really, that has multiple nudist places within miles of each other. There is a resort here for everyone."
Just remember to pack your sunscreen. Find a resort to follow your natural instincts.