Along for the ride in the beautiful Piedmont
My husband, Robby, is a two-wheels kind of guy. He owns a motorcycle, a scooter, a mountain bike, and a road bike. The bicycles get the most attention. He regularly pedals 100 miles each weekend.
I'm more of a hiker, but since Robby upgraded my bike a few months ago, I've started learning the lingo and putting in miles of my own.
When I mention I've got business in Charlotte, Robby's quick to suggest a wheeled detour to York County, about 20 minutes south.
"C'mon," he gently implores with his dimpled smile, "I'll take care of everything."
And just like that, we agree to a weekend on wheels.
Learning the lay of the land
Turns out the timing of our trip couldn't be better. Autumn in South Carolina is mild and the foliage is predicted to be showy, according to the locals. When I wrap up my meetings, my clients pepper me with a fun to-do list to maximize our time together—they all insist we check out the Giordana Velodrome.
Robby texts me to meet him for dinner at Fratelli Ristorante & Pizzeria in Baxter Village Town Center. The velodrome will have to wait—there's a calzone with my name on it. I can't get enough of my entrée: sausage, meatball, and bell pepper all conveniently stuffed in a piping pizza crust. Robby shares a bite of his chicken parmigiana, and that breaded chicken and angel hair pasta melt in my mouth.
After our meal, he scoots next to me and pulls up a cycling trail map on his phone, moving his finger along the screen and explaining the route he planned for us tomorrow.
York County has an excellent network of trails with terrain that ranges from beginner to expert cyclist. After consulting with the Rock Hill Bike Shop, Robby selects a moderately difficult route for us called the Reservation Route. It's a 36-mile loop with an approximately 700-foot elevation gain—challenging, but not overwhelming. Points of interest along the way include the Catawba Indian Cultural Center, Old Town, and Freidheim Park.
"We better turn in," Robby says, just as I spy a tempting Riesling on the menu. "We're hitting the trail early tomorrow."
Of bikes, beer, and brats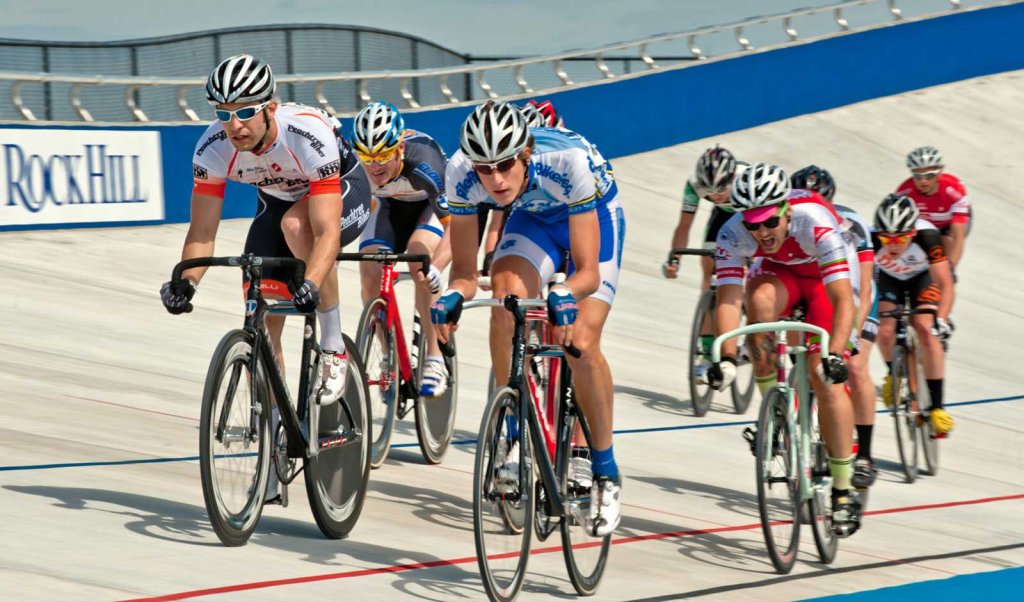 Situated between the Broad and Catawba Rivers in an area known as the Piedmont, York County is steeped in history. Before European settlers—mostly Scotch-Irish Presbyterians—arrived in the 1750s, the fertile land was home to several American Indian tribes, notably, the Catawba Indians. Agriculture and mining dominated commerce until the Civil War; spurred by the railroads, textiles reigned until their decline in the latter part of the 1990s.
Over the past two decades, Charlotte has risen as a national financial and technology hub with the urban arts and culture, dining and shopping, and outdoor recreation you'd expect of a major metropolis. But since we live in a big city, we're attracted to the natural beauty and serenity of this charming Southern region, with its rivers and forested hills. I'm looking forward to the sound of creeks and crickets.
We find a pace that is both exhilarating and relaxing, rolling along the well-signed Reservation Route. The Catawba Indian Cultural Center turns out to be a preserved reservation schoolhouse with a fascinating collection of artifacts near the Catawba River. We plunge our overheated feet in the cool, clear waters and it feels invigorating.
Although I consider myself more of a hiker than a cyclist, I can't deny that the speed allows us to see much more than I would have been able to with the pace of my two legs.
We pedal some more, sometimes in conversation, often in silence. We break for lunch in historic Old Town, which just happens to be hosting Oktoberfest in the streets. We gorge on brats and sauerkraut, hoist mugs of dark lager and smile at the costumed performers. We attempt dancing to accordion music, which turns out to be harder than you'd think after hours of pedaling.
Before dusk, we're back at our hotel for a quick shower and change. I may be a little saddle sore, but it's time for that Riesling.
Home of the hot wheels
Before we head home, I insist we stop at the Giordana Velodrome at the Rock Hill Outdoor Center—my clients made it clear that it was a must-see. In addition to hosting national events, this world-class, European-style facility offers equipment and instruction for cyclists of all ages and abilities.
We watch as colorfully clothed cyclists race around the steeply banked, oval track. The League of American Bicyclists named Rock Hill a bronze level bike-friendly community for its commitment to safe and scenic routes, facilities, and programs that enhance two-wheeled transport and recreation. The newly opened Novant Health BMX Supercross Track is also housed at the center.
We chat with other cycling enthusiasts and learn that Rock Hill was chosen as the site of the 2017 BMX World Championship. Robby quickly Googles the stats: the competition draws more than 3,000 amateur athletes and 300 professional athletes from more than 40 countries.
I catch myself daydreaming about what it would be like to be one of the amateur participants and realize I may be turning into a two-wheels kind of girl.