Knoxville's Pace
By Katie Jackson
The perfect bike-sharing program for the perfect bike-friendly place
Some people say the closest thing to buying happiness is buying a bike. In Knoxville, however, you can get a little closer. And it costs a lot less.
Instead of having one bike at your disposal, imagine having 200. Instead of collecting dust and/or taking up precious real estate in your garage, your fleet is strategically spread throughout a scenic Tennessee city known as "The Heart of the Valley." All you have to do to find the nearest bike is check your phone. And when you're done riding it? Lock it up at the nearest public bike rack wherever you stop. No need to ride it back home or return it to a rental shop during store hours.
A city built for cycling
You've just successfully envisioned Knoxville's newest asset in the transportation-meets-exploration department—launched by the team at Visit Knoxville. It's called Pace. Knoxville is one of only four cities across the country that's debuting this game-changing, dockless bike-sharing program. It comes from the leader in the bike-sharing industry, Zagster. Why Knoxville? It's a progressive place where being bike-friendly doesn't need to be advertised. Although the city is mighty proud to be hosting the U.S. Pro Road and Individual Time Trial Championships for a second year and the U.S. Pro Criterium Championships for the first time (June 21-24). Being home to the University of Tennessee, 85 miles of groomed greenways, and the kind of weather where you can pretty much ride year-round, bike-friendliness is basically woven into the fabric of the community.
To visualize this fabric, simply look at the Knoxville Bicycle Map. It's a color-coded extensive network of greenways, roadways, trails, lanes, and paths spanning lively downtown, quiet residential areas, the scenic Tennessee River, and enough parks, wildlife areas, and historical sites to fill a few guidebooks. Even if you get lost or take a "wrong turn," you're guaranteed to end up at an area attraction that makes Knoxville the kind of destination where you're bound to rediscover how much fun it is to discover.
Sharing is caring and convenient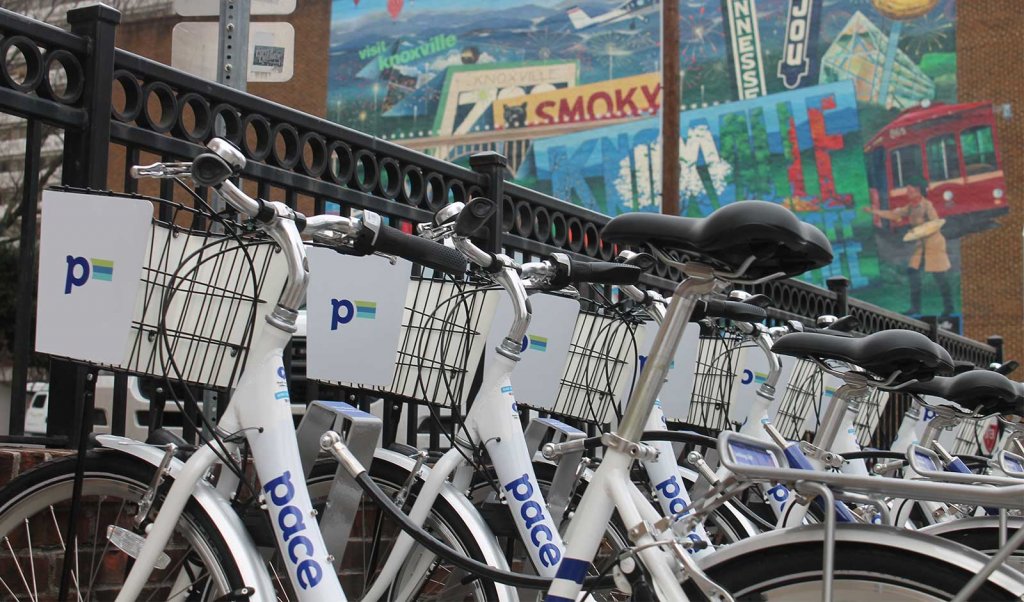 While there are more than a dozen bike shops in the city (for visitors who prefer to stay with one set of wheels, rent specialized bikes, or to equip riders younger than 18), those interested in exploring Knoxville can now also find a ride off the rack, so to speak. Like other bike-sharing programs, Pace has its own hubs that are tactically located in high-traffic areas. But unlike most other bike-sharing programs, Pace is dockless. This means riders aren't required to return their rented bikes to a dedicated bike-share hub. They can lock them up at the nearest public bike rack or corral—and there are more than 500 in Knoxville and Knox County combined.
Locking a Pace bike is as easy as finding a Pace bike, which is as easy as renting a Pace bike. All you need is your phone and the Pace app—free for both Android and iOS users—$1.50, via your credit or debit card, for every 30 minutes. Start your experience by downloading the Visit Knoxville App—an excellent tool for identifying popular stops along your two-wheeled itinerary. You can also find access to the Pace Bike Share app from within the Visit Knoxville App. Convenience at your fingertips.
Smarter bikes mean more efficient exploration
The Pace app stores your payment information, so there's no need to fumble for your wallet and perform a physical transaction. The hardest part of the process is believing a round-trip can cost as little as $1.50, and the first 30-minute ride for every new user is free. These aren't the clunky, one-gear wonders that most cities invested in years ago when bike-sharing first became a thing. The Knoxville fleet is comprised of sleek, light-weight cruisers modeled after the Breezer Uptown—multi-time recipient of Bicycling magazine's "Editor's Choice Award." With five gears, these bikes are well equipped for Knoxville's rolling hills so you can go farther and faster, comfortably.
There's a lot to see in and around Knoxville, and on two wheels, you can cover plenty of ground. Since these bikes are dockless, flexibility is maximized. Let's say on your way to World's Fair Park, you decide to pop into Maple Hall to see if you can still throw three strikes in a row. Using the cable lock attached to the bike, lock it to any standing fixture nearby. Rest assured, the app will "hold" the bike for you, so another Pace user doesn't snag it.
Riding (here) is believing
Whether you use these bikes for exploring Greater Knoxville or running errands downtown, be prepared to embrace helmet hair and have them become your preferred method of transportation. The bikes can take you pretty much anywhere—even back to childhood, when two wheels offered your first real taste of freedom and the ultimate ticket to independence. You couldn't buy happiness back then, and you can't buy it now. But thanks to Knoxville's new Pace bikes, you don't need to buy it.