Glitz and Geology: More Bang for Your Buck
By Dan Christopher
Two vacations in one from Las Vegas, Nevada, to Zion National Park in Utah
Getting more bang for my buck helps satisfy my chronic frugality. Even when planning a vacation, I search for a range of experiences on the same trip to add extra value. Like getting two vacations in one.
Glitzy. Glittery. Getaway.
That was my approach on a recent vacation to Las Vegas. The Las Vegas Strip lures millions of international travelers each year to experience one-of-a-kind theatrical extravaganzas, world-class dining, and clattering casinos.
Yet visitors who come to tempt Lady Luck often overlook an equally unique opportunity nearby for breathtaking adventure in southwest Utah's pristine Zion National Park. There, modern community meets ancient wilderness. The magnificent Zion is a leisurely 3-hour drive along I-15 North from Sin City. Rich with variety, it offers something for everyone in every season. I had to check it out.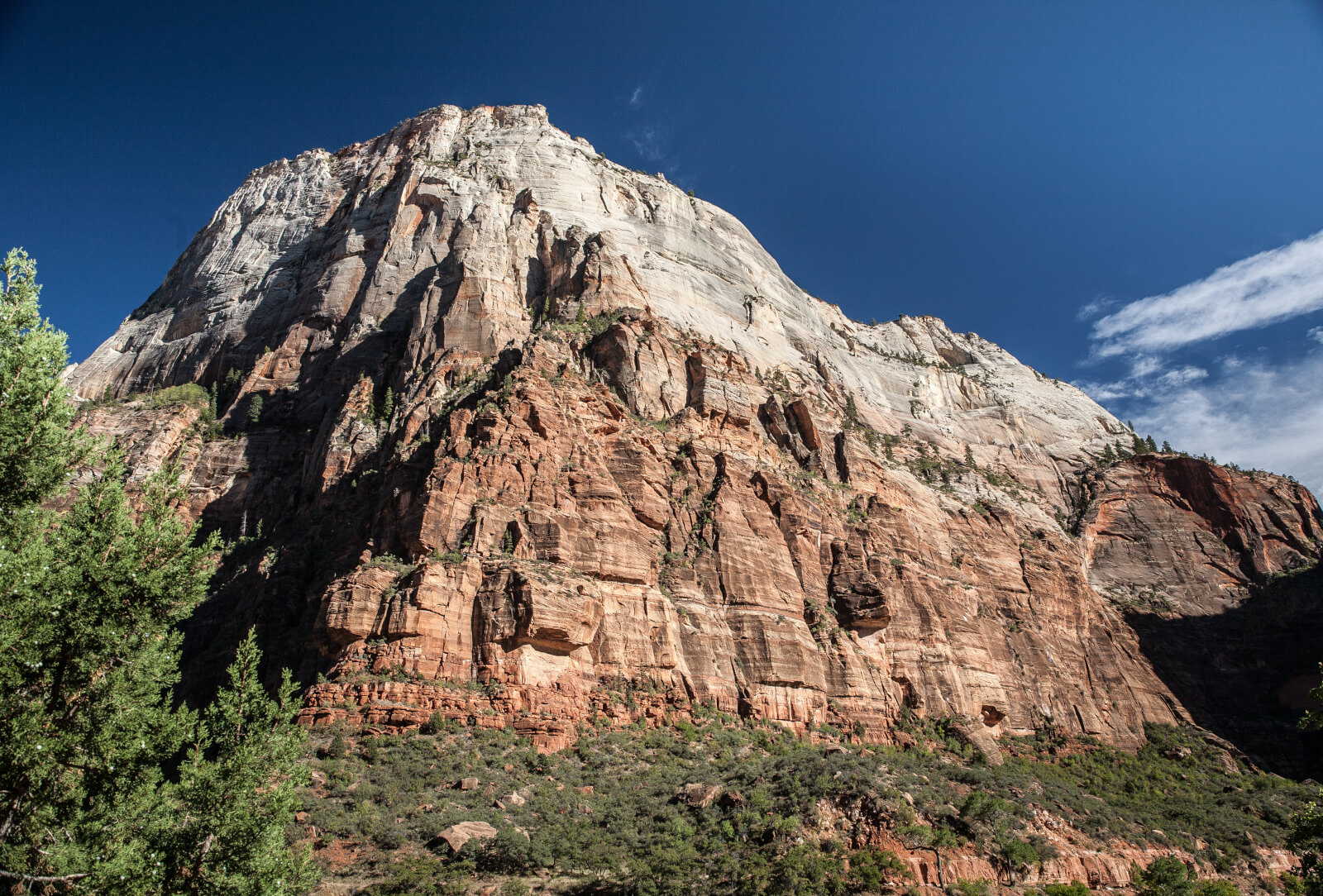 Geologic wonderland
In reality, Zion National Park is a work in progress and has been since the Jurassic Period more than 200 million years ago. More than 10,000 feet of layered sedimentary material is constantly being sculpted by wind erosion, flooding rains, streams, and rivers. It is a geologic masterpiece not only for rock hounds, but also for those among us willing to momentarily take a step back in time along multiple trails that lead to towering landmarks like the Great White Throne, Checkerboard Mesa, and the Temple of Sinawava. Visitors here commute to any of nine trailhead locations by comfortable shuttle buses that run every six or seven minutes throughout the day. Hop on and off wherever and whenever you want.
One hike took me to the entry of The Narrows, a 16-mile slot-canyon elegantly carved by the Virgin River. Those willing to wade around the bend about knee-deep in the river can see exotic points of the canyon that narrow to about 20 feet.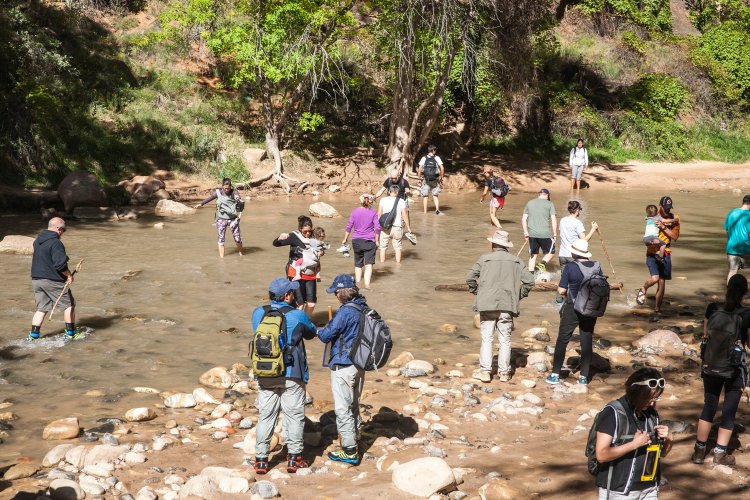 The trail to The Narrows meanders through delicate ecosystems resplendent with Fremont cottonwood and box elder trees as well as rabbitbrush and sagebrush shrubs, which perform beautifully in colorful shows throughout the year. Along the way, marvel at massive, reddish-hued Navajo sandstone monoliths and delicate spires. Your trek may also include a few path-side mule deer lazily grazing on the foliage and watching you as you watch them.
Hiker's paradise
Many of Zion's trails are well suited for amateur hikers who want an easy-going taste of nature without menace. The Pa'rus Trail—paved, non-strenuous, with wheelchair access and welcoming to pets and bicycles—is just one example.
Other trails are crafted for hearty hikers who embrace vigorous challenges and stow plenty of common sense in their backpack. Angels Landing in the Grotto section of Zion is an example. Daunting drop-offs. Narrow ridges. A day hike of nearly 5½ miles, it takes about four to five hours to complete. Your legs will burn. Your heart will get a good pounding. And your sense of adventure will be richly rewarded with accomplishment and unforgettable vistas.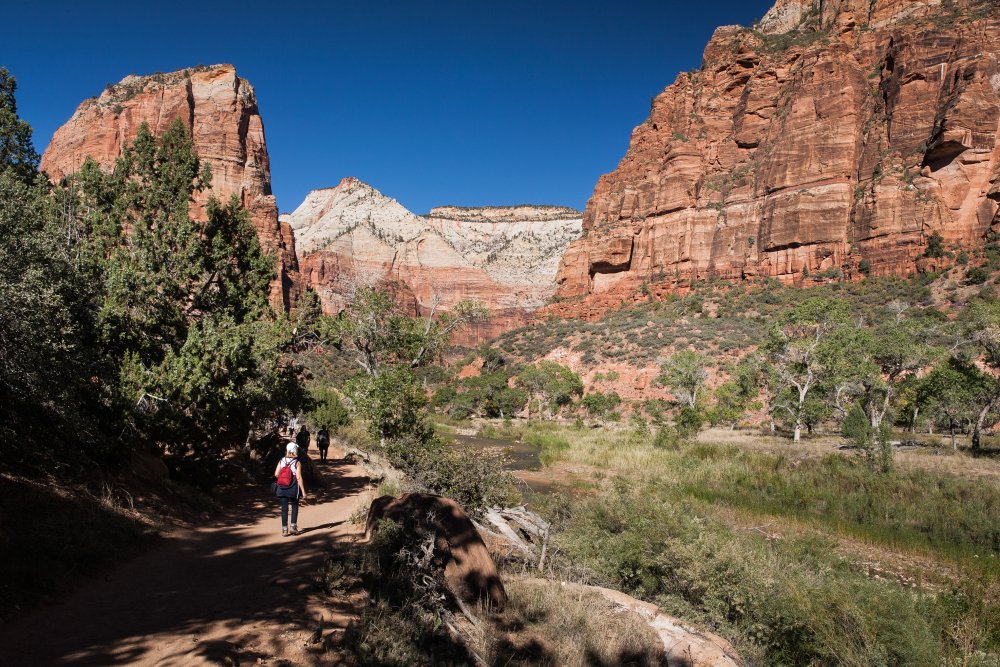 Photographer's dream location
As I stroll through this natural wonderland, my camera is also feeling the burn. Capturing remarkable vistas for treasured memories is the photographer's assignment at Zion. Each image is unique. From every elevation. At every season, close-up or panoramic, color or black-and-white. Artistically preserve your favorite scenes with the iPhone camera in your pocket or with state-of-the-art photo gear. I encourage wide-angle lenses. You will love the results.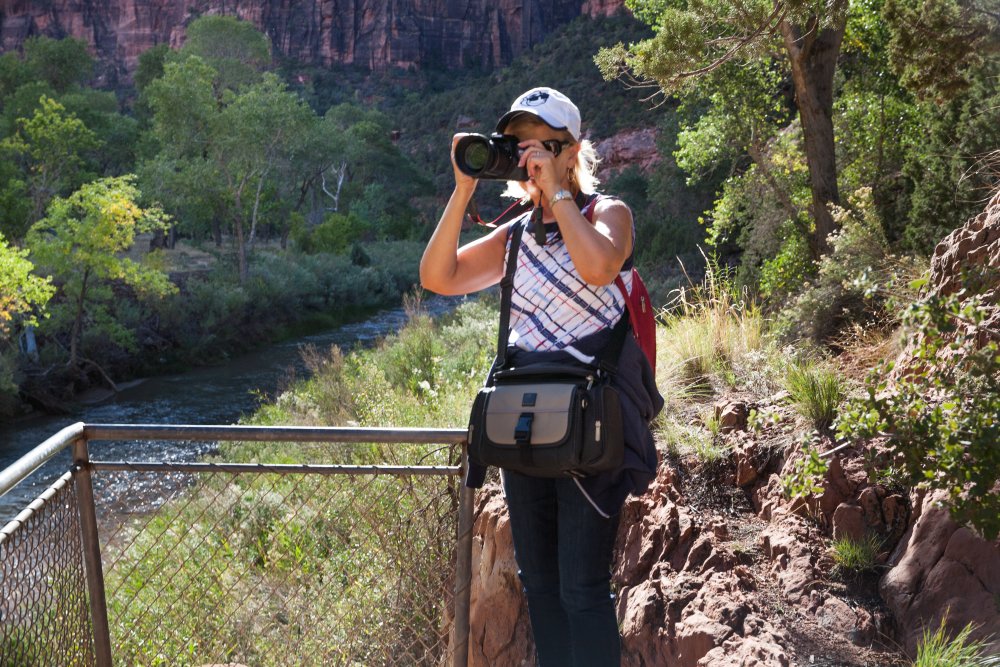 Rock climbing and canyoneering: Not for newbies
In awe, I contemplate the prospect of someone actually climbing Zion's sandstone cliffs, which seemingly stretch to the doorsteps of heaven. Though I would not even qualify as an amateur climber, seasoned climbers hail Zion as a premier destination—arguably one of the best in the nation—with literally hundreds of Grade IV climbs in the 800- to 1,500-foot range, some exceeding 2,000 feet. Even experienced climbers are urged to hire local guides for their high adventure, both for safety tips and to learn their "secret spots."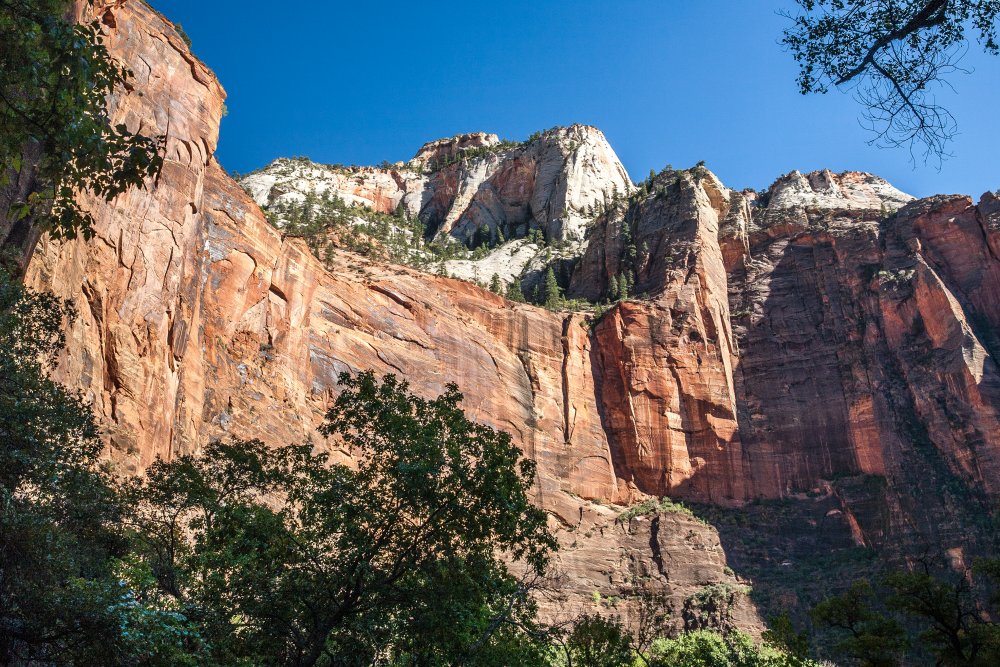 Canyoneering
Famous not only for big wall climbs, the land of Zion National Park is also a mecca for canyoneering, a sport that typically requires rappelling, swimming, and hiking. Experienced canyoneers know how inspiring this unique adventure can be, but they also know the risks: potential hypothermia, getting lost or stuck, tangled gear, and the threat of flash floods. Demanding? Yes. Countless "wows"? Undeniably.
Wild Zion
Well away from the wild life of Vegas is the ample wildlife of Zion. The National Park Service actually counted and found Zion to be bustling with 78 species of mammals, 291 species of birds, 37 species of reptiles and amphibians, and 8 species of fish. That's a lot of critters, including sunbathing lizards, wild turkeys, deer, gray foxes, and tree frogs, as well as the occasional mountain lion and spotted owl. You might even spot a peregrine falcon or California condor along your journey. After all, Zion's diversity accommodates more than just tourists.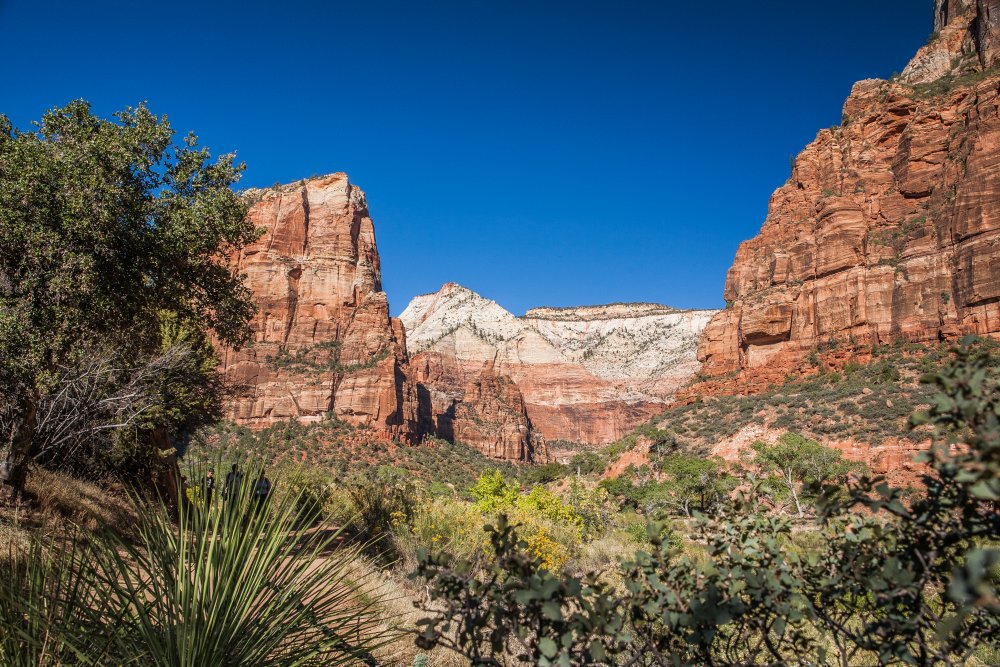 Making the escape
The gateway to Zion is Springdale, Utah, a tiny but lively town of about 500 permanent residents. It welcomes millions of outdoorsy transients each year as they pass through town on Zion Park Boulevard into the sprawling park.
Despite its modest size, Springdale is well equipped with cafes, stores, souvenir shops, and places to buy outdoor gear or sign up for helicopter tours and horseback riding. All this is surrounded by incomparable views of remarkable landscape.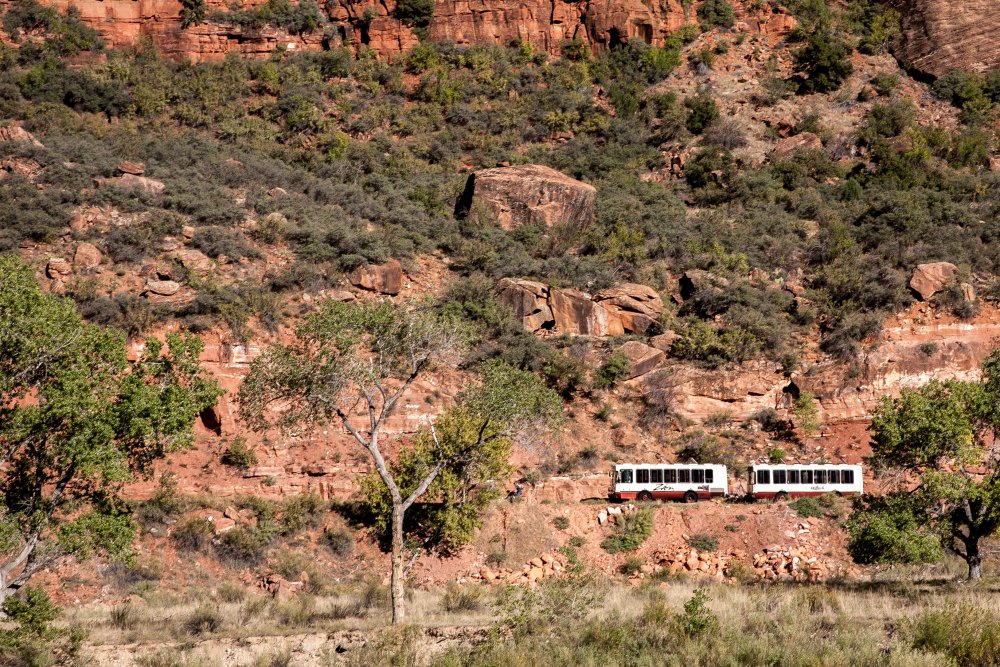 Hotels in Springdale and inside the park are convenient. Less expensive accommodations are also available in communities along I-9 leading into the park, such as La Verkin about 15 miles away. That's where I stayed and coincidentally encountered a charming Canadian couple who just happened to be dividing their vacation between Zion and—you guessed it—Las Vegas. Happily getting more bang for their buck.
For more natural wonders, discover Yellowstone National Park.