Plate Lunch Paradise
Louisiana plate lunches are a staple for natives and a delicious discovery for visitors
Though most visitors to Lafayette are likely to associate the area with our more famed Cajun and Creole culinary fare (jambalaya, crawfish, and gumbo), it is the rice and gravy-centric plate lunch that fuels the people of Louisiana's Acadiana region. Consisting of meat, a gravy-covered starch, a pair of vegetable sides, and a simple piece of bread—and often all served on a single plate—the plate lunch emphasizes speed, affordability, and caloric heft.
A close cousin to the meat-and-three restaurants found throughout the South, the history of Lafayette's plate lunch houses is rooted in the marriage of rustic, homestyle cooking with the convenience offered by the buffet line. In the late nineteenth century, cafeteria-style lunchrooms appeared throughout America, introducing patrons to self-service, the steaming lunch counter, and the ubiquitous plastic tray.
Celebrated gravy
Growing up in Billeaud's Meat and Grocery, his great-grandfather's butcher shop, David Billeaud, remembers learning how to grind meat for sausage, prep pork chops, and debone steaks as soon as he was tall enough to reach the butcher's block. He's taken that expertise to T-Coon's, his plate lunch restaurant, located in a busy shopping center in central Lafayette. There's meatball fricassé, smothered pork, and smothered beef, all immersed in a peppery, brown gravy. Alongside these everyday standards, daily specials round out the menu. Rabbit, smothered until it becomes arguably the tenderest meat served throughout all of Louisiana, begins the workweek. On Tuesdays, there is short rib fricassé, followed by smothered chicken and okra, and then smothered turkey wings.
At each and every plate lunch house scattered throughout Lafayette, variety is crucial. The menu at Landry's Café resembles a labyrinthine board game of weekly standards, daily specials, side dishes, and additions. Here, the array of dishes rotates in and out of availability to the point where frequent customers can set their clocks to the menu. There's stuffed pork roast offered every week, stuffed brisket every other week, and cornbread dressing every third week. Hamburger steak is prepared five ways, boosted by a variety of toppings for each day of the workweek: grilled onions, grilled onions and peppers, cheese, grilled jalapeños, and wrapped in bacon. Crawfish étouffée shows up every day and, for a little extra, slathered on just about everything. Other seafood dishes—shrimp stew, shrimp pasta, fried and grilled catfish—appear on Fridays and especially during the springtime Lenten season, when local Catholics traditionally eat no meat. For sides, there are white beans, red beans, and black-eyed peas. Smothered veggies, salads, and casseroles. One can go dizzy just thinking over what to order.
But here in the land of rice cultivation and culture, it's rice and gravy that matters most to the Café's dedicated clientele. "If it ain't rice and gravy, they don't want it," says Denise Landry, who opened Landry's in 2003. "It's rice and gravy, rice and gravy, rice and gravy, all day long." Each plate lunch comes laden with an over-generous mound of rice (or mashed potatoes) drowned in Landry's celebrated gravy, a recipe that dates back to a restaurant her parents, Norris and Bootsie, opened in 1953. Darkened to the color of roasted coffee, not too thick, and suffused with just enough spice, the gravy is made fresh daily from the drippings of the pork roast.
And without gravy, rice ain't nothing but a grain. The gravy at Laura's II comes several shades darker and a pinch spicier than most. Molasses in color, this gravy recipe dates back to the late-1960s, when Laura Williams Broussard began selling takeout lunches from the backdoor of her own home kitchen. At the time, local African-American women like Broussard could not easily open their own restaurant, but by simply multiplying the volume of their recipes could build a business by dishing out home-cooked meals to paying customers.
Today, Madonna Broussard carries on her grandmother's legacy at the aptly named Laura's II, located on a busy thoroughfare just blocks away from the old family home and a short drive from downtown Lafayette. The steam table displays a panoply of items that have been fried, stewed, barbecued, smoked, stuffed, smothered, covered, and maque choux (a south Louisiana specialty that combines corn with bell pepper, tomatoes, onion, and seasonings). And no matter what you order, covering it all is Laura's famous gravy, a sauce robust and flavorful enough to build a legacy upon.
The joy of eating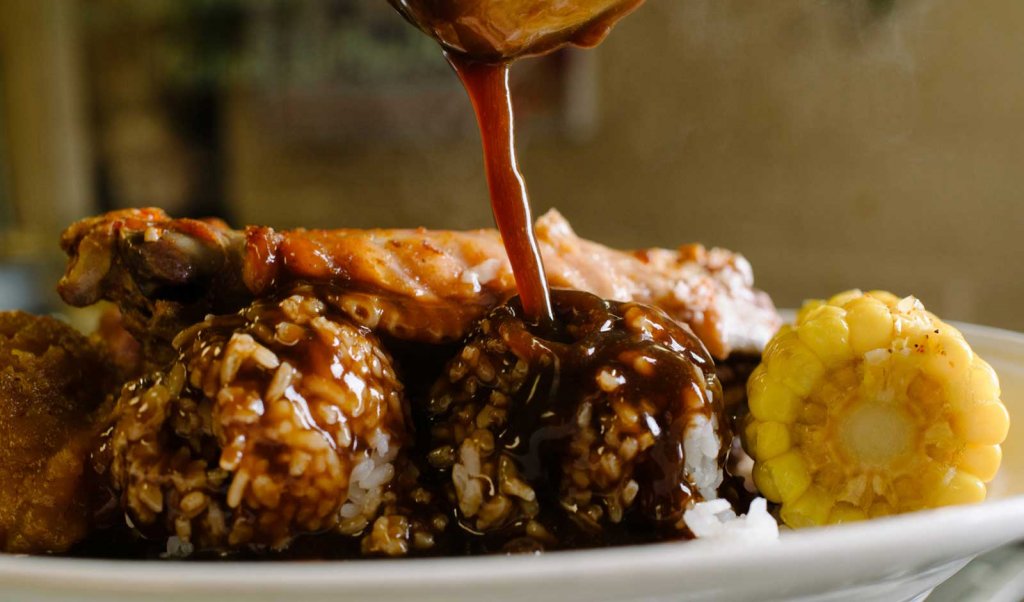 At the Creole Lunch House, owner Merline Herbert, a retired school teacher and principal who opened her restaurant in 1983, sees the plate lunch as nothing less than life-affirming, a celebration of South Louisiana's legendary joie de vivre ("joy of life") and the blissful comfort that an assortment of foods and flavors can provide. "It's a little bit of this and a little bit of that," she says. "To me, that's the joy of eating: to be able to get a taste of different things."
For first-time visitors, Herbert, after greeting you with her trademark grandmotherly smile, might fix up what she calls the Rookie Plate, a sampling of just about everything. Come on Wednesday during okra season (late-summer through the fall) to catch a taste of her smothered okra with chicken and sausage served alongside a bite of the meatball stew and a softball-sized scoop of rice with gravy. Long before she opened her restaurant, these plate lunch foods sustained her family and countless Lafayette households for generations. Lunch was always "meat, rice, and a vegetable, be it beans or greens," she likes to tell customers. "And believe it or not, until you've had some meat and rice and vegetables, you haven't had lunch."