Small Town Art on Florida's Treasure Coast
By Robin Draper
A guide to the cultural side of Martin County, Florida
Martin County, located on Florida's Treasure Coast, provides visitors with a "soul renewing" escape—miles away from congested beaches and bumper-to-bumper traffic. The area is unique, with an enticing collection of small towns that have woven the arts into a tapestry of unique experiences. Visitors may encounter Saturday sidewalk art shows, discover colorful murals or drive past brightly colored artist cottages—all providing a whimsical feel to the area.
A welcoming mecca for artists and the cultural arts, it is home to fine restaurants and enchanting inns. Perhaps inspired by the natural beauty that abounds here, or by historic buildings and pedestrian-friendly downtowns, each community incorporates art in its own way.
Stuart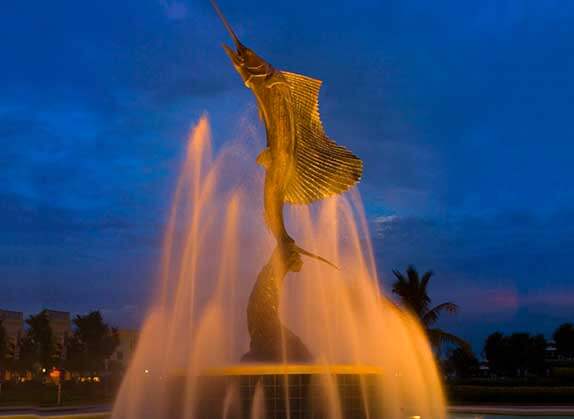 Stuart already has a unique appeal. The thriving, walkable historic downtown is filled with shops, galleries, restaurants, and public art. Stuart is home to the Martin Arts Council, an organization that instigates sunset concerts, fine art gallery exhibitions, arts education programs, and a variety of special arts events.
The first thing visitors usually notice is at Sailfish Circle, where Stuart's signature bronze Sailfish sculpture, created by local (world-renowned) sculptor Geoffrey C. Smith, towers 18 feet above a sparkling fountain. He also created the water bird sculptures that line Colorado Avenue. If you're lucky, you can catch a glimpse of him working in his Stuart or Port Salerno galleries.
A short stroll from there will bring you to the Riverwalk, a mile-long waterfront promenade overlooking the St. Lucie River. Here you can soak in the warm sunshine and feel the gentle breeze as you take in the panoramic view of the river, bridge, and boats plying their way across the water. It's an inspirational scene. While there, you may consider a cruise aboard the historic Schooner Lily, a wooden sailing vessel docked on the pier. Seeing the ship at dock may inspire the painter or photographer in you. But a cruise on the picturesque river, breeze in your face, and salt on your skin, will surely make your spirits soar.
Nearby, you'll want to notice the public art displayed in the downtown public areas and may even visit the Stuart Heritage Museum—housed in a historic two-story frame building that has been a general merchandise store, hardware store, and feed store during its century-plus life. The museum chronicles the history and spirit of the people, businesses, and community of Stuart and Martin County.
For entertainment, consider a show at the 1925 Lyric Theatre, where performances take place in a building that previously has served as both a silent movie house and a church. The acoustically perfect 500-seat theater went through an extensive renovation in 2014 and now presents a range of programs from musical revues and concerts to Broadway plays, local theater, and cinema events.
For lodging, Stuart has many options. But for history and charm, consider the Sam Matthews House. Tucked in a quiet, residential neighborhood, the inviting pink-and-white inn with gingerbread trim and sitting porches beckons you to relax and enjoy gracious hospitality under the shade of its palm trees.
The inn was originally the home of Sam Matthews, who came to Stuart in 1903 to work on Henry Flagler's Royal Poinciana Hotel. The Sam Matthews House, newly refurbished with sharp attention to detail, retains the character of that era.
What's more, you'll find a great spot to set up your tripod for outstanding sunset photos at the Inn at Shepard's Park. Of course, you can enjoy a stay at the inn too.
Hobe Sound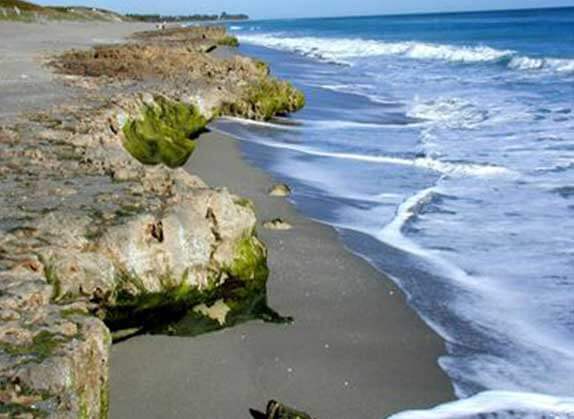 Drive south to the quaint community of Hobe Sound, where banyan tree-lined streets and stunning beaches make this small town a real charmer. More than 20 public murals inspired by "Old Florida" and the lifestyle here were created by local artists as an outdoor art gallery. Boutiques, antique shops, jewelers, galleries, and restaurants create a unique experience.
No visit to Hobe Sound is complete until you have found Harry and the Natives, an offbeat, local hangout serving breakfast, lunch, and dinner—along with live music. The ramshackle-appearing building, decks, and outdoor spaces situated among lush tropical foliage, with kitschy signs and odd antiques, might actually be considered a work of art by some. The owners claim the antiques came from shops on Worth Avenue. And the unique barbecue grill is a converted 1950 pick-up truck.
Port Salerno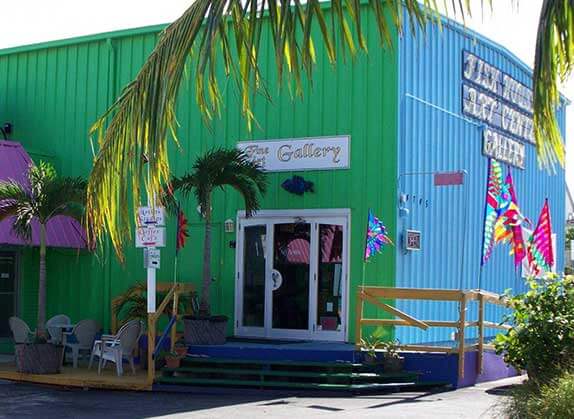 "Authentic" best describes this real port and historic fishing village where the Indian and St. Lucie rivers meet. The Fish House Art Center on the port docks is great for meeting local artists and actually watching them work in their studios. They offer classes if you want to brush up on your skills, otherwise, it's simply an excellent place to pick up a one-of-a-kind work of art. Stop in and select something special for your trip home.
If you're looking for a place to stay here, look no farther than Pirate's Cove Resort and Marina. There, you'll meet relaxation at its finest at this waterfront gem.
Jensen Beach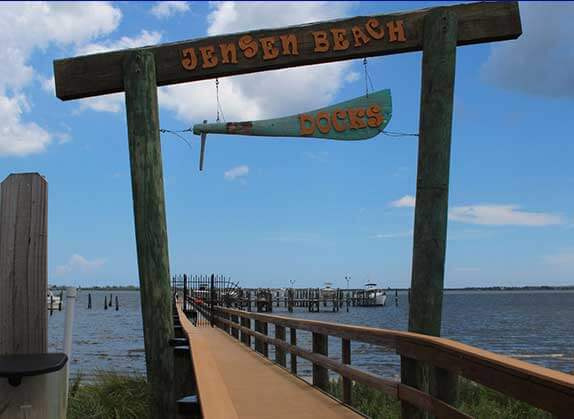 The tiny town of Jensen Beach, on the Indian River, is easy to spot—you're in the right place when you begin seeing the brightly colored "Key West" style artist cottages. This is another spot to catch artists in action. The small properties along the river, feature beautiful murals and carvings. Here's a tip: call the Driftwood Inn Motel and request the room with the Highwayman Mural. The interior of one of their rooms was painted by Mary Ann Carroll, the only female Florida highwayman. The Highwaymen is a group of 26 African American landscape artists who created a body of work of more than 200,000 paintings in the face of many racial and cultural barriers.
The town, once heralded as the "Pineapple Capital of the World," is now home to quaint art studios, restaurants, and boutiques. You will even see pineapple carvings throughout the area. For dining, try Pineapple Jack's Bistro housed in a brightly colored pink building with pineapple decor inside. Enjoy the stand out dish, Pineapple by the Sea, a heaping plate of Glazed Sea Scallops topped with a flavorful pineapple citrus sauce. For lodging, try the Jensen Beach Inn, a beautifully appointed inn with rooftop views and easy access to this charming community. From there, you can enjoy a stroll along the Indian River at the Indian Riverside Park, which is also home to the Children's Museum and the Mansion at Tuckahoe, a palatial Art Deco home once owned by a Coca-Cola heiress.
There are at least two top-notch places to stay here: Jensen Beach Inn and the Inn at Tilton. Both offer world-class comfort and luxury in the heart of downtown Jensen Beach.
Hutchinson Island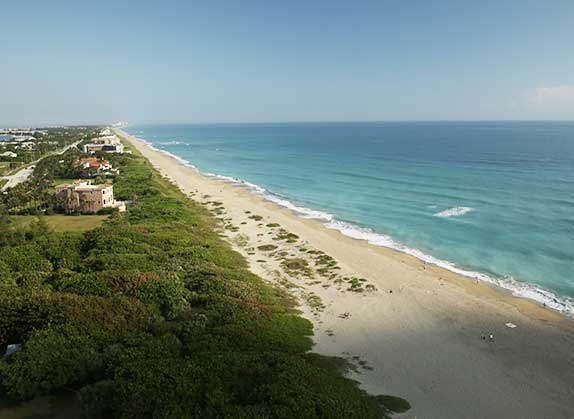 On Hutchinson Island, you'll find The Elliott Museum, known for its outstanding car collection, is home to outstanding permanent and visiting exhibits of various kinds. There are also classes in art, history, and technology. Make absolutely sure you bring your camera when you go. Hutchinson Island is one of the most beautiful places on earth to photograph the sunrise and sunset.
In Indiantown, stop by the Seminole Inn where you can see the history of the area, which includes that of the Seminole Tribe that called the area home, in the form of murals that line the walls of the historic inn.
Martin County's friendly small towns, historical and cultural charm, and beautiful natural setting certainly make this one a priceless gem of the Treasure Coast.