Beasts, Biking, and Musical Magic
By Su Clauson-Wicker
Cool adventures with the kids in Wytheville, Virginia
When Cyrus and Cesco were younger, I was the cool aunt—the one who wrestled with them, made funny mooing noises getting them to drink milk, and the one who helped build forts.
But somewhere along the way, my cool points dwindled. To savvy 10-year-old and 12-year-old urbanites, this middle-aged woman just didn't always get it. So when I offered to take the boys on an outing while their parents were second honeymooning, I wasn't too surprised they didn't jump for joy.
"Where?" Cyrus asked.
"Wytheville, Virginia. Trust me, you'll like it," I replied.
"Sorry, what-ville?" asked Cesco.
"Wytheville is right down I-81 in the mountains. Be sure to pack athletic clothes and something you don't mind getting camel slobber on."
Both boys turned almost in slow motion, and looked at me incredulously. Their interest piqued, which made me laugh.
Bonding with beasts
Fort Chiswell Animal Park is in Wythe County, but visiting feels like a flash trip to another continent—although with wallabies, wildebeests, zebras, Capuchin monkeys, ostriches, and other exotics, it's hard to determine which continent. When we arrived, a roving pygmy goat tried to smooch Cyrus. He wanted Cy's granola bar.
"I am so not kissing you," Cy said, grinning.
We boarded a bus and headed into the pasture. A double-humped camel named Puff poked his fuzzy neck inside the bus window, showing his teeth in a friendly way, and tried to steal Cesco's cup of Zoo Chow, which is animal food guests can purchase to feed the residents. Cesco pulled back, laughing. Yep, camel slobber. Cesco's heart was won; he ended up giving up all his chow to zebras, antelopes, and Puff at the first stop, and asked me for more.
Zookeeper Heidi Crosky rode the bus with us and gave a running commentary with little asides such as "don't let the buffalo get your fingers," and "wildebeests used to charge our bus," to dramatize the expedition for the boys. It's sort of a reverse zoo. The animals weren't caged; we were. The animals ran toward us when they saw the bus moving over the 45-acre compound. The boys met Cody the bison and Zelda the zebra, and later Fred the alligator. We also visited the monkeys, which were among the few animals in the park with enclosed habitats.
"The female throws poop at women," Crosky warned.
"Think I should get closer, and find out if that's true?" I goaded the boys.
"Yeah!" and "Definitely!" came the responses without hesitation.
Theatre wows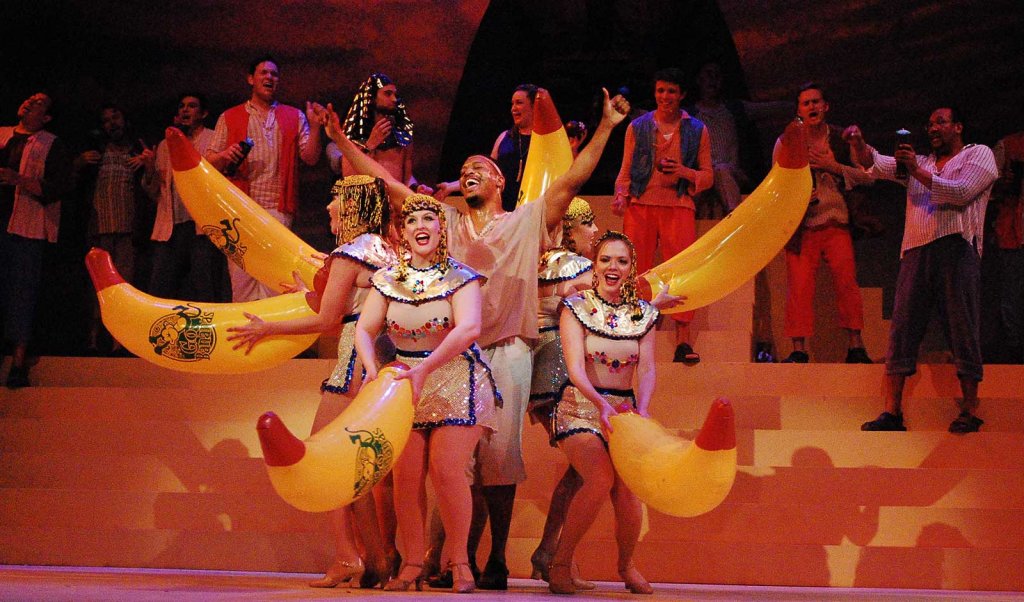 We moved on since we had tickets for Joseph and the Amazing Technicolor Dreamcoat at Wytheville's Wohlfahrt Haus Dinner Theatre. The theater is a year-round venue presenting a different production every eight weeks. The rollicking musical we attended cast child actors and seasoned professionals to tell a Biblical story in music, varying in style from country to Calypso to rock & roll. I knew Cy would appreciate the humor, and Cesco would love the acrobatic dancing.
Before the production started, we indulged in fabulous food. Menu highlights included house-made mac 'n' cheese, an excellent steamed broccoli side dish, and chocolate éclairs for dessert, all of which earned our instant approval. The boys seemed to enjoy being treated like adults by the wait staff. Actors doubled as servers, which made the experience feel interactive.
When the lights dimmed and Wohlfahrt Haus' musical magic began, the boys were just as transfixed as I was by the glittering sets, fast-paced dancing, and popping blend of music. It wasn't long before Cy was grooving along with the songs from his seat, and at the end of the evening, Cesco sought out and complimented our server on her dancing.
Rolling on the New River Trail
After a night in a comfy hotel—Wytheville offers dozens of lodging choices ranging from cabins to a posh B&B—we hit the trail. New River Trail State Park winds along its namesake river for 57 miles, passing through two tunnels and over 30 bridges. We entered the trail at Shot Tower, a 75-foot-tall structure used 200 years ago to make shotgun shell projectiles by pouring molten lead through a sieve, and taking advantage of gravity to cool the resulting metal drops before they landed in a kettle of water at the base of the tower.
Eager to spot the wildlife a ranger said we'd likely see, we headed north on the trail, and were soon rewarded by a blue heron rising from the river.
"It looks like a dinosaur!" Cesco exclaimed.
"Or an East African Crowned Crane," said Cyrus, remembering what he learned at Fort Chiswell Animal Park.
We paused to watch anglers reel in a pair of bass, then rounded a bend to see Foster Falls, the park headquarters. Here, we could buy snacks and rent tubes, kayaks, canoes, bicycles and horses. We opted for bikes, and were soon pedaling southward at four times our walking speed, rapidly absorbing the scenery. We slipped through an invitingly cool tunnel, and over a long trestle before meeting our shuttle in the old mining town of Ivanhoe.
"Next time let's go the other way to Claytor Lake, okay?" said Cyrus.
"Yeah, let's canoe and then bike," said Cesco, referring to the park's Pedal Paddle program, where park staff meet you at the canoe landing with bikes for the return trip. "I think that'd be so cool."
Sounds like Wytheville has won me back some cool points (even if just by association).