An Enriching Coastal Escape
Finding inspiration in the Lowcountry tides of Beaufort, SC
When my wife and I needed to recharge, refresh, and disconnect from the hustle of busy routines and gridlocked traffic, drifting into Beaufort, South Carolina, was an easy decision. Voted "The South's Best Small Town" by Southern Living, I knew we'd find much more than charm, history, and beautiful waterways in this Lowcountry gem.
The moment we arrived at Beaufort's historic downtown waterfront, the warm salt breeze, sparkling harbor, and shade-dappled oaks brought a breath of fresh air, instantly melting away the stress of the city. We took our time strolling down Bay Street, the lively welcoming heart of historic Beaufort, exploring the many delightful boutiques, galleries, and restaurants. It wasn't long until local residents and shop owners were greeting us like old friends, a generous spirit of Southern hospitality spilling out of every doorway and into the convivial atmosphere. It may have been fall, but the weather in Beaufort was temperate and pleasant, air sweet with long-blooming gardenia—a perfect compliment to the stunning sunset, painted in rose-gold and lilac hues.
Our appetites led us to the much-loved Saltus River Grill, where an outdoor table with a waterfront view waited. We watched boat lights glimmer on the distant tide and osprey glide overhead while sipping refreshing handcrafted cocktails. It was easy to imagine the same streets filled to the brim with smiling folk, simmering pans of wild-caught shrimp, and live music in just a few weeks' time—the Annual Shrimp Festival, a fall must-do in Beaufort.
From rich history to rejuvenation
After a decadent brunch of shrimp and grits and sweet potato pancakes at Lowcountry Produce the next day, it was time to explore one of Beaufort County's most famous barrier islands: Hunting Island. With four miles of pristine beaches, tidal pools, and a maritime forest, I knew right away that we'd found something magical. We climbed 175 steps to the observation deck of the historic lighthouse built in 1873, and I marveled at the sweeping views, bottlenose dolphins twirling and playing on the waves below.
Next on our itinerary was the Old Sheldon Church Ruins. Incredible untold history etched on the walls and inspiration infused into every nook and cranny, we found it impossible to resist the enchantment of wandering through the ruins (and through time itself). As brilliant beams of sunlight pierced the forest canopy to dance across mossy stone, I felt utterly spoiled by the natural beauty surrounding us.
We had plans to visit a spa later, but with everything in Beaufort being just a stone's skip away, we took a detour and cruised into Scout Southern Market for a special afternoon treat: the Sweet Tea Float. I opted for the classic float with lemon sorbet, but my wife mixed it up with peach—and decided it tasted just like summer in a glass! That's when I knew we'd be back, so we could taste everything Beaufort offered in summer, too.
From there, we hailed a horse-drawn carriage from The Sea Island Carriage Company, our knowledgeable guide sharing the rich history behind Beaufort's gorgeous 17th- and 18th-century antebellum homes, all framed by oak trees dripping with Spanish moss. Charmed by the peaceful clop-clop of horse hooves and gentle salt breeze, we coasted as long as we could before trading our carriage for the colorful Habersham district and a blissful massage at Trinity Wellness Spa.
A rewarding day on the water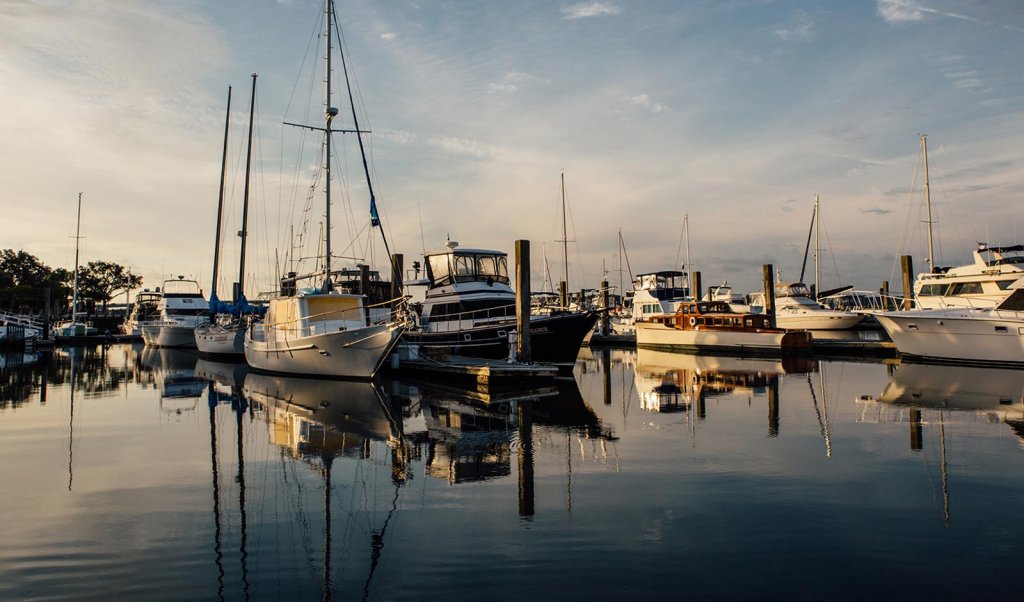 Calm, glassy early morning waters beckoning, we set out for a chartered fishing excursion on our final day, guided by the experts at Bay Street Outfitters. Our boat drifted over oyster beds in the peak of season while snow-white herons and egrets waded on saltwater marshes, watching us closely. With insight and intuition from our experienced guide, we cast our lines for the iconic, delicious redfish, eager year-round for a well-presented fly.
Out on Beaufort's endless mirror-like waterways, I couldn't help but find myself reflecting on all that is good and wonderful in the world. It's easy to see how only one or two rewarding days spent here could lure a visitor back permanently. In fact, many of the locals we met started out as just that, visitors—and stayed to drop anchor.
Later, over dinner at The Anchorage, we tucked into fresh-shucked Lady's Island oysters, tasting pristine coastline in every sweet, plump bite. The chef filleted our catch of the day—just-pulled from the tide on our chartered excursion—grilling it to perfection. On the wide veranda, we soaked in the timeless view of the Lowcountry waterways, warmed by the setting sun and attended to by friendly staff, and I dreamt of staying put forever, too. Because after everything we'd experienced in Beaufort, South Carolina, I knew one thing: This is no ordinary getaway. It's a coastal destination that is truly enriching in every way.