Best of the Beach
By Kellilynn Hann
Martin County, Florida's 17 beaches have activities for everyone
Martin County has more than 22 miles of beaches, where you can enjoy everything from surfing and fishing to historic diving sites. So, whether you're an adventure junkie or need a private spot to enjoy the surf and sand, this guide will help you plan the perfect beach day.
Family
Bathtub Reef Beach
Bathtub Reef Beach in Stuart, Florida gets its name from a natural reef that, at low tide, creates a calm pool of water protected from waves—perfect for little swimmers. The rocks also shelter a lot of sea creatures, making it a great place to learn snorkeling with mom and dad. The best time to visit is at low tide and while lifeguards are on duty. Plus, family-friendly amenities like restrooms, showers, and ample parking make beach day as easy as it should be.
Stuart Beach
In 2016, Stuart, Florida, was named America's Happiest Seaside Town by Coastal Living. It should come as no surprise, then, that Stuart Beach is a top family destination. If you have active teenagers, head to Stuart Beach where they can surf, windsurf, snorkel, and swim, all under the watchful eye of a lifeguard. There's plenty to do off the beach as well, thanks to volleyball and basketball courts. An easy walk from the beach takes you to two of Stuart's must-see attractions, in case you run out of sunscreen: The Florida Oceanographic Coastal Center and the renowned Elliott Museum.
Indian Riverside Park
Located in Jensen Beach, this park's 63 acres hold everything a family with school-aged children need for a wonderful day. Alternate excitement and relaxation with a bike ride along the many paths, a walk among the mangroves, splashing in the Indian River lagoon or play fountain, or having a picnic (and nap) near one of the gardens. If your family likes to fish, there's a 780-foot pier extending into the river. You can also escape the heat with a visit to the acclaimed Children's Museum of the Treasure Coast.
Surfing
Jensen Sea Turtle Beach (Jensen Beach)
This popular Jensen Beach park is the area's hot spot for surfing, as it has great wave shape even in choppy conditions. Plus, thanks to lifeguards, even beginners can feel safe. Post-hanging ten, refuel at the Sand Dune Café, which has shaded tables on a raised boardwalk for a breathtaking view of the Atlantic and all the beach action.
Glasscock Beach
If you like to surf but want to avoid the crowds, head to Glasscock Beach. Located in the town of Jensen Beach, its small parking lot and limited amenities mean you might just have the waves to yourself. Just a half-mile south you'll find a family-owned local surf shop, where you can rent a board or get surfing lessons.
Hobe Sound Beach
The town of Hobe Sound, and its beach of the same name, offer a big draw for surfers thanks to its many reef breaks and long sandbar. The quiet and undeveloped shoreline lets you enjoy the waves in a natural setting, but with the convenience of lifeguards, restrooms, picnic tables, and showers.
Snorkeling and diving
Ross Witham Beach
A visit to the Treasure Coast wouldn't be complete without exploring a sunken ship. Only 100 yards off the shore of Ross Witham beach in Stuart is the Georges Valentine Underwater Archaeological Preserve. Sunk in 1904 during a violent storm, the wreck is broken into five sections that create homes for sea life like turtles, lobsters, pufferfish, stingrays, eels ,and much more. Snorkelers can enjoy the sights, too, because the debris ranges in depth from 25–35 feet. Best of all, no boat is needed to access the wreck, simply enter the water via a rocky outcropping. You can rent equipment from several shops in nearby Stuart or Jensen Beach.
Fishing
All Martin County public beaches allow fishing from the beach, but these are the top spots for shore fishing.
Tiger Shores Beach
Tiger Shores Beach in Hutchinson Island gives anglers access to a wide variety of fish thanks to Nearshore Reef B, which lies only 1,000 feet east of the beach access. Its out-of-way location, lack of amenities, and limited parking mean you're likely to find an undisturbed spot to lure in a good catch.
Bob Graham Beach
This quiet Hutchinson Island beach is peaceful and undeveloped, and a favorite of local fishermen. Try your luck at hooking bluefish, snook, snapper, pompano, and more. Right before the Causeway to the island, on Indian River road, is a bait and tackle shop where you can stock up on everything you need.
Bryn Mawr Beach
A small sign is all that marks the entrance to this little-known beach on Hutchinson Island (punch in 2661 NE Ocean Blvd., Hutchinson Island to navigate here). Well off the tourist radar, with few parking spots and no amenities, this is one of your best bets for a quiet day of fishing.
Nature
St. Lucie Inlet Preserve State Park
Accessible only by private watercraft, this park in Hobe Sound is a nature-lover's paradise. Follow the boardwalk and trails through mangroves and oak hammocks, learn about native flora and fauna at the Nature Center, or head to the beach and enjoy the waves. Be sure to bring your camera, as you're certain to spot countless birds or maybe even one of the local bobcats. Stay overnight at the campground for a truly immersive experience.
Santa Lucea Beach
This is more than a beach; it's a peek into old Florida. This Hutchinson Island gem features five acres of natural area, including an acre restored with thousands of native coastal plants. See maritime hammock strands, a tidal swamp, coastal strands, and much more. The area was also the home of the native Ais people, whom you can learn about via signs along the dune crossover.
Blowing Rocks Preserve
Boasting the largest Anastasia limestone shoreline on our country's Atlantic coast, this beach preserve in Hobe Sound gives visitors a chance to see one of Florida's few remaining complete dune habitats. Hiking paths, boardwalks, and informative signs let you explore the area fully. Stop by the Hawley Education Center to learn more about the art, history, and preservation of the area.
Relaxation and romance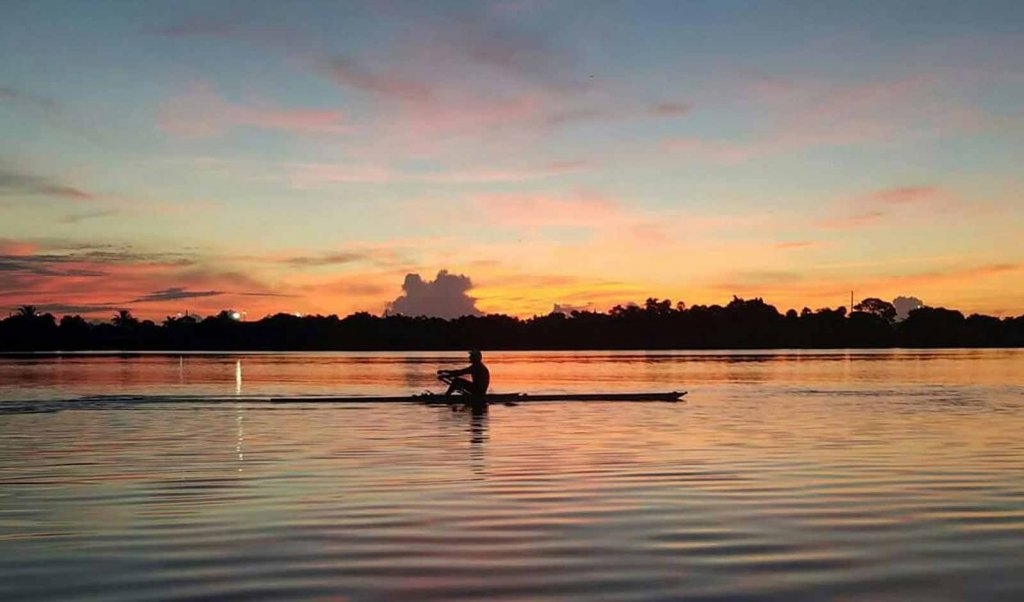 Fletcher Beach
If you crave privacy, give Hutchinson Island's Fletcher Beach a try. Very limited parking and no facilities means you're almost guaranteed a quiet spot all to yourself to enjoy the sun and sand. It's the ideal place to go snorkeling, have a picnic, and then take a romantic stroll with that special someone.
Curtis Beach
This little-known Hutchinson Island beach is a private paradise. Completely undeveloped, you won't see a single building for miles, especially if you head north. There are few parking spots and no amenities, so it's possible you'll be able to enjoy the sand, sea, dunes, and native plants in complete peace and quiet.
Chastain Beach
Most people pass by Chastain Beach on their way to the more well-known Hutchinson Island beaches, but that's good news for people who dislike crowds. Interesting rock features on the beach and in the water are ideal for finding sea life. Lifeguards are seasonal.
Dog-friendly
Martin County allows dogs on all beaches provided they're on leash, are not in a guarded swimming area during lifeguard hours and waste is picked up immediately. Also, don't forget fresh water if you're headed to a beach without amenities.
Head to Martin County and start planning your beach adventure.