Endless possibilities await on a fall road trip to San Diego
White-sand beaches, taco trucks, and a laid-back culture: the makings of the perfect fall road trip to San Diego. This beach town encompasses all that and more, which led to a memorable weekend getaway to the Pacific Coast!
As a late birthday gift, my friend Saul bought us third-row tickets to the sold-out Lana Del Rey concert in San Diego. I'd never been to a concert, so I was excited, to say the least — but the show was just a small part of our jam-packed itinerary. We set off with an entire week's worth of plans and less than three days to check everything off the list, but we were determined to experience San Diego in its entirety!
We started early, beginning the five-and-a-half-hour road trip Thursday afternoon for our adventure-packed weekend. Starting in Tucson, Arizona, we stopped halfway in Yuma, Arizona, to get a good night's rest (or so I thought). Saul slept like a baby, while I lay in bed awake all night counting sheep. I couldn't calm my nerves enough to get any sleep, I was too excited about the trip we had planned.
Even with my lack of rest, it was still time to rise and shine, and at 5 a.m. we hit the open road. Stopping by a gas station, we stocked up on snacks and drinks for the remainder of our trip.
DAY 1: The Benefit of the Route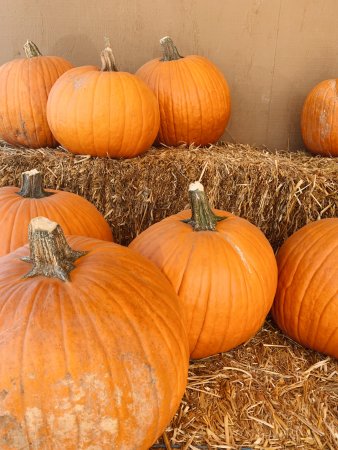 First up on the itinerary for the day was a classic autumn activity — a pumpkin patch. I hadn't been to a pumpkin patch since I was a little kid, so when we saw Mountain Valley Ranch on the way to San Diego, I knew we needed to stop and check it out.
This Ramona, California, pumpkin patch offered types of pumpkins I had never seen before, from tiny white ones to the stereotypical bright-orange beauties. We pet goats and horses and then checked out the nearby sunflower field. I picked out two baby pumpkins to take home before we hopped in the car to continue the journey to our Pacific Coast adventures.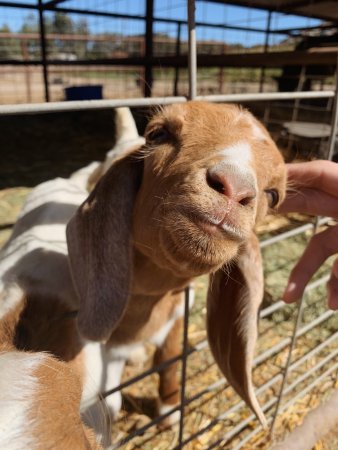 We arrived in San Diego around noon, which was a little too early to check into our Airbnb. We decided our snacks couldn't hold us off any longer. Searching for places to satisfy our hunger, we chose a nearby taco truck, Vegan Tacos SD, located on Grape Street. My vegan shrimp tacos made of rice and tapioca were heavenly, as was the horchata to wash it down.
With our bellies full and saltwater engulfing our senses, we did what desert natives must when the ocean is in sight and made a beeline to Sunset Cliffs Natural Park. We sat on the edge of the bluffs, taking in the breathtaking scenery. The iridescent, deep-blue waves crashed against the cliffs. Rocks lined the coast, meeting the ocean as seagulls and other birds flew above us, briefly touching down to tiptoe on the rocks before retaking flight again.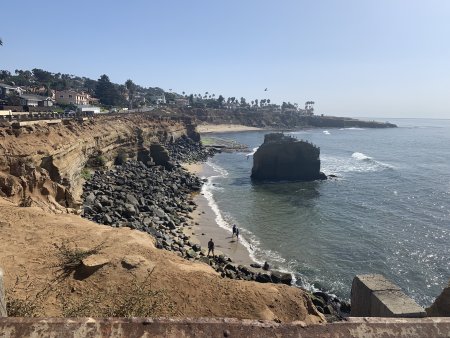 When check-in time arrived, we left the park for our charming Airbnb, nestled only a few streets away from the ocean. We settled into the room and crashed into the bed with the hope of napping before the concert. With no luck, I instead got ready for the show while Saul slept (again).
Later that night, I attended my first concert and realized the third row was way closer than I'd imagined it to be. We swayed to the calming melodies of Lana's voice as her back-up singers delicately danced around shimmering lights beside her. Lingering after the show, we saw the band toss their guitar picks and drumsticks to fans as security ushered us to leave.
Still dazed to have been so close to our favorite musician, hunger struck again, and we found ourselves at Plant Power Fast Food at San Diego State University. We chowed down on our plant-based burgers to calm our post-concert jitters. That night I finally got a good night's rest (and only 72 hours after embarking on our trip).
DAY 2: Sun and Ocean Blue
Awaking from our dreams of Lana's incredible performance, we set out for our longest day of adventures. We started with brunch at Kindred, a true one-of-a-kind bar, with an eccentric dining area that made eating an actual experience. From their ever-changing menu, I had the blueberry and lemon Breakfast Strudel, and Saul had the Pear Toast. An animal-head statue crossed between a lion, goat, and snake adorned the wall of this gothic but airy vegan restaurant. After brunch, we washed our hands in their galaxy-cat-themed restroom — it was yet another unforgettable experience.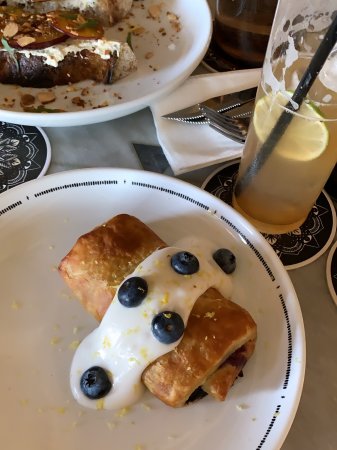 Next on the list, Saul brought me somewhere I'd never been — Balboa Park! We strolled through the lush Japanese Friendship Garden, searched for iconic photo spots in Alcazar Garden, found shade with tropical plants in the Botanical Building, and rested on park benches in the Inez Grant Parker Memorial Rose Garden. With so many gardens and sights to see, the whole park couldn't be completed in a few hours, so we moved on to our next destination — the Port Pavilion on Broadway Pier.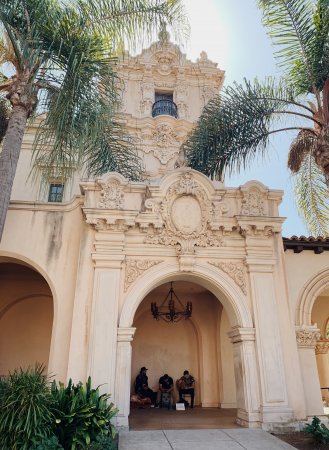 Sailboats, ferries, and docked ships decorated the shining waters off the pier of the San Diego Bay. Walking up and down the docks along the coastline, we decided to hit the water on a short ferry ride to Coronado Island to get dinner and catch sunset views.
Breaking from the vegan foodie scene, we ate at Spiro's Greek Café. I had my favorite seafood, crispy calamari, while Saul ordered a vegan-friendly option. Afterward, we stuck our toes in the warm, white sand before returning to the mainland as the sun dipped in the sky to meet the ocean. Not a bad way to end the day.
DAY 3: Sea You Later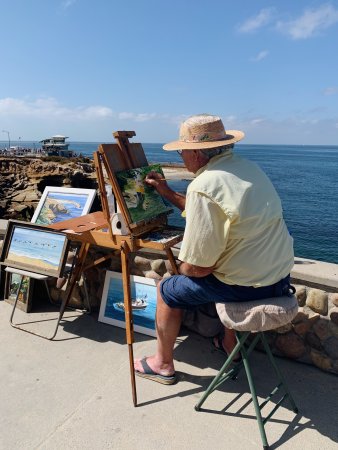 On our final day, we were reluctant to leave, but we still had some time and adventure up our sleeves! Dinner leftovers were on the menu for breakfast, and then we packed and checked out of our Airbnb to enjoy our final hours.
During the whole trip Saul had been showing me around, but now it was my turn! We went to La Jolla Cove, my favorite spot in the city, and walked down the seaside, scaling from La Jolla Shores Park to Windansea Beach. Along the way, we saw hordes of seals sunbathing on rocks and playing in the water. We also passed a local artist, Robert A. Higgins, painting the gorgeous scenery. I purchased a small painting from him, and during our short conversation I learned he has been painting along the coast for 10 years.
For our final meal in San Diego, we got lunch at Trilogy Sanctuary, a rooftop café that also offers yoga classes. We walked from the seaside through an art festival and up a long stairwell to get there. The pay-off was worth it as we ate with stunning views of the city and ocean.
All adventures end and our California dreamland did just that as we drove home, though the weekend continues to live on in our memories, urging us to make more.
Discover more of the Pacific Coast in A Coast Away.
---