Follow the Journey of This Family of Six
Planning a family vacation with four kids is already a challenge. Toss in a pandemic, and it can seem nearly impossible. Jeff and Coreen of Kansas City, Missouri, knew just where to go for a staycation — Branson, Missouri.
"I remember going to Silver Dollar City as a kid, so I knew this was a great place to go without traveling too far during COVID-19," said Jeff. "There's really something for everyone to do here."
Jeff and Coreen packed up their children, Andrew, 14, 11-year-olds Danielle and Delilah, and Charlotte, 5, for the little over three-hour road trip. Upon arrival, they checked into the Hilton Promenade at Branson Landing for four days of jam-packed family fun.
Shopping & Dining with Fire and Water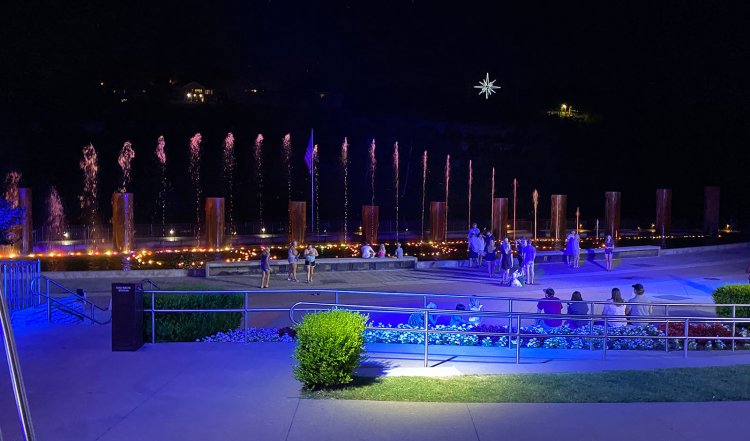 Branson Landing is a prominent attraction, featuring a scenic boardwalk along the 1.5-mile Taneycomo Lakefront. The vibrant shopping and entertainment district is home to over 100 shops and restaurants. The showstopper here is the first-ever merging of water, fire, light, and music in a spectacular multi-million dollar water attraction. Guests are amazed by the dazzling interplay of 120-foot water fountain geysers and blasting fire cannons, all choreographed to light and music.
"Our hotel was right in front of the fountains," said Coreen. "We could walk anywhere. Right behind us was an ice cream shop, we ate at Paula Deen's, and the kids liked the arcade games."
Bring on Breakfast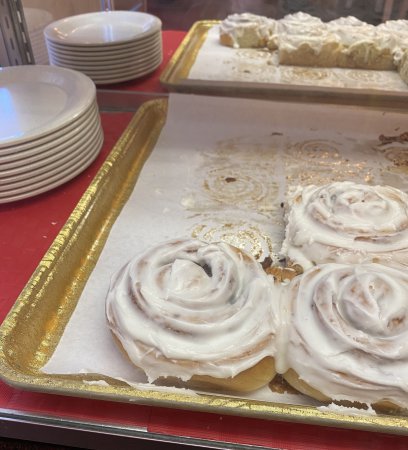 Established in 1910, Branson Cafe has been around longer than Branson has been a town. The city's oldest restaurant serves good food in historic downtown with fresh breads, desserts, and pastries from Tom's Town Bakery. In fact, this place is famous. Tom's homemade pies have been featured on the Today show. The restaurant has also been on 60 Minutes and Across America.
"The cafe was so affordable, the cheapest meal we ever had. We were able to get breakfast for six people for $20. The biscuits and cinnamon rolls were both hits," said Coreen.
Coastin' the Coasters
The Track Family Fun Parks is a family favorite in Branson, Missouri. They've got things to do for everyone, and all ages, with high-rise and classic go-kart tracks, laser tag, laser maze challenge, bumper boats and cars, kids rides, mini golf, indoor glow golf, arcades, batting cages, and more. Go-kart fans can't miss the Heavy Metal High Rise and the two wooden tracks, Wild Woody and The LumberJack. Thrill-seekers will clamor to board the Skycoaster, a 100-foot-tall super swing that combines skydiving with hang-gliding.
"Hands down, this was everyone's favorite place. We could have spent all day there," said Coreen. "The arcade was awesome, so many types of go-kart tracks and the Ferris wheel. The best part, our littlest one is a daredevil and will try anything. They had kiddie go-karts she could drive herself and a little Ferris wheel she could ride alone."
Trained Cats, Dogs, and Parrots, Oh My!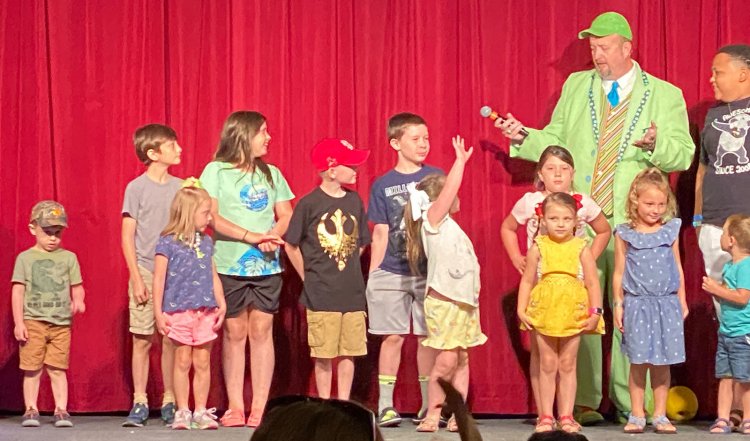 Parents and children alike will be wowed by the furry creatures that star in this family-friendly show. The troupe of skilled dogs and trained house cats (many saved from rescue groups around the country) of the Amazing Pets Show at Grand Country Music Hall perform exciting tricks. Beautiful exotic birds and other magical surprises await as well.
"This was so fun! There were even trained parrots," shared Correen. "All of the kids loved this. My oldest, Andrew, thought the host was so funny. You'd expect the younger kids to enjoy this, but he had a blast, too!"
All Aboard the Nostalgia Train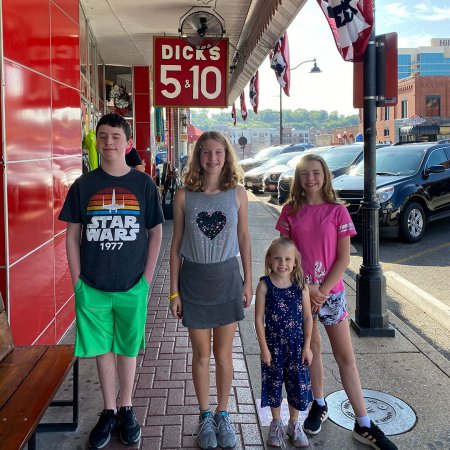 A Branson icon for over 55 years, Dick's 5 & 10 is a pathway back in time. This old-time variety store in downtown Branson offers home decor, gifts, and Branson souvenirs. The sheer volume of goods is impressive to behold with the incredible selection of nostalgic and novelty candy, the vastness of the merchandise, the historic collections, and the "Fun Aisle." If that wasn't enough, trains run overhead, delighting all who enter.
"This store had everything!" exclaimed Coreen. "I am already planning to return during Christmas to get the perfect stocking stuffers. They had so many unique finds, like a Yoda mug. Andrew liked the metal legos, the girls got some jewelry, and I picked up some fun socks and kitchen gadgets."
Searching for Sasquatch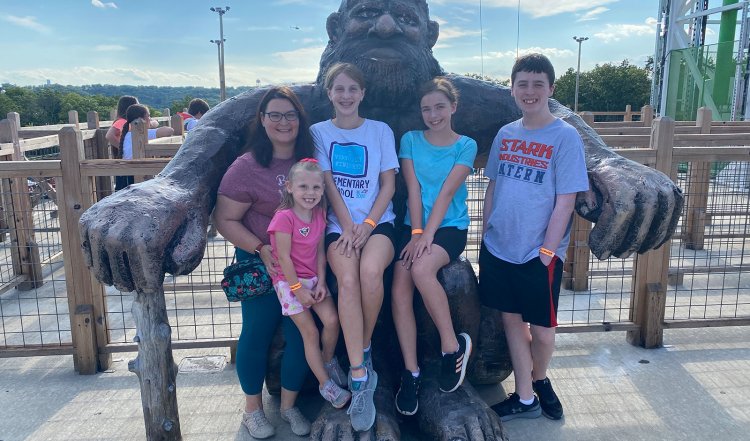 Bigfoot fans and non-fans alike will love the thrills and spills at the Bigfoot Fun Park. The Bigfoot Gravity Bomb is one of the world's only 200' free-fall rides with a heart-pounding descent. The Bigfoot Super Sling launches two riders on a saddle seat back-to-back straight up into the air. For those seeking less of an adrenaline rush, the park offers an arcade, adventure park, fun zone, and cinema. Plus, guests can take off into the Ozark Mountains searching for Bigfoot on the Bigfoot Discovery Expedition.
"Our girls really loved the roller coaster and Super Sling. The excursion took well over an hour," said Coreen. "It started with a ride out into a working Scottish Highland cattle farm on a jeep-style bus. Our youngest was a little scared, but the older kids loved hunting for Bigfoot."
Show-Stopping Fun for Everyone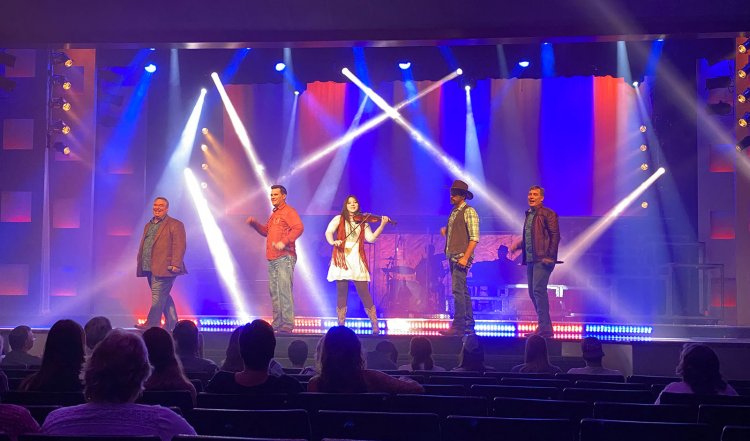 Billed as the "greatest show" in Branson, the Hughes Music Show features the whole family, astonishing audiences with spine-tingling harmonies, soaring powerful vocals, virtuoso instrumental performances, infectious comedy, and intoxicating multi-layered musical arrangements of the best in pop, rock, R&B, country, classical, Broadway, patriotic, and gospel music. Add in captivating original choreography, and state-of-the-art sound, and you've got musical excellence the whole family will enjoy.
"We thought this might be more geared to adults, but to our surprise, the kids loved it. They play all kinds of music, including hits from the Greatest Showman," shared Coreen. "We chose to have the dinner experience. The tables were socially distanced, so it was safe. The fudge was so good, we got every kind."
Let's Get Physics-cal
Who says learning can't be fun? This science-focused indoor amusement park combines education and entertainment with over 100 hands-on exhibits that offer challenges for all ages. Feel the power of 84 mph hurricane–force winds in the Hurricane Shack. Make huge, life-sized bubbles in the Bubble Lab. Get the NASA treatment in the Astronaut Training Gyro and experience zero gravity. Nail it by lying on the death-defying Bed of Nails.
"Wonderworks was such a neat place," said Coreen. " They kids loved creating giant bubbles, the hurricane simulator, and making their own skittles."
A Roarsome Time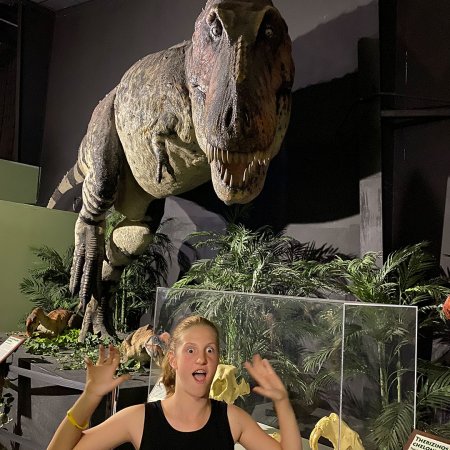 Budding paleontologists as well as the young (and young-at-heart) can go back in time and see 45 life-size dinosaur replicas. The Dinosaur Museum put guests in front of long-extinct creatures, from the small, four-winged Microraptor to the enormous tyrannosaurus rex, fondly referred to as T-Rex. Plus, there's a fossil exhibit, dinosaur documentary films, coloring opportunities, and gift shop. Make sure to grab an "I survived the Branson Dinosaur Museum" sticker before you leave.
"Our youngest and oldest love dinosaurs, so there was no way we were missing this place," said Coreen. "We all had so much fun looking at all the different dinosaurs. The staff was incredible, helping our kids get into the experience. They especially enjoyed digging for fossils."
You Missed Something…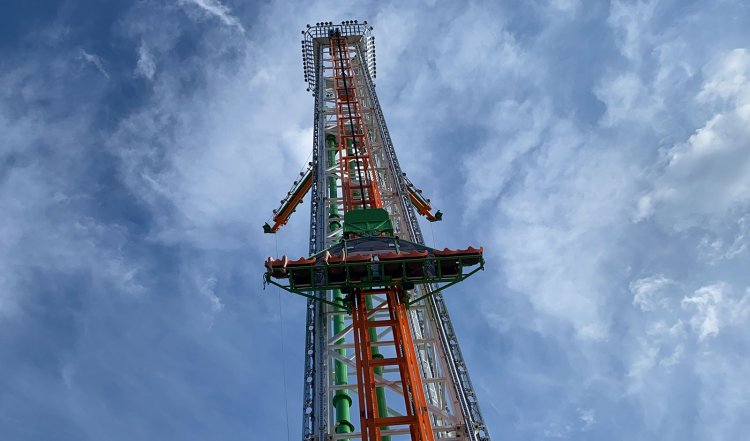 As you can see, Branson, Missouri, is an adventure just waiting to happen. For Jeff and Coreen, this is just the beginning. They will return as a family to ride even more go-kart tracks, slip and slide through the water parks, explore the car and Titanic museums, and much more. Of course, their trip won't be complete without a full day at Tracks Family Fun Park.
You can plan your own epic family adventure to Branson, Missouri. Start here.