One and Only Tucker County
A unique destination in West Virginia that quickly feels like home
"Say cheese!" I shouted, extending my left arm to capture a family selfie in Blackwater Falls State Park. Below the bridge that we were huddled on, a nearly six-story, amber-colored waterfall rushed into a rippled pool of water traveling to Blackwater Canyon. It was neat to track the water's path—Ainsley and Ana, my husband Rob and my seven-year-old twins, followed a leaf that had fallen into the river as it was carried into the water below.
"I wonder where the water comes from before it gets here?" I said, as we walked back to the car.
Rob paused to review our park map. "Are you up for a bit of a hike?" he asked Ainsley and Ana, grinning.
"Yes!" they shouted. Off we went…
We exited the falls parking area and headed west, deeper into the park. Passing by most of the trails, we finally stopped at the Lindy Point Trailhead, which the park literature boasted of having unmatched views of Blackwater Canyon. The girls shot off down the trail like rockets and we jogged behind them. The trail was tunnel-like, the path surrounded by a forest of deep green rhododendron leaves. Soon, with one step up over a rock, we came upon a small pathway through the leaves. That step burst forth into a stunning scene of the valley, stretched out into the horizon. The Blackwater River was a tiny ribbon of sparkling water far below us and the mountains hunched like shoulders bending down to meet it.
"What a payoff!" I said. There wasn't a building as far as the eye could see, and it was such a welcome sight. I grinned listening to Ainsley and Ana talk about a leaf on the ride of its life on the river below.
I had to pat myself on the back—visiting Tucker County was a great idea.
Family dinner
I was brainstorming ideas for a family vacation, when this city and that city started to blend. Do you truly get to know a town if you end up in the same attractions that can be found everywhere? A strip mall is a strip mall is a strip mall. I wanted somewhere with a distinct personality, somewhere where the answer to "Where do the locals go?" is "everywhere."
So we ended up here: a region in West Virginia's northeast corner.
"You would pick a brew pub for dinner," I teased, looking at the sign over the door.
"What?" Rob asked, feigning innocence. "It was the first place I saw!"
Upon entering Blackwater Brewing Company in Davis, we were immediately greeted by an enthusiastic man who turned out to be the owner, Lincoln Wilkins. He welcomed us to take a seat anywhere and told us that while he does not serve food, anyone is welcome to bring their own takeout from any of the neighboring restaurants. He rattled off a list of nearby options and Rob popped out to gather our meal from Big Belly Deli—a Lincoln recommendation—while I got the girls settled in a cozy booth near a grand stone fireplace.
Lincoln brought over a tasting paddle of "must try" beer, right as I bit into my generously stuffed Reuben.
"Who needs Yelp when you have people like Lincoln?" Rob mused, talking with his mouth full.
"And who needs fast food when you have a deli sandwich like this?" I asked. "Now, can I taste that oatmeal stout? You're hogging it!"
While we finished our meals, we chatted with another family also in from out of town. The girls befriended their son and they happily played between our tables. The family had just come from Blackwater Bike Rentals, a rental and repair shop where they got some tips on riding the Blackwater Canyon Rail Trail. Hearing about their great experience, we decided to venture out and explore Tucker County on two wheels the next day.
Tucker County bike ride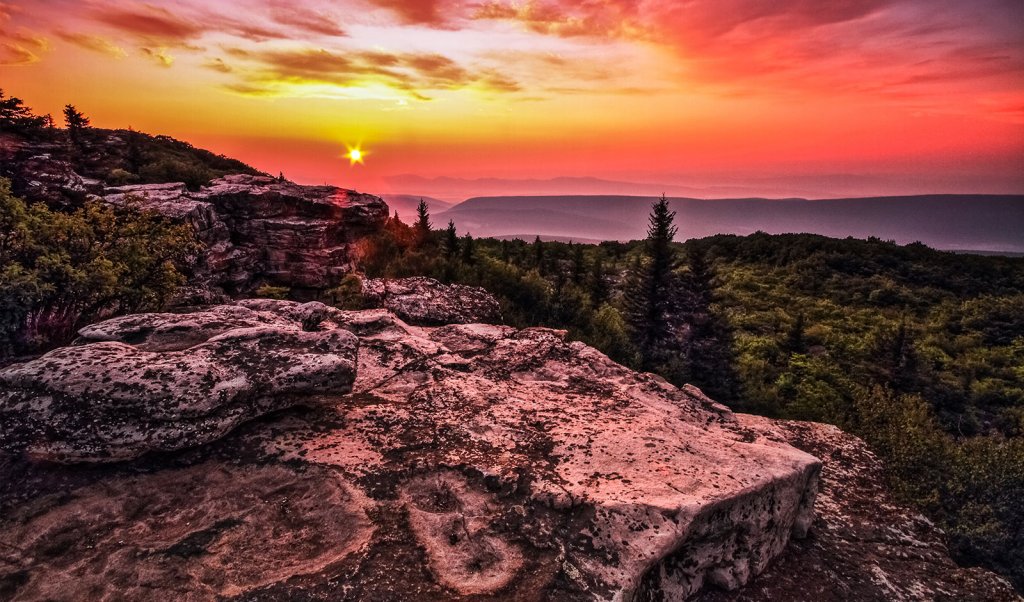 We set out for the rail trail early the next morning. The trail, which was accessible from the nearby town of Thomas, was just as easy to find as our brewery friends had promised. We secured the girls in child seats on the backs of our rented bikes and headed north along the Blackwater River.
We peddled through lush greenery, a few old stone bridge braces, and over several wooden bridges, often with the Blackwater River rushing underneath. The best part of all was how engaged the girls were, pointing out whatever caught their eye along the trail and giggling every time we hit a big bump.
When we got back to Thomas, we strolled along Riverfront Street, which was lined with galleries, restaurants, and antique shops—no Starbucks or drive-thru, just original personality, like we experienced for ourselves the previous night. I spied a particularly interesting gallery, Lamplight, and pushed open the door to find a cheerful brick gallery dotted with colorful canvases. The girls were immediately drawn to the bright colors, and Rob followed them about the shop while I leisurely browsed the collection of textile arts.
"You don't always find that," I commented as we left the gallery. "The artist actually in the gallery and able to tell us about her work."
We spent a little more time meandering around town from the quirky carousel horses at Three Castle Antiques—which the girls adored—to The White Room Gallery, a working artist studio. Every door we passed through brought a new surprise. And, even better, our family was warmly welcomed everywhere we went.
Paddling along
The next day, we made our way to the town of Parsons to pick up tandem kayaks and head out onto the water—Rob had arranged an afternoon paddle on the Cheat River with Blackwater Outdoor Adventures.
As we glided along the surface of the still water, we felt tiny in comparison to the tall green hills reaching up from the water's edge. We passed several couples and families kayaking, canoeing, and tubing. When we came upon a teenage boy on a stand up paddleboard, Ainsley shouted, "Look at that!"
"Can we do that?" Ana implored.
"It's harder than it looks," the boy shouted back with a smile.
We ended our day back in Thomas with good food and live music at the Purple Fiddle. We arrived just as the deli-style restaurant was starting to fill with couples, groups, and families. After the girls finished their dinner, we all got up to dance to the live bluegrass music and topped the evening with ice cream cones all around.
"You've got to love a bar that's also an ice cream shop." I said as I wiped ice cream from Ainsley's chin. "Where else can you listen to live music with a double scoop cone?"
"This certainly isn't like any other place we've ever visited," Rob said, leaning in close to be heard over the music. "I haven't seen anything that I recognize—but it all certainly feels familiar." He gestured to the twins, who had clasped hands with a few other children to dance around in a circle.
I smiled, and patted myself on the back once more.