The mountains have always been important to me and my wife, Maggie. We both grew up in the mountain-rimmed city of Tucson, Arizona, we held our wedding among the pine trees of Arizona's White Mountains, and our honeymoon began in the clifftop village of Orvieto, Italy. Fair to say after a year of being cooped up, the mountains were definitely calling our name. Ironically, our last big mountain adventure was to Banff, Alberta, Canada, for a summer escape disguised as a babymoon. This time we'd be taking that baby, now an 18-month-old little girl, with us to Montana.
Fueling Up — Bozeman
Something felt right about being in Montana for the Fourth of July. The rolling horizon of what still very much felt like the Wild West's unexplored frontier, a historical main street lined with the stars and stripes, and menus filled with food provided by local ranchers and farmers. If there's an American Trinity of Patriotism, that'd be it. We chose the Bozeman Montana Ale Works for dinner and took our seats among the other families, locals, and fellow travelers.
I couldn't help but order the elk burger (when in Rome) and a Scared of the Dark—white stout from Missoula's KettleHouse Brew Company—and Maggie ordered the Montana grain bowl and a glass of sauvignon blanc. We're fortunate to have a toddler with an adventurous appetite, so she was able to eat off our plates, though the truffle fries were still her favorite. Everything was delicious, and the service was on point even in the jaws of the holiday rush.


Having taken two flights that day, we took a short stroll down Main Street to walk off dinner and then called it a night. After a great night's sleep, we packed up the car and hit the road for our long five-hour drive up to Bigfork—but not before stopping for one more meal in Bozeman.
Feed Cafe sits on the side of the road and looks like a barn cut straight from a picture book. Stepping inside you're greeted with softwood floors worn to the perfect shade of nostalgia, a small shop filled with an immaculate collection of curated flatware, jars of local honey and jam, and every delicious breakfast smell imaginable. The gals behind us in line were locals and kindly walked us through all their favorites, closing with "just be sure to grab some of their house ketchup to put on whatever you get."
I ordered the pastrami hash, and Maggie ordered the French toast, which featured the seasonal huckleberry sauce. Being from Arizona, hot salsa is my go-to for my savory breakfast topping, not ketchup. But, given the gals' excitement about it, and the fact they sat at the table next to us, I obliged and dipped my hashbrowns in Feed Cafe's housemade ketchup…and it was amazing! It wasn't just some Heinz knockoff—it had flavor, spice, and umami. Maggie and our daughter dueled over who could eat more of the best French toast any of us had ever had. Fortunately, there were no losers, just two happy ladies.
With our bellies and gas tank both filled, we hit the road to venture across Big Sky Country.
The Mountain's Height, The Valley's Shore
The drive from Bozeman to Bigfork was undoubtedly long, five hours all said and done. But it is as close to a must-see as a commute of that length gets. The views and vistas found between Helena and Seeley Lake were some of the most breathtaking spots you'll find outside of a national park. Mile after mile of purple mountains majesty and all the fruited plains.
Just as the ladies were getting antsy to get out of the car, our first glimpse of Flathead Lake broke through the trees. It didn't look like a lake, it looked like we overshot and hit the Pacific Ocean. The other side looked miles away, like looking across the Puget Sound in Seattle or out to the Channel Islands just north of Los Angeles. But across this massive expanse of freshwater didn't sit humps and bumps of land like on the lakes in the midwest, instead, a towering mountain range stood looming. Our destination, Bigfork, sat just on the edge of the northeastern portion of this slice of "wait, this has been in America this whole time!"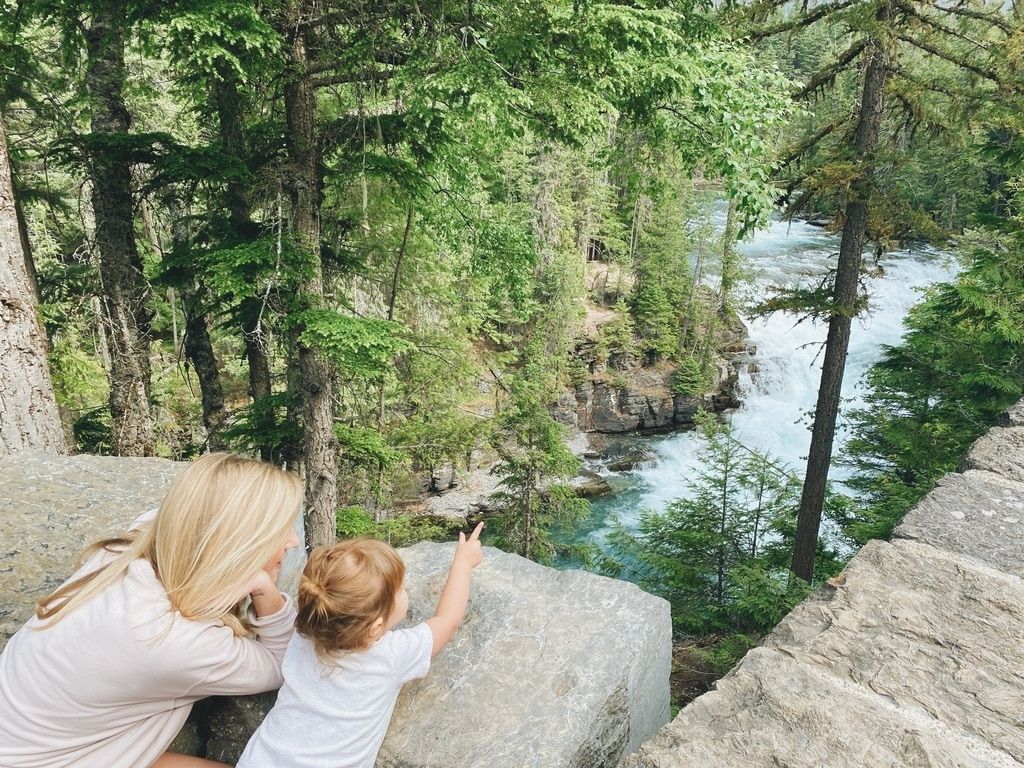 After dropping off our belongings at the rental and taking a moment to giggle with excitement at our view for the next several days, we headed into Bigfork to explore the town. The quaint town was packed with restaurants and shops. Despite knowing our destination for dinner, we snagged the first parking spot we could find and decided to wander. We were glad we did, as we stumbled onto a small farmers and craft market being held next to an outdoor bar and restaurant called Lake Baked. Their covered patio sat on the banks of the rushing Swan River, and a small grassy glen where a couple played a wooden flute and fiddle to the delight of the smiling patrons. Maggie grabbed a seat on the grass, I ordered us some drinks made with local whiskey, and we sat and enjoyed this magical place as our daughter ran around smelling every flower at eye level. Not even The Shire was a happier place than Bigfork was on that evening in July.
The next day was lake day. We packed our bags for a full day and headed out around the north coast of Flathead Lake to find our kayak rental's launch point. Paddle Board Outfitters sits at the most northern tip of Flathead, just outside of Somers. We were a bit worried what the staff would think of us loading a toddler into one of our kayaks, but they greeted her with such excitement and were thrilled to see her strut her way across the dock and into Maggie's lap. We pushed off and began our morning paddle out to some of the small islands that dot the lake's coast. Paddleboarders, sailboats, and fellow kayakers waved kindly as our daughter enthusiastically shouted "hi" to everyone we passed. We took our time and paddled about a mile out to one of the islands, taking many snacks, water, and splash-fight breaks along the way. It's hard rushing when you're surrounded by so much natural beauty, and watching our daughter laugh as violet-green swallows swooped along the water was just the icing on the cake.
Having paddled back in—mercifully before the afternoon winds kicked up—we drove around to Lakeshore to eat our lunch and enjoy the beach. We knew we were in for a great afternoon, we just didn't know we were walking into a Norman Rockwell painting. On the shore, moms read their books and watched in quiet joy as their young kids splashed in the shallows with their father, while the older kids jumped from the docks. The three of us joined in the fun and played there in the crystal clear water along the pebbly banks for what felt like hours.


Our last day in the Flathead Lake area would be spent in Glacier National Park. As if ordained, the skies were filled with voluminous clouds which would have spoiled our beach day but would end up making a perfect backdrop for today's sightseeing. The drive was only about 50 minutes, but the woods were an unmistakably deeper shade of green around the park. We had been warned by a family friend to buy not only our national park park pass, but also our Going-to-the-Sun Road tickets well in advance of our trip, as they only sell a set number to keep the traffic manageable.
Inside the park, the drive along the Going-to-the-Sun Road quickly turned from quiet appreciation to audible "Wow! Babe, did you see that?" moments as the towering mountains, stretches of rushing waterfalls, and expansive lakes popped out from behind the curves in the road. We made several stops to soak in the treasures hidden in the park. Now, we've been to the emerald blue lakes of Banff, toed the edge of the Grand Canyon, and sipped wine on the alpen pastures of Switzerland, but never before has nature felt so immediately close. These weren't vistas or overlooks, these were layers. And we were just one of the many that stood behind and before us.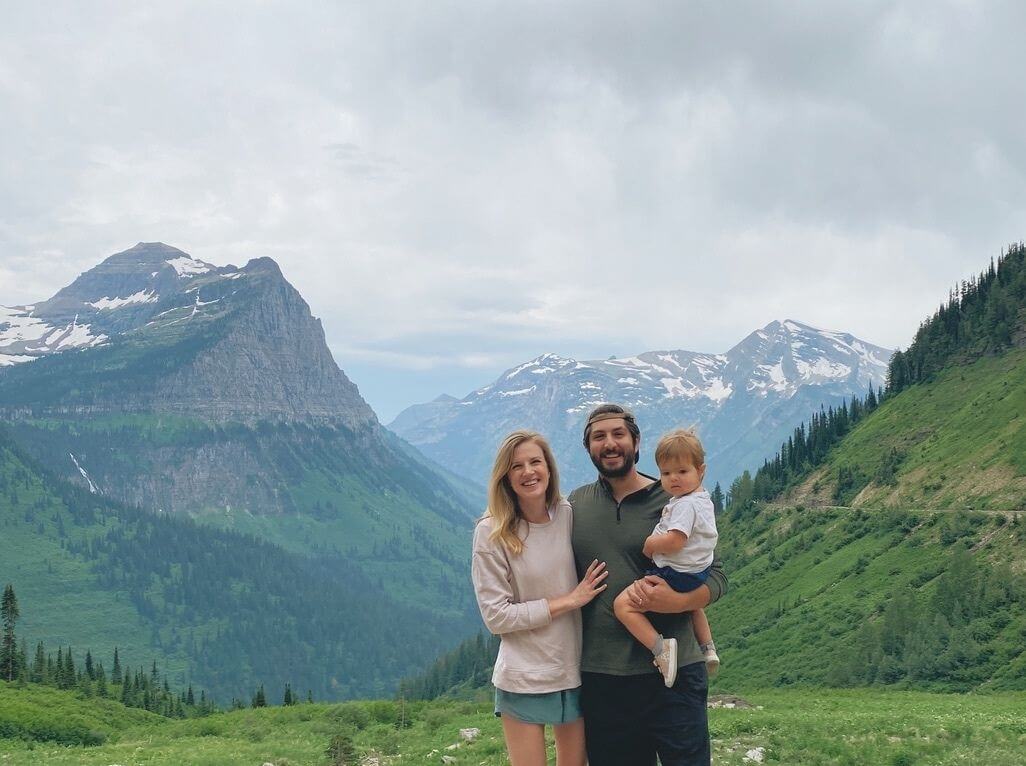 We continued the drive, the road pitched steeper and steeper. The layers of Glacier National Park magnified as the river valley floor shrank below us. Individual trees melted into a blanket of green. The grey sky expanded above us. Distant mountain ranges stood and shifted into their proper place. And there at the top, just before Logan's Pass, Glacier National Park took on its full form. Rivers low, mountains high, nature's living green, and earth's soft grey.
The Way Home — Missoula
Missoula felt alive. There was a buzz in the air only you can only find in college towns. While most of the students were home with their families, their energy could still be felt in the middle of summer. The dining and shopping options felt endless. You could grab a greasy late-night cheeseburger, a start-to-finish vegan meal, or a quiet date-night spot with an impressive wine list. There were places to spend all of Daddy's money with the family credit card or thrift for the perfect piece with whatever tips you made at last night's shift.
This being our big family vacation of the year, we opted for the finer side of Missoula and found ourselves at a wine bar called Plonk. We took a seat towards the back in their low-seated booth section where our daughter would be able to move back and forth between me and Maggie without disturbing the other patrons. Our server walked us through the menu, pointed out his current favorite wines on the ever-rotating list, and we made our selections. I love a diverse wine list, and Plonk delivered. I ordered myself an orange wine from Austria, Maggie ordered a dry Riesling from Germany, and we split the cheese board. Cheese boards are often underwhelming and carelessly thrown together, but Plonk once again delivered. The spread ranged from mild English cheddar to the funkiest of blues, and even featured a few curveballs like charcoal-crusted goat cheese from Spain and thistle-laced sheep's cheese from northern Italy.
After a delicious dinner at a local pizza joint, Biga, we wandered around looking for some dessert. To say that Maggie was drawn to Sweet Peaks Ice Cream by its storefront would be an understatement. It snagged her eye from down the street, and she was helpless against it. Mercifully, the line was long, which gave us time to decide between the options which all sounded perfect. Maggie landed on huckleberry, and I opted for Grizzly Tracks…our daughter was able to enjoy both. We headed down to the river, which cuts through Missoula, and found a park for our toddler to run off her ice cream energy.


The golden hour felt longer in Montana. The sun just hung in the perfect spot for what felt like forever before slipping into the silver of twilight. Maggie and I sat and watched our daughter run back and forth over the play structure while reminiscing about our trip. That little thing was a champ. She withstood a five-hour car ride that would have made even Lewis and Clark stir-crazy. She kayaked for hours and gave us the most precious summer memories on the banks of the lake. She didn't just put up with walking trails in Glacier National Park, she wanted to walk more. Maybe it's not that we don't give our kids the credit they deserve, maybe we just never give them enough space to surprise us. Fortunately for us, there was plenty of space in Big Sky Country.
Meet the Travelers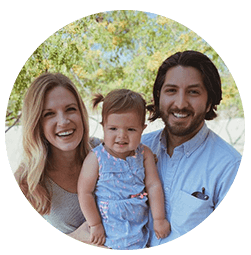 The trip may begin at the end of the runway or driveway, but for Louie and his family, the adventure doesn't begin until that first meal at the destination. Louie and his family love cooking together, uncovering the next best place to visit, and exploring their beloved hometown of Tucson, Arizona.