Horses, Hounds, and Polo
Going Equestrian in Aiken County
A fashionable destination
With at least one or two more inevitable snowfalls ahead of us, my husband and I decided to look South for a vacation that would give us a jumpstart on spring. Someplace we could finally get outdoors and shake off the cabin fever we'd experienced since the holidays. Inspiration struck when I discovered Aiken County, South Carolina, an equestrian destination known for horse-filled days and the slow, relaxing evenings that make the south so ideal for vacations.
After more research, I learned that Aiken County had become famous in the late nineteenth century as a winter colony for "American royalty" from the northeast—families with names like Astor and Vanderbilt. Over time, more and more snowbirds were drawn to Aiken County's moderate climate and horse-friendly sandy soil.
While not exactly royalty, my husband and I are horse lovers, and it was easy to fill up our itinerary with a wish list of activities, from trail rides to fox hunts and polo lessons. This would be a vacation filled with muddy boots and grass stains, and we couldn't wait.
Compared to all of the other new experiences (like fox hunting and polo) we'd included on our itinerary, trail riding was something I was very familiar with, as I'd spent many a day wandering the trails near our home. One thing I was not expecting was the breathtaking natural beauty we'd encounter on our ride.
Aiken County, which has more than 65 miles of trails for visitors to enjoy, is positioned between the foothills and the famed Lowcountry of South Carolina, which explains the striking variety found in its natural surroundings. One moment, we'd find ourselves under the massive canopy of majestic oaks, and the next, we were trotting past dogwoods and wild azaleas. While I was enamored by the landscape, my husband, an amateur birder, could barely contain his excitement each time he spotted a new species. In fact, I must have heard him shout out the names of at least four different types of woodpeckers alone.
Our day on the trails left us both relaxed and energized for the days to come, making it the perfect start to our equestrian vacation.
Running with the dogs
The morning of our fox hunt held a light mist, which gave way as we headed out, although even a driving rain wouldn't have been able to dampen our enthusiasm.
Surrounded by horse and hound, the experience felt timeless, with seemingly every detail, down to the designated roles and attire, steeped in tradition. Though neither of us had participated in a hunt, the scene felt familiar, as if we'd stepped into a painting we'd admired for years. Even from our "hill-topper" perspective a fair ways behind the pack, it was easy to get caught up in the majesty of the experience. We aspired to be "first flight" riders, watching and admiring as they kept a frantic pace behind the hounds, jumping over every obstacle in their way.
Once the quarry had gone to ground, and the hounds had been called off for the last time, we gathered back at the stables with our new friends to trade our favorite stories from the day.
A new perspective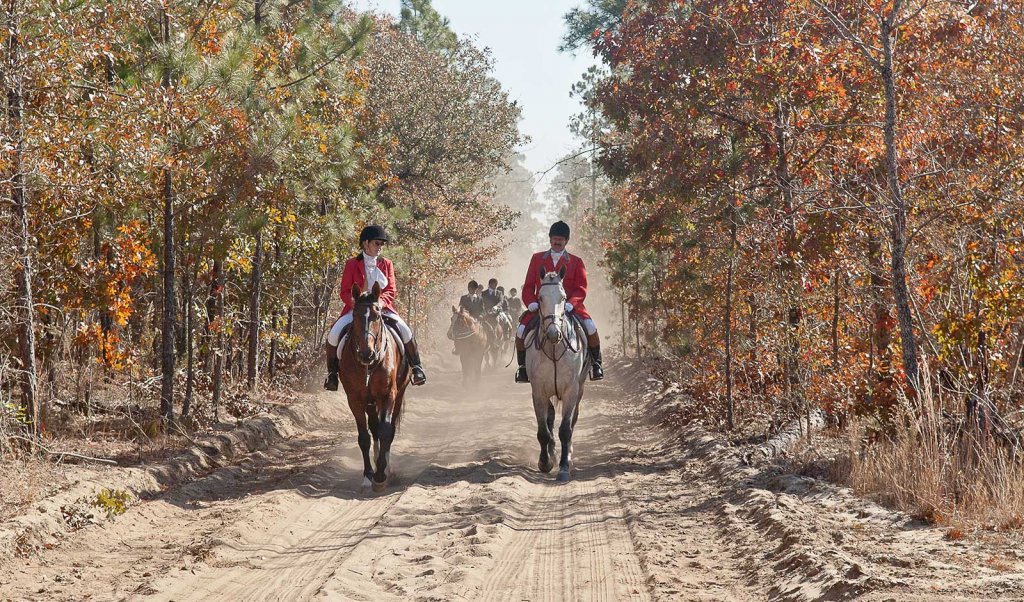 When we arrived at Overbrook Farms, located just outside of the city of Aiken, for our polo lessons, I was feeling equally excited and nervous. For me, staying upright on a horse was a good thing. However, having a pro at my side to walk me through the basics of leaning put me at ease right away, and pretty soon, the exhilarating thrill of trying something new took over. I found myself as comfortable at the horse's flank as I had been upright in the saddle!
Suffice it to say, we walked away from the lesson with a new appreciation for the game.
It was with this new appreciation that we watched the professionals do their thing at the Aiken Polo Club, an established polo club with well over 100 years of history. Never ones to turn down hospitality, my husband and I opted to enjoy the match from the social tent, where fashionable dresses and stylish suits meet mouthwatering barbecue and specialty cocktails. Surrounded by such an enthusiastic and friendly crowd, we found that their love for the sport was contagious.
Spending a week playing in this equestrian paradise was truly a vacation unlike any other, and it was just the break we needed from our chilly hometown. And while we were leaving Aiken County no closer to royalty than when we arrived, the memories and experiences we took with us were fit for a king and queen.
Next, discover Loretta's Legacy in Humphrey's County, Tennessee.