Discover the stunning places and adventurous activities throughout Utah, Arizona, and beyond.
I was raised in Montana, and always had a passion for exploring, I have gone on countless adventures through the mountains and terrain of Big Sky Country. Although I love the scenery of my state, I've long dreamt of a hiking trip through the Southwest. With my upcoming graduation from Arizona State University, I knew this was my chance to cross "exploring the American desert" and "graduating from college" off my bucket list. I was excited to hike and photograph the landscape that was something so different than what I was used to. With months and months — maybe even closer to a year — of planning, I wrangled my parents, boyfriend, sister, and her fiancé for the ultimate road trip to the Southwest.
Sand, Red Rocks, and Gorgeous Views
We started off on our journey bright and early in Missoula, Montana, excited for all the adventures we would take part in on our week-long adventure. We made our way to Layton, Utah, where we met up with family and spent the night. After a good night's rest, we set out for southern Utah and our next stop about five hours away. In the early afternoon, we arrived at our home base for the next three nights and checked into our Airbnb at the Escape to East Zion Resort located in Orderville, Utah. My crew and I stayed in Tiny House #3, one of the cutest and nicest places to stay in the southern Utah area, and my favorite for Airbnb stays. The location was perfect, as it was central to numerous national parks, popular hiking trails, famous landmarks, and tiny towns.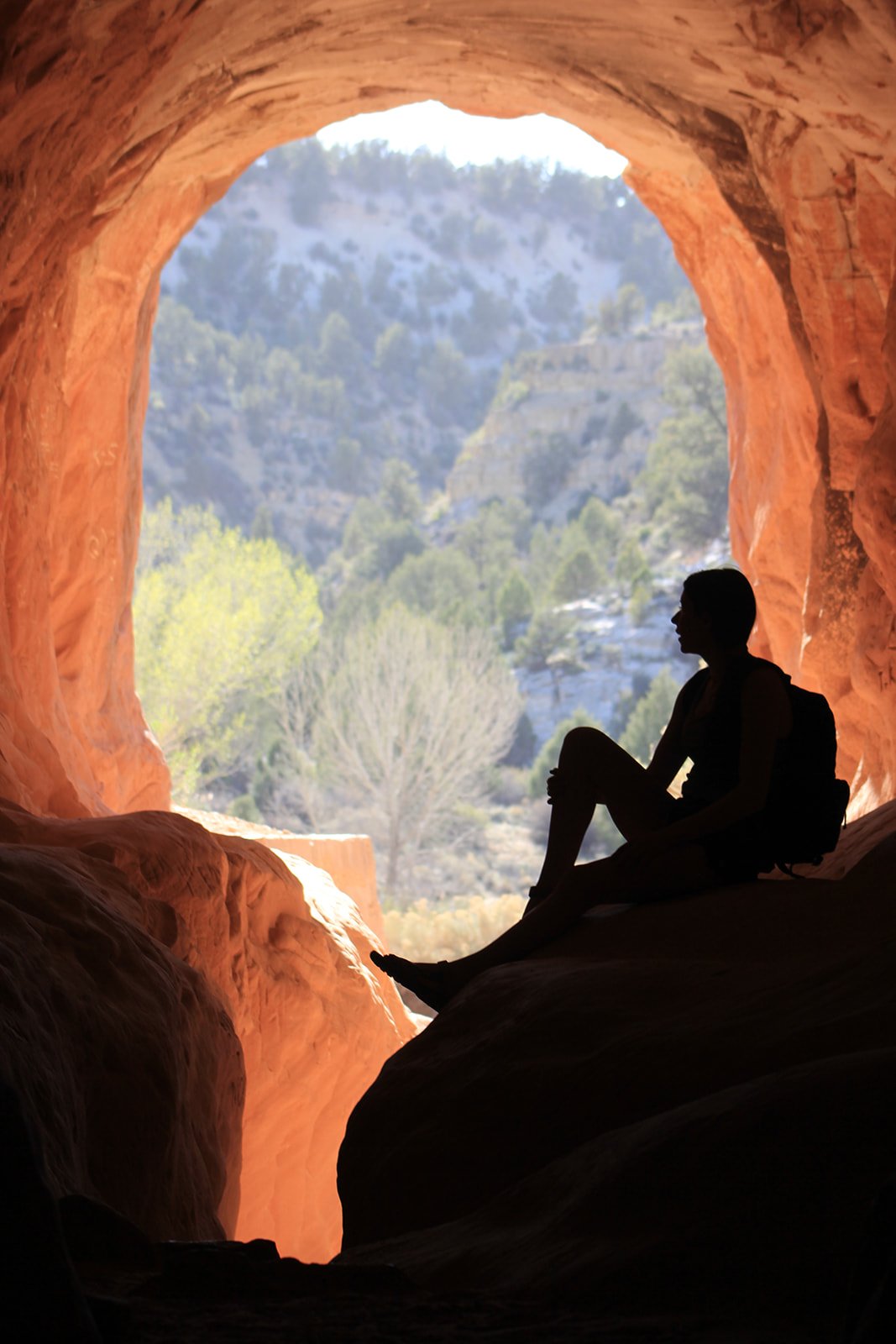 With the cars unpacked and after a quick bite to eat, we set out for the first adventure: Belly of the Dragon. A short drive from our Airbnb, we landed at the trailhead just off Highway 89, where you could see the entrance to the tunnel. The tunnel was fairly short but got dark very quickly. Soon we were stumbling in the sand over huge rocks that we couldn't see — flashlights are definitely recommended! After a few minutes in the dark, we made it to the other side of the tunnel, which included a trail that goes on for a few miles into the sagebrush and hills. Since we had one more stop to make for the day, we turned back into the tunnel — with lights on this time — took a few pictures, and drove to our next adventure.
A few miles down the road is Moqui Cave. As the story goes, this cave was once used as a bar and dance hall but was later converted into a museum. Although it was very interesting, this was definitely an activity for my anthropology-loving sister, who enjoys examining rocks, fossils, dinosaur bones, pottery from local tribes, etc. When it was time to go, we left with a bag of bones and rocks that she had excitedly purchased from the gift store. Then it was back to Tiny House #3 for an evening of dinner and games.
Photo By Kylee McCloney

Photo By Kylee McCloney

Photo By Kylee McCloney

The following day was earmarked for Bryce Canyon National Park. Even before we officially entered the park, we could see the towering red rocks that lined the mountainside. This landscape was drastically different from what I was used to at home and was unlike anything I had seen before. We drove to Willis Creek, unsure a few times if our midsize SUV would actually make it up the steep, sandy road. Thankfully, we had no issues. Trekking through the Willis Creek riverbed provided us no escape from the heat as the bed was currently all dried up. We walked through towering walls of rock that have been etched by wind and water for centuries. We went through four different slot canyons in the two miles we hiked before we turned back.
After driving back down the steep road, we stopped for our economical picnic lunch, with sandwich makings, chips, and soda. We had found a picnic table and prepared our food, but we were not prepared for the extremely strong winds that blew our ingredients and drinks onto the ground. Yet, with a little work, we were full, ready to repack the car, and headed to our next location: Sunset Point, the most familiar site located at the upper rim of Bryce Canyon.
Sunset Point offers an incredible overlook of rock formations, where the red/orange of the rock contrasts strongly with the royal blue of the sky. Looking below, canyons fill the valley in a maze-like fashion. You can actually hike down into this maze through the Navajo Loop Trail. The trail does switchbacks that descend hundreds of feet into the canyon and offers the perfect landscape for pictures, which we took thousands of…literally. We continued through the twists and turns of the trail and spent the rest of the day in awe over the landscape of Bryce Canyon. This is a National Park that you could spend multiple days exploring.
Photo By Kylee McCloney


For our last day in southern Utah, we had a jam-packed day of fun. We started off with a hike to Diana's Throne which was a less popular slot canyon in the region. We quickly learned that this was an activity for canyoneering and rock climbing, not meant for simple hiking. Oops. Determined to at least see the canyon, we carried on and were fortunate enough to find a trail that we could navigate down into the canyon, feeling like we were mountain goats in the process. We had the whole place to ourselves to explore, wind our way through the close bends of the canyon, and take pictures.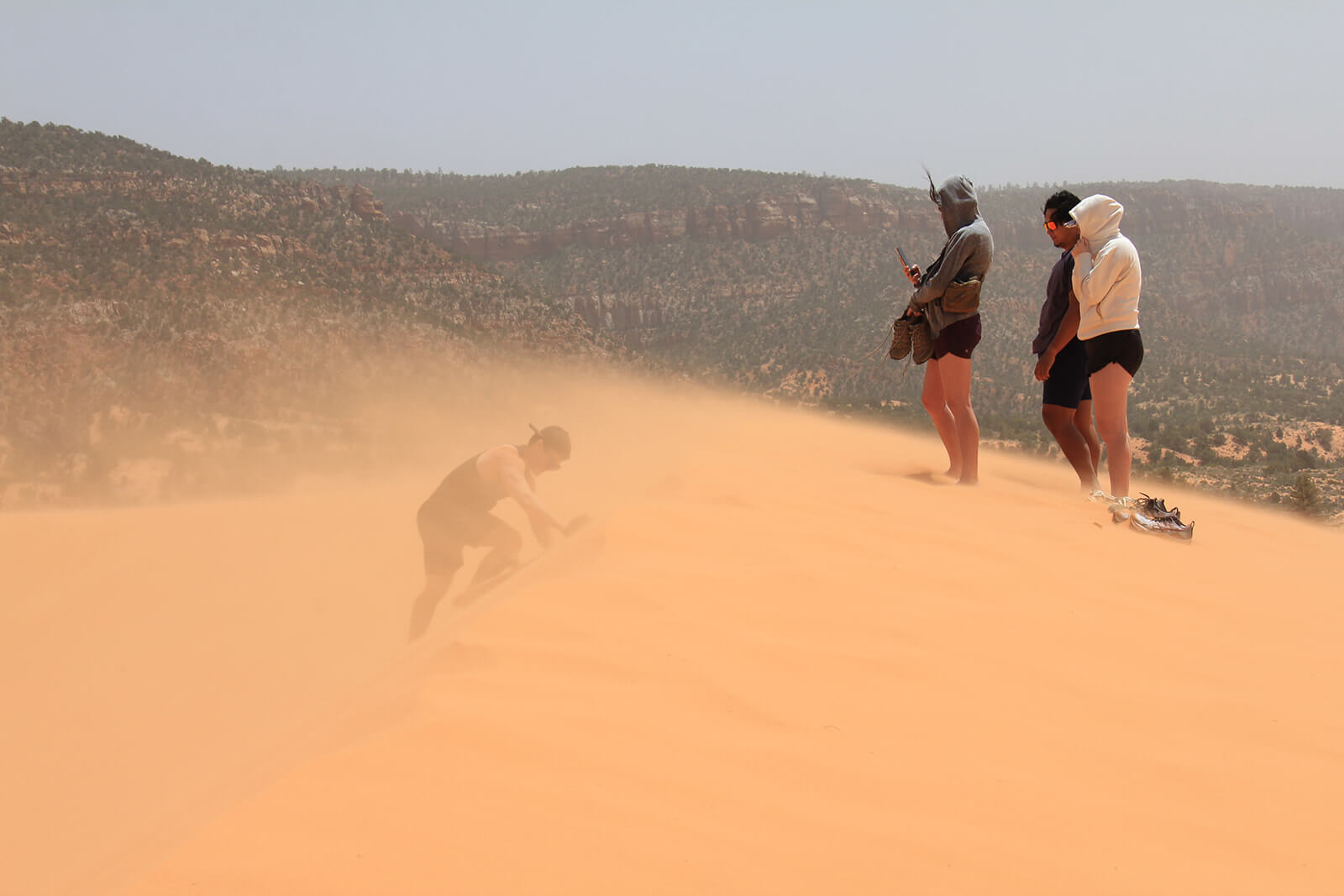 Already the fun of the day had begun and spirits were high! We loaded everyone back into the car and drove to the Coral Pink Sand Dunes State Park. As soon as we saw the sand dunes, it felt like we had traveled to a whole new country: the mountains of sand were huge. We had been warned about the very high winds expected that day when we arrived at the park, and even with that in mind, we knew we had to take advantage of our time there. So, we got a sandboard — like a snowboard for sand — and spent hours watching my boyfriend sandboard down the dunes as we were pelted at the top of the dunes by little sand daggers hitting us at 48 mph. We were covered in sand and would continue to find sand everywhere and feel the resulting welts on us for days. My boyfriend, however, got the worst of it. Every time he boarded down the dune, he had to climb back up, with the wind and sand blasting him directly in the face and trying to force him back down. Somehow, we all survived and after dumping as much sand out of our shoes and clothes as possible, we jumped into the car for yet more fun, and later discovered we brought with us much more sand than we realized.
We made a quick stop in Kanab for a bite to eat before we got back on the trails. On the side of the highway, we found a hike that led to dinosaur tracks at the plateau of the mountain. Not without some confusion on where the actual trail was throughout the entire hike, as well as, worry that we'd run into rattlesnakes that are apparently abundant in the area. We finally found multiple dino tracks that people had nicely outlined with rocks. My sister had a total "Ross" from Friends moment by lying down and taking pictures with each one.
We concluded our day with another short hike that led us to incredible sand caves far above the Moqui Cave bar/dance hall/museum. The sand caves overlooked the highway down below and had murals of different shades of tan and red and thousands of names that other cave explorers had etched into the walls. It was incredible to witness the wonders the elements had carved into the mountains here.
From the Bucket List to Back Home
The following morning, we set out for our final destination of Phoenix, Arizona! We had about a five-hour drive to see the famous Horseshoe Bend along the way. We wanted to get the full view of the bend surrounded by the river, but we found that to be difficult as most of our group is skittish about heights, and we were very high up with little fencing or rails to keep us from falling into the deep canyon. Nevertheless, we were able to cautiously get some wonderful photos, and hop back into the cars to travel to Phoenix and directly to our hotel, the Embassy Suites by Hilton, to get ready for the first of two ASU graduation ceremonies we would attend. The hotel was beautiful and had many spots inside and out for us to sit down and relax.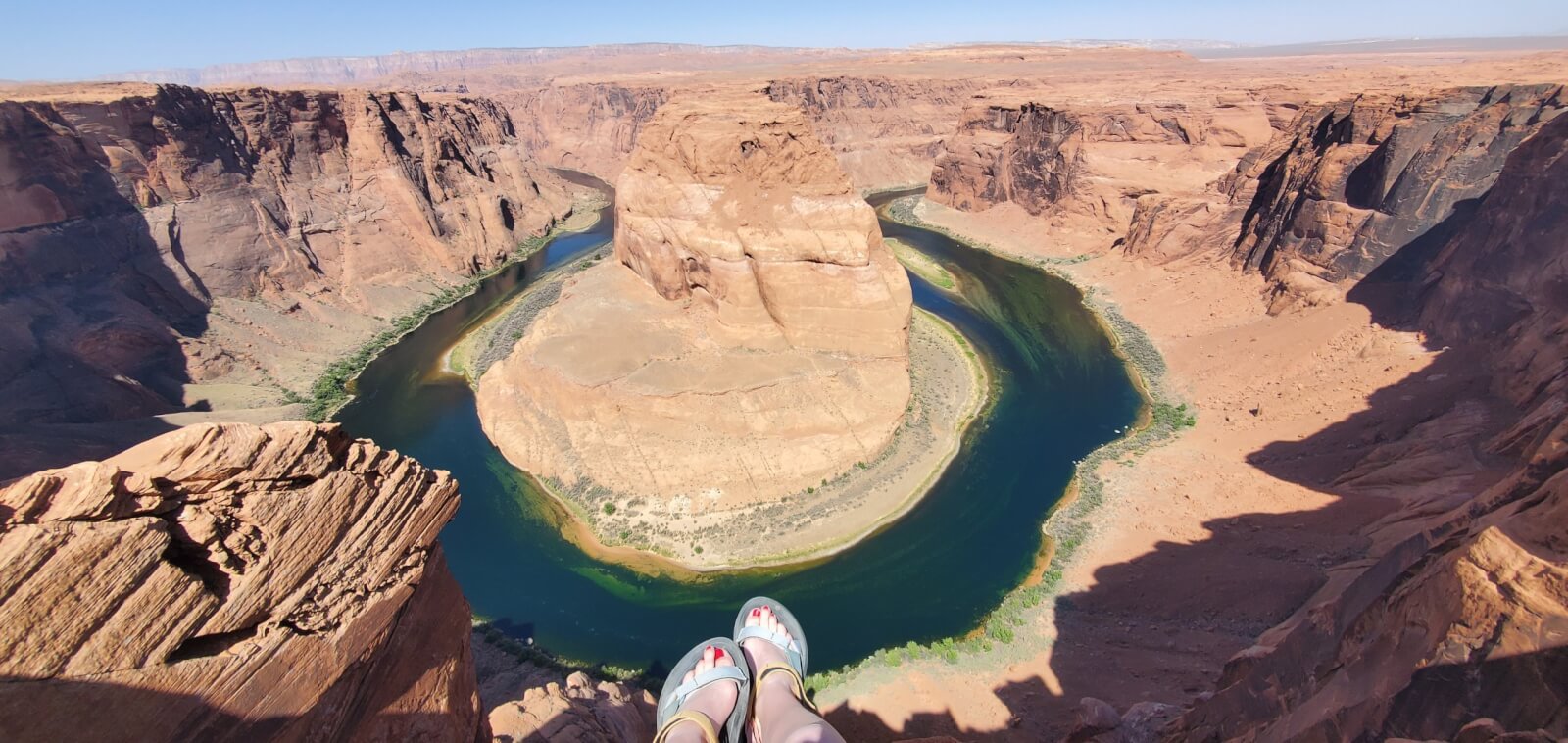 After quickly getting ready, we started driving towards the Sun Devil Stadium (Frank Kush Field), leaving plenty of time to allow for the busy Phoenix traffic. Not surprisingly, there were tons of people there, ready to graduate or to support their loved ones adorned in maroon caps and gowns. Speeches were given, our tassels were turned, and the ceremony concluded with streamers and fireworks shot across the field and into the sky.
Following the ceremony, we left bright and early the next morning, enjoying a couple of breathtaking stops at the Grand Canyon Southern Rim — and nearly getting blown off by more strong winds — then prepared for two full days of travel and a total drive of roughly 20 hours back home to Montana. Our jam-packed trip was full of exciting adventures that closed one chapter of my life and kicked off the next. But most importantly, the trip was filled with amazing new memories I made with my family.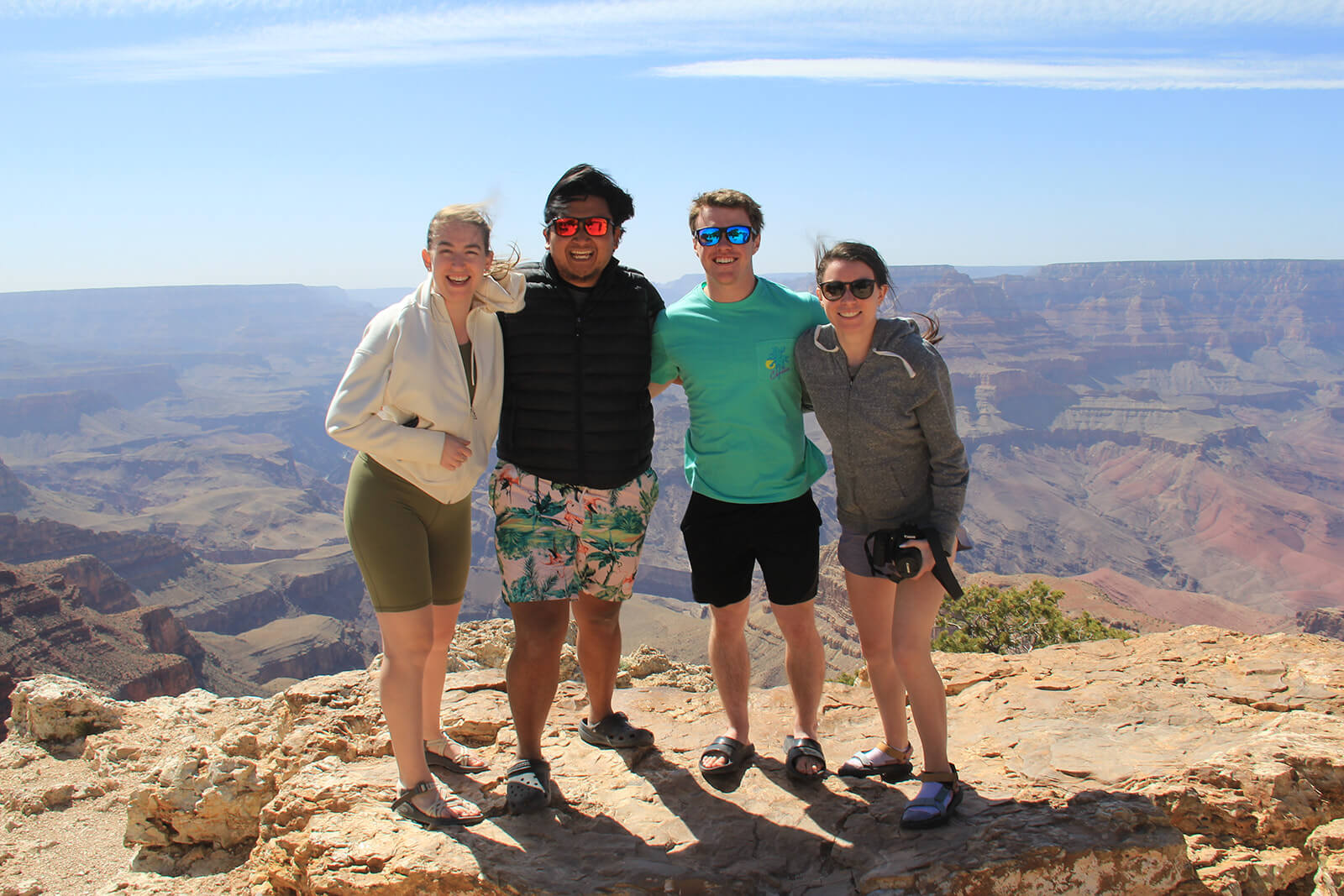 A road trip through the Southwest is a must for any outdoor adventure bucket list. Grab your friends and family, hop in the car, and enjoy the magic of the Southwest. Be sure to use VacationistUSA for all of your travel destination inspiration. 
Meet the Traveler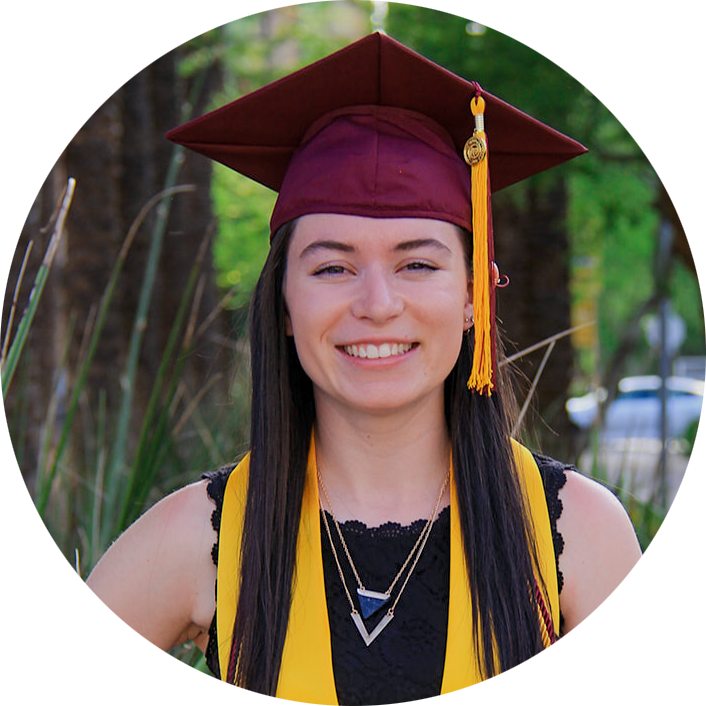 Living in Montana her whole life, Kylee has gained a passion for exploring and adventuring throughout the mountains. She love hiking, paddle boarding, snowboarding, and photography and will never turn down an opportunity to get outside in the beautiful Big Sky Country!