Explore Flagstaff, AZ All Seasons Through the Eyes of a Local
By Maayan Rotnes Cohen
Whether in shorts or snow pants, this idyllic mountain town has restaurants, events, and attractions for everyone.
Flagstaff, Arizona, sits at 7,000 feet in elevation, which means it is one of the few places in Arizona that experiences every season to the fullest. The weather changes bring fall leaves, snowfall, and perfect summer temperatures. Although Flagstaff is only a town of 70,000, there is plenty to explore throughout the year. As a Flagstaff local, I can guarantee that this mountain town is more than just a stop on the way to the Grand Canyon.
No matter the season, I always start my day at Macy's European Coffeehouse & Bakery and Biff's Bagels, right across the street.
At Biff's, everything tastes better with friends. Order like a true local, and get two bagels (one for you and one for your friend—to be split evenly). For the sweet side of your morning, you can't go wrong with a cinnamon crunch bagel with honey walnut cream cheese. An asiago bagel with southwest cream cheese is equally sure to delight for a savory breakfast. Biff's makes everything fresh in-house daily and never fails to be delicious.
Then simply walk across the street, and get a locally brewed Macy's coffee. Their indoor and outdoor seating are both perfectly primed for people-watching.
Photo by Maayan Rotnes Cohen

Photo by Maayan Rotnes Cohen

Photo by Matt Baxter on Unsplash

Of course, these activities transcend the season. What about summer, spring, winter, and fall? Here's what I would do with the rest of my day by the season.
Sandals, sunshine, and sweet treats – it's Summer.
Summer is my favorite time of the year in Flagstaff. All the grass is green, the trees are brimming, and people are outside enjoying the average 75-degree weather. It's the best time to hike the trails in town and the surrounding areas. There is nothing like driving through town with the windows rolled down and listening to my favorite Flagstaff summer Spotify playlist, featuring 50 songs.
What to do: The Flagstaff Community Farmers Market happens every Sunday from 8 a.m. to 12 p.m. and features a variety of local vendors, including artisans, farmers, and restaurants. Meander through the tents, and be sure to try a fresh lemonade.
The First Friday Art Walk happens every first Friday of the month in Downtown Flagstaff. Summer is the best time to attend because the weather is perfect. The many art galleries of downtown Flagstaff open up their doors from 6 p.m. to 9 p.m. to showcase the local artists. Enjoy complimentary hors d'oeuvres and beverages.
The Concerts in the Park happen every Wednesday from June 8 through July 27. These free concerts happen from 5:30 p.m. to 7:30 p.m. and feature a different band and local park each week. Bring lawn chairs and blankets, and come early to claim a good spot.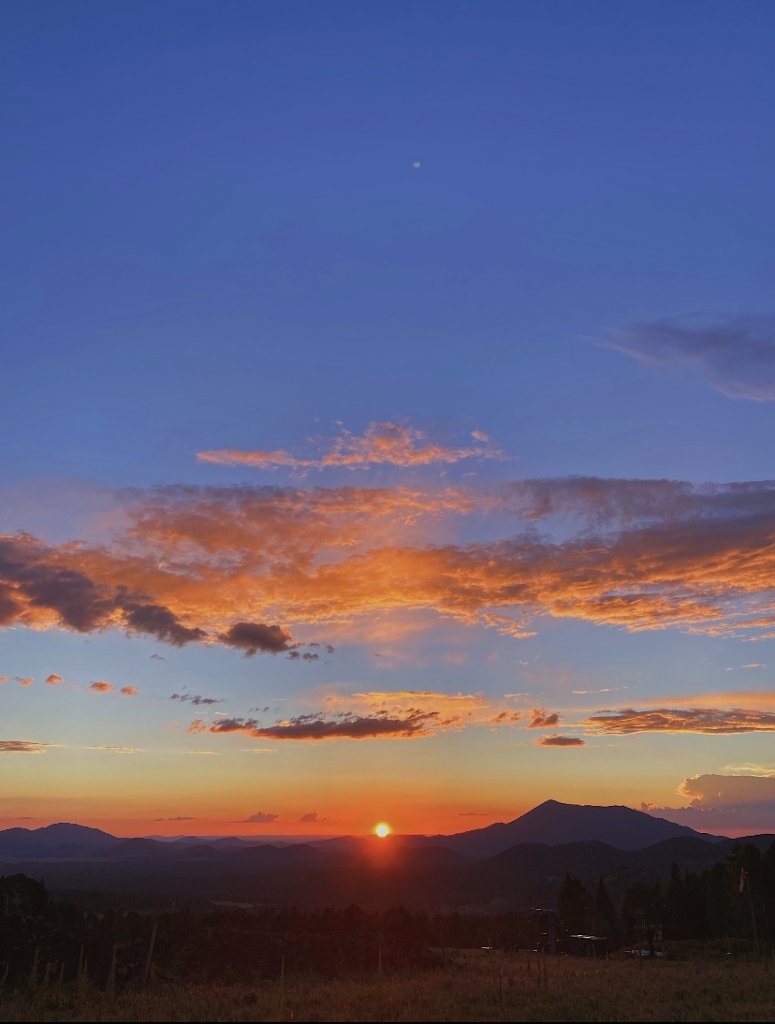 Where to Eat: The Old Town Creperie is a seasonal business, only open from Mid-April through October and only open Friday-Sunday. It is locally owned and operated and has the freshest crepes. It is located right Downtown on Heritage Square.
Walk across the street to the Sweet Shoppe Candy Store, and try their housemade gelato and fudge. They have just about any sweet you could want, including candy apples, chocolates, and the classics, like a Jelly Belly dispensary machine.
Watch the town turn into a display of colors – it's Autumn.
Autumn in Flagstaff is magical. The leaves start to change, and everywhere becomes a yellow brick road. Bring your coziest sweater and enjoy the wonders of a true fall season.
What to do:
Aspen Corner is the most accessible place to see all the leaves changing. Take the scenic drive towards Snowbowl Ski Resort. Park on the shoulder of Aspen Corner and peacefully wander through the lush forests full of changing Aspen trees. It is the perfect place to take photos and bring non-hikers.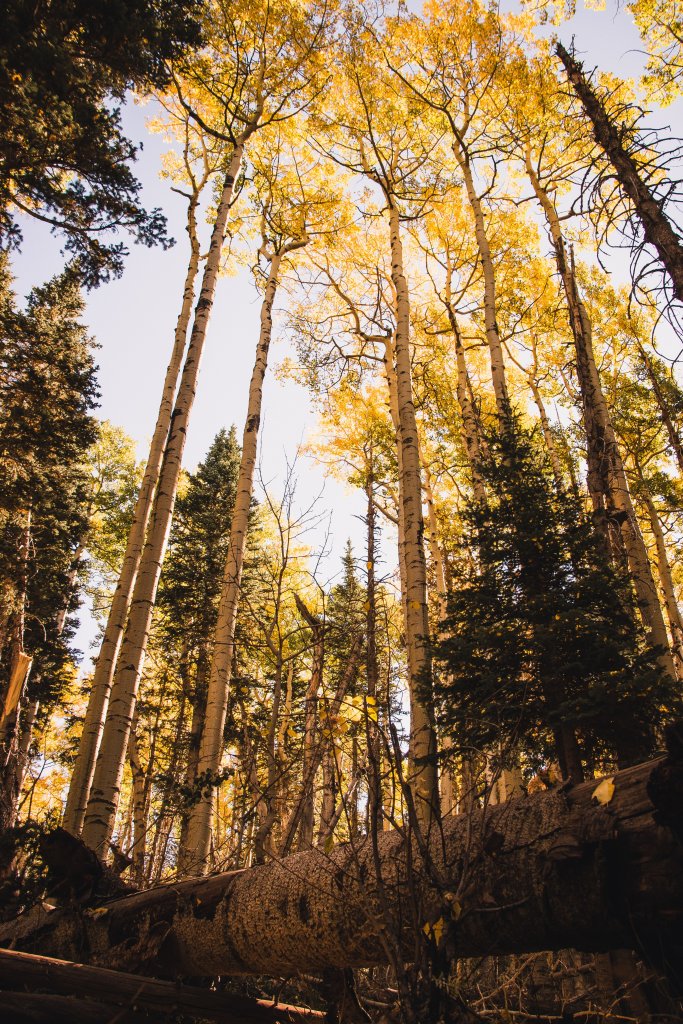 Where to eat:
Diablo Burger is the ideal autumn restaurant. Enjoy sitting on the patio on Heritage Square downtown near the yellow Aspen trees. They have the best burgers and "frites" in Flagstaff.
Take a step into a wonderland – it's Winter.
Flagstaff is one of the few places in Arizona where you can experience a real winter season; there is so much to do and enjoy the snowy weather.
What to do:
Snowbowl Ski Resort is the main tourist attraction in the winter seasons, but as a local, there are other ways I prefer to enjoy the cold weather. Flagstaff has an extensive Urban Trail system that spans multiple neighborhoods in Flagstaff. I recommend walking this during the winter to enjoy the snowy houses and forest.
Where to eat:
After spending a day outside in the cold, it's the best time to bundle up and have some comfort food. Pato Thai Cuisine is a bustling downtown Thai restaurant with authentic, delicious food. Be sure to come early; it's usually busy.
The weather is warming up; the flowers are full – it's Spring.
Spring is a beautiful blooming time in Flagstaff, full of flowers, including marigolds, petunias, and cherry blossom trees; however, it is a windy time of the year, which means it's the best season to enjoy the indoor activities.
What to do:
Make your way to the famous Lowell Observatory and explore the observatory that discovered Pluto. It is a fantastic place, with interests for everyone. On your way up the road, stop at Mars Hill Lookout. Day or night, enjoy the view of the entire city.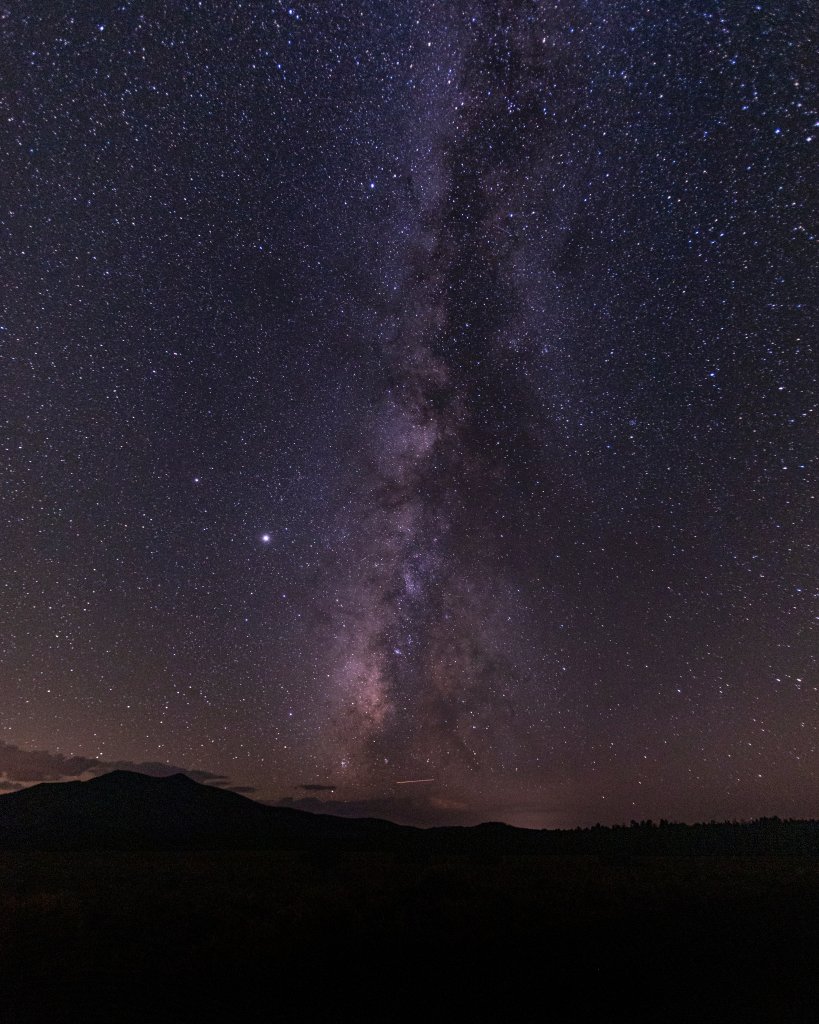 Where to eat:
Karma Sushi Bar and Grill is conveniently located Downtown with two indoor spaces. They have the best bento box lunch special from 11:00 a.m. to 3:00 p.m. You get an entree of choice, a California roll, tempura vegetables, a salad, and a miso soup. It's easily the best, most delicious lunch deal in town.
Flagstaff is a small but mighty town with incredible sights to see, food to try, and events to attend. Make Flagstaff more than a pit stop on your way to the breathtaking Grand Canyon. Continue to discover more Vacationist USA for local inspiration for your next adventure.