Never Too Teen for Family
Family Never Goes Out of Style
It was the last week in July, and summer was just winding down. I was just about at the end of my wits after entertaining two teenage boys who were home from school for several months. We all had cabin fever, and iPods and TV had run their course. My husband and I decided it was time for a change of scenery, so we planned a vacation to the Smoky Mountains in Sevierville, Tennessee.
We were looking for a place with a comfortable, down-home atmosphere that also allowed the boys to explore their sense of adventure. They were growing up fast, and my 15-year-old, Ryan, had outgrown being best friends with his 13-year-old brother, Matt. I hoped this trip would allow them to reconnect and remember how much they enjoyed being together.
While I was excited to see my boys in their element, my husband had an ulterior motive for choosing the destination.
"Did you know that Sevierville is Dolly Parton's hometown?" he asked me as we pulled out of the driveway. We are both big fans, so this was definitely exciting!
We made the six-hour road trip from Columbus, Ohio, to Sevierville one Thursday morning and planned our stay through Sunday. Living right in the center of the city, we don't get to the mountains as often as we would like, so the scenery was a beautiful change of pace. When we arrived, we checked into The Resort at Governor's Crossing. When my husband saw the climate-controlled indoor water park, he gave me a pointed look.
"What?" I asked with a smile. "Just because we're here to enjoy the outdoors doesn't mean I can't enjoy all the modern conveniences this place has."
We went to bed early as we had a full day of family activities planned the next day.
Overcoming obstacles with a smile
We spent the first half of Friday at the Adventure Works Climb Zip Swing with two full hours outside as a family completing exhilarating obstacles and seven zip-lines with the scenery of the Smoky Mountains as our backdrop.
After an exciting few hours at the park, we hit a local cafe, The Diner, for burgers and fries before we surprised the boys with the next event—a helicopter tour.
Ryan has wanted to be a pilot since he was a small child. We jumped in the chopper and saw all the beauty Sevierville had to offer from on high. Complete with sightseeing, photography, land survey, and air taxi, the excursion couldn't have gone off any smoother.
That evening after dinner, when we checked back into the hotel, the boys were exhausted but bouncing off the walls with excitement. As I tucked them in and heard them whispering to each other, I felt like I had accomplished a small miracle.
The next day, we hit the water. We started our morning with a whitewater rafting tour. Armed with our helmets, life vests and oars, we prepared to take on the rapids of the Pigeon River. Although at times, my heart felt like it would beat out of my chest, I could've taken the tour thousands of times. From the breathtaking scenery to the sound of my husband's deep laugh, I knew these were memories I wouldn't soon forget.
After several hours on the river, we were famished and decided to get some authentic mountain cooking. The Applewood Farmhouse Grill gave us the ultimate Southern experience in a great family-style atmosphere. As we polished off our meals, we decided we weren't full enough to pass up some ice cream from The Creamery.
We had planned one of my favorite activities on Saturday afternoon—horseback riding. I couldn't wait to get in the saddle and enjoy the wind on my face through the lush green scenery around us. Although the boys live for more exhilarating adventures, they were happy to take the reins as we wound through the trail on the backs of these proud animals.
Winding down the adventure
The next morning was Sunday, and we had planned some sightseeing before we had to head out. We reluctantly checked out of our hotel, and the boys humored me with some shopping for souvenirs. We hit the Great Smokies Flea Market to find everything from local treats to duffel bags we could take home. Since I'm a kindergarten teacher, I bought small keychains as prizes for my students.
Accounting for a late arrival at home, we spent the rest of our afternoon on the Cades Cove nature trail in Great Smoky Mountains National Park. I figured it was a nice, mellow way to end our trip with something outdoorsy. And a bonus was that the boys learned how the original settlers used native plants and all about the area's local history.
As we walked, we talked about all the things we would do if we ever came back to this beautiful place. Everything from ATV tours to more zip-lining to learning more about Dolly Parton was discussed.
Memories that last a lifetime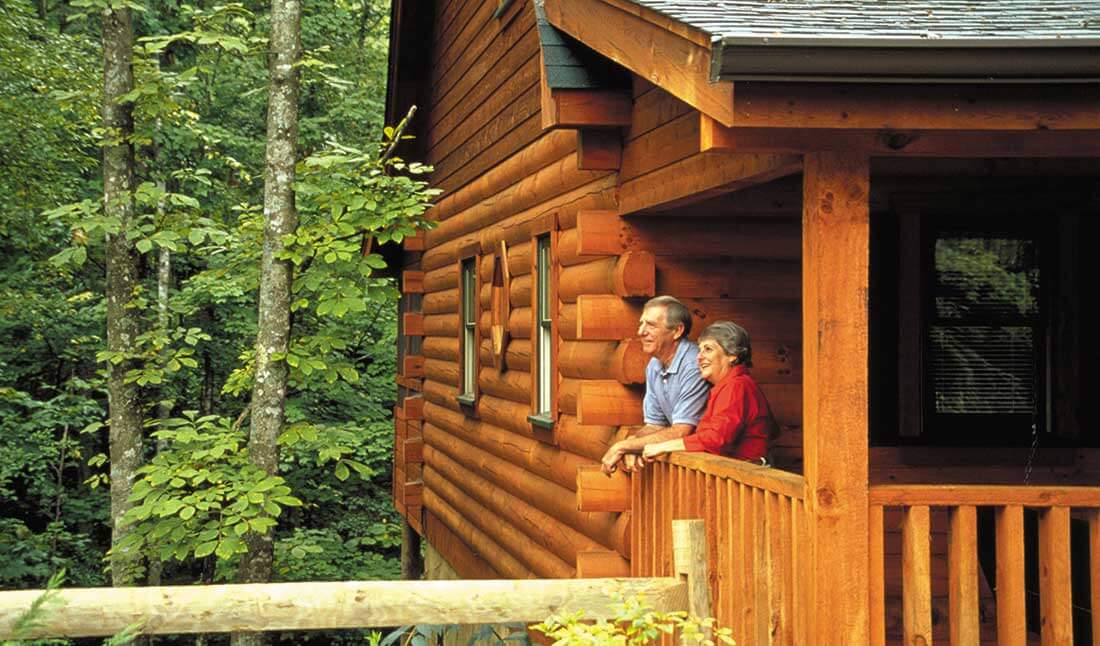 After the hike, we washed our hands and changed our shoes for the drive home. I expected the boys to retrieve their iPods and tablets to pass the time on their way home since we hadn't used any technology since we had arrived.
After about half an hour, I was pleasantly surprised when I turned around in the car and saw two blond heads together looking at travel pamphlets from the area.
"Would you look at that," I said to my husband. "They've forgotten how different they are and remembered the things they have in common."
Mission accomplished.