Huntington: the Hidden Jewel City
By Elizabeth Griffith
Huntington, West Virginia, has the history, entertainment, dining, and atmosphere
Finding a hidden gem has always been my favorite part of traveling, and in West Virginia—a state of raw, wild beauty—Huntington may be the most hidden of them all. The city's rich history of river and rail laid the foundation for its attractions. Though most of Huntington's neighbors have forgotten why it was once called the Jewel City, Huntington's residents remember that history with pride. It's obvious in the vigor with which they're rebuilding their reputation, one street corner and one blog post at a time.
I came across the website Huntiful early in my search to collect another hidden gem for my travelogue. A friend of a friend had shared one of the site's posts, a tribute to an adopted hometown, on Facebook. I clicked the link, intrigued. The best way to learn about a town, after all, is through the eyes of its residents. The post's author spoke of new restaurants and galleries and the reopening of old stalwarts.
"Huntington is coming alive, and it's because its leadership and its citizens believe in it," she wrote. This author wasn't alone. Others went on to extol the virtues of new urban gardens and Smithsonian historic exhibits. The more I read, the more I wanted to see it all for myself.
All that glitters
As I drove myself and three friends through Southern West Virginia on Interstate 64, it was difficult not to think of the industry and labor that built the state's economy out of its mountainous geography. Coal is usually the first thing that comes to mind, but West Virginians remember more—another product emerged glimmering and colorful, all elegance and artistry, from the Mountain State's deep valleys and streams: glass.
At one time there were hundreds of glass furnaces and operators among those country roads, each creating the pieces that would adorn the wealthiest homes in the world, even the White House. From Fenton and Fostoria to Seneca, few now remain. But Blenko fires on. When one member of our group, Erica, spotted a sign for the Blenko Glass Company, she insisted we stop to see it.
Located just outside Huntington, Blenko continues to produce hand-blown artisan glass in a factory lifted straight from the pages of history books: Craftsmen pull molten color from fiery furnaces, the heat rippling in waves about their faces, as they blow through pipes, twisting, turning, and shaping the glass into vibrant sculptures.
"It's amazing that people still do this," Erica said, after seeing the men so dexterously working their craft.
Blenko pieces are available for purchase in the factory shop and showroom, where my friends congregated after our tour. As they shopped, I went outside to wander through the Blenko glass garden. In a peaceful park set beside a pond, sunlight filters through glass ornaments installed here and there. It's both magical and nostalgic—a beautiful setting to sit and ponder days gone by.
Ride of a lifetime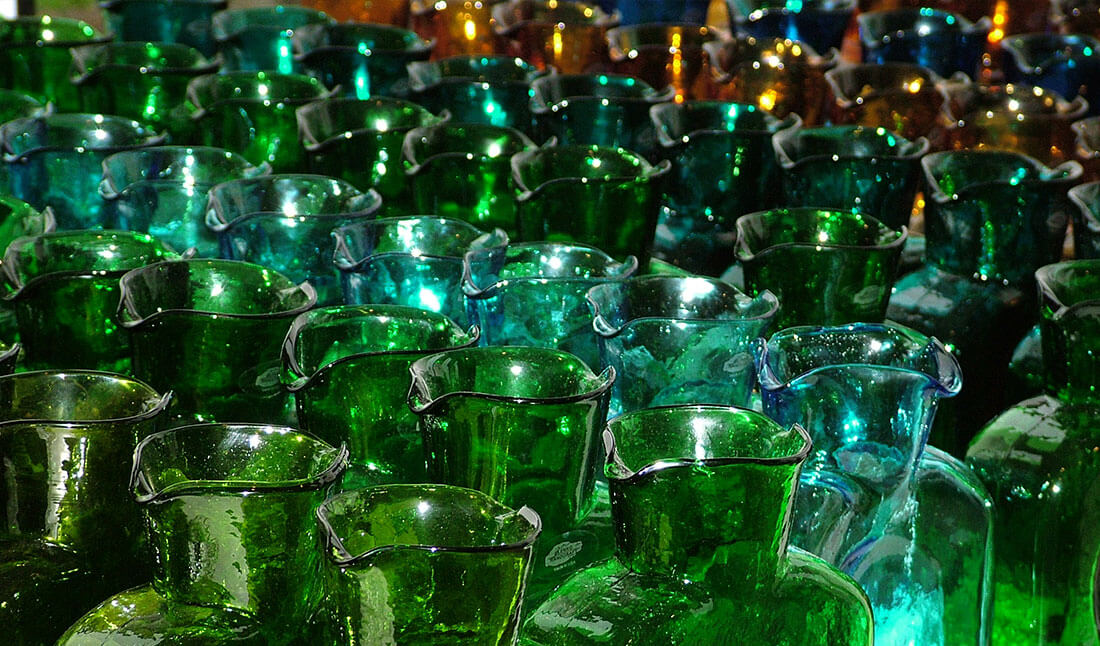 The glass garden set the mood for the rest of our journey. My friends and I were refreshed and ready for some excitement, so onward we journeyed to Huntington's Camden Park. The amusement park was built at the turn of the 20th century as a picnic spot overlooking the city's bucolic hills and river. Over the years, the picnic spot developed into an amusement park, first acquiring a carousel and then, in its heyday in the 1950s, a wooden roller coaster known as the Big Dipper.
That coaster still carries hundreds of laughing families along its dips and turns, and its vintage charm easily took me back to childhood. After a slow tug uphill and gasps of anticipation from my fellow riders, a sudden plunge sent our car careening into the coaster's valley, racing along a xylophone track as my neighbors screamed their delight.
Jumping off the coaster at the end of its track, my friends and I found even more classics to discover: a spinning paratrooper, a haunted house, a tilt-a-whirl, and, of course, the carousal—the ride that started it all and has had a presence there for more than 100 years. We walked along the park's paths, between the crowds of families with flushed faces and easy laughter, passing the 20-something lovebirds and an older couple or two.
"I feel like I'm 12 again," one of my group announced while picking at fluffy cotton candy. We all laughed our agreement and enjoyed the ease of a simple summer day with friends.
An evening to top it off
A long drive and an afternoon in the warm sun left my friends itching to unwind in the glamour of downtown Huntington, where old meets new in a perfect melding of boutiques and restaurants. We parked near Pullman Square, walking to explore the area before choosing a meal spot.
Shops dot the Pullman shopping area, a recently completed outdoor lifestyle center, and drew us into Huntington proper, where even more local restaurants and stores fill the windows of the city's ornate 19th-century brick buildings. I was getting hungry, but we all had a hard time choosing between Backyard Pizza, Marshall Hall of Fame Cafe, Le Bistro, and more—each packed with locals and visitors alike. Our walk took us deeper into the downtown, and soon we found ourselves staring at arguably two of Huntington's crowning jewels: The Keith Albee Theatre and the historic Frederick Hotel.
Both were built at the peak of Huntington's splendor, and it shows.
"This is it," one of my friends said, as we wandered into the former hotel, which now houses a ballroom and restaurant, to sit down at 21 at the Frederick, a delightfully dark 1960s-style dining establishment. With deep red and green decor complete with gold filigree and an elephant theme, 21 at the Frederick offers modern dining amid vintage luxury. We stayed for hours, sampling drink specials from the bar and nibbling appetizers from the kitchen as ambient music complemented our conversation and laughter.
When we finally ambled out of the restaurant, full and happy, the Keith Albee marquee was brightly lit, twinkling up into a clear night sky full of stars. My friends and I walked farther, back toward the riverfront and east to Heritage Station, a converted rail yard, for a sampling of some craft beers and tasty wines.
Erica quickly met a group of locals, more rounds were purchased, and our tables merged from two to one. As our new friends mapped out potential destinations for the next day, including the Heritage Farm Museum, an antiques walk, and city parks, the Huntiful blog post that inspired our trip suddenly came to mind: "I'm not from here, but I feel like I am," the author wrote. I found I had to agree.
Get inspired and explore this hidden gem for yourself.