5 things to consider when considering living on the road
By Evan Zavitz
Recommendations and resources for the RV Lifestyle
With the RV Industry Association reporting an increase in total Recreational Vehicle shipments reflecting a 79 percent increase in 2021 over the previous year, Americans have a clear sense of open road wanderlust about them. If the inkling for a free-spirited travel experience has been brought more sharply into focus, here are a few facets of RV life to consider. 
The size of your RV
When talking to experts, you'll quickly find that one of the primary considerations most new RVers face is the dilemma of size in regard to their adventure rig. There are many options on the market when it comes to the type of experience you want to have. RV and Mobile home solutions are broken down into two broad categories: motorhomes and towables. This primary consideration will dictate many of the choices you can make in regard to where you can drive and the level of amenities you can expect when you get there.
"Driving an RV should never be a case of "go big or go home" because you may just get so far and be very fearful of the trip back," said Geneva Long, CEO and co-founder of luxury travel trailer company, Bowlus. "Anything over 26 feet or 4,500 pounds will severely restrict your ability to drive, park, enjoy national parks, camp, etc."
US-Parks.com notes that on average, national parks across the United States can accommodate campers up to 27 feet in length, with some parks being capable of handling even larger rigs. Knowing the size of the rig you are looking to roam with is essential and should be one of the primary considerations when looking into RV adventures.
Finding Campsites and Reservations
Traveling with your home on wheels means you'll frequently find yourself somewhere new. Having a plan when it comes to where you can park your RV and camp is crucial for reducing the occurrence of stressful situations while on the road.
The most important thing to understand about RV campgrounds is that they are as diverse as hotels," said Julie Chickery of Chickery's Travels, who for the past six years has traveled full time in a fifth-wheel RV with her husband. "Just as a traveler can choose from a range of budget to luxury hotels, an RV traveler can choose from a range of rustic campgrounds to luxury RV resorts."
In addition, "One of the biggest variables of RV campgrounds is the type of hook-ups (full, partial, or none)," said Chickery.
The type of experience you wish to have while on the road plays a large role in how you select your campsite. If you are looking for a site that offers convenience and amenities, research ahead of time and commit as early as possible to avoid any potential disappointment when it comes to capacity limitations or having to settle for a site with less than optimal amenities.
Driving
If you are new to the world of RVs, you may need to brush up on your truck turns. With 20 feet of vehicle (or more) behind you at any given time, it's important that you become familiar with driving and handling your home on wheels.
"For first-time RVers, traveling can be a bit terrifying," said Cliff Millender of Country Bumpkin, who with his wife and three children has been RVing full time since 2018. "I remember the feeling of my first drive in a 35 foot Class A motorhome very well. I told my wife she'd need to have my hands surgically removed from the steering wheel."
The world of RV operation is certainly a hurdle for those unfamiliar with driving larger vehicles. Another tip for keeping you out of sticky situations includes having a post-it or similar notice located in the front cabin that can remind you of the weight and height limitations of your particular vehicle.
Onboard Facilities
RVing is different from camping, and for many, the added responsibility of understanding and maintaining onboard facilities such as water and power can potentially pose a hurdle to enjoying the great outdoors with confidence.
Katy Spining, a Vacationist USA contributor and RV enthusiast, encourages folks to understand the spectrum of onboard facilities that require maintenance and contribute to the viability of your RV as a roving solution for home.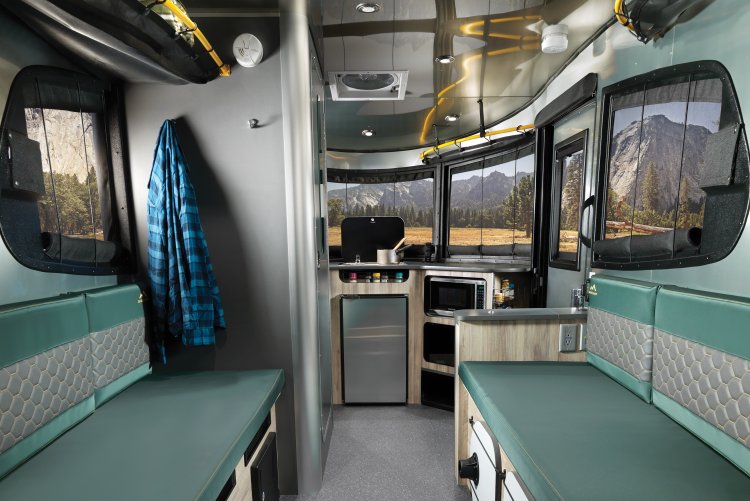 If your camper has a sink, shower, toilet, TV, cooktop, other amenities, or appliances you will need to familiarize yourself with their operation and care. Most RV's with full kitchens and bath additions will have an integrated water system featuring both gray water and black water tanks. These systems must be kept in mind for the time taken at a campsite or for the road between destinations. The capacity of these systems, in addition to any propane or electrical reserves will have a large impact on how long you can stay in one place before needing to replenish resources.
"For a four-person trip, we can usually go between three and four days before needing to dump and replenish our water tanks," said Spining. Additionally, if you find yourself in a campsite without water or electrical hook-ups, known as drydocking, be prepared to juggle a generator, propane, and electricity from either the engine battery or house battery."
Managing all of these interconnected systems is a delicate balance and may take time to fully familiarize and understand. This is all part of the RV owner/user journey and comes with time and travel.
When asked about her learnings and experience in the RV world Spining says: "It's a fun way to go see a place. You have your house with you and really have a great opportunity to just be out in nature."
Online Resources
Don't forget that with 11.2 million households owning an RV, according to the RV Industry Association, there is a wealth of knowledge and experience to pull from. The RV community is rich and diverse featuring different demographic groups all with unique motivations and travel styles. There are many resources and forums available for all questions about RV life.
"RV Trip Wizard is an excellent resource to help you plan your next getaway," said Cindy Scott of Cinders Travels. "By entering all of the specs for your rig, you can generate personalized driving paths that will leave you feeling confident your setup will fit along the route."
There are a wealth of great planning resource guides available and applications that can help you integrate different components of your RV journey all in one place.
"The program allows you to search for campgrounds and RV parks along your path. There are also tons of filters so people can pick the best place for them among all those options," said Scott.
There are a plethora of options and unique adventures available for those looking to invest in a motorhome or RV. This consistently enjoyed means of travel offers an opportunity to take things slow and explore the nation with a sense of comfort and intimacy that is unparalleled. The next time you catch yourself in the midst of RV wanderlust, consider some of the above facets of RV life as you plan and take advantage of upcoming travel opportunities. Whether you are renting, purchasing for the first time or you're a seasoned pro, the RV community is diverse, welcoming, and ready to guide you on your next adventure!
For more travel inspiration and resources featuring four wheels and the open road, visit Vacationist USA.