10 Ways to Explore San Antonio
By Brenda Kissko
Your guide to discovering the Alamo City
Everything's bigger in Texas. And San Antonio—the second largest city in the Lone Star State—is no exception, spreading out for miles upon miles. Reminiscent of a giant doughnut in the belly of the Texas Hill Country, two concentric loops encircle its vibrant downtown, accommodating its growing radius. Grand oaks, rolling hills, winding rivers, and large lakes just outside the city limits entice outdoor enthusiasts. Within town, you'll find rich culture, distinctive events, and immersive experiences all ripe for the picking. San Antonio is one of only two US cities named a UNESCO Creative City of Gastronomy for its deep culinary heritage. With so much to do, it can be hard to know where to begin.
Here are ten ways to explore the true personality of San Antonio and discover what makes it one of America's favorite destinations.
1. Experience the River Walk
It's impossible to visit Alamo City and not hang out on the River Walk. Try it. You'll see it can't be done. That's because it's indisputably one of the top reasons to vacation in San Antonio. Hike or bike the 15.5-mile-long trail that runs through the heart of the city, lined with cobblestone paths, lush greenery, and countless restaurants, shops, and nightlife. As you traverse the path, the sound of mariachi bands fade in and out, Folklórico dancers twirl, and luminarias twinkle.

The River Walk has expanded in the last decade to include a number of attractions along the Museum Reach and four historic sites along the Mission Reach. Highlights include downtown, the Tobin Center for the Performing Arts, the San Antonio Museum of Art, the ultra-hip Pearl District, and Spanish Colonial missions dating to the 18th century.
Explore: Take a river cruise on new electric barges with GO RIO or Drift and Dine for a memorable evening. Events throughout the year include the Ford Holiday River Parade.
2. Discover the San Antonio Missions
The four 18th-century Spanish Colonial missions of the San Antonio Missions National Historical Park became the first United Nations Organization for Education, Science, and Culture (UNESCO) World Heritage Site in Texas. When you see them in person, you'll understand why. As you walk through these architectural feats you connect with the priests and American Indians that once lived and worked here. Start your tour in Mission San José, where you can watch a film about life in the missions during the 1700s. Peruse the museum and bookstore before heading on to the Concepción, San Juan, and Espada missions.

Explore: You can attend church services regularly held by Catholic parishes at the missions. Bring your camera, as these are some of the most photogenic attractions in San Antonio.
3. Relive The Alamo
Speaking of missions, San Antonio is home to one of the most famous: The Alamo. You won't have to venture far to see this iconic site that Texans never forget, as it's right smack in the middle of the city. Take a guided tour, where interpreters bring legends to life, or attend an in-depth workshop or lecture.
Explore: For a more immersive experience, step through Alamo Reality's augmented reality time portal to 1836 and see the Battle of the Alamo in real time.
4. Enjoy local cuisine at Pearl
What started in the 1800s as a single brewery has now become a 22-acre mixed-use destination within a destination. San Antonio's Pearl District is home to The Culinary Institute of America, the posh Hotel Emma, and a year-round farmers market every Saturday and Sunday that's worth the drive all on its own. The Pearl is a culinary hangout with coffee shops, cocktail lounges, and sophisticated restaurants with celebrated chefs.

Explore: Don't miss Bottling Dept., San Antonio's first food hall.
5. Spend a magical evening at the Majestic Theatre
When planning your San Antonio vacation, check out the Majestic Theatre's calendar for a chance to catch a Broadway production or musical act in this historic downtown theater, built in 1929. Performances here have included Wicked, Les Miserables, Cats, Lyle Lovett, Tony Bennett, and Jerry Seinfeld.
Explore: Grab a Queen of Houston Street cocktail at the theatre's bar and take the behind-the-scenes Majestic Happy Hour Tour to gain insider knowledge of the theater's 90 years of history.
6. Take a kayak or bike tour
Mission Adventure Tours provides kayak and bike tours of San Antonio. Join in a Social Kayak Trip the first Friday of each month (6:30–7:45 p.m.) or a Kayak Tour and Beer Tasting the second Friday of each month (6:30–9 p.m.). Book a guided or unguided river trip to experience the beauty of the San Antonio River.
Explore: Go on an 8- or 15-mile Mission Bike Tour with a San Antonio Certified Tourism Ambassador—the ultimate way to experience the missions. All tours require advance reservations.
7. Splash around at SeaWorld and Aquatica
One of the largest San Antonio attractions, SeaWorld® San Antonio keeps adding new experiences to its list. Ride roller coasters, visit a coral reef with sharks, and swim with dolphins. Cool off in Aquatica®, SeaWorld's waterpark, where you can zip down water slides, float in the wave pool, and tube through Stingray Falls.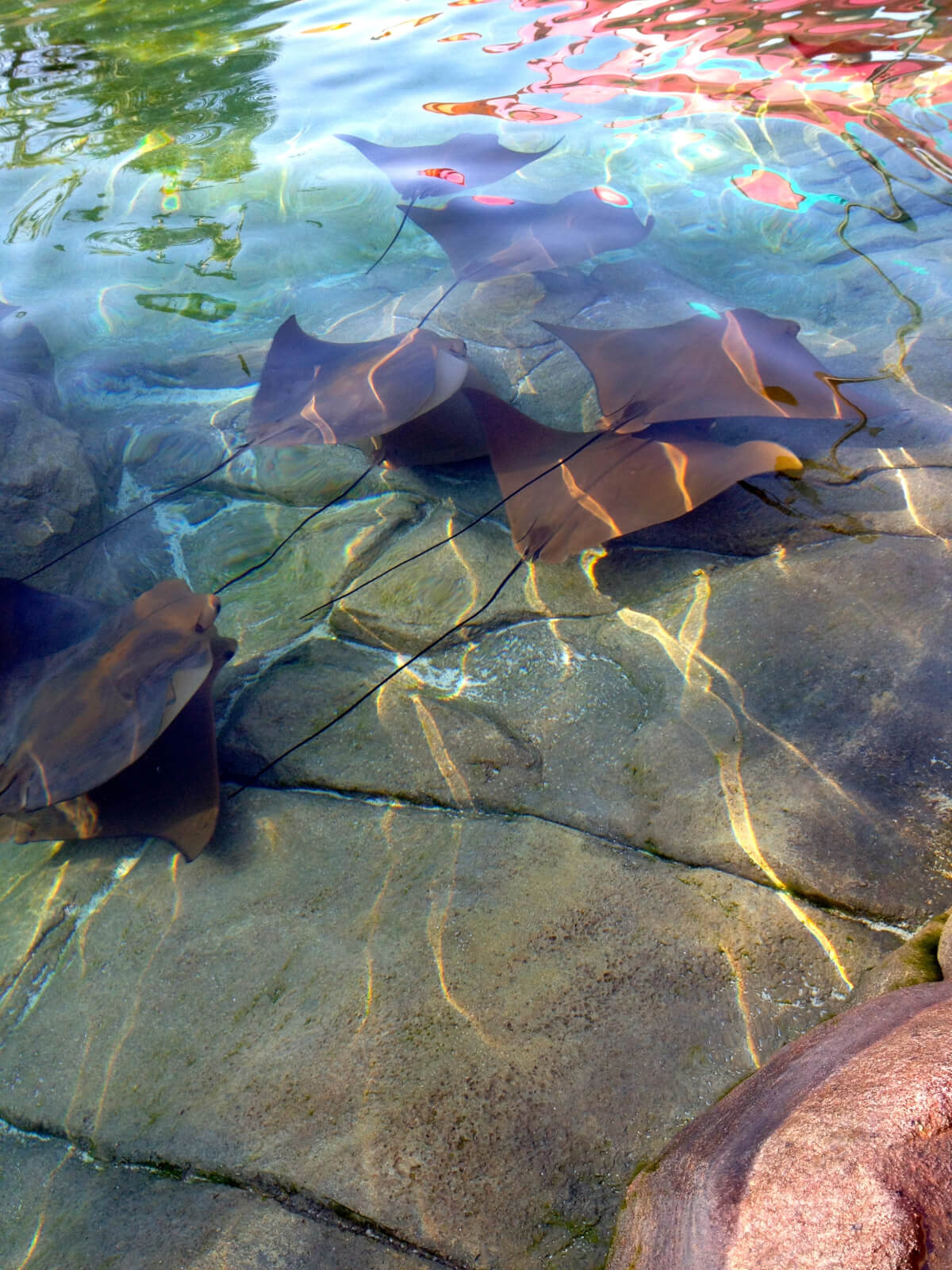 Explore: Adventure-seekers will love Aquatica's newest attraction, the Taumata Racer, a 375-foot racing slide with a 180-degree turn.
8. Celebrate Hispanic heritage at Market Square
Every day is a fiesta in San Antonio (in addition to the huge annual Fiesta San Antonio each April), and Market Square is the perfect place to begin. Spanning three blocks, Market Square is the largest Mexican market in the United States. Shiny tinsel, colorful decorations, and festive music set the stage as you browse more than 100 shops. You'll find a wide variety of treasures like embroidered dresses, authentic Talavera pottery, and fresh tamales. Watch artisans at work and enjoy entertainment by Mexican dancers and mariachi bands.

Explore: On-site restaurants include the world-famous Mi Tierra Café y Panadería, open 24 hours a day—thank goodness.
9. Catch a show at the Tobin Center for the Performing Arts
On the San Antonio River, between palm trees and atop red-carpet-worthy stairs, you'll find the oh-so-classy Tobin Center for the Performing Arts. The schedule stays packed with touring musicals, comedians, big-name bands, ballet, opera, and symphony productions.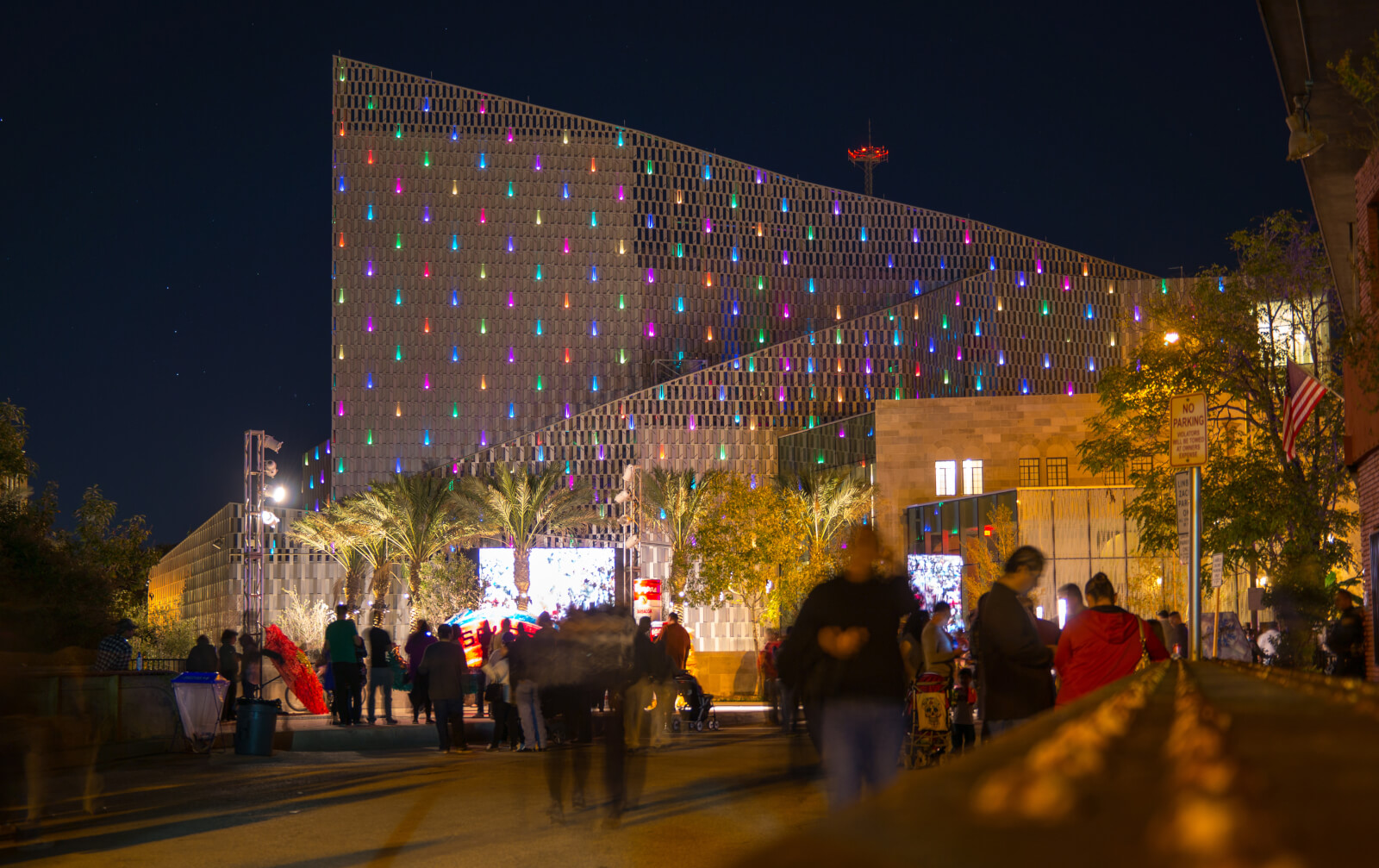 Explore: Get in a free workout at Fitness on the Plaza (Saturdays at 9 a.m., March–October), and bring a lawn chair or blanket to Cinema on the Plaza (second Friday each month at 7 p.m.) for a family-friendly film under the Texas stars.
10. Get a thrill at Six Flags Fiesta Texas
You'll find rides of all kinds, for all ages, at Six Flags® Fiesta Texas. Soar on loopy, fast-moving roller coasters, spin on a giant swing, and relax on a lazy river with waterfalls. There are thrill rides, family rides, kid rides, and water rides. Between attractions, grab pizza and ice cream and enjoy musical entertainment and foam parties.
Explore: The Wonder Woman™ Golden Lasso Coaster opened in 2018 and is the first single-rail coaster in the world.