10 Ways to Slay Winter in Western Montana
Making the most of the outdoors and more
By Glacier Country Tourism
There's no end to winter's wonder in Western Montana's Glacier Country. Snow-covered mountains, miles of deep untouched powder, six downhill ski areas, and countless acres of backcountry terrain, plus winter festivals and warm, cozy lodging in charming small towns all make for the perfect winter getaway. Here are 10 ways to slay winter in Western Montana.
WHAT'S SKIJORING?
Great question! Derived from the Norwegian word skikjøring meaning ski driving, this wildly fun winter sport is becoming increasingly popular to participate in and to watch. Mix up your winter, and check out a skijoring competition in Montana. Horses pull skiers through jumps, turns, and obstacles as they compete against the clock and fellow skijorers for big prize money. Check out the Whitefish Ski Joring World Invitational or head to Kalispell for Skijoring at Rebecca Farm.
FROLIC AND PLAY THE FESTIVAL WAY
When Montanans are not playing in the snow, they're celebrating it. Head to the Whitefish Winter Carnival for snow-season shenanigans. This much-anticipated community event draws folks from far and wide to the exceptionally festive mountain town of Whitefish for mid-winter revelry. Another must is Cabin Fever Days and Barstool Races with events in Martin City, Hungry Horse, and Coram—Western Montana's Glacier National Park corridor. Take the winter merriment inside to the theater at Polson's Flathead Lake International Cinemafest or the Big Sky Documentary Film Festival in Missoula. For more winter festivals and fun, check out Western Montana's events calendar.
WARM UP WITH LOCAL WHISKEY +  MONTANA BREWS
In Western Montana the craft of artisan microbrews and whiskey made from glacial waters is highly valued. It's also highly savored. That's evident in the fact that you'll find more than 20 breweries, plus multiple distilleries, wineries, and cideries across the region. Take a brewery tour, indulge in a beer flight, savor exquisitely distilled spirits, or pull up a taproom barstool and discover why Montana is ranked #4 in the nation for breweries per capita.
RUN FOR THE HILLS—THE SLEDDING HILL, THAT IS
This great American winter pastime is a family favorite, and there is no shortage of hills to sled in Western Montana. You'll find popular sledding spots all across the region. In addition, many resorts have sledding and tobogganing activities available for their guests, with sleds provided. Kalispell, Missoula, and Polson offer some of Western Montana's most popular sledding spots.
DESTINATION SKI MONTANA
With six downhill ski areas and acres of pristine backcountry terrain, Western Montana is a premier ski vacation destination. Whitefish Mountain Resort offers spectacular skiing with breathtaking views of Glacier National Park, and the town of Whitefish is one of Montana's most explore-worthy. Stay in the charming community of Lakeside on Flathead Lake and ski Blacktail Mountain. Take to the slopes at Turner Mountain and explore Kootenai Country in Libby. Lookout Pass gets the biggest snowfall in the state and isn't far from St. Regis. Explore Montana's arts and culture hotspot—Missoula—and ski Snowbowl. Lost Trail lets you ski fresh powder and explore the beautiful Bitterroot Valley. Discover epic downhill in Glacier Country.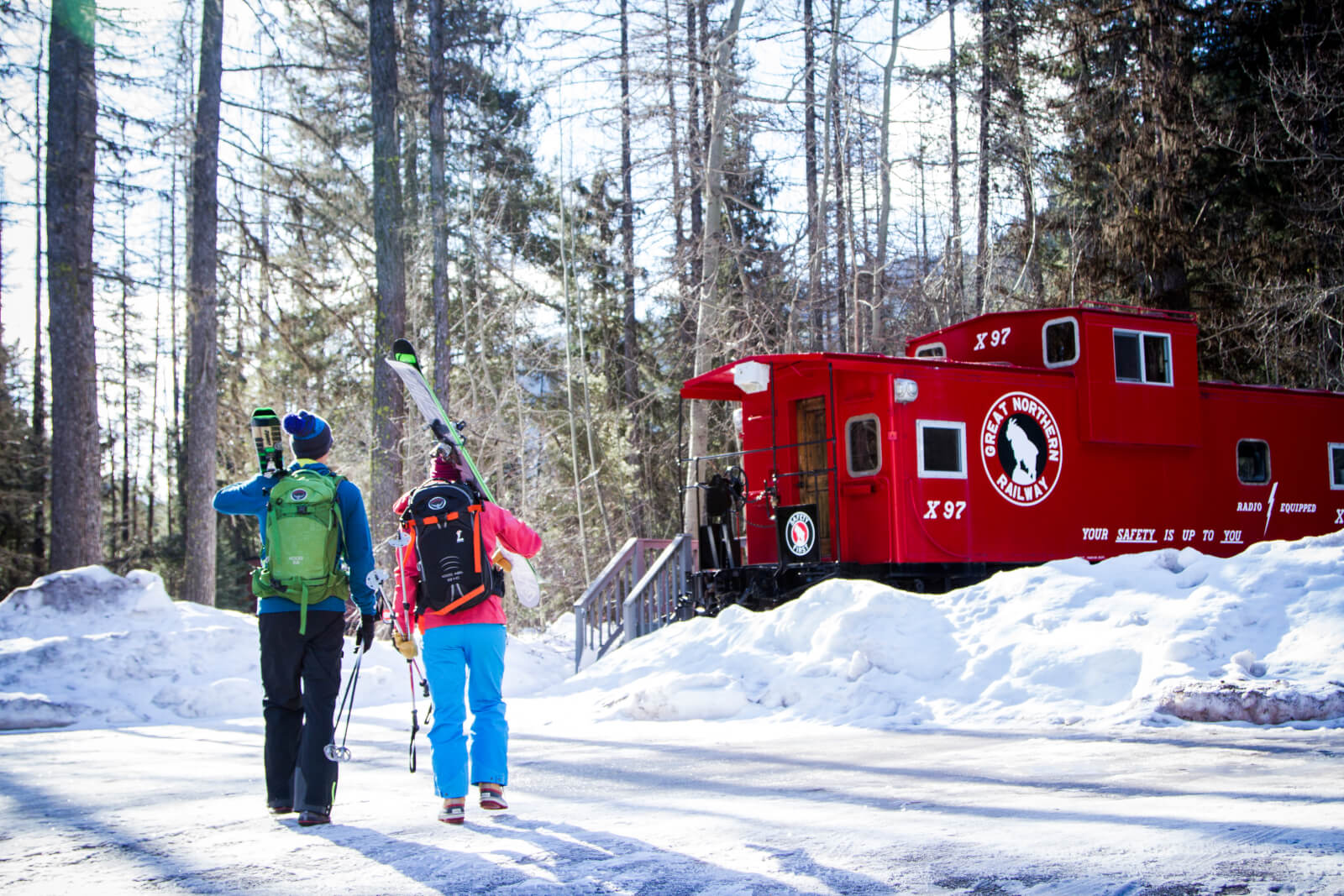 NORDIC + CROSS-COUNTRY ADVENTURES
Glide through a serene winter woodland scene on Western Montana's endless system of Nordic, cross-country, and skate ski trails. Taking it slower than a downhill adventure allows gets you up close and personal with the wonder of winter, which, in Montana, is pretty wonderful. Named one of the top 10 cross-country ski resorts in the Rockies by Snow Country magazine, the Izaak Walton Inn in Essex offers 33 kilometers of sheltered trails winding gently through pristine forested terrain with views of Glacier National Park. Find some of Montana's best cross-country adventures at guest ranches, resorts, and Nordic centers across the region.
THE MAGIC HAPPENS ON A HORSE-DRAWN SLEIGH RIDE
You can't think about a horse-drawn sleigh ride through a Montana winter wonderland without hearing sleigh bells, right? It's an enchanting, authentic way to experience the true wonder of winter. Cozy up on a sleigh under a warm blanket with a hot beverage in hand and delight in the magic. Take a starlit sleigh ride to a delicious dinner and après sleigh fireside. Chances are, a winter stay at a Montana guest ranch will find you on a sleigh.
MUSH THROUGH WINTER ON A DOG SLED
For a unique winter adrenaline rush, try dog sledding in Western Montana. Get cozy behind a team of sled dogs and enjoy the ride, or try your hand at mushing these well-trained huskies through miles of snow-covered terrain. Whether you're looking for a guided half-day outing or a multi-night excursion, there are plenty of experienced outfitters who can get you on a dog sled and help you mush in Montana this winter. Base Camp Bigfork provides a hands-on approach, allowing you to drive your own team of Inuit sled dogs through the beautiful Flathead Valley. If you prefer to watch from the sidelines head to Montana's premier dog-sledding event—Race to the Sky—attracting some of the best mushers in the country.
SNOWMOBILE THE BEST OF THE WEST
Glacier Country is a haven for sled heads. Turn on the power and snowmobile through winter in Western Montana, with miles of steep climbs and flat trails amid acres of breathtaking backcountry and epic powder playgrounds. Glacier Country's gorgeous and expansive winter terrain offers an unforgettable sledding experience for both beginners and experts. Don't miss out on your free snowmobiling guide and trail map, and visit Western Montana to experience some of the best riding in the country.
HOT SPRINGS ARE HEAVENLY
Playing in the snow is best topped off with a hot springs soak, and Western Montana provides. There's nothing quite like a post-adventure dip in the healing mineral waters of these geothermal pools. Soak it up at Lolo Hot Springs in the beautiful Bitterroot Valley, Quinn's Hots Springs Resort in Paradise, or Symes Hot Springs Hotel in the aptly named community of Hot Springs.
Discover even more things to do in Western Montana in winter.