Finding Balance on the Hammock Coast
Good times on a girlfriends' getaway to South Carolina's Hammock Coast
"You can say 'I told you so,' Becky," I said, looking out across the endless ocean in front of me. The getaway was her idea. As a full-time ER nurse and a mother of three little boys, I'd had my blinders on without regard for taking a break. But here we were—Becky also a mom, in the midst of finishing up a business degree, and Lauren, an elementary school teacher—on the back porch of a rental house on the beach, and I was standing corrected. Lauren was on board as soon as she heard the mention of South Carolina's Hammock Coast. Becky had to pull out her business negotiation skills for me—and I'm glad she did.
Becky grinned at my confession of her being right and said, "I'll let the beach do the talking. Suit up!"
We all changed into our swimsuits and walked directly from the back porch of our Litchfield Beach rental house to the beach. After setting up our towels and umbrellas, we dipped our toes into the ocean and our vacation officially commenced.
Beach bliss
"There's just something so therapeutic about the ocean, isn't there?" I asked rhetorically, as we waded deeper into the salty water. Soon we were floating on our backs, letting the roll of the ocean rock us hypnotically, and the rays of the sun warm our cheeks.
We spent the afternoon relaxing, examining the beautiful seashells scattered across the sand and catching up on each other's lives. After we got our fill of vitamin D, we washed up for dinner. We chose Rustic Table on mainland Pawleys Island after reading rave reviews online about their excellent fresh seafood. We shared oyster sliders and Ipswich fried clams before stuffing ourselves with our entrées. I couldn't resist the shrimp and grits—its creamy, buttery-rich flavor certainly surpassed my expectations.
"Rise and shine!" I heard, as my curtains were drawn and the sun came bursting in the next morning. "It's time for yoga!" Becky chirped. I sat up in my bed and looked at the clock, realizing I'd just gotten the most sleep I'd had in years. Judging by Becky's unusually chipper voice, I'd guessed she was also feeling the benefits of proper rest.
Becky planned a private yoga lesson on the beach with Island Wave Yoga and we all agreed it would be a perfect way to start our morning. I jumped out of bed. I'd done yoga years ago, but it had fallen to the wayside and I was excited to get back into it.
Our instructor guided us as we stretched into various poses, while the waves rolled up and down the sandy shore. I felt my muscles releasing long-held tension, and I focused my mind on the sounds of the ocean and my breathing. Being in this environment, in nature beside the vast ocean, provided a sense of peace I hadn't felt in previous classes.
Shoreside shopping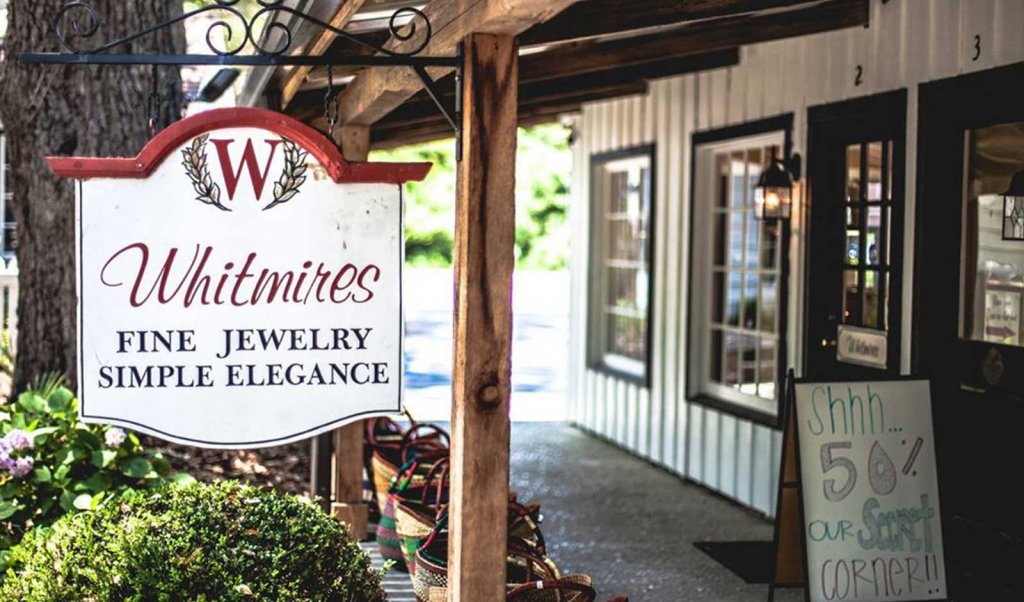 After our rejuvenating yoga session, we made our way south to the Hammock Shops Village for some shopping.
We loved the brick pathways meandering around the charming cottage-style shops, and the shade provided by the massive limbs of the magnificent oak and pine trees. I snapped photos of the colorful azaleas and camellias. I decided to plant some of my own when I returned home because they were so beautiful.
We stepped in and out of shops and watched as the delightful weaver, Marvin, wove a hammock in front of us in the Hammock Weavers Pavilion. As we perused the jewelry at Whitmire Fine Jewelry, a sweet little pendant caught my eye—a silver seashell. They call it the Pawleys Island Shell and supposedly they are only found on the Hammock Coast! Lauren, Becky, and I agreed we'd all buy one as a token of our carefree weekend getaway.
We lunched at nearby bisQit and ordered hamburgers and shakes. But this was a girls' weekend and we didn't want just any old shakes. We ordered spiked Bananas Foster shakes. With a hearty "cheers!" and clinking of cups, we each sipped our frozen adult treats, basking in the freedom of our stress-free vacation.
Fond farewells
We spent the remainder of our afternoon exploring the charming shops in downtown Georgetown and were amazed at the gorgeous antebellum architecture in the historic district. We were imagining what life must've been like when these homes were first built in the 18th century. We realized they didn't have many of the conveniences that make our lives easier today. It's nice to contemplate the contentment that comes from a simpler life, but I really loved being in a place where modern convenience and tranquility live in harmony.
For me, that observation paralleled my experience of the getaway. While I love my life of being a mom, wife, nurse, and all the other roles I play, taking a break is key to balance, and I was reminded there's no reason busyness and recreation can't live amicably.