Taste Lake Charles
From Cajun to craft beer, discover a food culture unlike any other
My gal pals, Taylor and Maggs, are my go-to travel buddies—even though we don't always have the same tastes. Taylor and I consider ourselves foodies and love nothing more than tasting new, cultural foods. Maggs, on the other hand, is happy with the basics. But, we're working to change that.
Recently, we hit the road Friday after work and headed to a city with Cajun cuisine, craft beer, casinos, and more: Lake Charles, Louisiana.
LeBleu's Landing
Our first foodie stop of the weekend was just off I-10 in Sulphur, only about 15 minutes from Lake Charles. As we entered the casual eatery for dinner, the aroma of Cajun spices permeated the air, and my mouth watered instinctively. Like so many restaurants in Southwest Louisiana, LeBleu's Landing is known for its distinct cultural cuisine, traditional recipes, and local ingredients.
When the waiter realized it was our first time at LeBleu's, she encouraged, "You have to try our boudin. It's as common as bread and butter around here." I figured I'd be ordering up a platter of crawfish or oysters, but decided to take the waitress' advice and go for the boudin (pronounced boodeh), a spicy sausage-meat mixture usually made with pork, onions, and rice. Taylor wanted to try the boudin along with the remoulade-topped crab cakes, so we agreed to share the two entrees, but not before we all three polished off a plate of crusted fried green tomatoes.
I finished up my first glass of sweet tea just as our waitress placed the platter of boudin sausage in front of me. "Most of us squeeze out the boudin from the casing," she said with a smile as she placed the other entrees on the table.
I caught Maggs dubiously eyeing our boudin as we squeezed the first bite onto our plates. I scooped up a spoonful and quietly savored the flavors as if I was a Top Chef judge.
"Well?" Maggs inquired.
I couldn't place every seasoning, but the boudin's combined flavor was delicious. "Oh my gosh, Maggs!" Taylor jumbled through her second bite, "Boudin is totally something you should try!"
Maggs scrunched up her face and took a look at the boudin again. "Mmmmm, maybe next time," she said. The weekend had barely started, so we knew there would be plenty of next times.
Rikenjaks Brewing Company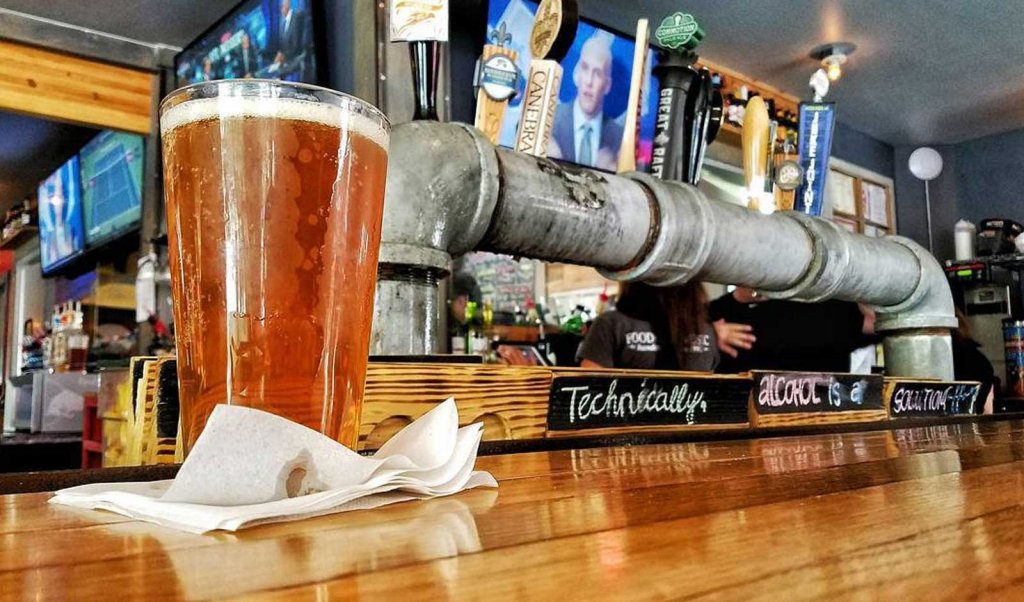 In Lake Charles, we unpacked, tried our hand at a few slot machines, and headed out on the town for a drink or two. We kicked back at the casual Rikenjaks Brewing Company, a restaurant and brewpub housed in a 70-year-old bungalow in midtown Lake Charles. Rikenjaks serves up savory comfort food, including fried pickles, and plenty of cold beer. There are about 50 brews to choose from, including a little fewer than a dozen Louisiana craft beers on tap.
A lively buzz of spirited music and the hubbub of chatter of friendly patrons filled the air. We snagged a small table, and well, we didn't move for a few hours! After our table got another round of Cajun Wit, a mildly sweet, orange ale, Taylor and I grabbed the menu to order up something to eat. I secretly ordered the fried alligator bites in hopes that Maggs would give them a try. When they arrived, without saying a word, Taylor and I dug in. Without question of what the bites were, Maggs grabbed a few and started snacking, too! Taylor and I watched for a reaction, and then we heard Maggs say, "Oh yum, these Cajun bites are so good!"
"Definitely!" Taylor responded, not wanting to ruin the moment by telling her what she was really eating.
Steamboat Bill's
After some strong coffee and a jog along Lake Charles' boardwalk and white sand beach the next morning, we got luckier than usual at the slots and decided to skip over to the concierge to schedule three pedicures.
As the concierge led us to the spa, we asked his recommendation for our next regional dinner exploration. "Definitely Steamboat Bill's," he said. "It's touted as the best seafood and crawfish in Southwest Louisiana," he added as if giving away a secret.
Toes freshly massaged and polished, we spent the afternoon exploring more of Lake Charles before heading to Steamboat Bill's at the recommendation of our concierge. Big portions. Cajun flair. Fried goods. The sides here consisted of popcorn shrimp, oysters, crawfish tails, and more Louisiana classics.
We ordered up a bucket of cold beer to pair with the spicy fare. Taylor and I debated over fried oysters, the crawfish po' boy, and étouffée. As we ordered, Maggs turned her head to gawk at a platter of crawfish at the table next to us, and I quickly asked the waitress to bring us the fried alligator bites for an appetizer.
The gator bites came out steaming and golden brown. "Oh, it's those same things from yesterday," Maggs said, excitedly, as she took a bite. Three bites in, our waitress breezed past and asked, "How 'bout those gator bites?"
Maggs' expression was priceless, but the fact that she purposely took another bite of what she now knew to be fried alligator was a relief. "Very smooth, ladies," she said.
Our entrees were delicious all around. Maggs went for the spicy boiled shrimp, and we could smell the cayenne before her plate landed on the table. The platter of boiled crawfish that Mel and I splurged on was the perfect choice for us two. These bright-red, shrimp-looking, freshwater-shellfish were tenderer than any lobster I've ever eaten, and I'm pretty sure that Maggs would have loved this taste of Cajun culture just as much as the gator bites.
Luna Bar and Grill
We decided to end our dining—and Lake Charles—adventure with a Sunday brunch the following day at the quaint downtown locale of Luna Bar and Grill.
We arrived at Luna a little before 11 a.m. and were pleasantly surprised with the deep soulful tunes of authentic jazz and the appetizing smells wafting throughout the place. There was a wait, but Luna's atmosphere, spicy Bloody Marys, and cold mimosas filled the void.
Luckily, it was another beautiful day in Lake Charles, so we were thrilled when an outdoor table opened up, which put us a little closer to the music and allowed us to soak in some sunshine. I ordered the Eggs Calcasieu, a yummy French bread mixture topped with boudin, fried oysters, and hollandaise sauce. Taylor decided on a delicious mix of jumbo lump crab, crawfish, and shrimp mixed in a housemade remoulade sauce served over romaine lettuce. Maggs ordered up the standard egg, bacon, and toast breakfast, then hesitated. "On second thought," she added with a smile, "I'll have the Omelette Mamou with crawfish and hollandaise sauce."
Taylor and I looked at Maggs and smiled. But the bigger shock came when our plates arrived at the table. We swapped bites and sampled classic Cajun flavors—seafood and spice, and everything nice. Taylor's remoulade sauce was to die for, and so was my boudin breakfast concoction. I noticed as I sopped up a bit of the rich hollandaise sauce that Maggs had nearly polished off her Cajun omelet!
All smiles, we made a final toast!
A Lake Charles adventure can come in all shapes and sizes, from casino gaming to exploring its unique landscape. But for this group of gal pals, our weekend getaway brought a culinary experience good enough to write home about. In fact, as we drove out of town late Sunday afternoon, we stopped at LeBleu to purchase a cooler full of boudin and loads of spices to take back to Texas with us. The biggest surprise of all? Maggs placing a to-go order for crispy alligator bites to snack on the way home.