Busting Boredom
A family vacation in York County provides perspective
Anyone with teenagers, especially ones still too young to drive, is familiar with the constant weekend refrain of "I'm bored," and "There's nothing to do." In a household that's full of smart phones, tablets, gaming systems, and every other electronic device imaginable, it's almost insulting.
My kids are boredom perpetrators. My husband and I offer countless suggestions for activities, most of which are dismissed. There's an entire world to explore—how could boredom be such a plague in our household? Maybe it was time to leave our roost.
We planned a weekend family getaway. Sometimes, you have to make your own fun.
Past as a present
In Rock Hill, South Carolina, we found a great variety of activities within a short driving distance; Kings Mountain State Park was our first stop. Located near the North Carolina/South Carolina border, the park is part living history museum, part hiking trails, part campsite.
We decided to begin our exploration on the 1.2-mile Kings Mountain Nature Trail. It's an easy loop, but our group stopped often to read interpretive signs on the area's wildlife, vegetation, and history. Oh yeah, I forgot to mention another aspect of the state parks: Kings Mountain State Park is located adjacent to Kings Mountain National Military Park, where the battle of Kings Mountain was fought on October 7, 1780—a positive turning point of the Revolutionary War.
My kids' interest was piqued. They had heard about the Revolutionary War in school, of course, but I'm not sure they realized how close to home it was. What other discoveries lay just beyond their realm?
Living's easy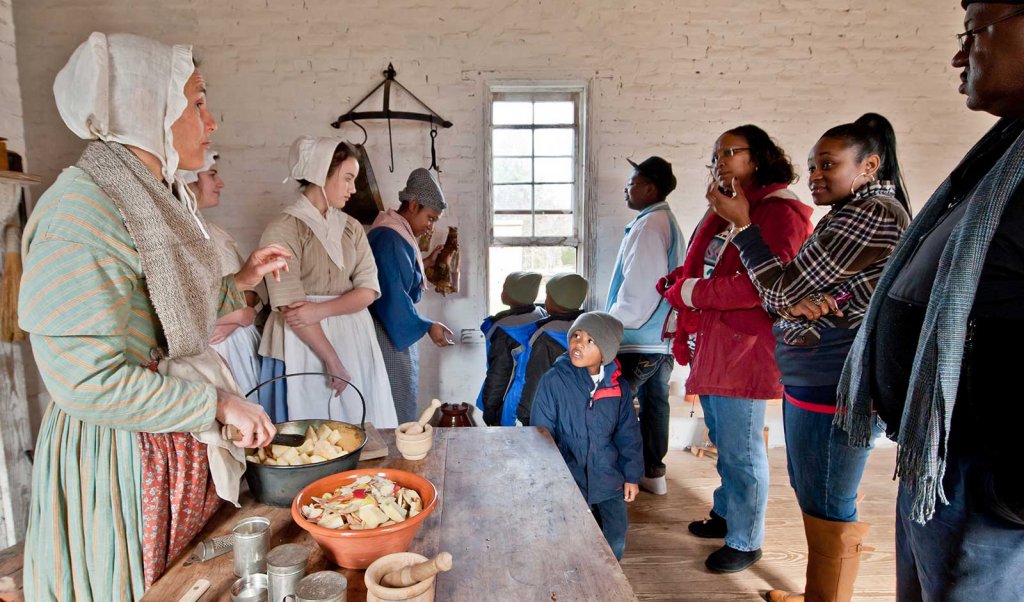 Next, we headed to Historic Brattonsville, located just outside of Rock Hill in McConnells. Brattonsville is home to structures dating back to the 1760s; it provides a glimpse into the life of the first settlers in the area, Scotch-Irish immigrants who migrated south from Virginia. Brattonsville is also the site of another significant Revolutionary War battle, the Battle of Huck's Defeat. This critical outcome gave the patriots the shot in the arm they needed to go on to win the Battle of King's Mountain.
Here, our family was immersed in an 18th century community. "It's funny to think that our idea of inconvenience is so different from a couple centuries ago," my daughter observed, as we watched a costumed interpreter demonstrate what was required to simply cook a meal centuries ago, grow the wheat for bread, feed the animals for cheese and meat, etc.
"Kids back then didn't even have the opportunity to be bored," I said. The incredible work ethic and resiliency of those early settlers was inspiring.
We wandered the footpaths among the more than 30 historic buildings, walking in the footsteps of our Revolutionary forefathers, only stopping to watch other demonstrations of woodworking, farming, and gardening.
Water's reflection
We rose early to start the next day out on Lake Wylie. The lake has more than 300 miles of shoreline—the majority of it wooded, undeveloped, peaceful, and quiet.
We rented a pontoon boat and fishing equipment, and spent the first few hours on the boat sightseeing and navigating through the many branches of the lake. I watched as my husband and children cast lines out on Lake Wylie. Our group often quiet and observant. Back home, this silence would be filled with cries of boredom—here, the silence was filled with peace.
My hope, when we return home, is that next time my kids anxiously wish for something to do, they remember to be grateful that their meals come easy and remain curious about what they can discover just outside their front door.
Explore more of York County with your family!