Who Knew About Knoxville?
Discover world-class fascination under the radar
One normally wouldn't refer to East Tennessee as a land of extremes. I work in sales, and every year I look forward to an annual convention—past locations have included Berlin and Vancouver. This year however, I was surprised to see I would be heading to Knoxville, TN.
"If it can host a World's Fair," said my boss when he saw my raised eyebrows, "it can host 200 salespeople."
Flashbacks at the Hall of Fame
I hadn't held a basketball in my hands since seventh grade. That was the year I was cut from the team—especially painful since my sister was captain. Since then, basketball has been a sore subject. Still, I had a few hours to kill before I needed to get ready for the convention and I was curious to check out one of Knoxville's crown jewels: the Women's Basketball Hall of Fame.
It wasn't hard to find the hall of fame. The world's largest basketball is perched on the roof! It's hard to miss a 30-foot-tall ball. I rented an audio guide and walked the hallowed halls depicting the sport's history through a series of captivating and creative exhibits. For example, looking at the wool skirts and bloomers the players used to wear made me appreciate the lightweight green middle school uniform I once wore.
The highlight of my visit was getting out on the practice courts—featuring different drill stations. The dribbling challenge was a humbling reminder of my lack of coordination, and I didn't have much of a vertical to measure, but I felt elated after sinking three free throws in a row. If I felt this good after such a minor achievement, I could only imagine how fulfilled legends like Pat Summit, who paved the way for the WNBA, felt.
On the way out, I picked up a gift for my sister. I immediately thought of her when I saw the soy candles in the gift shop. Hopefully, the candle's scent, hardwood floor, would be a pleasant reminder of her glory days.
Baby animals and a surprising adoption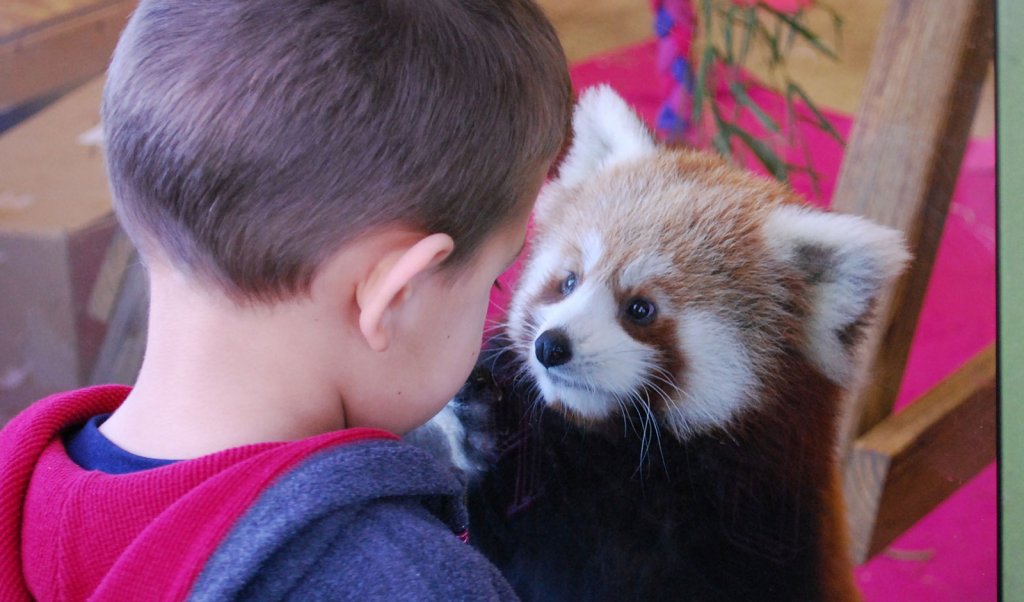 Time off between seminars and a desire for fresh air brought me to Zoo Knoxville the next day. I hadn't been to a zoo since I was a kid, but a colleague at the convention said I couldn't miss its red panda exhibit. Looking like a cross between a bear, raccoon, and cat, the red pandas were ridiculously adorable. I didn't see any babies, but this would be the place to see them. More red pandas have been born in Knoxville than in any other zoo in the world!
I did see two gorilla babies, however. By far, the rumbling, tumbling brother and sister team, Ubuntu and Obi, were the most popular great apes in the Gorilla Courtyard. Their antics were strikingly similar to the kids I saw running around—most headed for the Safari Splash water park.
Giraffes have a special place in my heart, so I took my time snapping photos and feeding the animals from the two-story Giraffe Experience encounter deck. The closeness to the gentle creatures prompted me to adopt one. Fortunately for me, and the giraffe, he gets to stay at Zoo Knoxville. My contribution helps to pay for his healthcare so he can lead a fulfilling life, which for a giraffe, looks like a lot of time eating.
Back in time
The next afternoon I asked myself, "How did I go from admiring live animals to admiring animal mummies?" I walked around the Ancient Egypt exhibit in Knoxville's McClung Museum of Natural History. A gold cat mummy caught my eye, and a sandstone carving of a regal goddess reminded me of the fit athletes from the Hall of Fame.
But this was East Tennessee, not Egypt, so the museum also had an impressive collection of artifacts from its own backyard. In fact, many of its Native American pieces, dating as far back as 12,000 years ago, were older than their 2,000-year-old counterparts found along the Nile. My favorite exhibit covered the main floor of the museum and somehow managed to pay tribute to 500 generations of people who have called East Tennessee home.
"Haven't you had enough history?" my husband asked the next day, when I told him over the phone that I added a half day to my trip to visit the East Tennessee History Center. "It was recommended by the New York Times," I replied. "Alright, alright," he acquiesced. "But next time you go to Knoxville, tell your boss you're bringing me!"
Between the center's signature exhibit—Voices of the Land: The People of East Tennessee—and its special exhibits commemorating the 150th anniversary of the Civil War, I could have spent an entire day. There was so much to digest!
The museum's popular East Tennessee Streetscape, a mural-filled town within the center, features a throwback to the old-fashioned corner drug store—soda fountain and all. Interestingly enough, Knoxville was the birthplace of Mountain Dew (1940) which I had no idea was older than I am. The streetscape also allowed me to see a historical streetcar and imagine what life was like before the days of Uber.
Before leaving the history center and heading for the highway leading home, I signed up for the Adopt an Artifact program. If I could adopt a giraffe, why couldn't I also adopt a 19th-century painting of the Smokies? My donation would go toward its restoration, and once complete, the painting would be displayed for the public to enjoy.
It seemed fitting I give back to Knoxville. After all, its extraordinary attractions had given me a newfound appreciation for East Tennessee. Moreover, it taught me not to underestimate Knoxville as a worthy contender for a top-notch destination for conventions.
Discover more great Knoxville attractions!