Discover the Award-Winning Golden Isles
We would like to thank The Academy...
Sea Island
Visitors have been flocking to the Golden Isles since General James Oglethorpe brought the first settlers to St. Simons Island in 1736. For years, people have been mesmerized by the sweeping oak trees dripping with Spanish moss that form majestic tunnels with their sprawling branches. The combination of the sparkling Atlantic Ocean and the playful call of seagulls is spellbinding. The fresh seafood, friendly locals, and mild weather keep visitors coming back year after year.
For many years, the Golden Isles has been one of the South's best kept secrets. The Golden Isles has been awarded many prestigious accolades recently, and we're excited to toot our own horn.
Known for its impeccable accommodations, world-renowned dining, and close attention to detail, Sea Island is a favorite of many visitors. The Cloister, The Lodge at Sea Island Golf Club, The Spa at Sea Island, and the Georgian Room at The Cloister have all received four Forbes Five-Star awards for the past seven years, making Sea Island the only resort in the world to receive such honors.
What's more, the Lodge at Sea Island Golf Club ranked number 2 on U.S. News & World Report Travel's Best Hotels in the USA 2015, receiving high marks for "an abundance of amenities and attractive accommodations."
The luxurious atmosphere of Sea Island Resort continues to receive praise from all who visit.
St. Simons IslandJekyll Island
The largest of the Golden Isles is also enjoying her day in the sun (pun intended). In 2014, St. Simons Island was recognized by some of the most popular travel publications in the nation. The island's charm and seclusion secured the island's top ranking by Travel + Leisure's readers as their 2014 Most Romantic Town.
Here you won't find beaches lined with high rise hotels or amusement parks – instead, the island boasts unique, local hideaways for all to enjoy. St. Simons Island's triple threat of "southern charm, serenity and affordability" resulted in receiving Travel + Leisure's America's Favorite Beach Town in 2014.
Come as visitors, leave as friends. Here you're not treated as a tourist; you're a newfound friend we met in the local coffee shop or out strolling on the St. Simons Pier. Coastal Living named St. Simons Island as one of the Happiest Seaside Towns, ranking higher than towns in Hawaii and Rhode Island.
Once a winter retreat for some of America's most elite families, Jekyll Island has always been a popular destination for those seeking solace and looking to reconnect with nature.
The awe and wonder of nature's beauty can be felt at Jekyll's famed Driftwood Beach, which was recognized by Southern Living as one of The South's Most Secret Beaches and TripAdvisor as one of 10 Unique Beaches You Need to See to Believe. It's a haven for photographers and is home to some of the most majestic sunrises you'll ever see. Playful families enjoy climbing the massive weathered trunks and branches in this "tree graveyard."
The Jekyll Island Club Hotel's Grand Dining Room recently received the AAA Four Diamond Award, which is classified to restaurants with a distinctive fine-dining atmosphere that often has a highly creative executive chef, imaginative presentations, and market-fresh ingredients on the menu.
Little St. Simons IslandBrunswick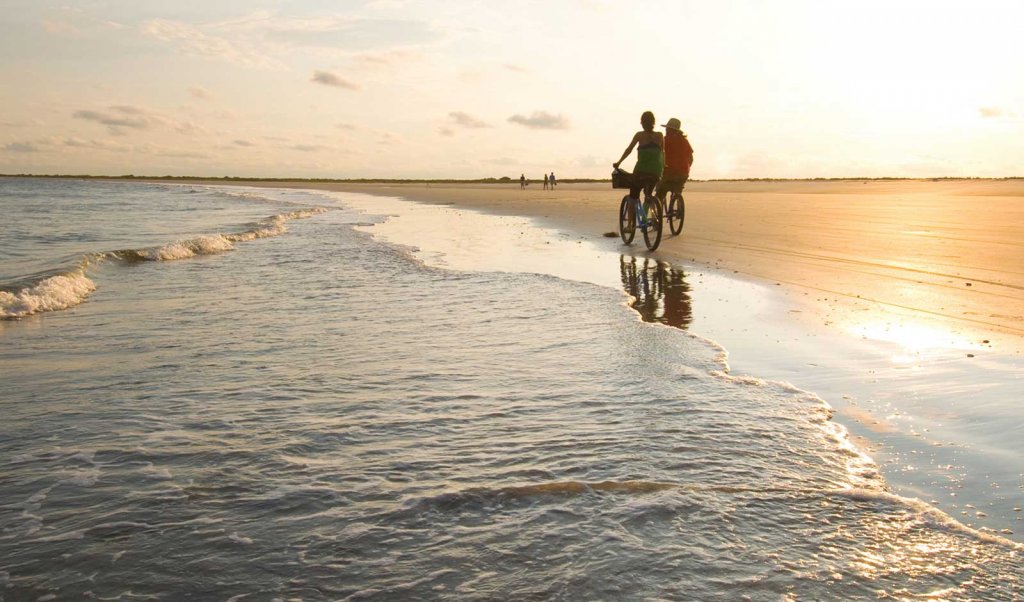 Those who visit Little St. Simons Island immediately fall in love with the 10,000-acre private island. Seven miles of untouched beaches, coupled with quaint guest cottages, makes for an unforgettable experience.
It's no wonder the charm of Little St. Simons Island struck a chord with Condeé Nast Traveler's readers. The island made the list of 2014 Readers' Choice Awards Best Hotels in the South.
Little St. Simons Island is an ideal getaway for families, small or large. The Lodge can accommodate up to 32 guests and provides endless ways to play. Coastal Living recognized Little St. Simons as a top Beach Retreat for Families. Spend the day hiking, fishing, biking, birding, boating, or swimming. The island is your oyster!
Spend an afternoon strolling through Historic Downtown Brunswick, and you'll think you've traveled in a time machine. Many of the streets still bear their original colonial names, and the architecture follows suit. Several homes and commercial buildings have stood the test of time and are centuries old.
The feel of a bygone era and the beautiful, scenic views at Mary Ross Waterfront Park helped secure Brunswick's spot on Travel + Leisure's 2014 list of America's Most Romantic Towns. Yes, both Brunswick and St. Simons Island made the list!
Adding to the historic allure of Brunswick is Hofwyl-Broadfield Plantation, an old rice plantation that is now owned and operated by the State of Georgia. Rice was grown at Hofwyl-Broadfield from the 1800s until 1913 when it became a dairy farm. The onsite museum allows visitors to imagine what life was like during both the plantation and dairy eras. Howfyl-Broadfield Plantation made USA Today Travel's list of 10 Best Historic Southern Plantations.
It's no secret that the Golden Isles are something special. Highly coveted awards from some of the most prestigious travel publications make us proud of our stretch of the Georgia coast. But don't just take our word for it, come see for yourself.