Forever Festive
A tour through international events and celebrations in Knoxville, Tennessee
I love where I live, and where I live will love you, too. Knoxville is home to a variety of people from different cultures; as such, throughout the year, events and festivals here showcase global food, history, and style.
Visitors often come to Knoxville in the spring for festivals like Rhythm N' Blooms, International Biscuit Festival, and Big Ears, a weekend of world-class musical performances created by the founder of Bonnaroo Music and Arts Festival. But Knoxville has even more to offer. The city is a merging of cultural backgrounds from around the world, and August to October is the primary season for international festivities.
On August 8th, 1863, future President Andrew Johnson freed his personal slaves. In April of 2007, that date was signed into law as Emancipation Day. Now, the Beck Cultural Exchange Center presents the Eighth of August Jubilee each year on an adjacent weekend.
As "The Place Where African American History is Preserved," Beck Cultural Exchange Center has made history a celebration where locals and visitors enjoy thought-provoking exhibits, laugh-out-loud comedy shows, and rhythm and blues music. It's a grand display of community spirit in a party atmosphere at Chilhowee Park.
Hanging paper lanterns and fierce red and black dragons transport you far east from Knoxville's Market Square. The streets fill with people celebrating the visual arts, dance, and martial arts from different Asian nations. Watch out for the samurai as he passes, looking mysterious in traditional black and blue armor (plus a sword, of course). Try on a kimono fashioned and tied with a giant satin sash, or purchase red satin dresses accented with gold. Performances range from kung fu brick-breaking to Bollywood-like musical performances, all performed by Knoxville locals.
Each Asian country represented brings its own style to the performance stage, and its own flavor to the food! I practiced using chopsticks, bought a paper fan, and then ate banh mi, won tons, and samosas. The Knox Asian Festival brings together so many cultural backgrounds, celebrating both the community and its character.
Get me to the Greek! I would go for the tzatziki alone. I love Greek food—moussaka, souvlaki, spanakopita, or my go-to gyro. My mouth waters just thinking about it. This is the best Greek cuisine in Knoxville, packed into the St. George Greek Orthodox Church, where Greekfest has been celebrating Greek culture for 37 years.
Once you're finished eating, you can take coffee or wine in the authentic taverna, then sit back and enjoy the music. Be careful, though, when the dancing begins; you will want to take someone's hand and join in the Hasaposerviko line. I may not be able to pronounce it, but anyone can do the dance. All you need is a step-step-hop, music, and a big smile on your face!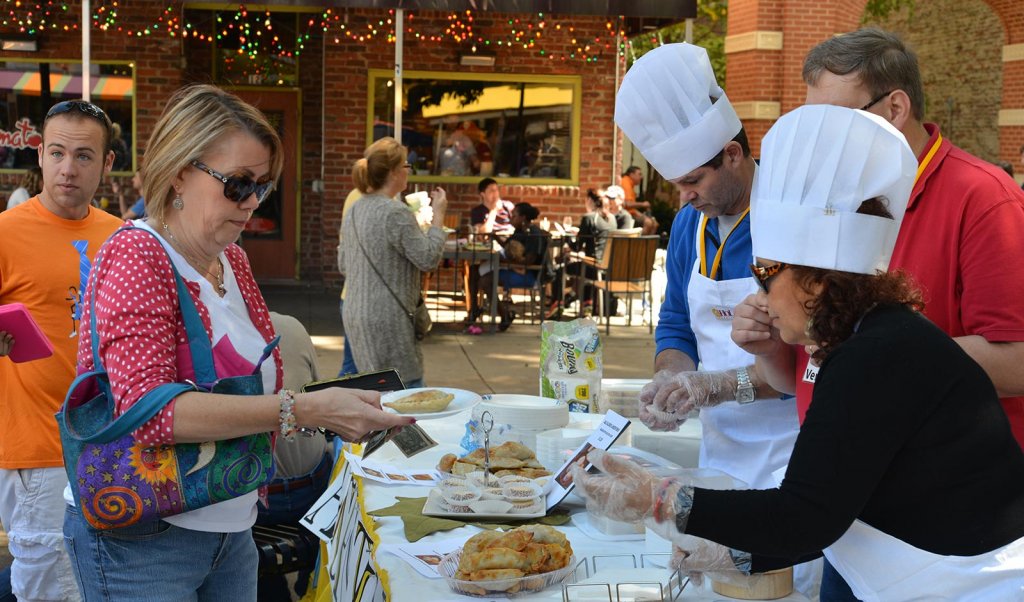 Skirts in the colors of a Southwest sunset flip and roll with the rhythm of a mariachi band. The dancers stomp out a beat with their low-heeled shoes while they wave their ankle-length skirts in giant swirls of fabric. The performances on the main stage of the HoLa Festival aren't just entertaining, they're contagious. Standing before the performers, my feet tapped through the folklorico dance. During the tango, my hips began to swivel, and by the time the salsa performance began, my whole body was moving with the infectious beat.
"HoLa" doesn't just mean "hello" here. It stands for the Hora Latina (Latin Hour), which takes place over two days of food, fun, and entertainment. Twenty-four Latin American countries are represented at the festival and in the Parade of Nations that marches down scenic Gay Street, displaying traditional clothing and playing music. In addition to professional music performances, entertainment includes traditional folk dance, a science show, and puppet theater, making this fun for everyone, no matter the age or interest.
"Merhaba!" You will hear this Turkish word for "hello there" almost as often as you see a friendly face at this festival celebrating the local Turkish community in Knoxville. The Tennessee Istanbul Cultural Center hosts the yearly Turkish Food Festival. There is also music and entertainment on the main stage—whirling dervishes in white robes spin in a traditional sama, a dance ceremony that has been performed for centuries.
But the real star of the festival is the delicious food, including desserts such as filo-layered baklava, the sweet cake revani and, my favorite, Şekerpare, which means "a piece of sweetness." The food festival is itself a piece of sweetness, promoting understanding and kinship.
The International Food Festival is an especially great place to bring the kids. Children dressed in costumes showcase their cultural heritage by putting on a fashion show, delighting the crowd with colorful fabrics and designs. The last time I went, there were 18 countries represented, covering nearly every continent. After the show, kids run up to the booths to get stamps in their "passports," printed in alluring languages.
If you're looking for new food, you'll find tantalizing new colors and exotic spice at each booth. I often wonder how long it would take to travel the world to try each of these dishes.
I can't help but pause at the bounce houses, noticing kids in typical streetwear bouncing side-by-side with Annoor Academy school children colorfully dressed in the traditional attire of several Islamic countries. It always reminds me that we are more similar than different.
The off-season
When the fall festival season is over, I love reflecting specifically on the visitors I met along the way, from brief introductions to deeper conversations and even a few friendships formed. While I have the privilege of living in a city that's genuinely, objectively diverse, I realize not everyone does. These festivals provide the opportunity to understand, grow, and connect.
Getting a chance to attend one of these international festivals would be a treat for anyone, but if you visit during another time of the year, check out one of the other fantastic gatherings. Led by the local Irish community, Knoxville brought back the St. Patrick's Day Parade on March 17, 2017, and had an excellent turnout. Or, if you're in town June 17, remember that no one throws a party like Pridefest. Feel free to show support and join the parade route that, yes, includes Gay Street.
All of these festivals will welcome you. Each one has its own charm, but every single one celebrates the cultural diversity that makes us uniquely Knoxville.
I love where I live, where I live will love you, and I'm pretty sure you'll love where I live, too!