A Winter Getaway Warms the Soul in Charlevoix, Michigan
By Anne Hines
Big on small town charm, Charlevoix is the perfect getaway for this family
Looking up at the twinkling sky, and the crackling fire in front me while listening to the "mmms" all around warmed my heart. Anna and Joey sipped their hot chocolate, eyes wide, faces beaming. My husband Dave was grinning too. This was just what the vacation doctor ordered.
It's hard to commune with nature in a busy city in the middle of winter. So, we packed up the car and took a winter getaway to one of the most beautiful small towns in America according to House Beautiful magazine and many others — Charlevoix, Michigan.
"All you need to know is there will be lots of snow and hot chocolate," we told the kids. They were excited. After a busy holiday, we needed to get away together as a family, have some fun, and breathe in some fresh air.
Downtown Delights
We dropped our bags off at our hotel and headed out to check out the town. It was cold outside but the in-room fireplace would make for a cozy evening later. Downtown Charlevoix was brimming with cute boutiques with lots of Michigan made products and Charlevoix's restaurants offered plenty of locally-owned options. Hungry from our drive, we ducked into Scovie's Gourmet for some hearty sandwiches and homemade soup. On our road trip north, I had read about Charlevoix's battle to be the home of the World's Largest Cherry Pie and couldn't wait to try a slice. We planned to stop by the World's Largest Cherry Pie monument later for pictures. Everything was delicous and the cherry crumb pie for dessert did not disappoint.
Craving more cherries, we stopped by Cherry Republic and picked up some cherry snack mix and dark chocolate cherries for later, along with gift boxes for friends and family. Then we moved on to The Clothing Company to make sure we had everything we needed during our stay. The staff was so helpful, showing us how to layer different pieces of clothing to stay warm. We then ventured down the channel to see the iconic South Pier Lighthouse on the shore of Lake Michigan for some photos. Our server at Scovie's told us about Petoskey Stones, Michigan's state stone, and it's lesser know cousin, the Charlevoix Stone. If not for the snow, the kids would have had a treasure hunt at Michigan Beach Park. We're looking forward to coming back to find these unique fossils.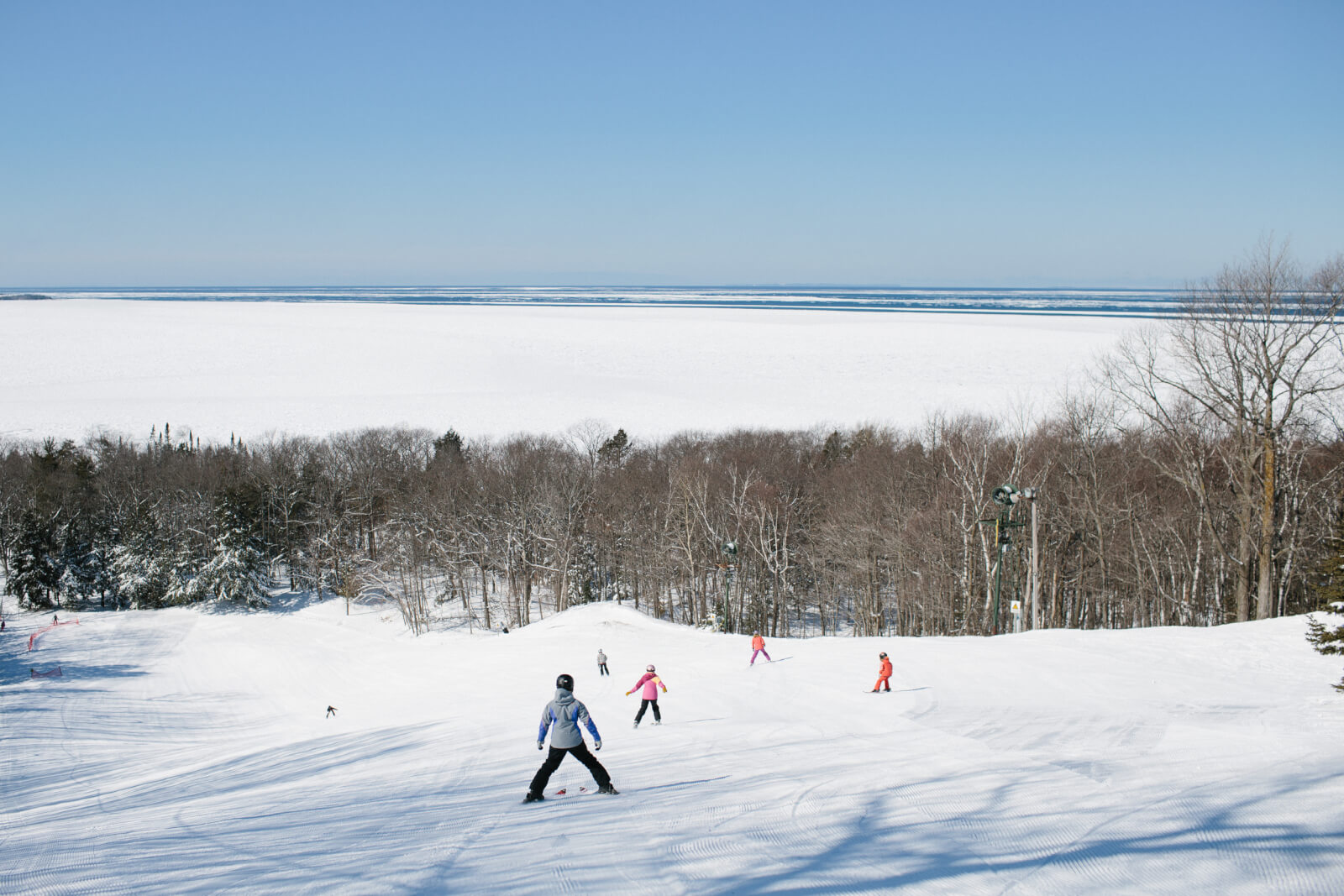 Setting our Sights on McSauba
The Charlevoix area boasts several ski areas and cross country ski and snowshoe trails, making the winter expedition options endless. As the afternoon wound down, we headed to Mt. McSauba. The gently rolling hills and pillowy soft snow made it easy to see why it was ranked one of the top three small ski areas in the U.S. by Ski magazine. But it's more than just a ski hill, it also featured an ice skating rink, sledding hill, warm-up cabin, and tonight, we learned, would be offering their Friday night candlelight hike.
The kids were ready to shred after a long day cooped up in the car, so we rented skis and they had their first lessons. Dave and I took a couple of runs too, pausing at the top to take in the breathtaking view of a snow-tinged frozen Lake Michigan and bright blue open water peeking through in the distance. The kids traded their skis for sleds and barreled down the sledding hill, giggling madly. As dusk set in, we all donned snowshoes for the short, self-guided hike. As we trekked along, I couldn't help feeling like we were in a scene from a holiday greeting card — a charming town surrounded by evergreens dusted with snow, illuminated by the soft glow of candlelight. At the end of the hike, we warmed our fingers and toes by the roaring fire and sipped our hot chocolate. We slept snugly that night in our cozy room, fireplace flickering, ready for more adventures to come.
Hearty eats and serene river
scene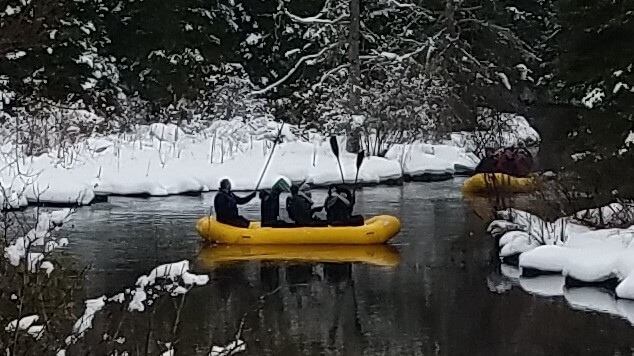 The next morning I rose early and relished a quiet walk down to Harwood Gold. After perusing their beautiful shop full of locally made maple syrups, sauces, spreads and granola mixes, I settled into a cozy corner by the window with a hearty Aussie-style breakfast hand pie and perfectly made latte, savoring this quiet time by myself. I returned to my crew with a sackful of hand pies for the late risers and to take on our adventure that day — winter rafting on the Jordan River! All bundled up, we met the folks from Jordan Valley Outfitters and after a short bus ride climbed into the big yellow raft. The guide did most of the work with Dave and I helping when needed, but mostly we sat back and enjoyed the scenery, taking pictures and keeping an eye out for wildlife. The kids were thrilled to be on the water in winter and thought this was the coolest thing ever. They spotted ducks, deer, and even a bald eagle majestically sitting in a tree as we passed by. Halfway through the hour and half trip, we stopped along the river and were treated to hot cocoa and homemade cookies by our friendly guide. This was by far one of the highlights of our trip so far.
Michigan culture and craft brews
That afternoon, we decided to take in some local Charlevoix history and culture and explored the Harsha House Museum, with its Victorian period rooms, historical photos, and old player piano, the historic train depot, the Charlevoix Public Library, with its historic mural and awesome kid's section, and checked out the exhibit at the Charlevoix Circle of Arts. We heard amazing things about Castle Farms. We spent part of the afternoon wandering through this beautifully restored dairy farm turned museum and event center. We enjoyed the historic exhibits, breathtaking grounds, and we also found some fun treasures in the gift shop.
As a writer, I've always enjoyed the works of Ernest Hemingway and I wanted to explore Charlevoix's Hemingway connection and visit some places only open seasonally, like the Horton Bay General Store, which he frequented and wrote about. I was excited to come back to Charlevoix to visit this iconic author's former haunts. There was a lot of history, arts, and culture packed into this charming town.
For dinner, we stopped at the Bridge Street Tap Room which had an impressive Michigan beer line up that also included ciders, wine, and mead. One of the benefits of visiting Charlevoix in the winter was being seated at restaurants right away. The kids chowed down on the cheesiest Mac n Cheese while we savored their famous brisket sandwich, washing it down with a classic Amber ale for me and hoppy IPA for Dad. We were excited to learn that the Charlevoix area has lots of breweries, wineries and tap rooms, like Bier's Inwood Brewery and Rudbeckia Winery/Burnt Marshmallow Brewery. We knew we would have to come back for an adults-only trip to tour more of them.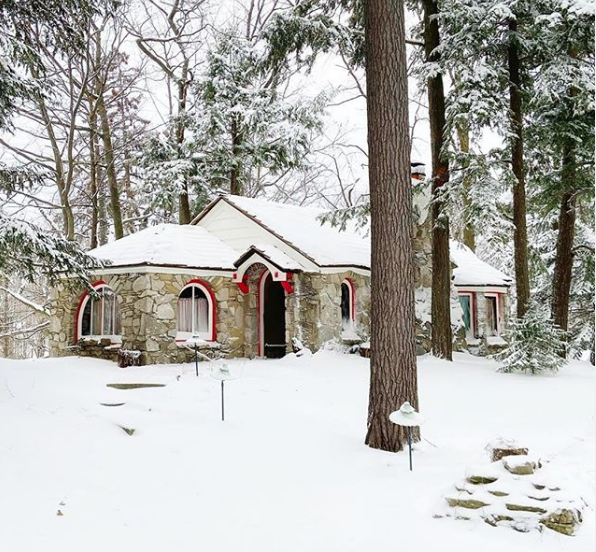 Mushroom house magic
Before leaving for the drive home, we took a tour of the famous and quirky hobbit-like Mushroom Houses by self-taught architect Earl Young. These houses have sweeping roof lines, unusual fireplaces, and organic designs. We picked up a map at the Visitor Center to take a self-guided tour, but in the warmer months, narrated walking and gem-cart tours are offered. The kids loved the fairytale like houses and we are looking forward to taking a guided to learn more about these unique houses.
Visiting Charlevoix in winter was like being clued into a secret. We knew we were lucky to have experienced this magical season in "Charlevoix the Beautiful," as an early journalist called it and knew we would be back.
Plan your magical getaway to Charlevoix today.
You may also like: