Let the ocean sweep your cares away in Laguna Beach, California
My first name, Marissa, means "of the sea." My middle name, Lynn, means "from the water." Even my last name has an aquatic background — Selby, meaning "as we go sailing."
My love for the rush of waves and sweeping expanses of uninterrupted ocean was woven into me before the ink on my birth certificate dried. So how was it that I had spent the last year surrounded by the sharp contrast of the Sonoran Desert and temperatures that hit 105 with alarming regularity?
Well, for one thing — it's my home. I love Tucson, with our tight-knit community of two-degree separation and the still beauty of the mighty saguaro. But the rising temperatures had confined us to our house and scorched my dwindling patience as social-distancing for Covid-19 stretched on. After some careful deliberations on how to do it safely and responsibly, my fiancé, Michael, and I agreed — it was time for a vacation.
Safe-Cation Tip #1: Pick a destination within driving distance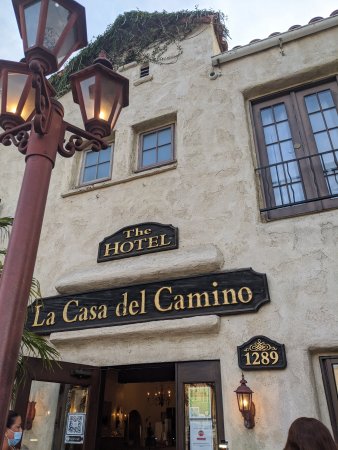 Laguna Beach serves as a crush-worthy vacation destination for many, and I was no different. For years my Pinterest boards had promised miles of pristine coastline, enchanting tidepools, and a town filled with laidback luxury.
Plus, it was only a seven-hour journey by car. Aside from a few pit stops, it would be just the two of us, safe and sound, and socially distanced. It felt like a no-brainer.
After we passed through Yuma and the Imperial Sand Dunes, I placed my palm on the car's window. Yup! It was noticeably cooler — 76-degree California here we come!
We spied the ocean not long after. The Pacific Coast Highway snaked along the shoreline, taunting us with far-off glimpses of the sea while we made our way into the heart of Laguna. I hopped out of the car to check us into our resort, the historic La Casa Del Camino, mere steps away from the shoreline.
Safe-Cation Tip #2: Masking for a Friend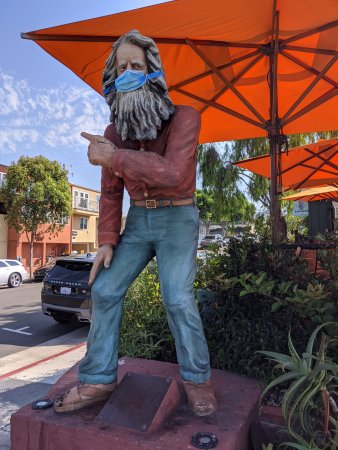 Like many states and cities, Laguna Beach has a masking ordinance in place, so we had come prepared with a bag full of brightly colored masks that I placed in the dresser in our room. The room was simple yet beautiful, and the decor stayed true to its 1930s Spanish heritage, featuring an ornate hand-carved wooden headboard and a flower box overflowing with succulents and blooms.
After a quick change of clothes and a delighted squeal that we were finally somewhere NEW, we headed out, ready to explore the town and grab some dinner. I am a firm believer that the best way to explore a new place is by foot, and Laguna Beach is perfect for that. Boutique shops, restaurants, and galleries line the road, so many that it reminded me of people jostling together to get the best spot to watch a parade. But in this case, it wasn't a parade.
It was the ocean.
Yes, the glorious Pacific, acting as a magnet for people and businesses alike. Almost every venue boasts ocean views, and for those not fortunate enough to be in the front row, outdoor seating is provided (and in the case of Covid-19, mandatory) so that you can still get that magical sea breeze.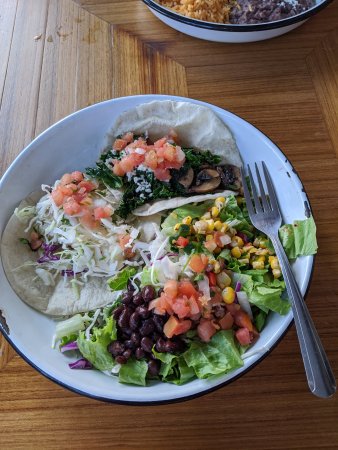 We made our way down toward Main Beach, one of Laguna's most recognizable beaches that, unlike other coves, is level with the town. On one side was a grassy embankment and boardwalk, leading to white sand and waves. On the other, was more shops and restaurants. Stomachs growling, we stopped at Wild Taco. I was served a juicy mango for an appetizer, complete with tajin for dipping. It complemented our margaritas perfectly as well as our grilled fish and delicious kale and mushroom tacos.
After dinner, we explored the downtown area. No high-rises here, but streets set aside for pedestrians, lit by twinkly lights and filled with live music and people enjoying the evening air. Reluctantly, we decided to head back to our hotel room and rest up. We had big plans for the next day.
Safe-Cation Tip #3: Head for wide-open spaces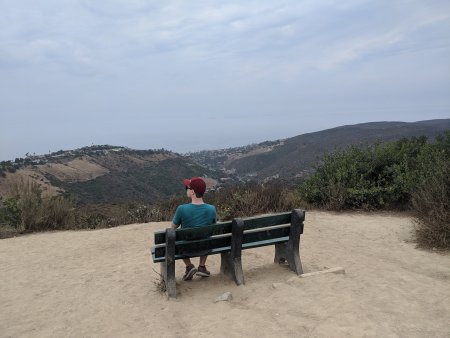 If I had my way, I would hike a little every day. Throw on my tennis shoes, grab my trusty water bottle and say sayonara to civilization.
Michael, amazing fiancé that he is, knows this and had a trek all picked out: a hike to the "Top of the World." This three-mile hike challenges you with almost 1,000 feet of ascent up through the brush-covered hills and it certainly earns its rating of "difficult."
But the view at the top is, well, out of this world.
We had a 360 degree view of the dips and curves of Laguna's hills, sloping off as they neared the horizon. There, the sky mirrored the ocean, creating an infinite blue.
We celebrated our victory with a quick stop by the Laguna Beach Beer Company. We split a rainbow-colored veggie wrap and a flight of beers. The Emerald Haze IPA may have ruined us for life — I've genuinely never had a hazy IPA that was that good! I'd consider making a trek to CA for that beer alone.
Safe-Cation Tip #4: Take it in waves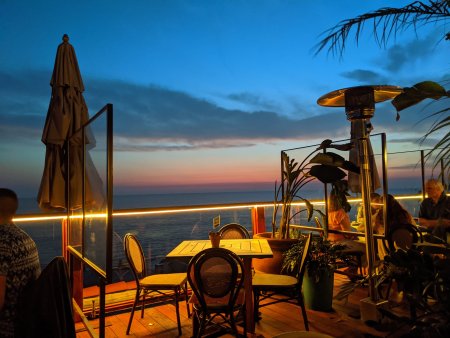 After grabbing our beach bag and slipping into our suits, we headed to Crystal Cove State Park for some sun and surf. We had been worried that the beaches might be crowded, but were pleasantly surprised that that wasn't the case. While there were plenty of beachgoers, most people were spread out by 10 feet or more.
The water was a perfect 69 degrees and soon, we had waded out to just past our shoulders.
"You know," Michael commented, "I've never really had a beach vacation before."
I was so surprised that I forgot to bob up over an approaching wave and wound up with a face full of saltwater.
"Seriously?" I asked. "How did I not know this?"
He shrugged, looking a little sheepish. I smiled.
"Ok… well, I guess I've got a few things to show you!"
The rest of the afternoon passed in a vacation haze of bodysurfing and sun-soaking. We played like we were kids, digging giant holes and burying our feet, making bets to see who could ride the waves further, and venturing out on the rocks to see Laguna's tide pools. By the time we left, we had worked up quite an appetite, but that was ok, we had big plans for dinner. After a nap and a shower, we left for our reservations at the highly recommended Rooftop Lounge. Admiring the ocean view we split a bottle of wine and watched the sun sink into the sea.
Safe-Cation Tip #5: Look for local lore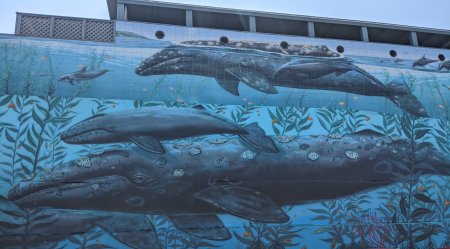 When traveling in times of Covid, you'll probably discover that some attractions you want to visit are closed. For us, that was the Laguna Art Museum, a bragging-point of Laguna's reputations as a hub for artists and counter-culture. But this detour pushed us to explore a little further off the beaten path.
Our morning had been spent snorkeling in Fisherman's Cove and trying out boogie boards at the nearby Shaws Cove. Both (very reasonable) rentals were provided by Goff, owner of Goff Tours. This professional surfer/teacher quickly became our favorite person that we met in Laguna (he even brought our gear directly to us on the beach).
But after seeing the world of color under the waves (I'm talking about you, little red fish!), I was ready to go to shore to meet the artists of the land. Our first stop was at Wyland Galleries, the artist responsible for the famous Whaling Wall mural. The studio was filled with images of nature and creatures of the land and sea in a multitude of mediums. I could see why he's hailed as the "Marine Michaelangelo."
We meandered in and out of other shops and galleries, stopping at Moulin, a boulangerie-patisserie where I got the sweetest little raspberry eclair.
"I know where we should go next," I announced.
Safe-Cation Tip #6: Find hidden treasures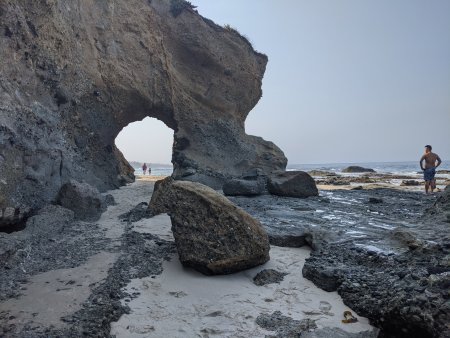 The tide was low, and the time was right to visit Treasure Island Park, the publicly accessible beach in front of the 5-star Montage Resort. The distinctive rock archway, tide pools, and white-sand beaches are iconic to Laguna. I was determined to see them before we had to leave the next morning.
I leaned up against Michael and closed my eyes, wishing that we had brought our bathing suits. He kissed my forehead. I felt more at peace than I had in ages — sure, real life and the struggles and cares of the world were waiting, but that deafening roar of anxiety had been replaced with a calmer rhythm. A rhythm of sun and surf, of experiences shared with loved ones, and a whisper of a cool breeze that could revive you even after an adventure-soaked day.
What can I say? I guess I was made for living that Laguna life.
Toss your cares to the waves in Laguna Beach, CA.
Meet the Travelers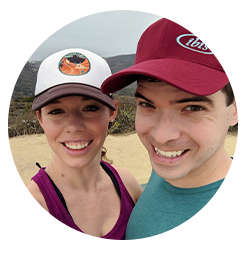 Marissa and Michael are part-time travelers and full-time adventurers. When not spelunking, hiking, cooking, or bingeing an impressive amount of Netflix, we can be found cuddling our kitten and frantically trying to plan our wedding.