Outdoor Adventures on the Louisiana Coast
Exploring wildlife and water life in Louisiana
Patricia, my wife, meanders a few paces ahead of me along a raised trail through a broad expanse of wetlands, peering through binoculars at the water.
She's looking for an American avocet.
That, she says, is a kind of bird, a large-ish, white, wading bird with brown wings and a long, pointed beak that turns up at the very end—like a slightly bent pipe cleaner.
My wife loves birds and I love the activities involved in seeing birds, such as hiking and kayaking. The wetlands; waterways; deep, quiet woods; trails and masses of wildlife on the Louisiana Gulf Coast make for a perfect place to do all that.
In this part of Louisiana, the streams and lakes, forests and picturesque little towns filled with Spanish moss-draped live oaks can feel as welcoming as an old friend. Guided fishing expeditions and swamp tours open up a primeval world as different from ordinary life as summer is from winter, but comfortable, modern lodging and dining options are never far away.
Birding is as good a way to start exploring here as any, since the Louisiana Gulf Coast is right in the middle of the Mississippi Flyway. More than 400 species of birds migrate through or make the lush natural environment their permanent home.
Fun on foot
On this day, we're hiking near the Creole Nature Trail All-American Road. One of only 43 All-American roads in the nation, the trail is a 180-mile series of scenic stretches that carry visitors past sandy ribbons of Gulf of Mexico beaches, along mysterious bayous and through wetland prairies and forested bottomland, together known as Louisiana's Outback. We picked up the trail from Interstate 10 and headed south to the Peveto Woods Bird and Butterfly Sanctuary near Holly Beach, in Cameron Parish. Until you get out on these quiet paths, you forget how many different shades of green exist in nature. It's a visual symphony of growing life.
Birding isn't the only way to get a close-up look at Louisiana wildlife, we realized as we camped at Sam Houston Jones State Park, at the meeting point of the Calcasieu and Houston rivers. We were delighted to see squirrels and rabbits scampering around in the trees and grasses as we took a short hike.
Ahead, we noticed a rustling in the rushes along the bank.
"Might be an alligator," I suggested. We had seen some caution signs and knew alligators are actually one of the area's attractions.
Creeping closer we could see—maybe three feet below the trail—a small armadillo trying to climb the slick, steep bank. With its bands of armor, it looked like a miniature rhino or monstrous big bug.
We backed away from the bank a bit and kept an eye on the edge until we saw the armadillo climb a branch to the trail and amble away.
Even the driving offers relaxation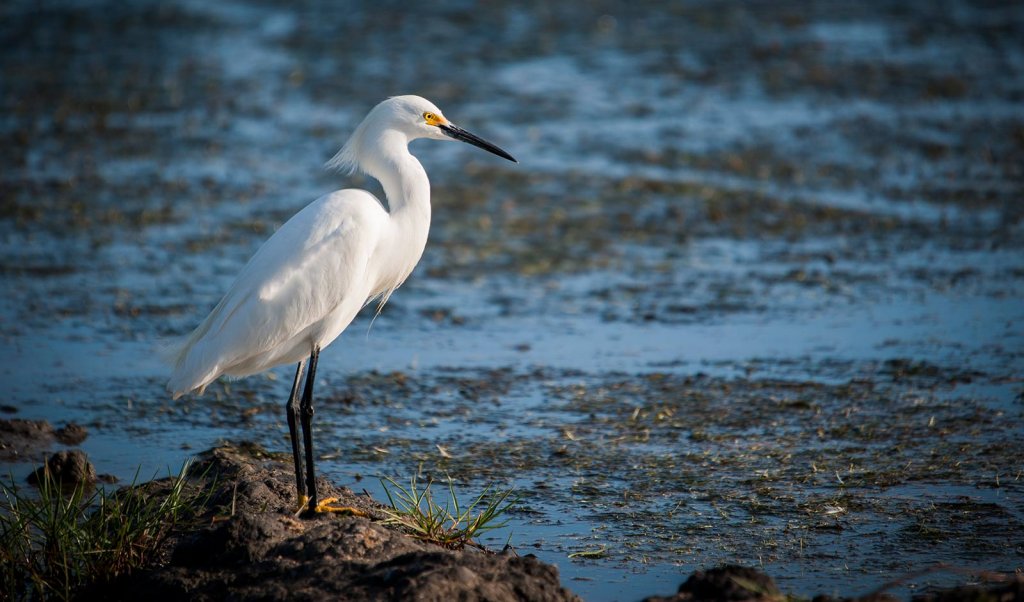 The simple act of traveling from place to place provides one of the unexpected joys of touring coastal Louisiana. Every mile seems studded with postcard-perfect roadside barbecue stands, quiet pine forests or green bayou waters rippling almost right up to the road.
I thought about all those things as we made our way east the next day, ready for a biking excursion in Iberia Parish. We had a great lunch stop along the way in Vermilion Parish, at Richard's Seafood Patio in Abbeville. There we shared a big pot of boiled crawfish and red potatoes to really get the taste of coastal Louisiana. The buffet table also offered crab, corn on the cob, boiled shrimp, sausage—all the highlights of bayou hunger-smashers.
When we reached the town of New Iberia, we checked into a bed and breakfast, already daydreaming about the showers we'd get to have before bed and the complimentary breakfast we'd enjoy in the morning.
Getting away by staying close
From there, we drove over to the Atchafalaya Basin Wilderness Trail, which we chose because it feels remote even though it's pretty close to civilization, and unloaded a pair of bicycles we'd rented in Lafayette. The trail's gravel surface makes for a bumpy ride at times, but because it runs along the top of a levee, open sunshine is plentiful and it's super peaceful. When we sat down to rest looking out over Lake Fausse, we saw brown pelicans gliding overhead in formation, ungainly and graceful at the same time. A flotilla of blue-winged teal—a type of duck—paddled about in the shallow water, upending themselves to dabble for chow on the bottom.
Patricia pointed to the water.
"Look how it blends all the colors of nature surrounding us," she said. "Blue from the sky, and green from the woods, with such a perfect reflection of white from the clouds. Beautiful."
We spent a leisurely morning at our bed and breakfast before we hit the road once again. For this day, we had set our sights beyond the far shore of Lake Pontchartrain, in St. Tammany Parish, for some water fun and more camping. Along the way, we experienced another food highlight in Thibodaux, the seat of lush Lafourche Parish, where we cozied up to a table full of delights at Fremin's restaurant.
I tucked in to a steak topped with herb butter and fresh gulf shrimp on a plate dressed out with loaded mashed potatoes and fresh sautéed snow pea pods. Patricia savored her way through a dinner of chargrilled oysters, also fresh from the gulf.
Finally on the water
We'd planned to book a couple of kayaks and paddle around a bit on our own in the Big Branch Marsh National Wildlife Refuge. Once we got to the rental place, Bayou Adventure—an antique-filled, old-style Cajun backcountry store near Lacombe—we found they also offer guided sunset paddle swamp tours that include everything we'd need, so we scheduled that instead.
Paddling beneath the trees, we coasted right over the top of schooling black crappie. In organized chaos, they scattered into deeper water.
Patricia lifted her binoculars and scanned the bayou banks, lowering them after a minute. "Can we quietly head toward that white-ish clump of trees?" she asked us, pointing to a clump of willows and mangroves about a quarter-mile away.
"Sure!" said our guide.
We skirted along in the shade near the bank. Patricia handed me the binoculars. Looking through them, I saw the white patches come into focus as beautiful birds with long, white plumes.
"Snowy egrets," our guide said. "They almost went extinct because hunters targeted them for their plumes, which were used as a fashion accessory in women's hats."
"Glad they're still around," Patricia murmured.
At dusk, as we sat with our campfire snapping and sizzling in front of us, we felt lucky to have seen everything we had. The watery lowland woods all around hummed with a cacophony of nighttime nature sounds while the last rosy glimmer of sunset shone across the bayou, setting aglow a mist that crept along the surface of the water.
"Pretty nice," I said.
"I never knew the Louisiana Coast had so much natural diversity beyond birds," Patricia said. "And we get to see it all again as we make our way back home."
Learn more about Louisiana's great outdoors and plan your next adventure.