Vacationing Like a Foodie (Without Being a Foodie)
A casually culinary getaway in Sevierville, Tennessee
I rock back and forth, the chair's creak lulling me into tranquility. From the cabin porch, I see the peaks of the Great Smoky Mountains rising above the fog. The vibrant green treetops sparked memories of camping as a young girl.
Since marrying, I'd wanted to share the sights of East Tennessee with my husband, Matt. When friends returned from a trip to Sevierville, we took it as our cue to venture into the Smokies.
From a chair beside me, Matt thumbed through pamphlets we picked up at the Visitor Center. "Check this out. The Planet's #1 Hot Shop. Maybe we could grab a bottle of sauce to cook dinner with tomorrow?"
"That sounds like a great idea to me," I said. A little while later, we drove back down the mountain toward Sevierville. As we walked through the doors of Pepper Palace headquarters, we did a quick 360, taking in the showroom featuring a vast selection of barbecue and wing sauces, seasonings and salt blends.
Maybe "I don't know where to start" was stamped across our foreheads. An associate came to the rescue. He guided us through the bright, colorful rows of small-batch, handcrafted and even award-winning sauces. "Do you prefer sweet, sour, or heat?"
It was a tie between sweet and heat—I love thick, sticky sauces and Matt prefers the kick. The associate, preventing a standoff from forming, suggested a bottle of Spicy Sweet Bourbon Glaze. Versatile, rich and a crowd-pleaser.
He walked us to the sample bar to give it a try. "You can sample whatever you like, but I highly recommend doing the Wall of Flame Challenge," he added.
A challenge? Why not?
If you can't handle the heat…
The associate handed us spoons with a droplet of sauce on each. The challenge is to taste the hottest sauce on the market, called The End. It's made with the Carolina Reaper pepper, which is dubbed by the Guinness World Records as the hottest pepper in the world. Made with its extract reaching 6 million on the Scoville scale, we had to sign a waiver to try it.
We lick our spoons—a surprising smoky chipotle flavor spreads across my mouth. But the heat builds. At two minutes, Matt's tear ducts activated, giving his eyes a look of soulful remorse, but he was smiling. He started hopping like an athlete getting pumped up for a game.
At 10 minutes, I had a passing thought, wondering if a pepper could literally start a fire. That's ridiculous, I reminded myself and breathed rapidly in and out. I wondered if this was how Lamaze came to be. Hee hee, hoo hoo.
"Whoo!" Matt said with an accompanying fist pump right about the time I could feel the spice dissipating (I lost track of time).
"That's hot," I gasped.
"Yeah, we're the one place where we can hurt people and they won't get mad at us," the sales associate said, chuckling. He handed us stickers and apple juice—trophies of our achievement.
Even while Matt and I chugged juice, still trying to escape the heat, I felt ready to conquer the world, or at least try something else new.
I bought the Spicy Sweet Bourbon Glaze for ourselves and a bottle of The End for our friends back home (because we love them). Meanwhile, Matt and another Wall of Flame challenger got into a conversation that solidified our decision to make our next stop a knife store.
Cut to the chase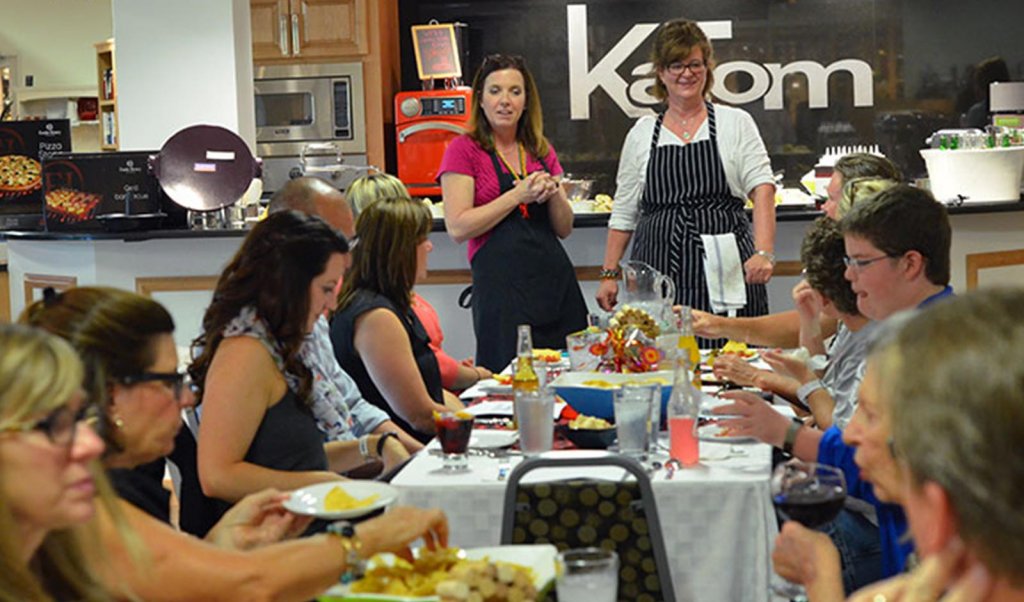 We parked in the lot of Smoky Mountain Knife Works, the world's largest knife showplace. Once inside, an associate greeted us and offered to show us around the 108,000 square foot showroom.
The counters were packed full of outdoor sporting tools, pocket knives, swords, and kitchenware. I told the associate we could use a new set of kitchen knives. She patiently showed us options and explained the purpose of different knives and why quality steel is important (it sharpens to a nice edge).
After we decided on a new knife block set that had us both excited to slice and dice, the associate told us we might learn a few techniques at a place called Chef Supplies by KaTom, which has cooking demo classes. Then she mentioned that Knife Works also has a collection of memorabilia and artifacts in its Relic Room, including rare coins and fossils.
Matt squeezed my hand and I glanced at him. He looked like a delighted six-year-old next in line at a bouncy house. I almost laughed. This is why we came. Yes, swords are cool and quality knives are important, but Matt has wanted a pet dinosaur since he was literally six years old.
"Collecting is a particular love of the owner, so he decided to open up a shop within a shop. Everything is for purchase," she said and led us to the Relic Room.
We found Civil War bullets, wooly mammoth fur, rare coins, and teeth. Lots and lots of dinosaur teeth. Matt picked out a souvenir replica of a T-Rex tooth fossil, and I made a mental note to get a genuine T-Rex tooth fossil for his next birthday.
While Matt checked out, I looked up demo cooking classes at Chef Supplies by KaTom. We really lucked out because there was a class that night and even at the last minute, we could sign up.
Watch and learn
We arrived with plenty of time to spare and walked around the supply store. With more than 130,000 items on virtual and physical shelves, the supplier has everything a restaurateur needs from kitchen instruments and machinery to furniture to barware—and it's all offered to the public, too.
Amid the cookware, cutting boards, and kitchen tools, I spotted a rainbow wall of KitchenAid Mixers. "Wow," I said to Matt. "That's got to be an exhaustive display of all the colors."
"Yep," Matt agreed with my slight hyperbole. "All the colors."
When the time came, we headed to the cooking demonstration class; the ingredients were staged in the kitchen and the table was set.
We watched the chef cook and while discussing the steps, he shared his knowledge of organic herbs and vegetables. My mouth watered as he built a kilt salad with Benton's Smoky Mountain Bacon.
"The bacon is dry-cured with salt and brown sugar," he said as my nose perked up at the aroma of sizzling pork, "then, it's smoked in a wood stove."
"Think we can one-up this meal tomorrow?" Matt asked me after the demonstration ended and we were noshing on braised pork cheeks.
"Ha!" I said, "Not a chance, but we can definitely give our new knives a try."
On our way back to the cabin, we stopped at a grocery store to stock up the kitchen.
The next afternoon, we cooked pork chops and apples—adding the Spicy Sweet Bourbon Glaze from Pepper Palace. I knew the knives would be an improvement over the tools we had at home, but I underestimated the joy of slicing through food with a balanced, precision instrument. Beyond smooth!
We ate at the patio table, looking out over the mountains. I felt content and more relaxed than I had in a long time.
"Is this what you had in mind showing me Sevierville?" Matt asked.
"Not at all!" I answered honestly. I had no idea we'd power through a pepper challenge, shop for knives and dinosaur teeth and watch a professional chef in action. "But I'm thrilled with how the trip turned out."