Outdoors and In Touch
By Amy Becker Williams
Experiencing the thrills of nature in Ridgeland, MS
Every year, my gal pals and I take off on a girls-only vacation. Steph, Becca, and I have known each other since middle school; we've all changed over our years together, but we're dedicated to keeping our friendship strong. I mean, we know each other's most embarrassing moments and have been each other's bridesmaids—you don't give up on a group like that.
This year, we decided to trek through the South. I have to admit, part of the reason for our interest was fried delights, strawberry pie, and a little authentic milk punch, but we were mostly excited to experience the lush landscape of Ridgeland, Mississippi—the Ross Barnett Reservoir and Natchez Trace Multi-Use Trail would help us with that.
We leave our hotel early in the morning and bike over to Fusion Coffeehouse for a little daily fuel, where we get a feel for the people and culture of the town. We all agree that this "southern hospitality" thing is alive and well.
Our goal today is to bike on the Natchez Trace Multi-Use Trail, a 14.6-mile multi-use bypass of the Natchez Trace Parkway, a 444-mile route (from Natchez, Mississippi to its northern terminus in Nashville, Tennessee) that everyone from American Indians to pioneers relied on—it played a huge role in American history.
In certain areas of the Natchez Trace Parkway, car traffic can be heavy. Ridgeland's created a safe way for pedestrians and cyclists to maneuver through town. The League of American Bicyclists has named Ridgeland as a Bronze Bicycle Friendly Community—it's clear that everyone here is passionate about pedaling.
Two-wheeled perspective
Friendly Southern smiles and nods greet us as we bike along watching the morning sunbeams flicker in kaleidoscope twirls between the passing trees. I breathe deeply and feel the thick Southern air fill my lungs, relishing the subtle hum of our tires along the path.
It's rare that our group can stay quiet long enough for any silent meditation, but this moment is pristine. Then out of nowhere, Steph belts out in her best version of The Shangri-Las' "Leader of the Pack." We bust out laughing and one after another start chiming in with her. There's a reason none of us took choir back in middle school.
A bead of sweat trickles down my back as our group pedals another mile or so to the Ross Barnett Reservoir, which borders Ridgeland. Birds gracefully dive into the crystal water as the sun gets higher overhead, and sails of boats seem to float effortlessly atop the ripples. We're all thinking it, but Becca says it: "I can't help but think how refreshing a dive in that water sounds right now!"
We make it to a well-known bridge at milepost 122, a little more drenched in sweat than before, but feeling energized. The bridge crosses an old, abandoned river channel that's filled with tall cypress trees that grow up through its deep water. This aquatic forest is quiet except for a few birds overhead and the occasional croak of a frog. I lie on my back on the bridge to photograph every angle of these towering cypresses. Steph picks this moment to remind me that alligators live here—I leap up with chills running down my spine as Steph and Becca burst out laughing. "Come on," they say. "We would have told you if there was a gator nearby!" We quickly snap a few selfies on the bridge, feeling relieved we didn't see any logs blink at us.
Cycling past other historical points, we push on to Ratliff Ferry Trading Post for some well-earned pub food and a toast to adventures with adventurous friends. The longer we sit, the more our muscles relax, leaving us feeling peaceful yet powerful.
By the time the sun rises the next morning, our muscles have stiffened up enough that it hurts a little to climb out of bed. After a few yoga stretches coupled with some strong coffee and a pastry from Fusion, we decide to take advantage of another beautiful Mississippi day and explore the Ross Barnett Reservoir, which we had passed earlier the day before on our bikes.
We pull into Harbor Station, an all-purpose boating, fishing supply, and rental shop, grooving to the tunes of Fastball's The Way from our travel playlist. The morning sun shines brightly across the water, and the green landscape vibrantly pops along the shoreline.
Full throttle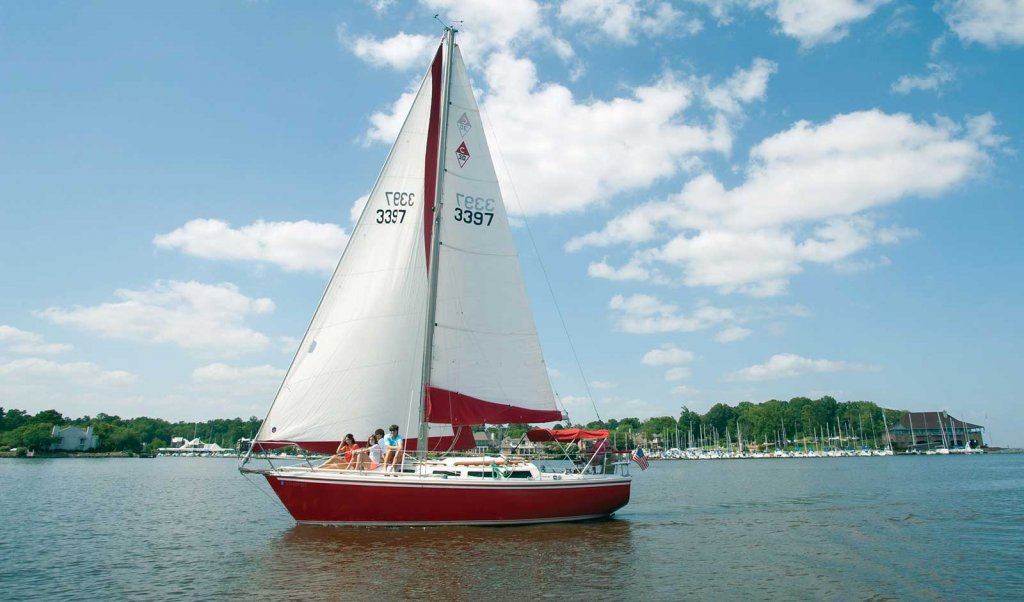 Only one of us has ridden a jet ski before, and it's not me. I've heard that it's a little like riding a motorcycle but on the water. I've ridden on the back of a motorcycle; I was scared to death. I'm not sure I have enough experience, but I'm game.
After a thorough course in handling and safety, we're deemed ready to ride the day away. Steph and I do a quick round of rock-paper-scissors to see who steers first. I win and hop up front. I adjust my sunglasses and start to feel confident just sitting behind the handlebars of this watercraft. All at once, I'm rocking like a hurricane, frantically trying to keep balanced. Steph's foot apparently slipped while climbing on, which sent us into a pendulous rocking motion that only stopped when we both tipped sideways into the breathtakingly cold water. Of course, Becca laughed and managed to snap a few pics; they garnered social media like after like.
Becca took the lead of our two jet skis and went full throttle—she made sharp turns with confidence. Steph and I followed, making novice-wide turns, but still feeling the thrill and spray of the water tickle our skin (in our defense, Becca was the one who had done this before). With every turn our craft successfully made, I felt more confident and giddy. I'm not sure I reached Becca's speeds, but I certainly improved with each minute behind the handlebars. We circled and went out on runs straight across the water; I could feel the sun's rays warming my shoulders, reminding me of childhood days in the summer sun.
We paused our water bliss for a picnic lunch on shore, drying off while gazing up at cottony clouds. We watched boaters, anglers, and kayakers tool across the water—all seemed to be having as much fun as us. We switched up drivers and hit the water once again. I think I used more leg muscles as a passenger than I did as a driver. In either seat, our water experience was the most exhilarating adventure I've had in a while.
Friendly faces, tasty food, and loads of fun have made our Ridgeland vacation one for the books. We've already planned to be in town for a balloon festival and to ride more of the Natchez Trace. For us, there's no place like Ridgeland.