Post-Grad Thrills
By Sam Boykin
Crystal Coast brings the gang back together
After years of late-night, coffee-fueled study sessions, eating lousy cafeteria food, and numerous cringe-worthy romances, we had all managed to survive college. It had only been two years since we switched tassels—where had the time gone?—and my buddies and I were eager to reconnect. Jessica came up with the idea of a getaway. Rob suggested—and we all agreed—that Crystal Coast was the perfect destination. This beautiful, 85-mile shoreline stretch of the central North Carolina coast is aptly named "North Carolina's Gem" for its richness in activities (especially watersports, of course) and culture.
Mark found an affordable beach rental not far from the ocean that comfortably accommodated all of us—and split among the group? Cheap! The house was located in Emerald Isle—which is situated at the western end of Bogue Banks and boasts 12 miles of shoreline—one of 11 communities that make up the Crystal Coast.
Reunited and it feels so good
The months we'd spent apart melted away as soon as we saw each other. Having gotten through some of life's most pivotal moments together, we had developed a special bond that proved unbroken. And experiences that are at no risk of being forgotten—"No way, dude," we heard Rob shout at Chris from upstairs. "You got the bigger room in college; this one's mine!"
Even though we keep up with each other through Facebook, it felt good to connect in person as we shared promising career opportunities and our hopes for the future. Jessica showed off her engagement ring, and Rob, the wild man of the group, kept everyone laughing with stories about his post-college cross country trip. It was a wonderful way to kick-off our Crystal Coast getaway.
Rooms picked, sleep granted. The next morning, after a lazy breakfast on the deck, we rented kayaks at the nearby Hot Wax Surf Shop to explore the Intracoastal Waterway. Rob and I had kayaked many times before, so we guided our less-experienced friends as we paddled along secluded islands, hardwood forests, and salt marshes. We cruised along at a relaxed pace, waving at fellow kayakers and congratulating clam diggers and anglers along the shore with fish on the line.
Coastal cruising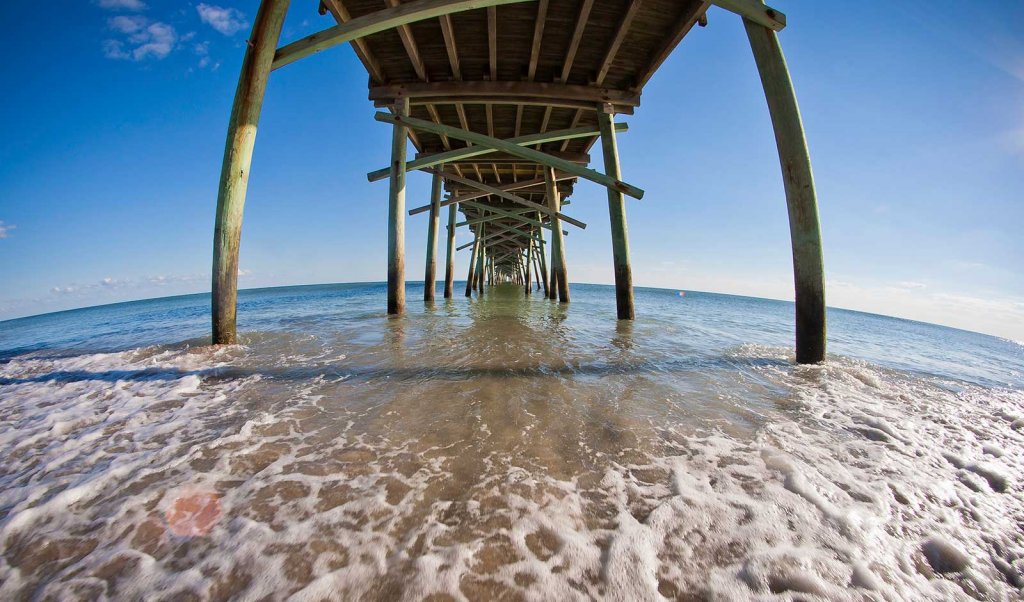 The day had just begun, so we decided to drive about 20 miles up the coast to Beaufort—North Carolina's third-oldest town—whose historic waterfront boardwalk held many reminders of its most notorious resident, Blackbeard the pirate. Chris, the jokester among us, regaled us with yarr-filled commentary, in pirate-speak, on each historical marker, until the ladies threatened to make him walk the plank if he didn't stop. Just off the shoreline, we watched as stand-up paddleboarders glided by in Taylor's Creek. Everyone agreed that we had to try it at some point.
We caught a ferry to the 56-mile Cape Lookout National Seashore, one of North Carolina's most iconic destinations, with its unspoiled beaches and sand dunes. We were undaunted by the long climb to the top of the historic, 163-foot Cape Lookout Lighthouse, and were rewarded with unbelievable views of the beaches. Becca seemed transfixed by something in the distance, and we followed her gaze as a herd of the park's famous wild horses came into view. Farther out, we saw dolphins gliding through the water as the sun set.
We walked home singing Jimmy Eat World's "The Middle," a college anthem. Back at our rental house that night, we once again talked late into the evening, reminiscing about school and sharing pictures from the day, including a great shot I snapped of the Cape Lookout Lighthouse with a cloudless, Carolina blue sky in the background.
Wind-powered
We all woke up refreshed the next morning, eager to start the day's first scheduled activity: a kiteboarding lesson! Becca booked it impulsively, but we were psyched. We were all newbies, but thankfully, Blown Kiteboarding has a comprehensive beginners program. After three hours and a lot of trial and error, we launched our kites (in waist-deep water, mind you). While I wish I could report that we were all ripping across the water by the end of the lesson, none of us made it up for very long, which is typical for first-timers. Jessica, who is the least athletic of us all, proved to be the champion—remaining airborne for 21 seconds—and we're expecting that she'll never let us forget that.
Our instructor told us about an event that at least Rob and I might actually return for. There's a stand-up paddleboarding competition that takes place in June in Bogue Sound. It's both a competition for the pros (with prize money) with seminars for amateurs. I'm especially tempted by the SUP With Your Pup part of it. Reilly, my one-year-old golden retriever, may be a bit spastic, but I'm sure he'd get the hang of chilling out on a paddleboard. I filed that idea away for later.
Winding down
Salty skinned and smiley, we made our way to Idle Hour Biergarten, a laid-back spot in Atlantic Beach just steps away from the ocean. We congratulated ourselves on our watersport follies by helping ourselves to a selection of cold craft beers—a hef for Becca, a pale ale for Jess, an IPA for me, a stout for Rob, a porter for Chris—and heartily cheers!-ing to our friendship and athletic (or lack thereof) prowess. By the time we left, we had convinced ourselves that with just a few more lessons, we'd all be on our way to turning pro for either kiteboarding or paddleboarding. Jessica, especially.
Chris started a conversation with the bartender (he always found the best parties in college), who recommended Amos Mosquito's for dinner. We split fried dill pickles—"frickles!" Chris joked—and took bites of each other's seafood cobb salad, Jamaican jerk roasted chicken, and sushi rolls. We considered staying for karaoke but decided to make our way back to the beach house.
Grabbing some blankets and a cooler, we strolled down to the beach. No one spoke for several minutes as we all sat in comfortable, communal silence. As I listened to the surf and marveled at the sky full of stars, I thought about how important these people were to me. It's a comfort that comes with this kind of friendship. Hopefully, this is the start of a tradition that, even as life pulls us along our own divergent paths, will always bring us back together.
Ready for more thrilling outdoor adventure? Check out South Carolina's Olde English District.