Splashing into Family Fun
By Robin Draper
Water Adventures in Pasco County
Drained from a busy workweek, I walked through my front door to see my family immersed in electronics in the living room. A couple of nonchalant "heys" came my way. My husband, Jeff, was watching TV, and our kids, Jenna (9) and Sam (11), were deep into colorful gaming apps and social media. I could have been a burglar, and they wouldn't have even noticed.
At that moment, I knew it was time to get away. Time to breathe fresh air and reconnect. That evening our family worked on planning a trip. We knew we wanted to get outdoors and, more specifically, on the water. So, where would we go?
Even though social media was what brought us to this point, you had to admit that it's pretty handy in these sorts of situations. I asked my Facebook friends for recommendations.
"How about Pasco County?" My friend wrote. "It's Florida's 'Sports Coast,' just 30 miles north of Tampa. My own family had a blast there recently, and there's no shortage of water fun!"
A quick like, and then my family and I were off exploring Visit Pasco's website and planning our trip. Jeff and I chose the town of New Port Richey, the county's western hub, as our base.
Island adventure
We rented a pontoon boat our first morning, much to Jeff's delight. Sorry, I meant Captain Jeff—that's what he insisted we call him as he captained the vessel. Our destination: Anclote Key Preserve State Park, a collection of four islands—Anclote Key, North Anclote Bar, South Anclote Bar, and Three Rooker Island—only accessible by private boat or ferry service. A rusted, historic lighthouse stands as a welcoming beacon.
We hopped off the boat when we spotted the perfect stretch of smooth, sugary sand. Jenna strolled the beach and picked up brightly colored seashells when they caught her eye. "Amazing what you see when you're not looking at a phone screen, right?" I teased her. She cracked a smile and asked me to help her find a clamshell that was still connected at the hinge. As we hunted, we caught sight of a snorkeling Jeff and Sam—mask and fins a bright flash of neon in the aquamarine water.
When the boys resurfaced, and Jenna and I had found some pretty shells, we unpacked our picnic lunch and shared stories of what we saw. Fishes in shades of saturated blue and highlighter yellow, smooth shells in iris, orange, and peach.
With sand on our skin and salt in our hair, we took a family picture—Anclote Key's historic 1887 lighthouse towering triumphantly in the background.
We hopped back on the pontoon, and Captain Jeff took us past an island the locals call the "Sandbar," a popular hangout destination just north of Anclote Key. Just then, a pod of dolphins emerged just out of arm's reach. We all were too scared to pull out our phones to take a picture, for fear of missing the dolphins' next moves. They surfed the boat waves and playfully jumped in and out of the water. The only time I looked away from the water was to look at Jenna and Sam. As a parent, there are few words to describe the joy of watching your children observe an authentic wildlife encounter—their unrestricted enthusiasm, if not evident by loud oohs and ahhs, is clear in their sparkling eyes and broad smiles.
Cruising on the Cotee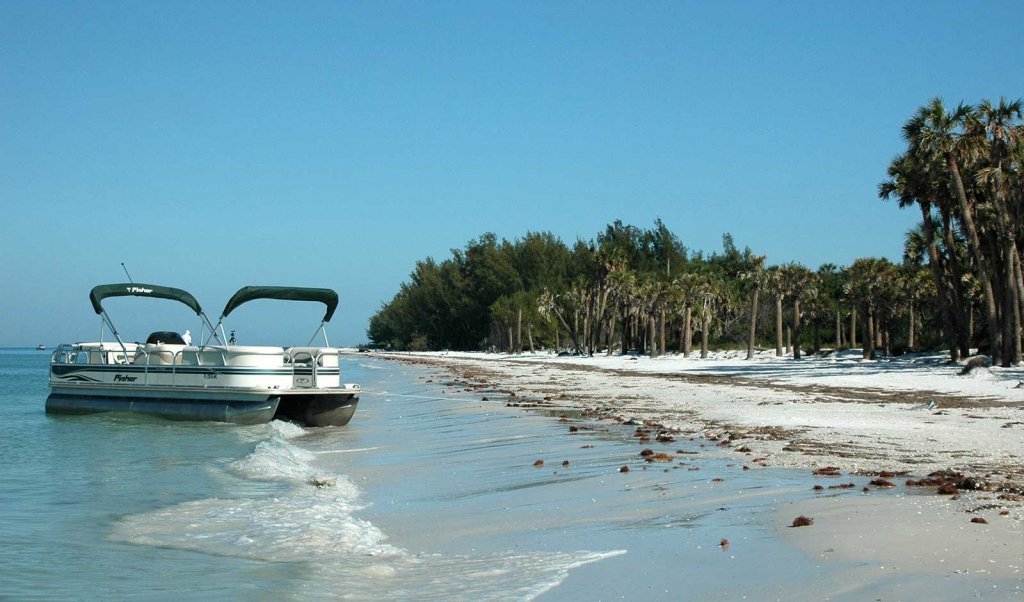 The following day, we were all our own captains. We rented kayaks from a local outfitter, and after a few minutes of helpful tips and direction for our journey, we had grabbed our kayaks and were off.
Pasco County's Pithlachascotee River (Cotee for short) is a scenic waterway that winds through New Port Richey, showcasing many old Florida homes—some on stilts!—including a couple of winter residences of 1920s-era Hollywood legends. We leisurely paddled two hours while imagining what it would be like to live on the river's edge and checking out the shady path beside the river.
As we progressed, the buildings became fewer and farther between, and the wildlife became more prevalent. The trip turned into an informal treasure hunt to spot animals along the way. We came across turtles, birds, a couple of lounging alligators, and one momentarily airborne fish.
Up close with the wildlife
The kids were eager to try stand-up paddleboards, and we found the perfect spot to begin. Our SUP outfitter recommended Miller's Bayou for its calm water. Rimmed by mangroves, Florida's iconic coastal trees, the area supports a plethora of birds and wildlife. Jenna pointed out a bald eagle, and we saw turtles everywhere. Even though we were surrounded by wildlife, nothing prepared us for what came next.
A Florida manatee, with thick leathery gray skin, surprised us with a snort as it surfaced for air. The kids were overjoyed to watch it gently lumber along, munching on the seagrass. This is the kind of surprise you can't get from a screen—there was no competition between Pasco County and my family's electronic gadgets.
Disconnecting from technology was exactly what my family needed to reconnect. I hope that the next time I see them distracted by a glowing screen, it's because they're smiling at the photos we took together in Pasco County.