A Deliciously Awesome Getaway
By Ruth Spencer
Biting into Alpharetta, Georgia's amazing culinary scene
Earlier this summer, my husband, Edward, and I heard about Georgia Restaurant Week. Alpharetta was a featured locale with several tempting options, so we scheduled a special getaway dedicated to experiencing this city's acclaimed foodie scene. The wild salmon oscar at Ray's at Killer Creek sounded heavenly! Located about 22 miles north of Atlanta, many think of Alpharetta simply as a suburb, but the city has long held its own charming identity and continues to enhance its reputation as a top culinary destination of the Southeast with more than 175 dining options. We couldn't wait to find more appetizing gems during our weekend excursion.
Treats on trucks
On Thursday evenings from April through October, the city hosts six to eight food trucks along the Historic Downtown streets at the Alpharetta Food Truck Alley with live music and kids activities. Upon arrival, we stepped into Hop Alley Brew Pub and Smokejack to grab a couple of local brews to sip while we strolled through the alley filled with food trucks. We broke standard dinner rules and started with dessert at the colorful King of Pops umbrella stand, serving all-natural frozen popsicle treats. The creamy Chocolate Sea Salt is a crowd-pleaser and didn't disappoint. To balance out the sugary-goodness, we looked for something kicky with spice. Then a fellow food truck diner sauntered by eating on a blackened fish taco with aioli from The Blaxican, a down home blend of Mexican Soul Food fusion—recently voted Food Truck Restaurant of the Year by Mobile-Cuisine.com. Edward took one bite of his taco and raved about them. Meanwhile, I was relishing in my collard green quesadilla—what an exceptional blend of flavors!
Getting schooled. Culinary school, that is.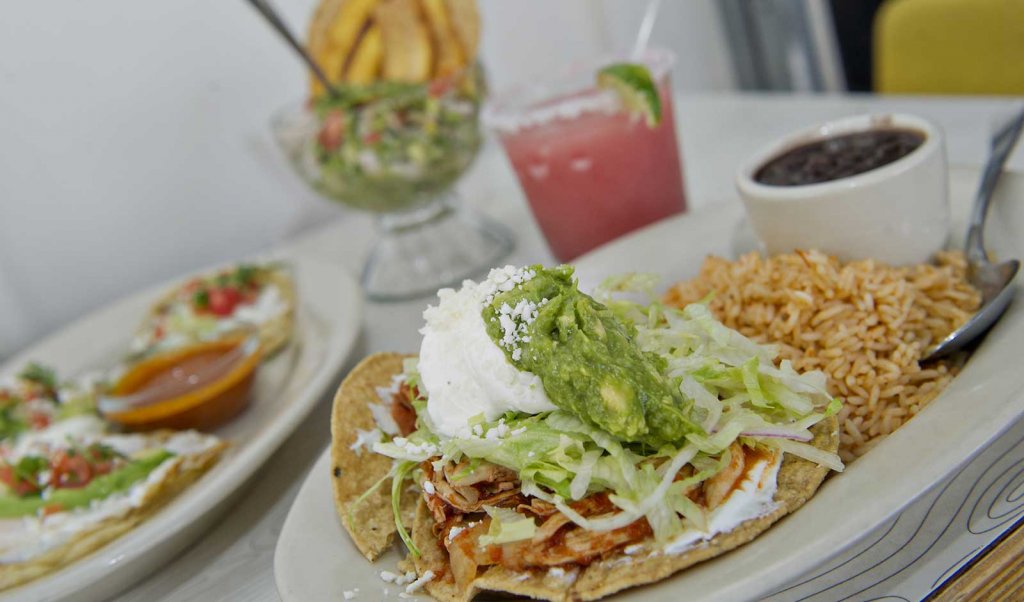 I'd been hearing about Avalon and its grand opening since last October, so on Friday, we ventured over to see what all the buzz was about. It's an epic new development with more than 75 luxury retailers such as Johnny Was and Kendra Scott lining the boulevards, 15 local chef-led restaurants like The El Felix and Oak Steakhouse, and top-notch entertainment on the Plaza most any given day. The on-site concierge service informed us Whole Foods Market (on the edge of the property) offers cooking classes almost daily. Since our getaway was all about food, we decided to feed our need for adventure and pick up some culinary expertise at one or two of the local cooking schools. We met another couple at the concierge desk who had three classes under their belts—they assured us we'd love it!
Avalon's sheer size and style are impressive—so no surprise the Salud! Cooking School was as well with contemporary decor, large windows, and multiple cooking stations, each with its own stove and basin. Edward knew his dicing and slicing talents definitely lacked luster in the kitchen, so he was thrilled to take the basic knife skills class. Our chef instructor kept the class lively and entertained with demonstrations and hands-on opportunities with useful tips to use at home—sharp knives are the safest knives! Our menu was so creative, including seasonal veggie soup, petite salade, and vinaigrette with goat cheese toasts, chicken paillard with a raisin, caper, and pistachio brown butter, classic rice pilaf, and finished off with an apple tart. Edward improved his dicing speed and looked like a pro as he cut into fresh carrots, onions, and sweet apples. The best part of the class: getting to eat the fantastic food we prepared and sipping on wine along the way.
On Saturday mornings, Alpharetta hosts an open-air farmers market with more than 60 vendors spanning the street-long market. We returned to Downtown on Saturday to stroll the market and grab a cup of coffee from Mugs on Milton. We found everything from seasonal produce and grass-fed beef to handmade soaps and raw honey. We picked up an armful of local vegetables to take back home so Edward could recreate the veggie soup we had at Salud!.
Later that morning, we discovered North Point Mall, home to Georgia's only American Girl Boutique and Bistro, and more than 100 major retailers. When we stopped to purchase a new pink doll bed for our daughter back home, little did we know the biggest banana split EVER would capture our eye (and our stomachs) in the vibrant bistro.
After working up our appetite with a little shopping and sweet snack, I noticed Spice Brick Oven Kitchen as we were leaving the mall. I remembered reading a rave review of their tapas and small plate selection, so we stopped in for lunch. The fried goat cheese with pure clover honey and cracked black pepper was the perfect combination of creamy, savory, and sweet. Edward devoured the mussels fra diavolo in a spicy pomodoro sauce with toasted focaccia.
Raising the bar
Later that afternoon, we lounged on the rooftop patio with cocktails in the gorgeous Georgia weather at Topgolf Alpharetta after playing a few of the point-scoring games from our 3rd level golf bay. Edward hitting microchipped balls into a 240-yard greenspace with dartboard-like targets in the ground was quite a sight. We vowed to return on Sunday morning for their brunch and Bloody Mary bar!
Nothing says local quite like a craft brewery tour and tasting, so Saturday evening led us to Jekyll Brewing—Alpharetta's first brewery. Edward and I hopped on the tour to see where and how the beer is made. Our tour guide was quite a hoot and told several entertaining stories behind the names of their beers and the brewery itself. The Hop Dang Diggity is a Southern twist on an IPA, and I personally loved the Cooter Brown—a mildly chocolate, malty American brown ale. We then made ourselves at home in the cozy tasting room with arcade games and live music.
Somewhere that evening between ales and IPAs, Edward and I planned out a dinner party to host our pals when we returned home. Edward wanted to show off his nifty new knife skills, and I wanted to share these tasty brews we discovered. We bought a couple of souvenir six-packs and planned out the menu to recreate the soup and chicken paillard from class on Friday. Now if I can only figure out how to get chocolate sea salt popsicles back home without melting…maybe our "taste buddies" can join us on our next Alpharetta excursion!