Pick Your Adventure At West Virginia's State Parks
The state's parks encompass a mecca of outdoor activities and are close to top attractions
For lovers of the great outdoors, there is no better place to be than West Virginia. And there is no better way to experience all the Mountain State has to offer—rafting, mountain biking, famous hiking trails, paddling, golfing, and more—than by staying at one of its unforgettable state parks. From there, visitors can see the best of West Virginia and immerse themselves in the rugged and wild beauty the state is known for.
Blackwater Falls State Park, Davis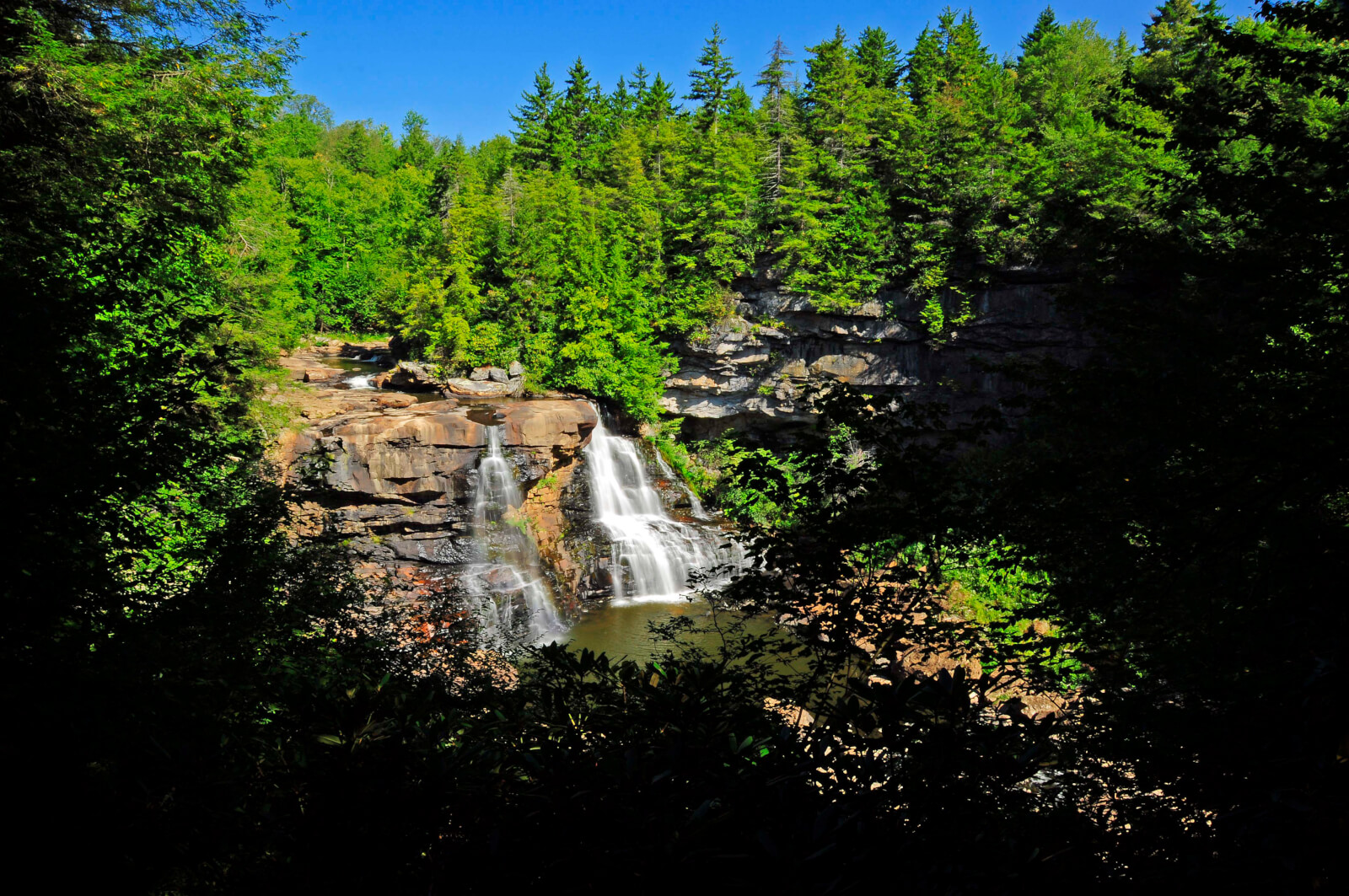 Named for the hemlock-and-red-spruce-needle dyed falls that tumble five stories down into an eight-mile gorge, Blackwater Falls State Park showcases some of West Virginia's most beautiful scenery with 20 miles of hiking trails and ample fishing opportunities. Whether you want a comfy room at a lodge, a cozy cabin, a spot to pitch your tent or an RV site, this park can accommodate.
What's nearby: Golfing at Canaan Valley Resort State Park, Dolly Sods Wilderness Area, Mount Storm Lake as well as restaurants, craft breweries, and shopping in Davis and Thomas.
Cacapon Resort State Park, Berkeley Springs
Imagine having seemingly endless outdoor adventures at your fingertips, with everything from wobble clay shooting to bird walks to horseback riding, all against a backdrop of a wild landscape that includes the tallest peak in the eastern part of the state. Cacapon Resort State Park has all of this, plus water play in Cacapon Resort State Park Lake and an 18-hole Robert Trent Jones Sr. championship golf course. Stay close to the action at The Old Inn, or choose from dozens of cabins and 48 lodge rooms.
What's nearby: Berkeley Springs State Park (where visitors can bathe in warm mineral springs and enjoy a massage) and the eclectic shops, eateries, and historic sites of Berkeley Springs.
Chief Logan Lodge, Hotel and Conference Center, Logan
As West Virginia State Parks' newest lodge, the facilities at Chief Logan are perfect for reunions, conferences, family vacations, and business meetings. In addition to amenities that include an indoor swimming pool, hot tub, and fitness center, the lodge offers pet-friendly accommodations, and nearby access to the Hatfield-McCoy ATV trails. Stay a few nights to catch a dinner theater show and a nature hike.
What's nearby: Chief Logan State Park, a family-friendly park where guests can swim, fish, hike, play miniature golf, and see wildlife exhibits that feature native animals.
Hawks Nest State Park, Ansted
Rugged and serene, Hawks Nest State Park offers panoramic views of New River Gorge National River in an area known for its whitewater rafting. The lodge itself has 31 rooms, and guests can soar above the landscape via an aerial tramway that runs from the Hawks Nest Lodge to the marina at the bottom of the New River Gorge. In addition to the tramway, jet boat rides offer another way for visitors to experience the water.
What's nearby: Multiple whitewater rafting outfitters are just a 10-minute drive from the lodge. There's also New River Gorge Bridge, Babcock and Carnifex Ferry Battlefield state parks, and the gravity defying wonder, Mystery Hole.
North Bend State Park, Cairo
Paddling, hiking, biking, backcountry camping, fishing, horseback riding, and even yoga. North Bend State Park is a one-stop shop for outdoorsy types who want to choose their own adventures. The 72-mile North Bend Rail Trail is ideal for biking, horseback riding, and hiking, while accommodations include 29 lodge rooms, 77 campsites, and nine modern cabins.
What's nearby: Blennerhassett Island Historical State Park, Blennerhassett Museum, and the shops, restaurants, and craft breweries of downtown Cairo and Parkersburg. Bike and boat rentals are also readily available for park rides and North Bend Lake cruises.
Pipestem Resort State Park, Pipestem
With a variety of family friendly outdoor activities that include disc golf, fling golf, skiing, miniature golf, tennis, and more, it's no wonder Pipestem Resort State Park is known as the "Year-Round Crown Jewel of West Virginia's State Parks." An 18-hole championship course designed by Geoffrey Cornish—with a resident PGA golf pro for lessons—awaits golfers of all skill levels. There is also a nine-hole Par 3 course. In addition, the park offers some of the best views around with the 3,000-foot Bolar Lookout Tower and an aerial tramway. Accommodations include nearly 150 rooms in two lodges, 26 modern cabins, and 82 campsites.
What's nearby: Shops, restaurants, and museums in downtown Bluefield, Hinton, Bramwell and Princeton. It's also close to other natural wonders, like Brush Creek Falls, Bluestone State Park and Camp Creek State Park.
Twin Falls Resort State Park, Mullens
Warm and welcoming hospitality, along with a rugged mountain landscape, awaits visitors of Twin Falls Resort State Park in southern West Virginia. Opt for a private cottage, campsite or lodge room at the mountaintop and experience all the park has to offer, including an 18-hole, Par 71 championship golf course. Hiking, biking, swimming, and wildlife viewing also top the list of most popular activities here. The Pioneer Farm, a working farm on Bowers Ridge, invites guests to see what life was like during the 1830s.
What's nearby: Beckley Exhibition Coal Mine; Tamarack Arts and Crafts Showcase; Winterplace Ski Area; downtown Beckley and Mullens; and Babcock, Pipestem and Bluestone state parks.
Tygart Lake State Park, Grafton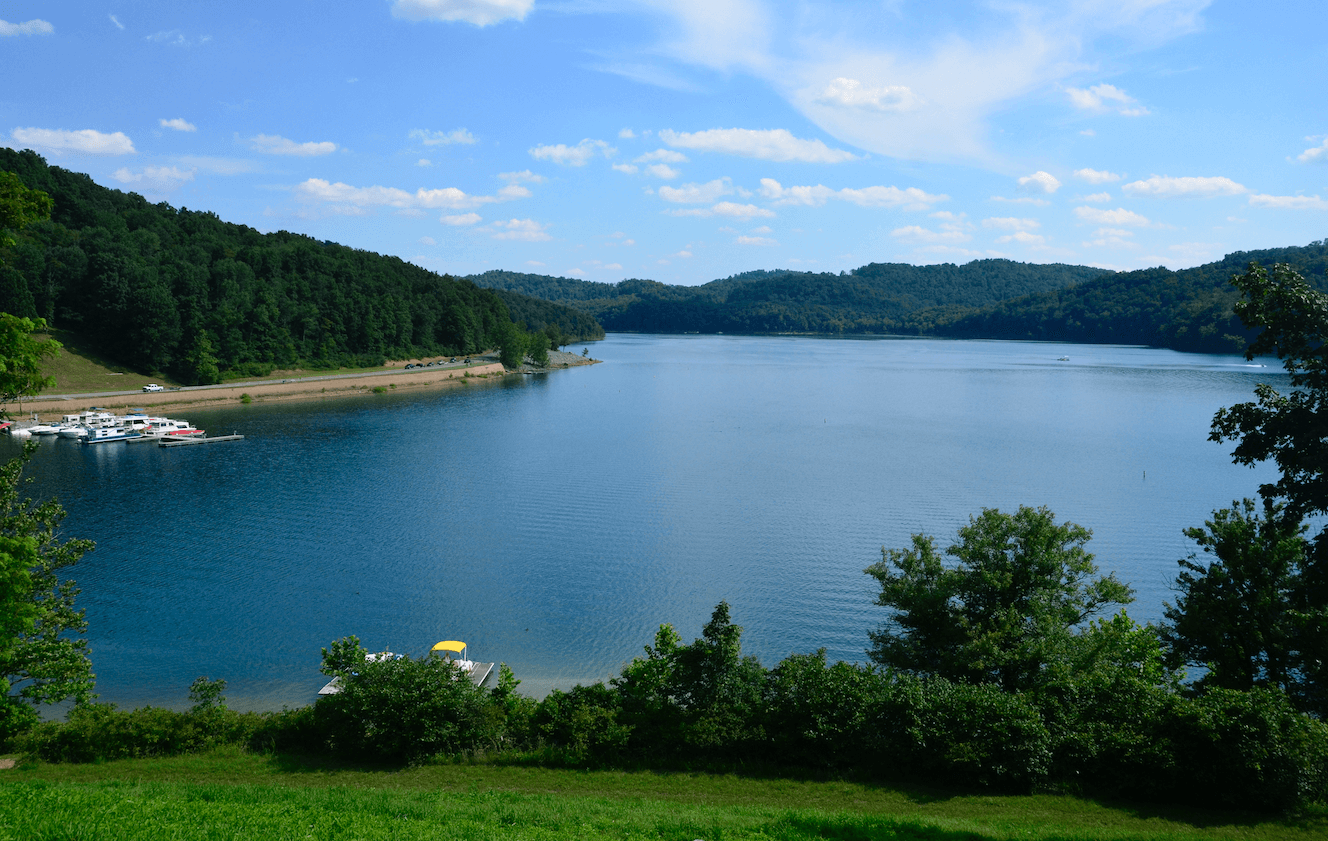 A quiet, laid-back retreat can be found in Tygart Lake State Park, named for a 10-mile, 1,750-acre lake known as one of the best bass fishing spots in the area. Crappie, walleye, smallmouth, and largemouth bass are some of the species that attract anglers to Tygart Lake at different times of the year. By day, visitors can also use the hiking and biking trails, participate in nature programs, and paddle the lake, then enjoy camping, cabins or lodge accommodations by night.
What's nearby: Shops and restaurants of downtown Grafton; the National Mother's Day Shrine; Prickett's Fort; Valley Falls; and Audra, Watters Smith Memorial, and Cathedral state parks.
Now that you know the lay of the land, get inspiration for your family getaway with Kid-Friendly Itineraries in West Virginia's Outdoors.