Just the Two of Us
Back in touch with us in South Carolina's Hammock Coast
Our only child, Tyler, "left the nest" two months ago, when he started his freshman year at college. It was a bittersweet feeling—I hated to see him go, but knowing we'd done our job raising an independent, productive, and pretty cool young man, I was happy for him to spread his wings.
"Let's take advantage of the situation," my husband, Tom, suggested one evening. "This is the first chance in years that we can take a vacation alone, and I've always heard that this is best time to visit the South Carolina coast. Why don't we find a place to rent somewhere on the Hammock Coast and make a weekend of it?"
So we packed our flip-flops and made the four-hour drive from Charlotte to the stretch of sand, sun, and natural beauty known as the Hammock Coast, tucked just about halfway between the hustle and bustle of South Carolina's better-known visitor spots Myrtle Beach and Charleston. The Hammock Coast is a place where marsh views and oyster beds dominate the scenery, fishing villages still exist, and local shrimp are on every menu.
Settling in and slowing down
I stepped out of the car and surveyed our little waterfront cottage that we had rented at Litchfield Beach. A few communities make up the Hammock Coast, including Pawleys Island, Murrells Inlet, Garden City, Georgetown, and Andrews, but Litchfield Beach was just our speed.
A hammock—perfect for mid-afternoon naps and post-dinner glasses of wine—hung on the front porch facing the ocean. A nearby weathered wooden walkway led down to a quiet stretch of beach that only weeks before had almost certainly been dotted with visitors. Looking toward town, I saw a number of grey-from-the-sun wooden walkways connecting cottages like ours directly to the shore.
I took a deep breath in and smelled the salty breeze. The summer humidity had loosened its grip on the air, and there was a hint of crispness coming off the turquoise water. I caught a glimpse of an old shrimp trawler on the horizon, its nets pulled up now that the day's work was done.
"This is just beautiful," I said as Tom came up beside me (he'd been unloading some steaks we brought to grill).
"Oh just wait," he said. "I've got a surprise for you tomorrow. But tonight, I think we should just relax and take in the view."
"Easy!" I said. "Now, what did you do with those steaks?"
Motown and memories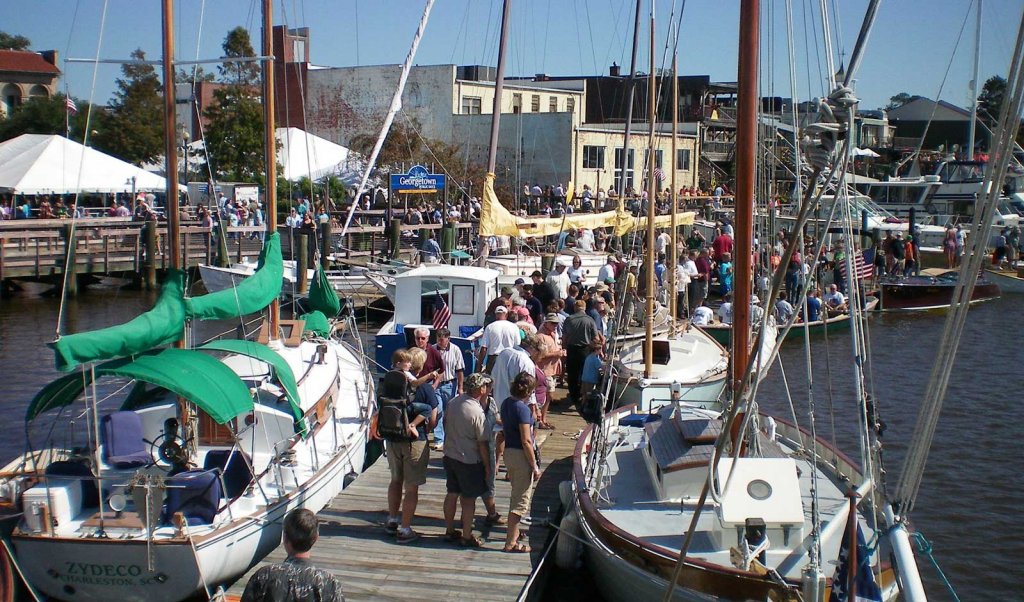 The next morning, we went to a local restaurant for breakfast and saw a poster about the Pawleys Island Festival of Music & Art. Once a small community event, it's grown into a three-week celebration with big-name music artists performing each weekend from the end of September through the second week of October. We were lucky to be in the area when it was happening, and to be able to get tickets to see and hear "So Good for The Soul – a Tribute to Motown", a show with 8 amazing performers. Several of them were Broadway veterans—and the show was Broadway quality! It was hard not to ask for an encore when they left the stage.
I made a mental note that next year, we would definitely have to come a week earlier to attend the Pawleys Island Wine & Food Gala, the most delicious part of the festival—there were more than 100 wines from around the world for sampling!
The next day, we decided to explore north and south of Litchfield. We drove a few miles up the road to Murrells Inlet for an early lunch, after all we couldn't miss having a meal in the "Seafood Capital of South Carolina!" The Murrells Inlet Marshwalk didn't disappoint! We walked the boardwalk that runs along the water's edge connecting eight restaurants. Since the day was so beautiful we decided to have our lunch on the outside deck at Dead Dog Saloon, one of eight great restaurants. The view over the Inlet was as wonderful as the Fried Oysters and hushpuppies on my plate.
Wooden boats on historic Georgetown
After all that great food, we needed to do some walking so we headed out to nearby Georgetown, where the annual Wooden Boat Show was under way. Tom and I held hands as we strolled by wooden boats both small and large: model boats, vintage boats that had been lovingly restored and proudly displayed on stands, sailboats that bobbed in the water and inspired getaways. Cedar, walnut, teak, mahogany: the woodwork was beautiful.
Tom and I were thrilled by the Wooden Boat Challenge, a four-hour competition where two-person teams build a 12-foot rowing skiff. There were hundreds of spectators like us, antsy with wonder: are they going to make it in time? The entrants, who came from all around the area, looked like skilled tradesmen on fast-forward as they competed for the crown. The boats are judged for quality, and then immediately placed into the Sampit River for a rowing relay.
"So you think you know how to build your own boat after watching that?" I asked Tom as I squeezed his arm and popped a few more boiled peanuts into my mouth.
"Um, I think I'm going to try something easier—like learning how to tie knots," he said as he led me into a nautical knot-tying exhibition and class.
Soon, we were learning how to make a variety of knots that any good sailor should know. Beside us, a young man and woman sat working on their bowline knots. I can't be sure, but they looked like newlyweds, laughing and enjoying each other as much as the activity. Tom noticed too. He winked at me—a silent nudge letting me know newlyweds and empty nesters have a lot in common: time for connection.
Get back to playtime on the Hammock Coast.