Glorious Greenville
Events and entertainment abound
Artisphere: #3 Arts Festival in the US —USA Today
Not every city has a natural, twenty-eight foot waterfall at the center of its downtown.
But then every city isn't Greenville, South Carolina, a lively, modern town with roots buried deep in the surrounding Blue Ridge foothills. A nationally ranked arts festival, a star-studded pro-am golf tournament, and Scottish games enchant visitors for three successive weeks in May, but calendar-spanning attractions make Greenville a bucket-list destination year-round.
Exploring Greenville's well-regarded arts fair, Artisphere, we've stared open-mouthed as aerial performers spin and twirl in a Cirque du Soleil-style airborne dance, watched ranks of yoga fans stretching their sinews and their spirits in the clear, spring air, sampled innumerable food stands, and admired the work of the artists talented enough to be juried into the festival.
Some 70,000 visitors every year enjoy the festival's blue skies and balmy southern weather.
Strolling along the popular GHS Swamp Rabbit Trail through Falls Park on the Reedy downtown, we admire temporary but artisan-perfect sidewalk paintings: a van Gogh-esque harbor scene, a velvety soft reproduction of a Renaissance oil masterpiece. The kids shriek and giggle as they tiptoe around a trompe l'oeil koi pond that seems to split the middle of the walkway.
At the imposing city-center waterfall that would suit any Blue Ridge glade, the kids splash in quiet side pools. My wife and I explore the aromatic plantings of bluebells, tulips, and lilies along the bank. You'd never suspect just feet above us Greenville's sylvan Main Street wends its leafy way between charming shops and eateries like Soby's New South Cuisine, the Carolina Ale House, and The Chocolate Moose.
Street entertainment
We wander along through winding footpaths in Falls Park on the Reedy, then up to street level. There we find tumblers diving through hoops of fire, kids painting owl portraits, jugglers, stilt-walkers, glass-blowers, a man creating large portraits by leaping and throwing paint at a canvas, getting about as much on himself as on the painting, and a South Carolina Children's Theatre production of The Cat in the Hat.
Eight-year Artisphere volunteer (and SC Children's Theatre staff member) Vanessa Weber describes Artisphere's vast menu, encouraging people to enjoy art "in all its forms." Sometimes it's a real revelation.
Sometimes surprise is the whole point. "I love the Live Statues," she says, referring to actors made up to resemble permanent sculpture pieces. "The make-up itself is a work of art and then when he makes an unexpected move and you hear the surprised laughter of the children … It's just too fun!"
The day dwindles, and we find ourselves surveying Greenville's signature waterfalls from the sweep of the unique Liberty Bridge, a gleaming modern span that traces a graceful and unusual horizontal curve nearly 50 feet over the Reedy River.
Golden light from the sunset glows on the river as it curtains down across the rocks, hushing even the kids, for a moment. In the stillness, music drifts in from somewhere; one of many Artisphere performances is getting started at the Main Stage upstream from us. Below, a heron hunts in a pool the kids explored earlier, a Carolina blue sky reflected in the quiet water.
I recall talking with volunteer Vanessa Weber: "It's fun to imagine that some people are just out there for something to do, and unexpectedly discover that they really are moved … inevitably changed by the experience," she told me.
Great golf for a good cause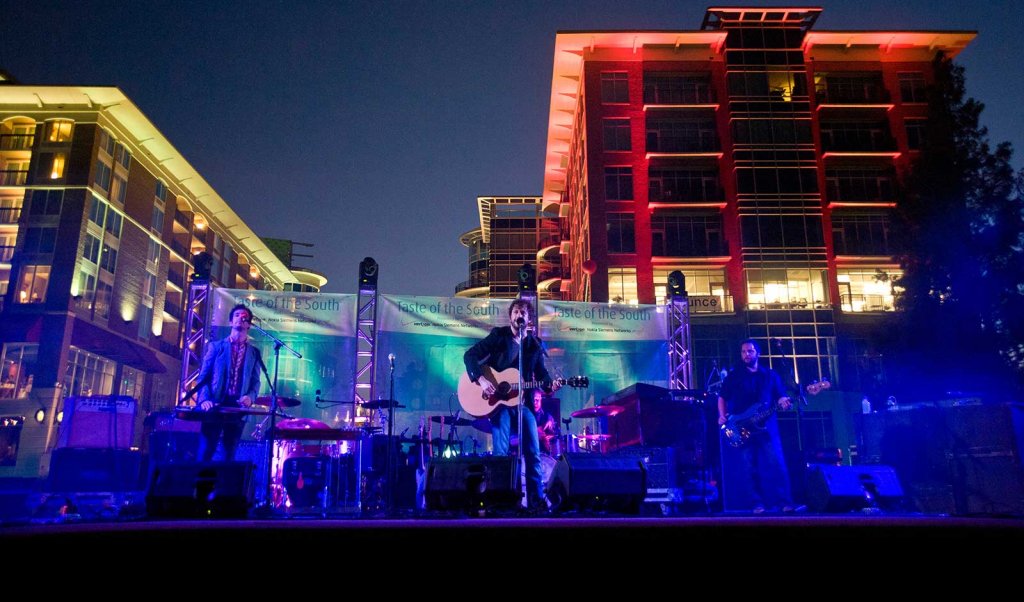 Of course there's much more to do in Greenville than Artisphere. Golf fans flock to town for the BMW Charity Pro-Am Presented by SYNNEX Corporation. Spectators imagine testing their own skills against the challenging but beautiful topography of three premiere golf courses, Green Valley Country Club, The Thornblade Club, and The Reserve at Lake Keowee.
Web.com Tour pros exhibit their golf skills and celebrities like "Malcolm in the Middle" star Frankie Muniz, and Anthony Anderson of the ABC sit-com "Black-ish" keep the crowd entertained with their wit and considerable links ability.
Kids enjoy a golf-skills fun zone just for them. Their parents get to see outstanding golf, some of their favorite stars and lots of beautiful properties adjoining the fairways, not to mention the rolling Blue Ridge landscape stretching out in every direction.
Not coincidentally, the outing raises vast sums for good causes. The 2014 event generated $836,883 for South Carolina charities, much better than par for anyone's course.
Scottish culture celebrated at Gallabrae – Greenville Scottish Games
Greenville also hosts Gallabrae, a celebration of Scottish highland culture that celebrates its tenth anniversary this year. With Highland competitions to establish the strongest Scots, the smartest border collies, and the most distinctive bag-piping, plus an array of other events, there's something for everyone.
Fans of British motoring will love the British Car Show, this year featuring Jaguars, the height of luxury English sports cars. Visitors will also get a close look at exotic Austin Healeys, stately Rolls Royces, elfin MGs, and agile Triumphs, for a thorough saturation in Great Britain's great rides.
Scots skills demonstrators show the flag with exhibitions of such things as spinning and weaving, Celtic harp, historic Tartan plaids, and military marching. The Celtic Jam featuring the bands Lissakeole, Cleghorn, and Albannach will strike a chord with Celtic music fans. If you've ever worn a kilt—or ever wanted to—Greenville's Gallabrae will be just your cup of Brodies tea.
Order your free visitor's guide and start planning your exploration of Greenville, SC!