Into the Future
Exploring history and the direction we're headed in Hampton, Virginia
From the rugged stone walls of historic Fort Monroe in Hampton, Virginia, we stood watching a U.S. Navy warship heading out into the broad, choppy Chesapeake Bay under a boundless blue sky.
"You know, right out there was where the Monitor and Merrimac pounded each other for hours in the Civil War," I told my son, Isaac. He had just graduated from high school and was starting at Hampton University soon.
"I know, Dad," Isaac said with a grin.
"Who won?" asked Carlene, one of my twin daughters.
Grandpa to the rescue.
"They both had lots of dents but were still afloat," my dad told Carlene. To Isaac, he said, "It's just history to us now, but then it was all about the future. When the first shot clanged off the iron that day, wooden ships became obsolete."
Isaac nodded and pointed at the Navy ship. "And that's the result," he said.
"For now," my dad said. "There's always the future."
Dad was right, of course. And that intertwining of yesterday and tomorrow is typical of Hampton, where the past, present, and future merge to form a fascinating military, academic, and tourism center. The charming shops and cafés of the Peninsula Town Center never fail to delight, and every turn seems to reveal another layer of history or the promise for the future.
The latter is always top priority for my dad, who hopes Isaac will follow him into a career in engineering, hopefully in the aeronautics industry. On the other hand I knew Isaac had a powerful interest in history, too. Pretty soon he was going to be choosing a major; maybe this trip could help him with the choice.
Looking back
"What better way to launch Isaac's post-high school education than with a visit to the Virginia Air & Space Center?" Dad said, talking about a popular stop associated with NASA's Langley Research Center.
"Let's launch him!" cried my other daughter, Shannon. Carlene nodded vigorously.
"Well, not just yet," I laughed. "We're still exploring Fort Monroe."
"Yeah," said Isaac. "You know this fort and the one here before it have controlled Chesapeake Bay for 400 years," he said. "It was the headquarters of General Benjamin Butler, the Union general who decided escaped slaves were war contraband. Basically that meant he freed them. Pretty appropriate considering that in 1619 this was where the first enslaved Africans arrived in English North America."
Everybody nodded, impressed, even my dad, and we continued to wander the fort, including where Confederate President Jeff Davis was held for a time after the war, where Robert E. Lee lived when he was overseeing the fort's construction in the 1830s, and the fascinating Casemate Museum.
Looking up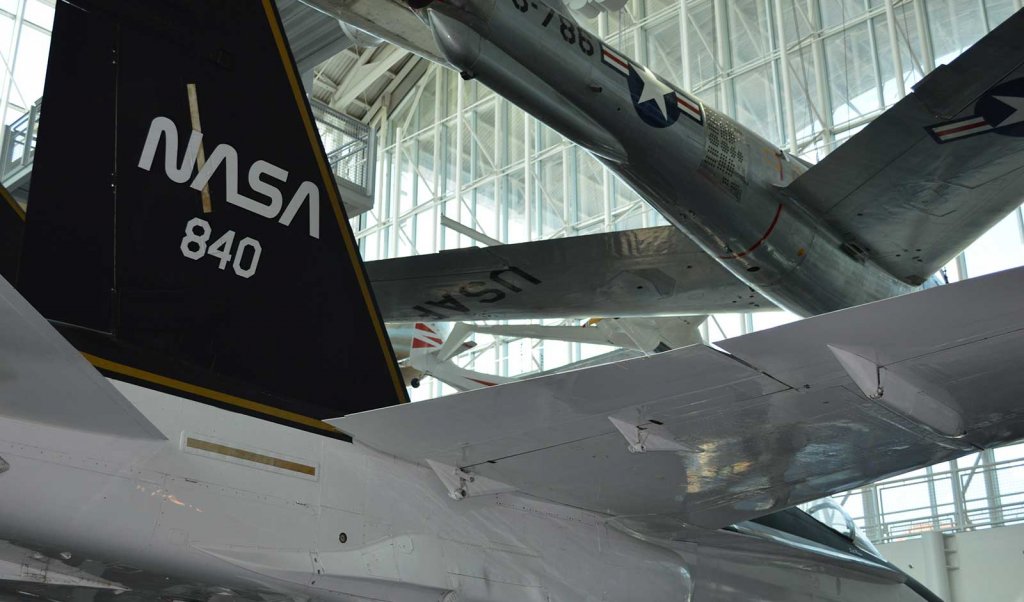 Later we headed to my dad's favorite attraction, the Virginia Air & Space Center, where we craned our necks to admire an AF-4 Phantom jet, an F-16, a Vietnam-era Huey chopper, and others, all suspended from the ceiling as though locked in aerial combat.
We had visited Hampton years ago; Isaac was just a child then—a child who loved planes more than trains and automobiles. He parked himself in the cockpit of a World War II-era B-24 bomber for an imaginary raid, supplying his own audible zooms and swooshes. Now he stood in front of that same plane as the girls ran around to explore inside it.
"They say when you grow up things seem smaller," he laughed, "but that is still one very large aircraft."
"Yup," my dad said. "You know if you study aeronautics, you could end up working for NASA's Langley Research Center. It's not very far from here."
"Yeah," Isaac said, genuinely interested. "That could be cool. Hey, is that a flight simulator?" That was the last we saw of him and the girls, as they practiced piloting skills in the state-of-the-art virtual reality exhibit.
History was back on the menu with lunch at the Park Lane Tavern, an English pub-style eatery echoing Hampton's deep colonial roots. It is, after all, the oldest continuously English-speaking city in North America. Surrounded by enough deeply burnished and ornamented woodwork to replicate the English House of Lords, I relished fish & chips, and Dad devoured a chicken and apple sandwich accented with a smooth, smoky brie.
Near the historic, shop-filled Phoebus area minutes from Peninsula Town Center, we walked to the Hampton University campus and visited stately Emancipation Oak—where Lincoln's Emancipation Proclamation was read.
"Can you imagine what it must have been like to have been standing under this tree and hearing those words," Isaac said dreamily. "Amazing."
We also admired the graceful mix of contemporary and traditional architecture on campus, pausing to look across the busy Hampton River at the masts and polished brass of the watercraft bobbing at anchor at the Hampton Yacht Club on the opposite bank.
Visiting Air Power Park, near Langley Air Force Base, we viewed rockets, Gemini capsules, and fighters spanning the Jet Age from the Korean War to the present. Carlene and Shannon squealed, cavorting on the attached playground. Isaac seemed tempted to climb on the jets the same way.
"You know, this stuff could really be a blast," he told me.
"Yeah, literally," I laughed. "And your granddad would be happy. But you're the one who has to decide."
At the Hampton History Museum we took in galleries devoted to the Kecoughtan natives and viewed the cramped storage hold of a typical 18th century merchant ship. Isaac told his little sisters about the pirate Blackbeard who preyed on such ships.
"There's always something new to learn about history here," I told Isaac. "You know they draw something like 50,000 seaborne visitors every May to their Blackbeard Pirate Festival? Make you want to study history at Hampton University? Pretty good spot for it."
Looking forward
Grandpa laughed. "Pretty good place to help build the future of the skies, too, eh?" he said, nudging Isaac in the ribs.
The twins have a radar for even gentle differences of family views, and now they picked up the signals.
"What are you going to study, Isaac?" demanded Shannon. "History?"
"No," yelled Carlene. "He likes the future, don't you Isaac?"
Dad and I looked at each other a little sheepishly, we hadn't intended to put Isaac on the spot. But he was up to the challenge. He knelt and put an arm around each girl.
"Maybe I'll just do both," he said, "one for each of you."
"Yay!" they cried in unison.
He stood and gave us a grin. "It's something I kind of have to do myself anyway, making my own future, right?" he said. Then he winked at them. "Even if it's by studying the past."
Dad and I smiled at each other and shrugged. Here was young man who clearly knew who was going to be in charge of his future, and he was looking forward to the challenge.
Get in touch with your past and future in Hampton, Virginia!