Accomplishing Adventure
A family getaway to Alpharetta, Georgia, reveals new tricks and talents
There are two big ways to get on two wheels in Alpharetta, Georgia. The first: biking on the Big Creek Greenway. The second: a thrilling class with the Motorcycle Safety Foundation Dirt Bike School.
On a recent vacation to Alpharetta, about half an hour north of Atlanta, my family of four got to experience both. Our getaway was filled with moments I never expected—and moments I'll never forget.
Day One
The Big Creek Greenway's wide concrete path spans nearly 20 miles and meanders along the banks of Big Creek's watershed. Alpharetta's section is about eight miles long. Locals and visitors alike use the popular paved trail, which is removed from vehicle traffic, for biking, walking, running, and rollerblading.
For visiting families such as our own, the Zagster bike-sharing stations are perfect. No need to haul bikes for everyone—a feat even with the most pragmatic vehicle—simply download the app, find your location, enter the code into the bike lock, and pedal off. The first three hours of your biking excursion are free with Zagster!
Renting bikes takes just a quick moment, ideal for spending the rest of your time enjoying the scenery. My sons, Connor and Andrew, led the way, with my husband, Daniel, and me following in their wake.
Along the path, tall, bright green trees provide abundant shade and seemingly block the rest of the world's noise. Joggers pass in brightly colored outfits and families with kids younger than our own play along the edges of Big Creek.
We took turns pointing out landmarks and pretty scenes as we pedaled along, but one stopped us in our tracks. Connor spotted a family of deer grazing beneath the trees, and we paused to watch. It was at this moment that I truly appreciated how quiet it can be along the Big Creek Greenway, a true nature gem within this bustling destination.
The quiet was the exact opposite of the next day's adventures.
Day Two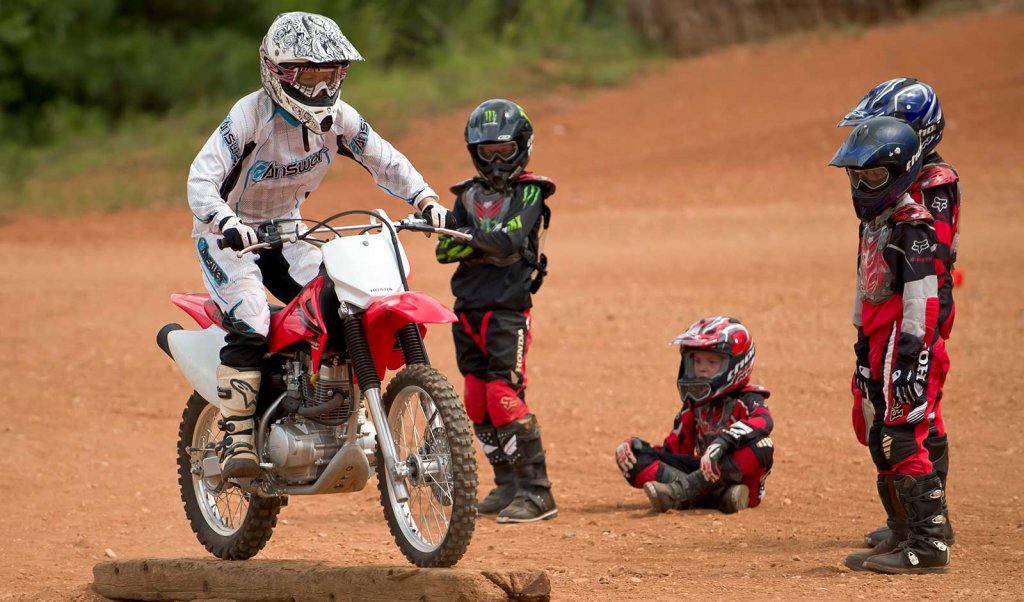 Daniel, the kids and I were up bright and early for an energizing breakfast—fuel for the day's fun with the Motorcycle Safety Foundation Dirt Bike School.
The Motorcycle Safety Foundation Dirt Bike School is a hands-on training session where certified coaches teach basic riding skills and responsible riding practices, including risk management and environmental awareness.
Our group was outfitted with riding gear and off-road motorcycles, and we were introduced to the instructors who would be helping us out. Wearing the motorcycle gear got me excited for the day ahead; I started to feel the part. Knowing we had fully qualified, experienced instructors helped, too.
We started slow: exercising proper use of our gear, correctly mounting and dismounting our vehicles, and learning what each control did. Next, we focused on positioning our bodies. Eyes and head up. Back straight. Feet placed correctly.
It was comforting that safety came before all fun, yet it was clear that Connor and Andrew were enjoying themselves while gaining an appreciation for riding a dirt bike correctly. Daniel was the quickest to understand the bike, and it was heartwarming to see our kids giving each other advice.
Thanks to the instructors, by the time we started riding, I felt confident. Connor clapped as I revved the engine. Andrew cheered when I stood up on the foot pegs. Daniel gave me a touchdown sign when I maneuvered into a figure eight.
I was happy that my family was proud of me, but I was also in awe of myself. Revving the engine and feeling the energy of the motorcycle from palms to toes was electrifying.
Something must have sparkled in my eyes while riding because the instructors even invited me to participate in an upcoming Dirt 'n the Skirt class, a female-only dirt bike clinic. Perhaps I'll invite my girlfriends with me to Alpharetta next time.
Awesome Alpharetta
During past trips, we've clambered on an elaborate wooden playground and watched horse agility at the Wills Park Equestrian Center, wandered through culture at the Alpharetta Arts Streetfest, devoured samples from more than a dozen restaurants at Taste of Alpharetta and sang out hearts out at headlining concerts at Verizon Amphitheatre.
This time, we were returning home after a satisfying weekend of exploring new places with inspiring natural beauty and learning new skills.