Lowcountry Life with the Tides
An inspiring family escape to Beaufort, South Carolina
As my inbox overflowed with emails and meeting requests, and outside, winter refused to loosen its icy grip on the city, there was nothing I looked forward to more than a week on warm Lowcountry waters.
I'd booked a trip to Beaufort for the family after reading that Southern Living had awarded it "The South's Best Small Town." Pristine beaches for the kids? History for the husband? A chance to experience authentic Lowcountry culture and cuisine? And all without the crowds of bigger, more touristy cities? Beaufort sounded almost too good to be true—but I'd already packed my sundress, and the trip couldn't start soon enough.
On the drive in, the first thing we noticed was the air: salt and sun mixing with spring's first flowers, colorful azaleas that spilled over fences, even more fragrant than gardenia or summer roses; and the much-welcome breeze, sweeping over green seagrass and deep tidal creeks. We rolled the windows down and breathed it in. No noisy traffic. No stifled city air. It was an instant balm, soothing, promising a wonderful getaway ahead.
First Taste of Beaufort
Right on the waterfront, the view from our room was stunning: boats drifting on gentle swells in the glittering marina, ospreys gliding overhead. I'd heard somewhere that half of all South Carolina's salt marsh occurs in Beaufort County—and from my window, it seemed to stretch on forever.
After kicking off our shoes to rush the tide—the kids squealing with laughter as it chased them up the shore—we headed into town to wander, peek in shop windows, and unwind. We'd left schedules and timelines behind; there was no hurry here, not in Beaufort. Life had its own pace—a slower, sweeter one. We poked our heads into the many unique shops and galleries on Bay Street, finding hidden treasures at Lulu Burgess and adventure-inspiring gifts at Bay Street Outfitters, and soaked up the honeyed Southern accents around us.
Dinner was perfect, and wasn't planned: we turned down a side street and stumbled on a local favorite, Old Bull Tavern. My husband and I sipped handcrafted cocktails in what would normally be the perfect date-night spot, but with crispy, wood-fired pizzas soon on the table, it became the kids' favorite, too. Strolling back to our hotel afterward, taking in the watercolor sunset, yesterday's emails were nothing but a distant memory.
Adventure on the Water
Early the next morning, my husband and I were eager to dig our toes in the sand and paddle out on the glassy marsh for our first taste of the Lowcountry's storied natural beauty.
My husband and our son set out on a half-day fishing expedition chartered through Bay Street Outfitters. Their guide, Tuck, was a master sight-fisher and taught them how to spot redfish fins sluicing across the flats and through seagrass, and how to cast the fly at high tide, netting everything from seatrout and ladyfish to giant cobia, tarpon, and sheepshead. For a while, a pod of curious dolphins followed their boat, chattering and bobbing and flipping to show their gleaming bellies.
It's easy to spend the whole day island-hopping, too—there are hundreds of untouched, sun-scrubbed little barrier islands throughout Port Royal and Beaufort county, each holding its own magic and surprises.
That morning, however, my daughter and I had a mission: brunch at the much-loved Lowcountry Produce. High ceilings, bright sunlight and eclectic pantry staples set the stage for plates of jammy eggs with crisp edges, perfectly seared local shrimp on creamy stone-ground grits the color of good cheddar, sweet potato pancakes and pimento cheese toast, savory tomato pie and big, freshly-made crab cakes under a tiny mountain of spring onion.
After brunch, we headed to the sprawling Farmer's Market, recently reopened for the spring. We loved learning about the colorful local produce, almost as colorful as the farmers who'd picked it that morning; and conversing with the old salts—lifelong fishermen full of stories about Beaufort—proudly displaying baskets of just-caught, pearlescent fish on ice, scales flashing in the early morning sun. Spring in Beaufort is for strawberries, we were told; a farmer handed my daughter a big, juicy one to taste—because you just have to taste these, you see—and she can barely close her fist around it. I've got my eye on the first green tomatoes of the season, imagining them fried to perfection in a crispy cornmeal batter.
About the time that the boys were reeling in their first trophy redfish, my daughter and I set out in a tandem kayak, letting the peaceful rivers unfold around us. Drifting over oyster beds (which wouldn't be back in season until the fall, which is when we'll be back, clearly), water reflecting the brilliant blue sky of the Lowcountry coast, I found myself reflecting, too. Feeling grateful. Inspired. Renewed.
That night, we took our day's catch to The Anchorage 1770—a beautiful and historic inn and restaurant on the water—where the chef freshly filleted it, searing our dinner to crispy, buttery perfection. Once you've tasted fish that fresh, pulled from the sea that same day, nothing else can compare.
History, Heritage, and Sweets by the Sea
Walking through three centuries of rich culture and heritage. That was our loose plan for the next day. My husband being a history buff, I let him and the kids lead, and our first stop after breakfast (and excellent coffee at City Java) was Macintosh Bookstore, where he hunted for his favorite Pat Conroy book, signed by the local author. From there, we hopped on a carriage ride tour of antebellum homes, and our knowledgeable guide had us both in awe and in stitches with laughter, sharing the incredible stories of Beaufort's past (and some of the juicer secrets).
Under live oak trees with branches hanging low over sun-dappled streets—as if grown tired in their old age, weighed down by Spanish moss and looking for a place to rest—we took our time exploring the grand, beautifully-preserved antebellum homes, never hurried from one room to another or waiting in a long line. While each wide porch and welcoming veranda was unique, with intricate latticework like old lace, almost every ceiling was painted blue—to keep either spiders or spirits away, as you choose. And the gardens! Color unfurled on every street corner, the Lowcountry spring putting on a show, fragrant and warm.
One of my favorite memories will always be that unrushed afternoon, taking turn after turn down ambling side streets into neighborhoods older than the nation itself, trying to decide which gorgeous antebellum home was our favorite (hint: it ended up being the Prince of Tides house, a must-see for anyone).
After the historic Penn Center and a fantastic exhibit about Gullah culture and heritage, we meandered back into town to try the Scout Market sweet tea floats I'd heard so much about. I'd expected them to be sugary-sweet, but they were completely refreshing thanks to the bright, tart sorbet that the shop owner scooped into the glass in place of ice cream. You can pick from lemon, mint, peach, mango, or strawberry; the kids took ten whole minutes to choose.
Evening found us relaxed and happily melting—a bit like the sorbet—into our chairs at one of the Saltus Grill's waterfront tables. We chose the restaurant for their famous oyster bar, but we could have stopped anywhere: almost every restaurant on Bay Street serves dinner with a stunning view of the harbor.
Beaufort's Famous Water Festival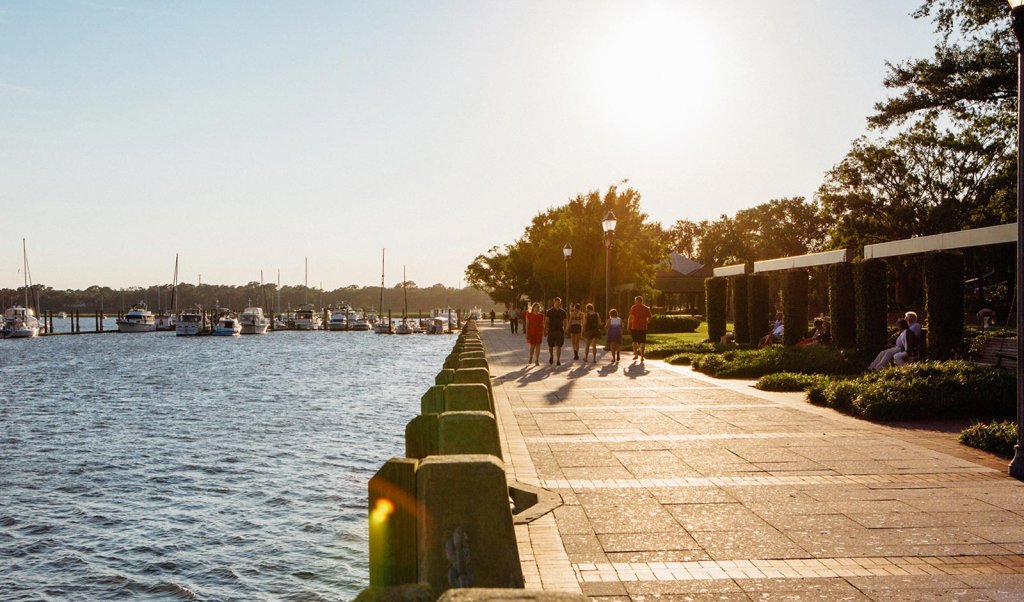 We rode bikes on Lady's Island, looking at the wind-sculpted dunes and watching ospreys build their nests (we learned that they mate for life). We went blue crabbing, and even though we only lured in a handful of big muddy Jimmys, raising their claws as if to challenge us to a duel, it was time well spent (and well shared, together). We climbed a historic lighthouse—167 steps to the top—for a breathtaking view of Hunting Island. We slept in, drank cold beer, and built sandcastles. The daily grind felt a million miles away.
But after a full day of doing nothing—which was everything I'd wanted—it was time to dip our toes into the excitement building down at the historic waterfront park, and experience Beaufort's biggest cultural event of the year (and the real reason we'd been lured to the Lowcountry gem).
Right away, among the revelry and steaming oysters and street performers and musicians, it was clear that the Annual Water Festival—usually longer than a week—captured the very essence of the town. We sampled all kinds of delicious Lowcountry fare; listened to the Parris Island marine band play, ballads bringing tears to our eyes; and danced along the water to fantastic local bands. My husband took the kids on a shrimp boat tour with Sea Eagle Market, and at dusk, we piled into a swing to bask in the warm salt breeze and watch fireworks light up the sky.
Beaufort hadn't been our usual beach vacation or a typical summer getaway. Even weeks later, the time we spent there still resonates with me—with us as a family. It had been more than discovering a new culture, a memorable adventure, or a week at the beach. I felt like I'd hit a reset button. Been transformed, even.
And every once in a while, I find myself looking at those beautiful antebellum homes—the ones listed for sale online, that is.