Reconnect and Unwind
Unanimous family fun in Lake Charles
Whoever coined the adage, "it runs in the family," never met the four of us. Sure, we share a name, but when it comes to interests, my husband, Tom, our two kids, and I are never on the same page. We're lucky to even be in the same book! So, when it comes to family vacations, it's a delicate dance to keep everyone engaged. Recently, however, I discovered a destination where everyone shared the same level of enthusiasm. No family member left behind! And the best part? It was effortless. The magic zip code belonged to Lake Charles, LA.
Where our senses ran wild
"I thought this was a museum," Tom said. The sign said we were in The Children's Museum, but our senses were telling us otherwise. This was more like a multi-level playhouse meets toy store meets elementary school classroom. 10-year-old Jenna and her eight-year-old brother, Gage, were wearing faces normally reserved for Christmas morning.
"Let's check out the bay-you," Gage said, ready to climb into the rowboat and claim his spot as captain. Boats are this boy's trucks. "It's BYE-YOU," Jenna corrected him. She was also anxious to explore the museum's Louisiana-themed areas. In addition to the bayou—complete with a shrimping boat area and a simulator so kids could see themselves fishing—there was a wetlands area where I caught Tom reading up on birds—his present favorite pastime.
We finally found a way to get Gage out of the rowboat. More boats! The large, hands-on water table was the perfect play space for learning about dams, diversions, and hydraulics. Not that the kids were hyper-aware they were learning. They were just racing boats and strategically placing obstacles to influence outcomes. Twenty minutes later, they traded their water station aprons for kitchen aprons. Then, after shopping in the museum's lifelike grocery store, they whipped up an imaginary meal of jambalaya (using the imaginary shrimp they'd caught in the bayou) in the museum's play kitchen. Those aprons were soon traded for art aprons. Jenna wore hers with the same enthusiasm most little girls have when wearing princess costumes. Art (i.e., making a mess) is her specialty.
While the piles of paint, glitter, and feathers on our Mardi Gras masks in the museum's third-floor art studio dried, we touched everything else in the building. Highlights? The rock wall, rope swing, and the biggest bubbles I've ever seen in my life, courtesy of the museum's Mad Science Bubble Lab. We even met, but didn't touch, the museum's mascot: an iguana named Iggy.
Where the wild things are, by car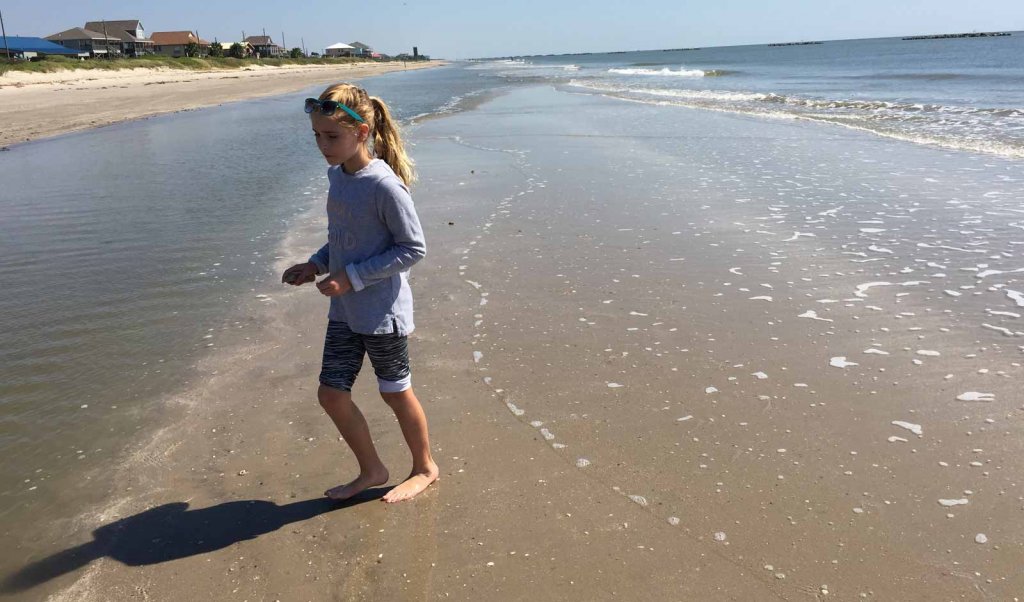 "I-guana see an iguana!" Gage shouted the next morning. "But this is gator country!" Jenna said. All eight of our eyes were peeled for wildlife as we cruised south along the Creole Nature Trail. We started the scenic drive deep in the heart of the Louisiana Outback at the trail's eastern gateway in Lake Charles. Since I was training for an upcoming triathlon, I was slightly worried about sitting in the car all day. But any fears of idleness vanished the second we stepped foot on the boardwalk at Pintail Wildlife Drive—just one of the many pullout points with walking trails.
The kids and I quickly became enamored with a baby otter in the creek below the boardwalk. It was napping on its mother's belly. I'm a strong swimmer, but I couldn't imagine doing the backstroke while carrying a sleeping kid.
"Would you just look at that yellow-rumped warbler?" Tom asked in amazement. His binoculars were trained on a small gray bird perched in a nearby cypress tree. He handed them to Gage, who seemed equally impressed. "Cool yellow mohawk."
Home to more than 400 bird species and widely known as one of the top 10 best birding destinations in the country, the Louisiana Outback was Tom's idea of Eden.
By noon, we'd made it down to the Cajun Riviera—the beachfront portion of this 180-mile-long All-American Road. In a matter of miles, we'd traded marshlands and swamps for the sandy beaches of the Gulf of Mexico. Tom was fascinated with the fishermen's housing—wooden shacks suspended on stilts. The kids hunted for shells like it was Easter morning, and I prepared our picnic lunch. There wasn't a cloud in the sky.
Where something has everything
I was one with the water. Okay, fine. I didn't glide as gracefully as the mother otter from yesterday, but I set a PR in my 750-meter swim. It seemed like an oxymoron. Here I was, on my final day of vacation, yet I was training, harder than ever, in an Olympic-sized pool.
SPAR Recreation & Aquatic Center was just 10 miles west of our hotel in Lake Charles. It's open to the public and has a 50-meter lap pool. The center is also home to a fitness center, jogging track, kids' zone, basketball courts, and, in the summer, an outdoor waterpark. If Tom or the kids uttered the words, "I'm bored," then they weren't human.
"Mom, can we please come back to try the waterslides when they're open," both kids begged as politely as beggars can.
"Honey, can we please come back to finish the entire length of the Creole Nature Trail?" Tom asked in a tone that would have closely matched our kids' if it weren't coming from a 40-year-old man.
Knowing I could have stayed in that pool until I turned into a prune, I couldn't disagree. Coming back to Lake Charles sounded like a brilliant idea. And for the first time, in recent history, we all agreed on something. Probably because that something seemed to have everything…