Jumping right in
We pile out of the car and heave our bags into the hotel as the hoots and hollers of, "The pool, the pool! When can we go swimming?" resonate through the lobby. For a moment, I ignore the obvious as I savor the delicious scents of the Deep South. I detect a mix of magnolia and hydrangea.
In no time, swimsuits are on, and my two girls are screaming, "Cannonball!" at the top of their lungs, doing their best to splash me good and proper. The Hyatt Place Hotel's pool is indoors, which the kids think is pretty cool, and has a greenhouse feel by design with plenty of chairs and tables scattered about. Ridgeland, Mississippi, is okay by me.
Ridgeland is vibrant, an artsy community with small-town appeal and hospitality. Even though the town has its roots in the mid-1800s, it has transformed into a master-planned community with green spaces and well-thought-out commerce sites. This friendly town, just a few minutes north of Jackson, continues to ramp up its appeal, and has garnered national attention with several awards, including "One of the Ten Most Beautiful Towns in Mississippi."
It's a comfortably warm day with a slight breeze as our family of four takes the short walk from our hotel to Ridgeland's Visitors Center, which is part of Renaissance at Colony Park's outdoor mall. The girls immediately fill their hands with brochures of all the things they want to see and do. I can feel the vacation momentum building just as my youngest holds up a brochure of the Mississippi Children's Museum and requests it to be our first stop tomorrow.
Treasure hunting
As the afternoon comes to a close, I convince my husband we need to squeeze in a little shopping since all the shops at Colony Park's outdoor mall are so readily accessible. He agreeably trots off with the girls for some toy shopping at Learning Express, and I start popping in and out of stores such as Red Square Clothing and Material Girl, where I find the cutest, blue, flowy maxi-dress. I also end up with a couple of pieces of jewelry from Bella Ches. I wear my new gold-edged arrowhead necklace right out of the shop.
For the next two days, we continue to hit the ground running, starting with the Mississippi Children's Museum. My older kiddo rolls her eyes at the thought of a museum—it was her younger sister's request, after all—but once there, I watch her be-bop around, forgetting she isn't supposed to like it. I casually slip out my phone and take a video of her in the Blue Screen room, where she's singing along to the beat of Mississippi artists. We laugh as they crawl through the museum's gastro climber, a digestive trip—they continue to cheerfully hum along to the Mississippi music still stuck in our heads throughout their journey.
Our second stop adds to our artsy culture, with some shopping at the Bill Waller Craft Center, home to more than 400 artists' collections throughout 20,000 square feet. This Ridgeland gem has been noted in USA Today, and has earned several titles, including "Travel Attraction of the Year" by the Tourism Association. My kids run straight toward a local craftsman demonstrating his talent for creating animals out of cast iron. We are lucky enough to catch him here today and to leave with one of his designs for our garden.
Back to the water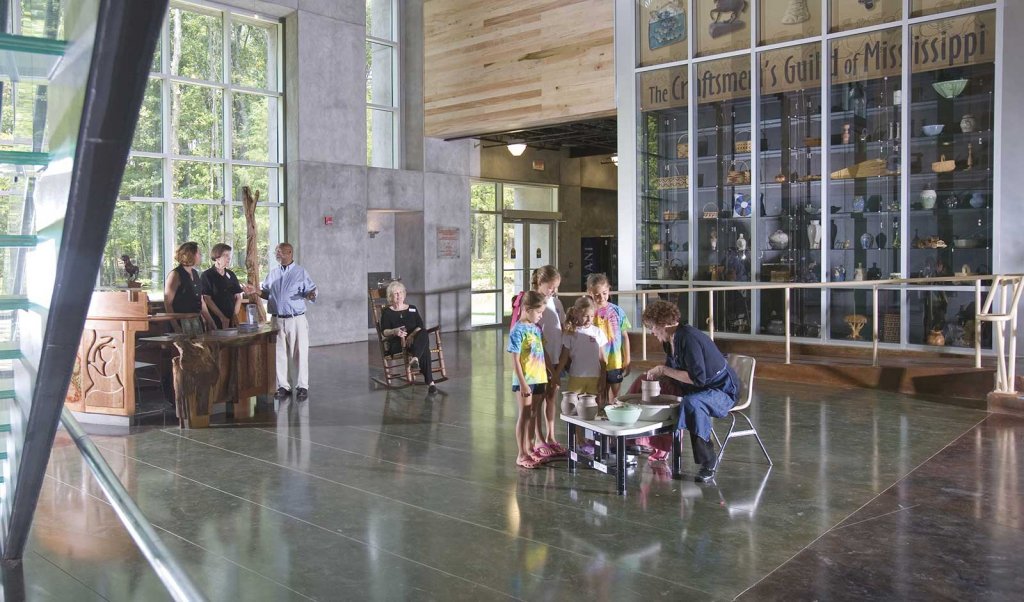 The next morning, we take time for a leisurely breakfast from Another Broken Egg Café, which serves breakfast goodies like blackberry grits all day long. And even though none of us can hold another bite, we stock up on treats from The Fresh Market and grab a bottle of wine from the Vintage Wine Shop for later. We head for a new adventure at Ross Barnett Reservoir, a 33,000-acre lake surrounded by greenery and trails, bordered to the northwest by the famous Natchez Trace Parkway. The girls pull on their life jackets and hop into our boat rental without a care in the world, and I quickly take a picture before the moment is gone.
My husband is the consummate fisherman, so he strings up the rods and double-checks his fishing gear for a hopeful day of helping the girls land a fish or two. It warms my heart to see how they watch him, how he ties on lures, how he casts, and how he always remains positive that he felt a fish tug on his line. I sit back, trying to get a little Mississippi sun while snapping pictures of the girls as they throw out a line and squeal with delight when they really do feel that electric tug.
Evening rolls near as we spread our travel blankets near the shore. I lean back and sip a glass of the wine we picked up earlier and smile at my husband as the kids scamper off to explore around us. Like magic, the sky begins to take on the look of a painting, and with every minute, the strokes become more brilliant and more glorious in color, and all is right in Ridgeland.