The Ultimate Lesbian Road Trip
Explore the California Coast
from San Fran to LA
California has to be one of our favorite travel destinations in the US! It's the perfect place to escape to from our Canadian winters and offers so many unique experiences. While San Francisco and Los Angeles are well known for being inclusive and gay-friendly, we've discovered many lesser-known destinations that are equally worth a visit. Our favorite way to experience California is by driving, and we've been taking road trips down to Cali every winter for the past few years. We load up our car, bring along our pup, stop at every Trader Joe's along the way, and have an amazing time. We can never get enough of the beautiful coastal views, and laid back beach vibes!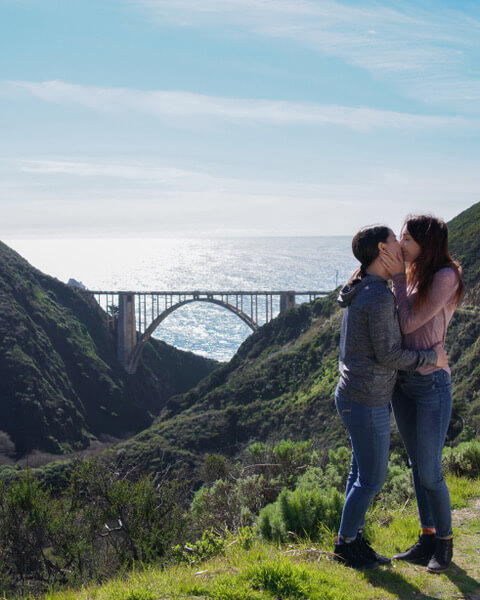 We're sharing an itinerary for an incredible road trip we did earlier this year. We drove from San Fran to LA, and stopped at all of the best spots in between! While we love the big cities in Cali, we truly fell in love with the smaller communities. They offer stunning beaches, picturesque towns, friendly locals, and so much natural beauty. While they may not have the thriving gay culture of California's metropolitan cities, they are nonetheless open and welcoming, and we felt incredibly safe and comfortable as an out lesbian couple.
Keep reading for the ultimate lesbian road trip from San Francisco to LA, including the ten stops you have to make between two of California's most popular cities!
Santa Cruz
Distance from San Francisco: 2 hours
Santa Cruz is best known for its long wharf and the Santa Cruz beach boardwalk amusement park! It also has a very cute downtown area with plenty of one-of-a-kind boutiques, and the vintage amusement park is full of classic games and rides. Be sure to walk the boardwalk for beautiful views of the beach and the bay, and you may even spot the local sea lions!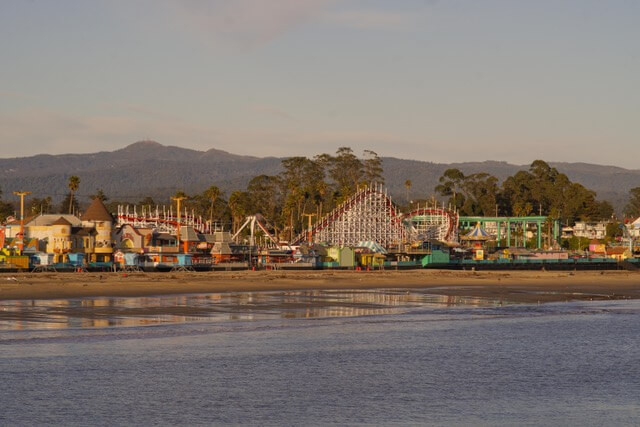 Don't miss: The San Lorenzo River Walk
Monterey
Distance from Santa Cruz: 45 minutes
The beautiful city of Monterey is a popular spot for shopping and dining, with its trendy Cannery Row and historic Fisherman's Wharf. It's also home to the world-renowned Monterey Bay Aquarium, which does excellent work in conservation and started the well known Seafood Watch program.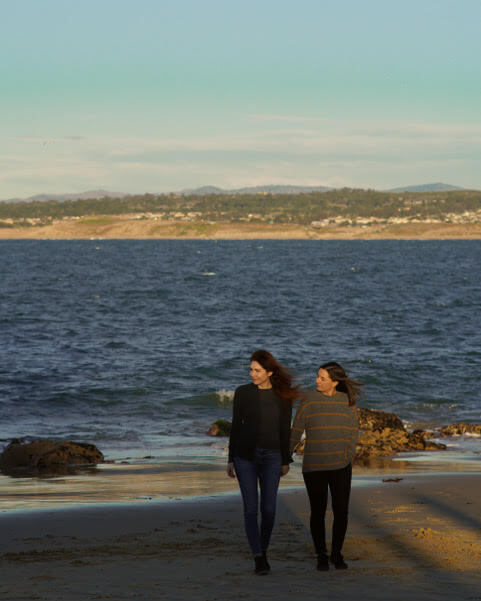 Don't Miss: McAbee Beach & San Carlos Beach
Carmel-by-the-Sea
Distance from Monterey: 10 minutes
Carmel is a small, upscale community on the Monterey peninsula. The main village is adorably picturesque, and the entire area is extremely dog-friendly! There are plenty of art galleries, museums, and boutique shops to visit, as well as Clint Eastwood's famous Mission Ranch Hotel & Restaurant.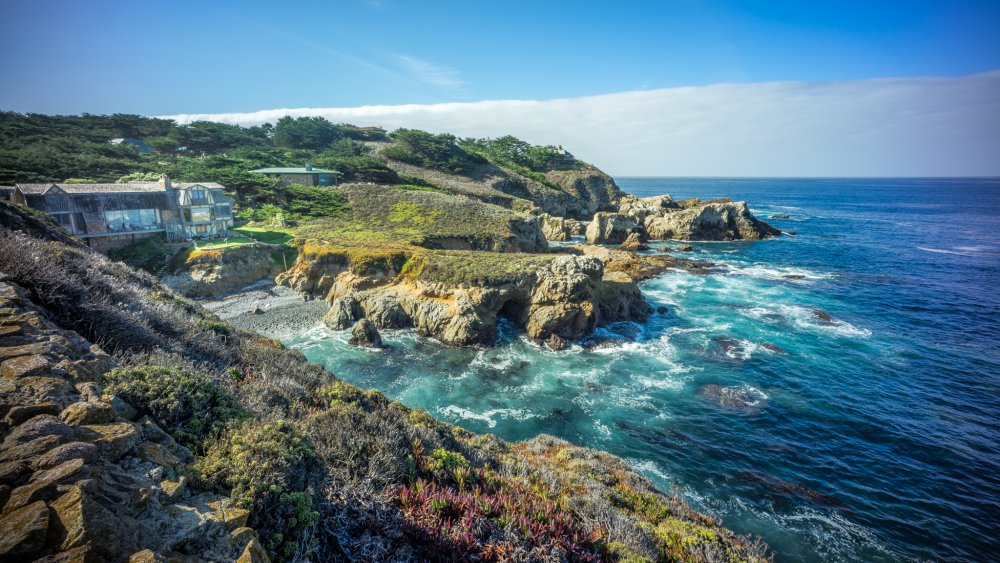 Don't Miss: Dog-Friendly Carmel Beach
Bixby Creek Bridge
Distance from Carmel-by-the-Sea: 30 minutes
This iconic bridge is located on Hwy 1 and marks the start of California's famous Big Sur. As one of the most photographed bridges in the state, it truly cannot be missed. Be sure to stop here for incredible views as you make your way down the coast!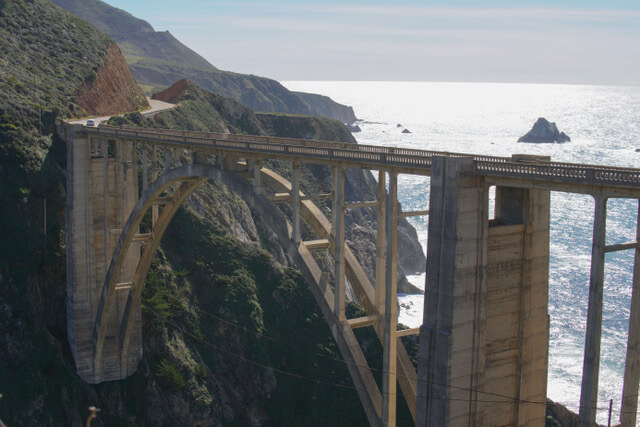 Don't Miss: Castle Rock Viewpoint
Pfeiffer Big Sur State Park
Distance from Bixby Creek Bridge: 1 hour
Big Sur is the gorgeous stretch of California coast between Carmel and San Simeon on Hwy 1. This scenic part of the drive offers the most incredible views of the Pacific Ocean, cliffs, waterfalls, beaches, and more. There are plenty of pull-offs and vista points to stop and enjoy the sights, so be sure to take your time. If you want to venture into the state park, there are redwood forests, natural hot springs, and so much more.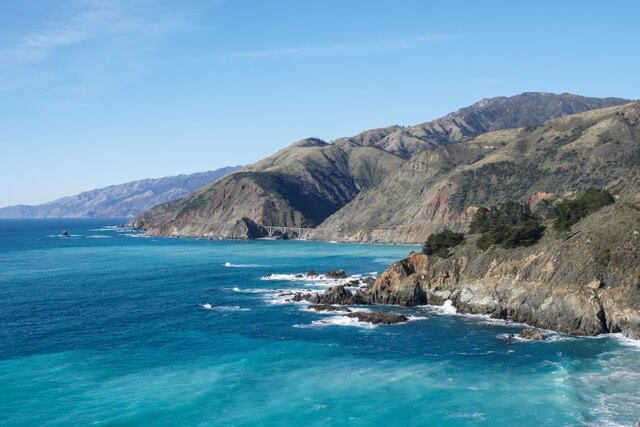 Don't Miss: Elephant Seal Vista Point
Hearst Castle
Distance from Pfeiffer Big Sur State Park: 1 hour
Located about 5 minutes off the highway in San Simeon is the famous Hearst Castle. Built between 1919 and 1947, this National Historic Landmark was designed by California's first female architect for William Randolph Hearst. The beautiful mansion offers daily tours, and the entire estate has been preserved as a historic museum. It's gorgeous!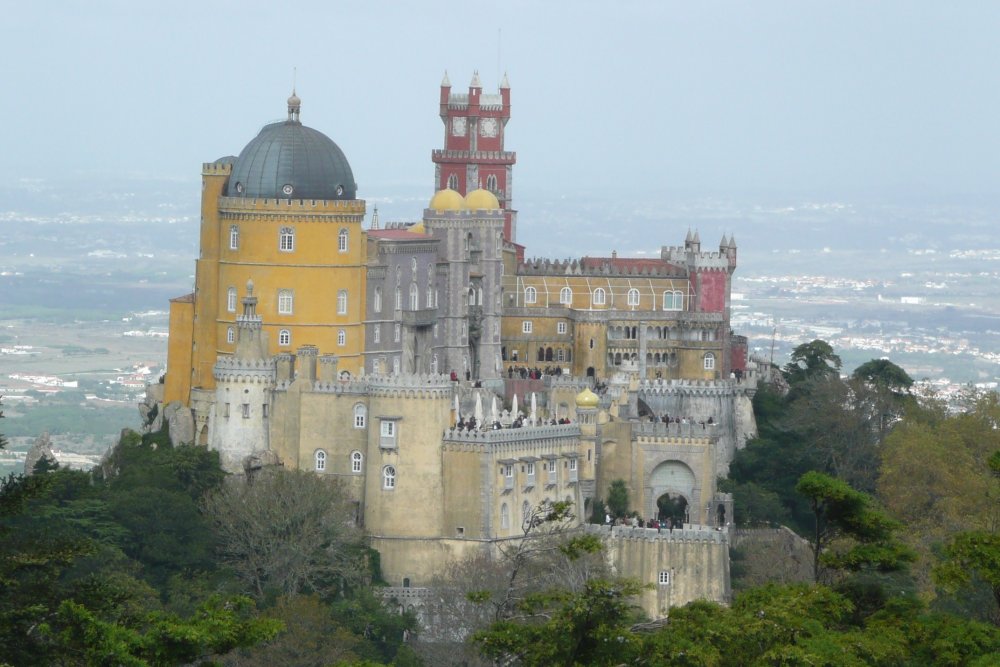 Don't Miss: The Gardens of Hearst Castle
Morro Bay
Distance from Hearst Castle: 1 hour
This seaside town is known for Morro Rock, a huge volcanic peak that sits just off its shore. Morro Beach is absolutely beautiful, as well as Morro Bay State Park. This is a great little destination to enjoy some of California's natural beauty and unique sights.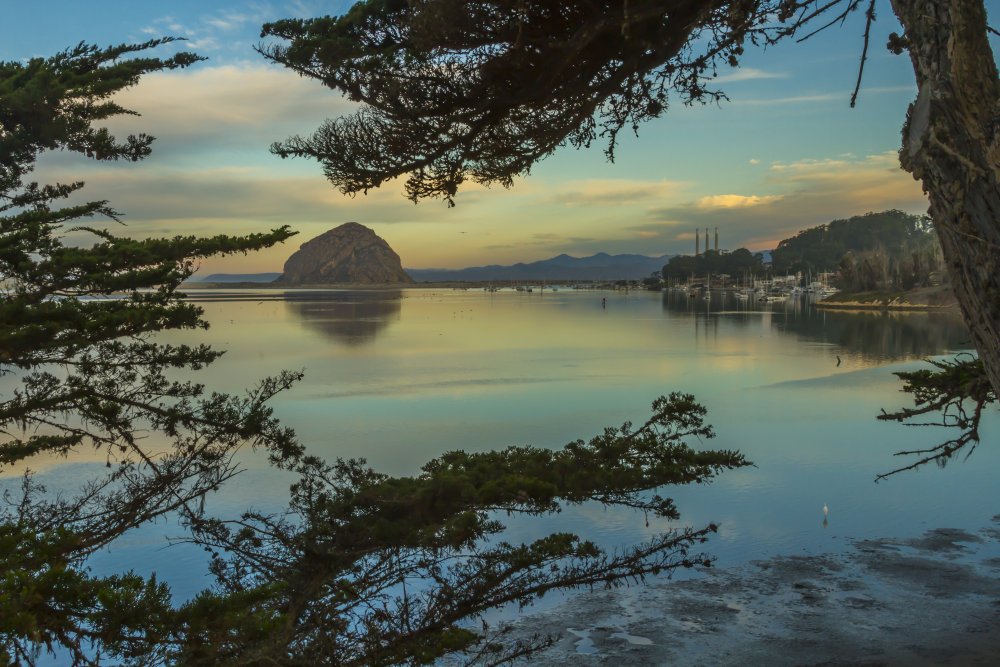 Don't Miss: The Embarcadero
Pismo Beach
Distance from Morro Bay: 30 minutes
This relaxed beach town is a perfect stop along the central coast. You can walk along the boardwalk, watch the surfers, and catch a beautiful sunset while you're at it. Other spots worth checking out in this area are the Monarch Butterfly Grove and the Dinosaur Caves Park.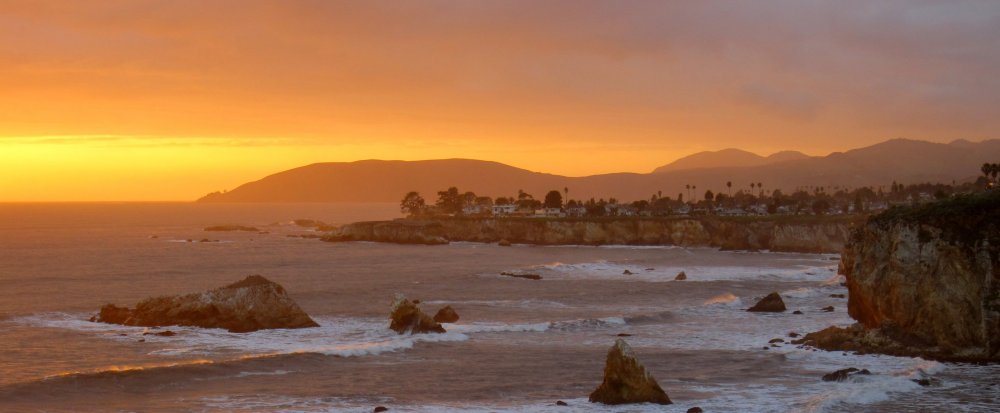 Don't Miss: Pismo Beach Pier
Solvang
Distance from Pismo Beach: 1 hour
This is the only time you're going to dip inland from the coast, but we promise it's worth it. Solvang is a small city nestled in the Santa Ynez Valley, and it's a little Denmark! It's well known for its Danish culture and Danish style architecture. It's completely adorable and is absolutely worth a visit, if not for its many bakeries, then for its awesome breweries. It makes for a perfect stop before Santa Barbara and is such a unique place to visit.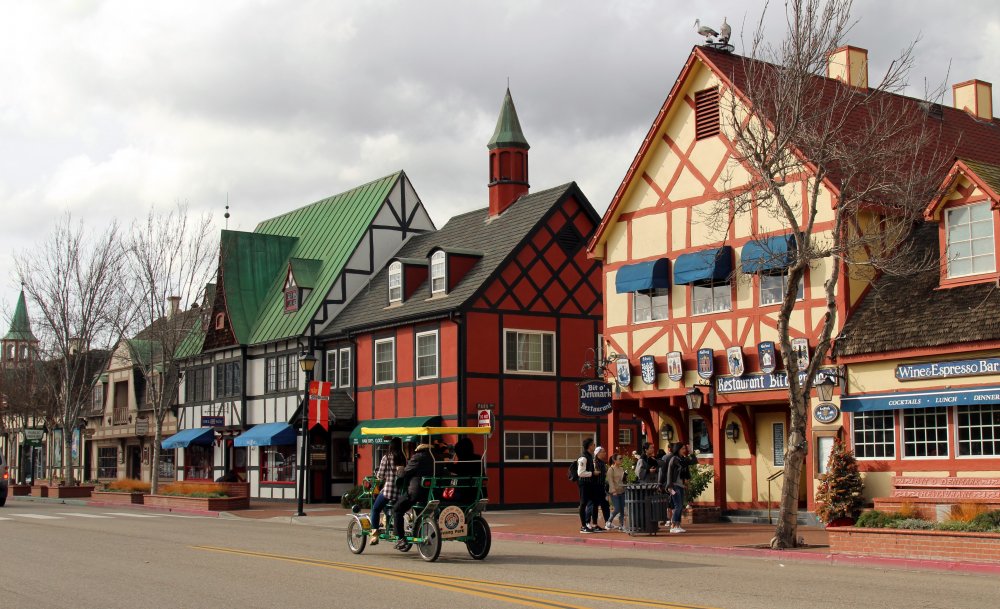 Don't miss: Solvang Brewing Company & Copenhagen Sausage Garden
Santa Barbara
Distance from Solvang: 45 minutes
The last stop before LA is the city of Santa Barbara. With views of the gorgeous Santa Ynez Mountains and beautiful Spanish colonial architecture, Santa Barbara is an amazing spot to visit. Known for its great food and wine and it's busy little downtown area, there are plenty of things to do during your visit.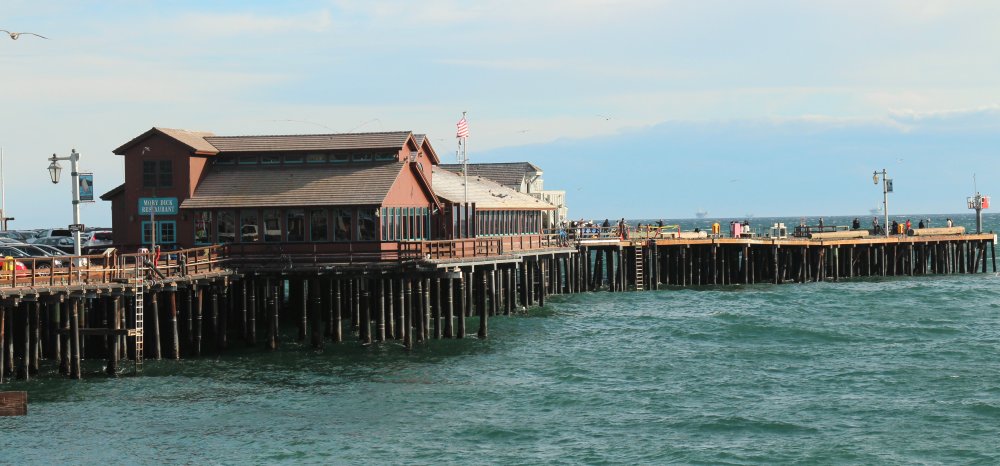 Don't Miss: Stearns Wharf
Finish in Los Angeles
Distance from Santa Barbara: 1.5 hours
You can take as much or as little time as you want to do this drive, depending on where you want to explore the most! Nothing is too far, but we highly recommend taking it slow and enjoying everything this region has to offer. We travel all over the world, and this road trip down California's central coast is still one of our favorites! It's gay-friendly, full of adventure, and so incredibly beautiful.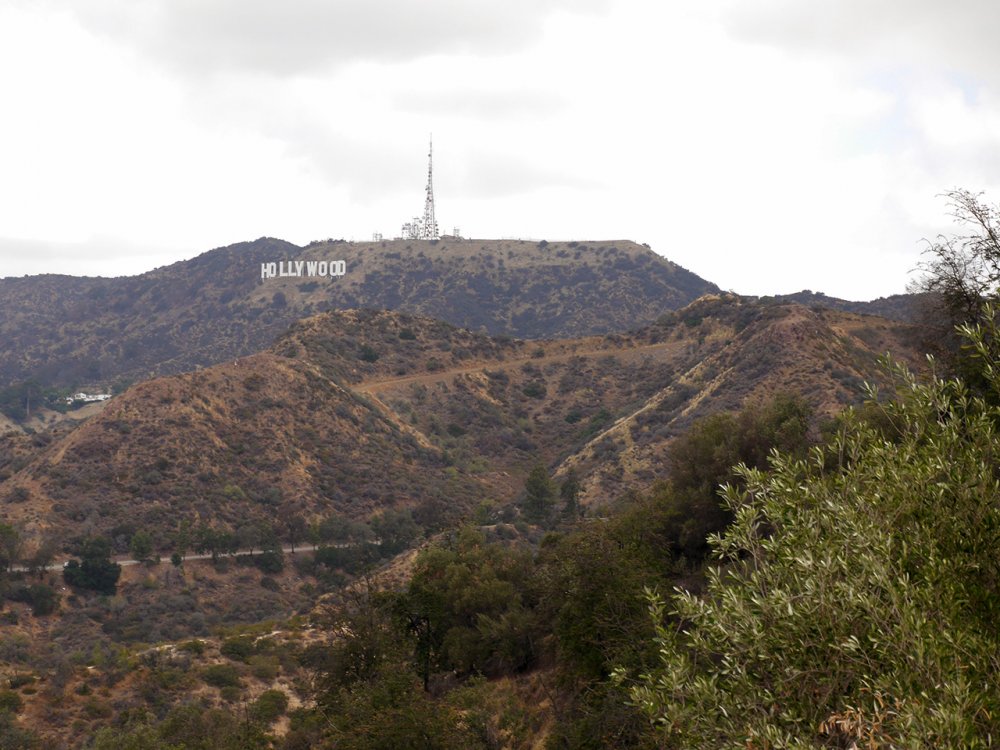 Extend your trip and head to Palm Springs next!