Coastal Camp-cation
Grown-ups can play while the kids are away in Martin County, Florida
Jake (Dad)
A three-in-one family vacation is our new favorite way to travel. Here's how it went for us in Martin County, Florida:
1. Independent kid adventures at day camp, with all the benefits of sleep-away camp, without the drawback of losing touch.
2. Adult time to do crazy adult things—you know, like sit on a beach without needing to keep our eyes on a little, energetic human the whole time.
3. Family time, because that's great, too! And reconvening was extra cool because we had new and exciting experiences to talk about.
Nicolas (age seven)
I can't believe I got to go on a vacation with my mom and dad and still got to do so much kid stuff. Every day I went to a place called Florida Oceanographic Society for camp on the Indian River Lagoon. There were so many animals and plants I'd never seen before.
We learned all about sea turtles, manatees, and dolphins. I got to pet a stingray in the touch tank. Its skin felt kind of like our cat Tabby's tongue, but softer. We also did this neat experiment with black marbles and blue marbles to learn how scientists can estimate how many fish there are by tagging them. Another day, we went into the water to find sea creatures and learned how to use nets to corral them without ruining their day. There were barracuda, a small snapper, shrimp and crabs, and even a seahorse! And this long thing called a pipefish, too. It looks kind of like a seahorse, but skinnier and without being curled up.
Cassie (Mom)
When I heard from a co-worker about the "camp-cations" for families in Martin County, Florida, I knew that would be the place for us this summer. After I showed Jake all there would be for the two of us to do here while the kiddo was at camp, I hardly had to twist his arm to plan a weeklong getaway we all could enjoy.
We began at the Old Colorado Inn, a family-friendly Old Florida-style hotel right in historic downtown Stuart. The owner, Steve, greeted us, and his mom came out and offered us some homemade cookies before Steve gave us a tour. It has a main building with a variety of suites and studios, plus three historic guesthouses for large or small groups. Steve told us one of them, the Ernest Lyons House, served as the town's first schoolhouse in the 1800s and is the site of the town's first wedding.
We stayed in the Coastal Cottage, one of the inn's standalone cottages. With its two bedrooms, full kitchen, and simple country decor—including hardwood-paneled ceilings—it was just right for us. As a bonus, we could walk to all the cute nearby shops and restaurants if we needed anything.
Steve asked what kind of breakfast we wanted delivered to our room in the morning—not only do they serve a complimentary continental breakfast, but they brought it to us. That level of homey comfort easily gives the concept of "luxury" a run for its money. We would experience real luxury later in the week when we splurged on a couple of days at a resort hotel. I wasn't used to so much personalized attention!
Jake (Dad)
We sprang for a couple of nights in an oceanfront room at the new Hutchinson Shores Resort & Spa, which is directly on the beach. This was the epitome of luxury, but approachable. It reminded me of a top-of-the-line cruise ship, with a nautical style that included an art fixture of a couple of marlins suspended from a high ceiling.
Both mornings there, after dropping Nicolas off at camp, we made a point of ordering room service mimosas and enjoyed the balcony view of the ocean.
"Know what?" Cassie said on the first day. "Most of my experience with the beach has been lying in the sun, looking at the ocean. Why don't we actually get out on the ocean?"
She didn't have to ask twice. I booked an eco stand-up paddleboard tour off Hutchinson Island with The Ohana Bus. We eagerly piled into the retrofitted little school bus, hauling the SUPs (stand-up paddleboards) on a trailer behind. The bus had a crazy black light, and the walls were plastered in psychedelic stickers that added to the hang-ten vibe.
The guides were super friendly. They're a husband and wife team, Josh and Cara, not to be confused with their Ohana Bus co-owners, Jordan and Tara, who also own the local favorite Ohana Surf Shop. When Josh and Cara heard it was our first time, they gave us one-on-one direction until we had our sea legs. They took us to paddle the Intracoastal Waterway off Hutchinson Island. We cruised around the sand bars and mangroves and spotted a few iguanas and dolphins. The dolphins were especially cool.
Later, we relaxed at the resort's tropical pool and went for a swim together. Then, we enjoyed a low-key lunch at the on-site Reflections Pool Bar, which delivers lunch right to your chair. I had the fish tacos—I'm a sucker for fresh local fish in any form—while Cassie had the crispy shrimp tacos, and devoured the accompanying avocado salsa.
When we picked up Nicolas from camp, he was grinning and overflowing with stories from the day. Then we told him we set up a family surfing lesson. He went silent for a good 10 seconds while his eyes widened until he practically erupted with a loud, "Magnificent!"
Cassie and I busted up laughing. I think that was the biggest, most powerful "happy" word he could think of.
Cassie (Mom)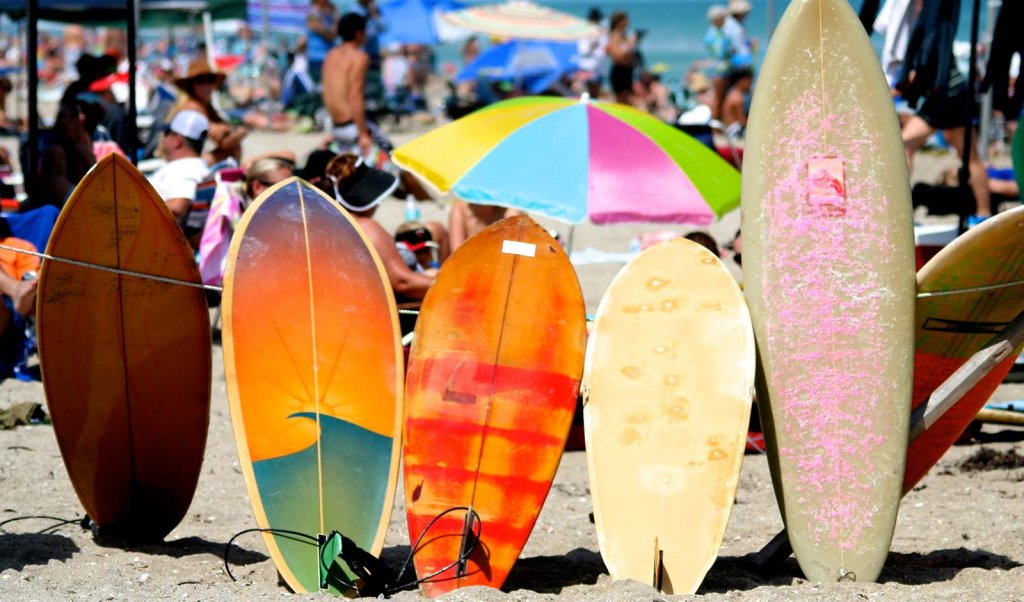 I'd never really thought of myself as the surfing-type, but after a great time paddleboarding, and evidence that good instruction makes things easy, I was inspired. And I was well rewarded with yet another fantastic experience. This time, with our little dude, Nicolas.
The instructor at Cowabunga Surf and Sport gave us a solid tutorial on land, then took us out into the waves. The hardest part was swimming out past the first few waves. Though I was focused on swimming, holding the board and ducking at the right time to get past waves, I also kept an eye on Nicolas. Initially, I was impressed by his tenacity, but then it occurred to me he might just be part otter because he got the rhythm down so fast.
Jake and I had plenty of opportunity to learn, practice, and play, but it was most fun for both of us to watch Nicolas developing the new skill. It was reminiscent of seeing him walking for the first time—he wobbled and fell and got up and repeated the whole process. In this case, he had professional coaching, which was great. When Nicolas rode a wave all the way in for the third time in a row, I knew he had it.
Nicolas
I learned so much about the ocean at camp that I'm pretty much a pro. But I need to do a lot more practice with surfing. The Cowabunga guy told me about surfing camp. Maybe I can do that one or another cool camp next summer.
Start planning your camp-cation getaway to Martin County, Florida