Fall Fun
By Danny Lee
Martin County's festivals make it a must-visit destination in the fall
Martin County events and festivals
The weather is mild, sea birds drift aloft, or bob in the glistening water, and the many fascinating shops, restaurants, and natural beaches are uncrowded and relaxed. It must be Martin County, Florida, in the fall.
Shopping? Crafts? Barrel rolls? Barrel racing? It's all here and gleaming like a pirate's booty of fun, but you don't need a treasure map to find it. Nestled between Lake Okeechobee and the Atlantic Ocean just north of West Palm Beach, Martin County's Old Florida flavor perfectly complements its rich trove of family fun. Fresh- or salt-water fishing, wetland exploration, trail rides, and beach time bring holidays to life and build long-term memories.
The area offers shopping, family activities, a full menu of fun events, and delicious dining headlined by the fresh seafood supplied daily by the community's fishing fleet, which early risers can watch chugging out into the bounteous Atlantic Ocean turned crimson by the rising sun.
Community spirit
Horsing around is what it's all about at the annual Indiantown rodeo. Every year in mid-October, professional cowboys match their skills against each other and snorting livestock in bronco riding, steer roping, barrel racing, and the thrilling bull riding events. Rodeo fans will love the action, and newcomers will enjoy learning about the sport. There's more to bull riding than just staying aboard for eight seconds. Cowboys are also judged on their style and form while trying not to be tossed into the middle of next week by a furious, 1,500-pound bull.
Located inland, Indiantown traces its roots to Seminole settlements and early trading posts, and cultivates a powerful horse-culture to this day. Also, the community was the site of several scenes from the Smokey and the Bandit movie franchise.
Early November has Martin County visitors excitedly scanning the blue Florida skies, thrilling to the aerial performances highlighting the annual air show based at Witham Field. Audiences ooh and ahh to the skill and daring of ace pilots performing barrel rolls, Immelmann turns, the climb, and seemingly out-of-control drop of the hammerhead stall, snap rolls, tailslides, and lazy eights. In addition, a flying circus of aircraft—including a Navy F-18 Super Hornet, an Air Force C-17 Globemaster, and the Bell UH-1 "Huey" chopper—will be available to photograph and tour.
An authentic South Florida street festival in the old, hip-shaking style, the Pineapple Festival dates back 30 years but has roots reaching to the late 1800s. That's when Danish emigrant John Jensen arrived to grow pineapples, marketing the juicy, golden delicious fruit around the globe. The area quickly became known as the Pineapple Capital of the World, a success still celebrated with the downtown festival featuring live music, street dancing, delicious food, and an authentic Bahamian Market bringing a true taste of the Caribbean to share with visitors.
Who says Christmas is just for landlubbers? Santa's eight tiny reindeer may prefer flying to swimming, but in Stuart, they can board one of the many local boats decorated for the season in flashing lights, streamers, tinsel, and animated seasonal figures. In early December, the boats set out on the St. Lucie River at 6 p.m. They'll chug through Sandsprit Park through Manatee Pocket, ending up dockside at The Twisted Tuna restaurant, where prizes for the most creatively decorated boats will be awarded. Guests can watch the spectacle from numerous shops and eateries all along the watery parade route.
Shopping events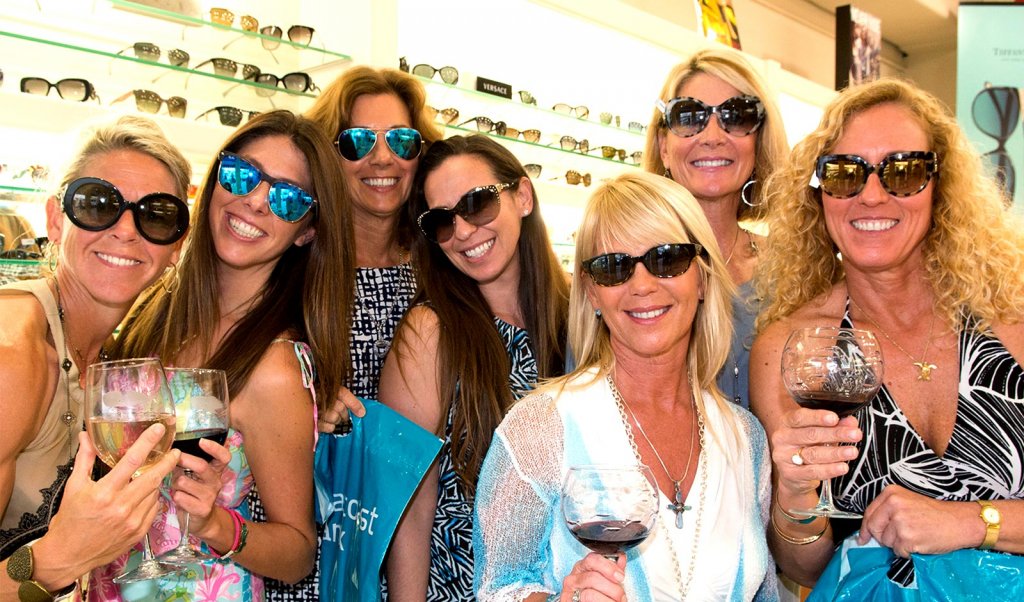 Along the St. Lucie River in downtown Stuart, October also brings the Stuart Fall Craft Festival. Wander among the many booths showcasing the talents of artisans from around the country. Rare is the visitor who doesn't fall in love with the many crafts on display along Osceola Street, from painting and glass-blowing to unique jewelry, photography, and sculpture. Rarer still is the guest who can resist a purchase or two to bring a special Florida accent to their own home.
Downtown shops like Aphrodite Style, Funky Monkey of Stuart, the quirky and whimsical Earthtones, and Gumbo Limbo Coastal Chic make walking fun in early November. The Stuart Stroll brings guests to some of the most intriguing shopping venues in the Southeast and keeps them happy with an endless selection of must-have signature keepsakes. What better way to reminisce about a great trip to Florida?
Dozens of local shops, entertainment venues, and restaurants in Historic Downtown Stuart celebrate fall by spilling out onto the sidewalks and tempting shoppers with the best deals of the season. The retro-flavored April Daze is just as attractive in November as April, and Monkee's of Stuart, O' Sole Mio, and Victoria Rose delight eager shoppers.
Afterward, consider going raw at the Riverwalk Café and Oyster Bar or pick one of the many other one-of-a-kind, tasty eateries downtown.
Family events in Martin County
Kids love Halloween, and Martin County's Hobgoblin event brings downtown streets alive with hoots and ghostly boos, laughter, and squeals of mock fright. Kids outfitted for Halloween go on parade along Osceola Street, ending up at Haney Circle for a fantastic Halloween blowout. Along the way, merchants turn out for safe trick-or-treating outside their shops, and it's not unusual for parents to find themselves a treat or two along the way.
After all that fall fun, turn your attention to winter. Visions of sugarplums are hard to beat at Christmas, but Martin County comes close with its Main Street celebration of the season. A cappella caroling courtesy of the Celebration Singers will set families humming. And the Martin County Tigerettes's high-kicking hometown spirit will leave guests pleasantly nostalgic for their own Christmases past. But there's always room for new traditions, like face-painting, pictures with Santa (bring your own camera), a petting zoo bringing the traditional Christmas manger scene to furry life, plus milk and cookies leading to a beautiful Christmas tree lighting ceremony as the sun sinks in the west. Merry Christmas!