Historic Adventures in Platte County
By Dina Mishev
A summer road trip in Wyoming
Hartville, population 60, greets visitors with a heart-shaped sign: "WELCOME TO HARTVILLE, WYOMING. WYOMING'S OLDEST INCORPORATED TOWN THAT IS STILL IN EXISTENCE." Pretty cool.
I hadn't come to eastern Wyoming's Platte County for Hartville, or any of its other four towns, but it's because of those towns that I stay longer than planned.
Each town—Hartville, Wheatland, Glendo, Guernsey, and Chugwater—has a distinct personality. What links them is a friendly, slow pace that makes you feel as if you stepped back in time.
Platte County's, monuments from the past still function and thrive. Hartville is home to the state's oldest bar—Miners and Stockman's. The County is also where you can find the state's oldest soda fountain, the Chugwater Soda Fountain­ in, you guessed it, Chugwater. Sunrise, a former mining town, has the oldest YMCA building built west of the Mississippi. Wheatland and Guernsey are the county's largest towns. While walking around the downtowns of each, drivers consistently greet me with a friendly wave.
The county's most feel-good place isn't in a town, but a ranch set in the rolling, grassy hills several miles north of Hartville. Kindness Ranch is an animal sanctuary offering a forever home to former research animals. It's open to the public and there are four yurts you can rent for a one-of-a-kind overnight stay.
All of this is in addition to the primary reason my boyfriend and I decided to come here. We initially were craving some outdoor recreation and history.
Kick it at the Beach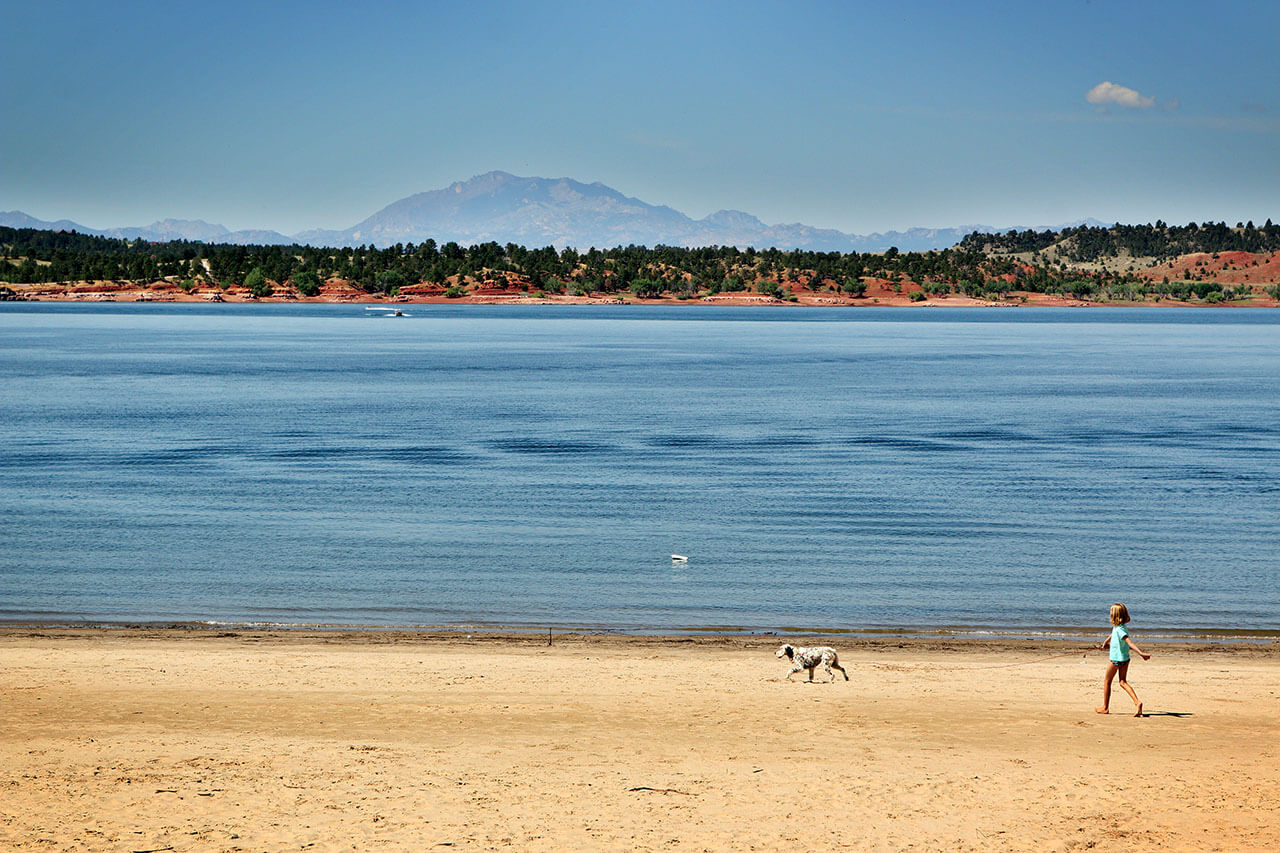 I never thought I'd debate which beach to go to in Platte County, mostly since it never crossed my mind that Platte County—or Wyoming in general—had beaches. However, between the county's two state parks, there are more than one dozen beaches, including two Sandy Beaches, one in Glendo State Park and the other in Lake Guernsey State Park.
My boyfriend and I arrive at Sandy Beach, about halfway up Glendo Reservoir's eastern shore, via the scenic Patten Creek Road—a back way from Guernsey that you should drive as long as it hasn't rained recently; it's dirt and can quickly become a quagmire.
We are rewarded with an idyllic scene—hundreds of people relaxing under colorful umbrellas pitched on the expansive white sand, others swimming or floating on colorful inflatables; couples row on stand-up paddleboards. There are motorboats towing water skiers, while others sit with their engines off as those aboard fish. I can't believe this is in a landlocked state.
Hiking and Biking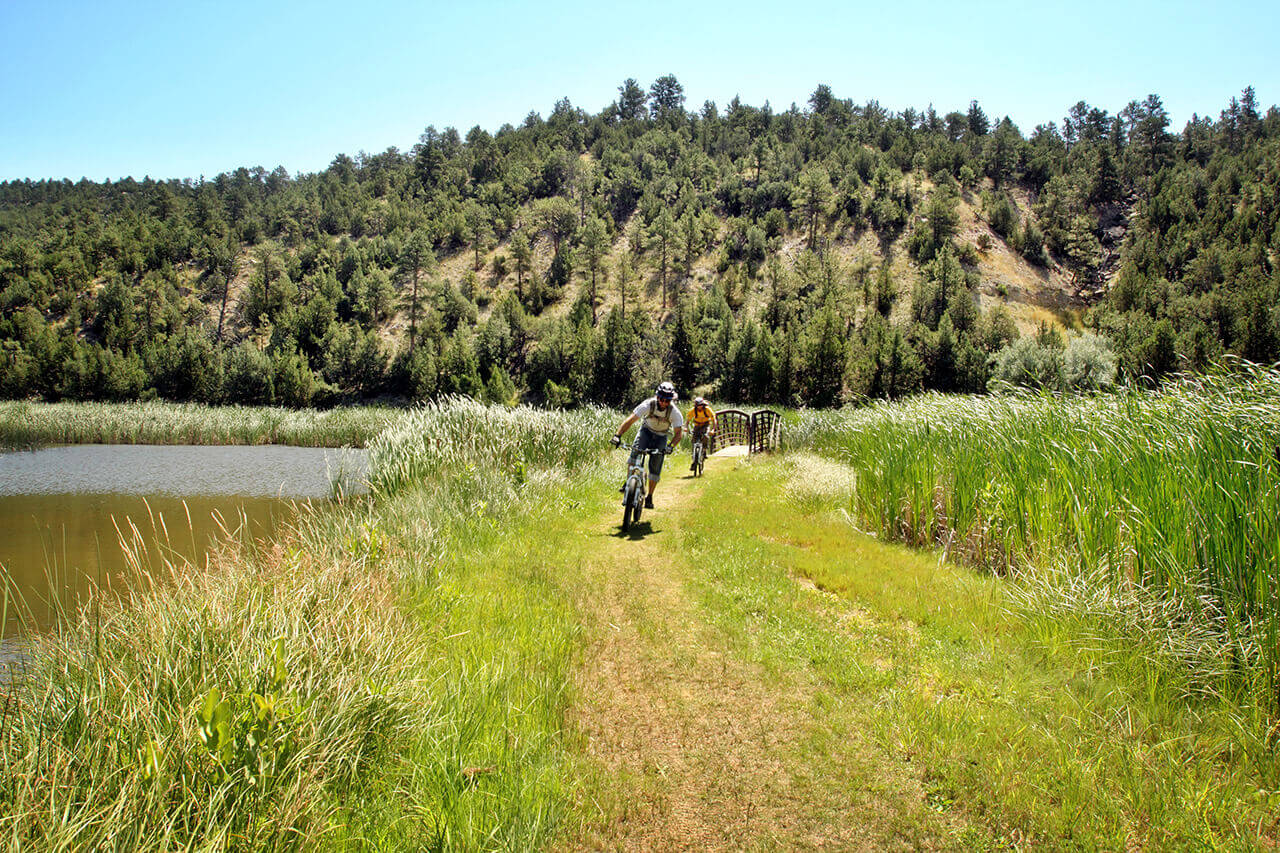 Glendo State Park is celebrating its 60th anniversary in 2019 and has more than 40 miles of trails purpose-built for mountain biking. However, since I recently suffered an injury, I decided to explore by foot instead of on two wheels.
An argument could be made that hikers better enjoy the views from Rattlesnake Rim than the bikers who speed down the steep, switchback trail. Rattlesnake Rim is one of two trails rated as expert—Glendo has color-coded trail maps: green trails are easy; yellow is moderate; red is expert.
Two Moon Trail, a short loop through a campground of the same name, is beginner-friendly. It's flat with only a couple of rough patches. My favorite trail in the park is another beginner—The Wetland Trail. It winds through a riparian ecosystem at the mouth of the lake. I pass two piers, both being used by fishermen, and avail myself of one of the benches along the trail. In the early spring, bald eagles and sandhill cranes migrate through here. I'm told that lucky summer hikers might spot a pelican or two. I see ducks, which still puts a smile on my face.
Standing on the 10,275-foot summit of Laramie Peak, I feel like the luckiest woman in the world. In the mid 1800s emigrants traveling the Oregon, Mormon, and California Trails used this mountain, the most prominent peak in the Laramie Range, as a landmark. It first appeared on the horizon when they were about 85 miles away. On May 28, 1849 emigrant Dan Gelwicks wrote in his diary, that Laramie Peak "is covered with snow, which glitters in the sunshine like a diamond in the dark." From the time emigrants spotted the peak, it took most of a week to reach it.
I can see all the way east to Scotts Bluff National Monument in Nebraska, south to too many snow capped peaks in Colorado to count, and west to snaggly profiles of a far-off mountain range.
Living History
American History was one of my favorite classes. Two things in particular enthralled me: the Civilian Conservation Corps (CCC) and the Oregon Trail. This is why while standing in—in—three-foot deep channels cut into sandstone just outside Guernsey, I got goose bumps. These "channels" are actually ruts cut into the sandstone by the wagons of Oregon Trail emigrants. Guernsey's Oregon Trails Ruts State Historic Site is the only place in the state you can get this close to Oregon Trail history. Just down the highway from the ruts is the site where emigrants would camp their first night after leaving Fort Laramie, a major resupply point, and where several thousands of them carved their names into a sandstone cliff. Today Register Cliff is in the National Register of Historic Places.
Nearby Guernsey is another National Historic Landmark, Lake Guernsey State Park. Some of the finest structures built by the CCC in the Rocky Mountains are here, including my first stop in the park, the "million dollar biffy." CCC workers built this latrine from logs and sandstone they felled and quarried locally. It's 21 feet wide and 42 feet long, and easily the most impressive outhouse I've ever seen. They jokingly named it the "million dollar biffy" because of how much time and work went into it. I don't dawdle at the bathroom that long though, since it is a bathroom. Next up another CCC project, the Guernsey Museum.
The museum, set on a cliff overlooking the lake, is made of hand-forged iron, hand-hewn logs, and flagstone. The exhibits are almost exactly as they were when it opened in the late 1930s.
Also, there's The Castle. It's not a castle, but a two-story overlook and picnic shelter, with a large stone fireplace that looks like a mini medieval fortress. I select my lunch seat at The Castle so I can see through the arch on the shelter's west side. The arch frames one of the most beautiful views of Laramie Peak, and I think it may have made the food taste a little better.
Plan your next picture perfect vacation in Platte County, Wyoming.