Taste Buds
What we learned, and remembered, on a delicious Crystal Coast trip
I sat hunched over my keyboard, trying to figure it out. Where we should take our special trip this year?
For more than 40 years, my wife, Marie, and I have taken an annual trip with our dearest and oldest friends, Dan and Deborah. The four of us went to high school together. We were inseparable in those days. And we'd likely still be today, except for one tiny problem: we live on opposite sides of the country!
The four of us have a pact that helps keep our bond strong. No matter how busy we get, no matter how many grandbabies are born, we find one weekend every year to get together. We're particularly fond of scenic small towns with friendly folks. We like the pace to be slow—but the list of potential activities to be long.
"This is it!" I yelled as I scanned the Beaufort Wine and Food Festival webpage, held over five days each spring in a little coastal town in North Carolina. The pictures I saw online of Beaufort reminded me of the spot where the four of us grew up. I could almost smell the pluff mud in the air and feel the ocean breeze. I crossed my fingers that I would be able to find some local oysters fresh off a trawler.
Marie and Deborah are foodies, interested in trying different types of cuisine by top chefs. They're also wine connoisseurs. I knew this trip would not disappoint them—this 85-mile stretch of pristine coastline has a great reputation for its local fare. Dan and I aren't as eater educated as our wives, but that's not a problem—wherever we go together, we have a good time.
Beaufort Wine and Food
The event turned out to be fun for us all. It's a series of tastings, dinners, and receptions where the best of the Crystal Coast, a stretch of North Carolina coastline that includes Beaufort, is served up. During the Wine and Food Festival, participants buy tickets to the event they're interested in. So we never had to wait in long lines or fret over whether there would be a table for us.
I was glad I had gotten our tickets a couple weeks in advance. Now in its twelfth year, the event has become an acclaimed hot ticket where food lovers get to try great fare and also mingle with chefs, winemakers, and brewmasters.
At the Vin de Mer Epicurean Village, for example, there were more than 300 wines to try and an even greater number of amazing hors d'oeuvres, all prepared by local and regional restaurants. Just as we'd expect in friendly North Carolina, participating chefs took the time to ask if we liked their dishes, answer our questions about how they made them and even entertained our inquiries into what wines would pair well with each.
"I need your professional opinion on something else," Dan said to one chef.
"Is this guy more handsome than a boiled frog?" he joked, pointing a finger at me. "I just can't tell."
We all had a good laugh—the chef too—as I jabbed Dan in the arm.
Hors d'oeuvres to homes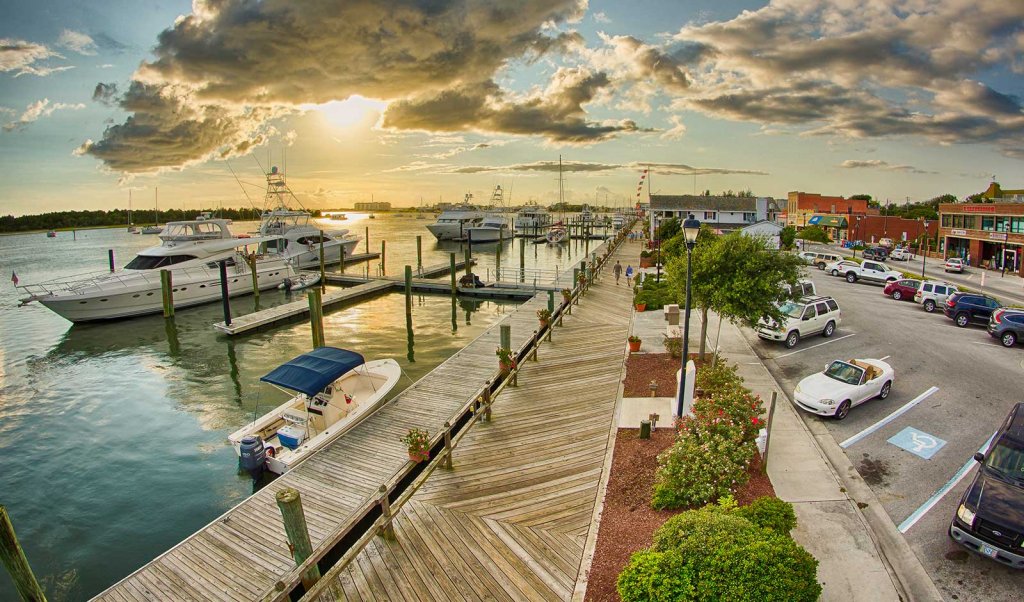 Instead of a traditional dinner, we went on the festival's Historic District Wine Walkabout, a tour of homes, where food and drink were served. It was a leisurely, and tasty, walk down memory lane.
At each home, we met chefs and winemakers who artfully paired a bite and a sip. We would nibble as we admired each home's charming features. One beautiful old home reminded me of the one I had grown up in. Better yet, I was surrounded by a group of friends who remembered my childhood home too and agreed that it shared the charm.
As we tasted eclairs dripping with chocolate, made by local bakers, Dan and I laughed over our days on the basketball court.
"It seems the number of baskets you made during your high school career grows every time I see you," Dan teased.
"But not as much as your belly does," I joked back.
The full day left us tired, so we headed back to the Inlet Inn in downtown Beaufort. A family that clearly believes in making their guests feel welcome and appreciated runs this harbor-front bed and breakfast. Case in point: the breakfast was described online as "scrumptious" and I was looking forward to it.
Marie was impressed with our room's vaulted ceiling and fireplace. I most enjoyed our private porch. I gave Marie a squeeze as we looked out over the harbor.
"I've got a special present for you in the morning," she said.
A stroll down memory lane
It turned out to be a great surprise: an oyster expedition offered by Hungry Town Tours.
We chose a walking tour—although they offer biking ones, too—during which we visited several local Beaufort restaurants and sampled various dishes made with NC oysters. Each restaurants' preparation varied greatly: cold and deep-fried, served in a roll or in its shell, soaked in lemon and topped with cheese.
Between stops and slurps, our guide shared the history of the area; Beaufort's always been tied to the coast. As we overlooked boats bobbing in the water, I shucked my first oyster at Clawson's 1905 Restaurant, popped it in my mouth and tasted the sea.
As a parting gift, Hungry Town gave every couple one dozen Cedar Island oysters, packed for travel.
But I couldn't wait until we got home to eat those beauties—I was able to convince the kind folks over at Old Salt Restaurant & Oyster Bar to steam them for us for our supper!
"Mmmm," I said, as I savored the taste of horseradish on a fresh oyster. "Reminds me of being a kid back home."
I opened my eyes to see Marie, Dan, and Deborah smiling at me.
"And now I have another great memory," I told them. "Eating oysters with friends of a lifetime."
Find out where to stay in Crystal Coast!