Culinary Delights
By Katie Jackson
Martin County, FL—where eating out is eating local
Restaurant is a French word. Its root is restaurer—meaning to restore and refresh. Most Martin County restaurants don't specialize in French food. But they have mastered the art of putting the fresh in refresh. They're on a first-name basis with the local farmers and fishermen who supply their kitchens, often on a daily basis. Anything worth eating grows or swims here, year-round, so there simply isn't a need to source from elsewhere. Whether you're craving seafood that's never seen the inside of a freezer or a salad with ingredients that have traveled less than 10 miles to get to your plate, there are no shortages of culinary delights in Martin County. Here are a few highlights. Bon appetit!
If you can't find a dish here, it probably doesn't exist. In addition to seafood, this 10,000 square-foot waterfront establishment, the largest family-owned of its kind, also serves pasta, steaks, and pizzas—made in a traditional brick oven. Despite its high volume—Twisted Tuna seats 600 indoors and outdoors on two levels—Executive Chef Tavoris Ingram and Purchasing Director Rick Julylia hand-select produce, fruit, and herbs arriving daily, coming from just 1.8 miles away. (Look for the green leaf symbol on the menu to see what's local.) Twisted Tuna is located at Manatee Pocket with free valet parking and docking so boaters can take advantage of its Hook-N-Cook special. Accepting reservations for groups of 20+, it's perfect for large parties.
Named for a woman who owned a local smokehouse and shared her recipe, Mrs. Peters' fish dip is a fan favorite at Shrimpers Grill & Raw Bar, voted the "#1 Waterfront & Seafood Restaurant" by Stuart News. This Manatee Pocket waterfront place is best known for its coconut shrimp and Bahamian conch chowder, but its "By Popular Demand" menu features Tex Mex dolphin, lobster cream salmon, shrimp jambalaya and watermelon pizza—slices of watermelon adorned with fruit and shredded coconut. The romantic ambiance is just as noteworthy. Sit on the deck with your loved one and enjoy the water views or dance to the live band playing steel drums.
Located a four-minute walk inland from Manatee Pocket, Gettin' Crabby should not be judged by its lack of water views. Patrons come for the food. The steamed crab is king, but the menu also features pasta, salads, and burgers—hand-pressed with fresh Angus beef ground in house. Kitchen staff picks up produce daily at the farmers market across the street. The Fresh Day Boat Scallops are also extremely fresh. They come from boats returning to harbor within 24 hours of leaving. It's particularly popular on the weekends when there's live music. Gettin' Crabby also specializes in catering and hosting private parties. Tip: check out the new sister location, Crabby's Seafood Shack, just five miles up the road.
Servers at Flash Beach Grill not only have to memorize the menu, but they also have to be able to rattle off what was caught today, when and ideally, by whom. That's because this boutique restaurant in Hobe Sound prides itself on purchasing its entrée stars from local anglers and divers. The theme of the menu is "Floribbean" Asian fusion with the latter influence found in dishes like spring rolls, sushi, and the "Hula Girl Hibachi"— seafood served alongside stir-fried vegetables. The food here is in such high demand, owner and Executive Chef Robert Breinig and his wife, Anita, an event specialist, also run a mobile kitchen bringing the restaurant's crowd-favorite fare on-site at any event.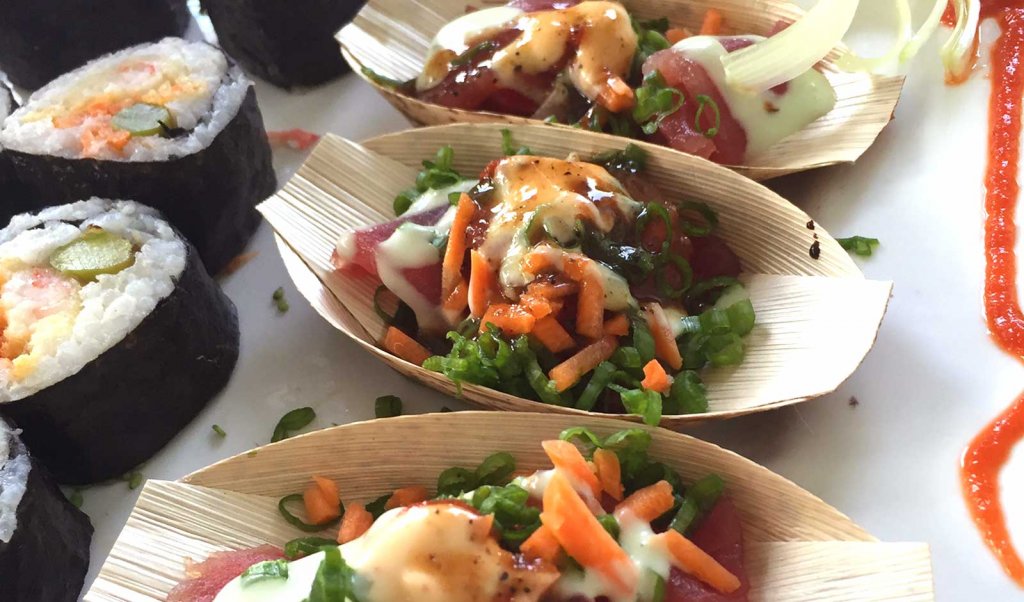 Fresh Catch Seafood Grill's owner Eric Olson doesn't hide in the kitchen. He's often seen wheeling a cart displaying the day's catches around the dining room so patrons can point to the fish they want. A lifelong fisherman, Olson only serves fresh whole fish arriving daily. Catches of the day typically include yellowfin tuna, golden tilefish, and cobia, but the grill also offers steaks, wraps, tacos, and has a raw bar. Oyster shells from the restaurant are then donated to the Florida Oceanographic Coastal Center in Stuart to be used to help rebuild reefs in local estuaries. Tip: if you're dining with a partner, split a combo—a complementary mix of proteins paired with seasoned waffle fries and coleslaw.
What started as a small, no-frills eatery on the bank of Martin County's Indian River is now the "house that fish built." In fact, New England Fish Market & Restaurant (two restaurants now) even evolved into a wholesale fish business complete with a lobster warehouse facility. Besides lobster, the menu here is entirely subject to availability. All of the seafood arrives daily and is hand filleted in a temperature-controlled room to ensure freshness. The restaurant offers plenty of seating, but to-go orders are a hit with picnickers, and the robust catering menu features regional dishes like New England clambakes, Low Country shrimp boils, Bar Harbor fish & chips, and, of course, Floridian Fish Fries.
Diners at Pirate's Cove Resort and Marina come for the food, but they stay for the views. Pirate's Loft upstairs seating offers prime people-watching, bird spotting, and boat window shopping in the marina below. Of course, catching a sunset here also draws quite the crowd. Located in Manatee's Pocket, it's the perfect dock and dine destination. The menu features seafood handpicked by the chef and prepared in creative ways that pay homage to Caribbean culture. In fact, downstairs at the Tiki Pirate Bar, you can dance barefoot (they imported soft, white sand) while live bands play beach music, and bartenders serve up tropical drink specials.
District Table & Bar's menu is so dynamic it can change hourly. Look on the left side to take in the day's specials, all contingent on what's in season. Chef Jason not only sources his proteins and produce from local purveyors, but he also gets his restaurant's coffee from a South Florida coffee roaster. Despite its sophisticated fare—expect to hear words like organic, heirloom, and mignonette and enjoy artistic presentations such as crispy pork ear strips in wooden boxes and frothy milkshakes in mason jars—District Table & Bar has laidback vibes (i.e., show up in flip-flops and shorts). But also know the rustic, intimate setting also lends itself to making it a perfect date-night option.
Even if you've been a lifelong fan of coconut shrimp, King Neptune's will probably make you question the frozen pre-battered kind you've had in the past. This modest establishment prepares its handmade coconut shrimp daily. While waiting for a table in the cozy dining room, enjoy a cold drink at the window bar outside. King Neptune's is family-owned and still uses family recipes on its fresh fish, which arrives several times per week. The food is unpretentious but tasty enough that it earned King Neptune's the top spot on TripAdvisor out of 216 restaurants in Stuart. On a date? Pay a corkage fee and you can bring in your own bottle of bubbly. Don't forget to check out the work by local artists hanging on the walls.