8 Reasons Why Your Family Should Visit Tamarack Resort This Summer
Discover your next summer adventure at Tamarack
By Marissa Lovell
Some families bowl; some have game nights. My family is what you would call "outdoorsy." Growing up, we spent our summers camping, hiking, fishing and taking our boat out on the lake. Some of my favorite childhood memories are sitting around a campfire under the stars, fingers sticky from s'mores, listening to my dad tell campfire stories about the adventures of a wiener dog named Chipper.
It had been years since the whole family had gotten together under one roof for more than 24 hours. My sister lives across the country with her husband and their two girls, my smarty-pants little brother has been studying abroad for the past four years and our parents were coming up on 30 years of marriage. Needless to say, a family vacation was long overdue.
Because being outside was such a big part of our family while growing up, we knew we needed to vacation somewhere we could feel the thrill of the great outdoors while having enough activities to keep us all entertained. Our week at Tamarack Resort in Idaho had all that and more.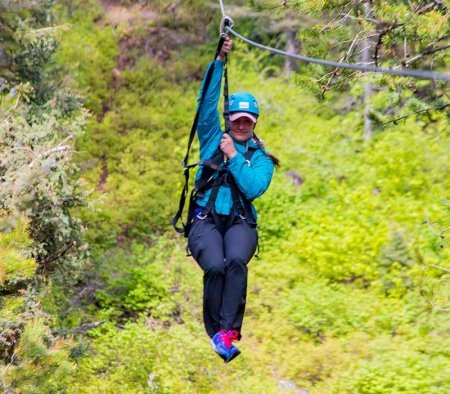 Cabin, Chalet, Condo or Cottage?
I'm the type of person who fully embraces a "home away from home." I love having a vacation home that makes it easy to hang out, cook a couple of meals and really settle in. Tamarack offers a variety of charming lodging options, including cabins and cottages. To keep us all under one roof, we rented a cozy mountainside chalet — a gorgeous home with enough beds, tons of bathrooms, a big, beautiful kitchen, a laundry room, an amazing wraparound deck and a hot tub.
Even though I adored our rustic mountain hideaway, what I really had my eye on was Tamarack's newest residential offering, The Village at Tamarack — luxury ski-in/ski-out condos set above darling shops and cafes. As a snow-loving bunch, we were drooling over the thought of owning one; and even though they weren't yet available for move-in, we were seriously considering pre-purchasing one for winter family getaways.
Take a Mind-Blowing Zipline Tour
I have to be honest, I underestimated Tamarack's Zipline Canopy Tour. To my surprise, there were a total of eight different ziplines, two suspension bridges and a treehouse standing 105 feet high.
We blissfully soared above massive Ponderosa pines and trickling creeks. The air was so fresh and the sights were unreal — stunning bird's-eye views of Lake Cascade sparkling down below us and mountains towering in the distance. The experience turned out to be unlike anything I've done before, and I'm convinced that this is the best zipline experience in Idaho.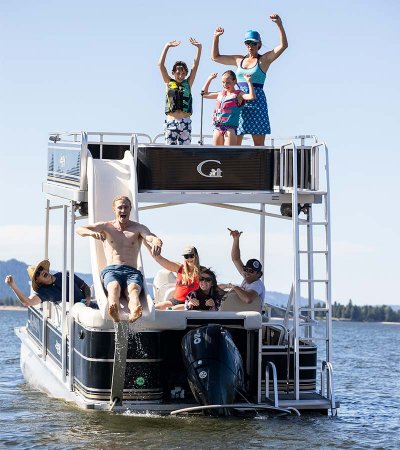 Spend a Day (or Three) on Lake Cascade
I strongly believe that lake days make for some of the best memories. Lake Cascade is just down the hill from Tamarack and a great place to spend a hot summer day.
Having had a boat growing up, my dad insisted on a family boating day for old times' sake. We found that Tamarack's Waterfront Cabana was the best option for boat, kayak and paddleboard rentals in the area, and we all had a blast fishing and sunning on our pontoon boat.
Explore the Mountain on Two Wheels
One of our favorite adventures, by far, was mountain biking. My dad, brother, sister and her husband are all experienced mountain bikers and couldn't wait to check out Tamarack's Bike Park while us newbies were happy to explore the expansive cross-country trail system.
The cross-country trails were, in a word, delightful. They were relatively flat and the kids and my mom had no trouble navigating the dirt paths. We traveled under giant Ponderosas, over creeks, across wooden bridges and through sweeping meadows dotted with wildflowers.
The other half of our group had a blast in the Bike Park, which featured terrain for intermediates and experts and included technical trails, jumps, bridges and more. As if we weren't already impressed, we learned that some of the best downhill cyclists in the country compete at the NW Cup and Pro GRT races held at Tamarack.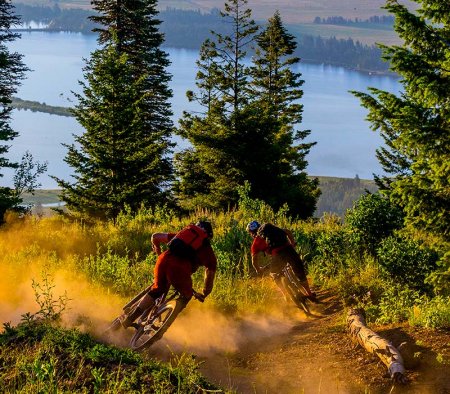 Hiking is Good for the Soul
When we were little, my sister and I would go for a walk with our mom almost every Saturday and Sunday morning. During our vacation, we revived our former ritual and enjoyed beautiful morning hikes. Tamarack offered more hiking trails than we could ever hope to cover in a week, giving us yet another reason to return! Some trails began at the main lodge, and there were even more you could access by chairlift. The three of us trekking along together was truly the best way to start each day.
Wake Up with Clearwater Coffee Co.
During our weeklong vacation at Tamarack, my mom, sister and I started a new tradition: ending every hike at Clearwater Coffee Co. This darling little coffee shop in The Village at Tamarack offers some of the best coffee I've ever had and also serves tea, muffins and pastries. Stopping in to grab a fresh, flaky pastry and a hot coffee was the perfect post-hike pick-me-up before heading out on our next adventure.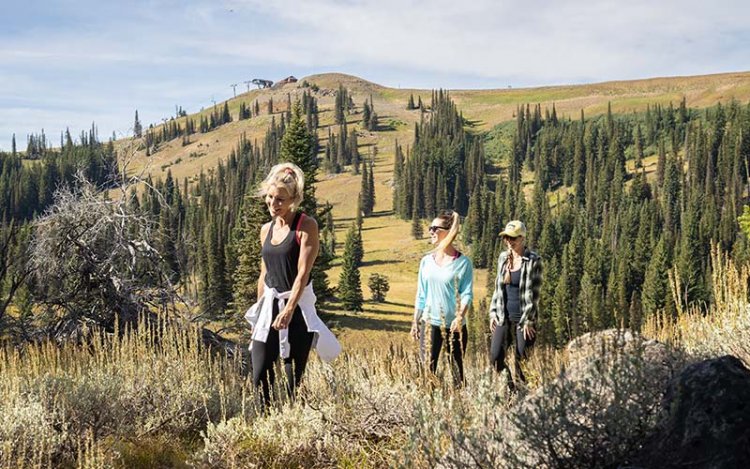 Lunch & Dinner Made Easy
Most nights, we were dead tired from exploring all day and opted to cook dinner in our chalet. While we picked up most of our groceries on our way out of Boise, we were able to procure any forgotten essentials just steps away at The Village Market.
But this was vacation after all, so we had to sample some of Tamarack's cuisine. There were several places to eat at the resort, but Seven Devils Pub ended up being our go-to restaurant. We tried both lunch and dinner and loved the outside seating options. With so many in our group, we appreciated the sharable appetizers and indulged in poutine topped with chopped steak and a demi-glaze, as well as the pub's famed Truffled Parmesan Fries. For our entrées, we tried everything from hand-battered fish & chips and loaded mac and cheese to the Candied Bleu Burger, complete with spicy, candied bacon and bleu cheese.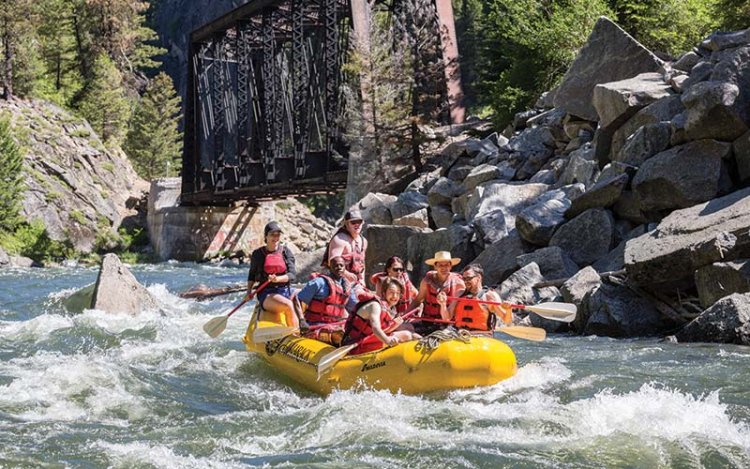 Make Activity Planning Easy & Affordable with the Tamarack Passport
If you rent your place through Tamarack Property Management or stay in The Lodge at Osprey Meadows, you earn one Tamarack Passport per night, which can be used to rent bikes, kayaks, pickleball gear, disc golf sets and more. It was a completely effortless way for us to go out and do stuff. The kids played disc golf and two of our cruiser bike rentals ended up being free — just because we stayed the night!
Our trip to Tamarack Resort was one for the books. We couldn't have asked for better weather, a better vacation home or more fun activities. Our only regret was not staying longer.
Summer is calling — book your next family adventure at Tamarack Resort!